Ladies and gentlemen, Big Freedia has set a twerking world record. The bounce connoisseur hosted a gathering of the "Most People Twerking Simultaneously" in Manhattan's Herald Square on Wednesday (September 25), calling on a total of 358 dancers to shake their rumps for two minutes straight, according to Fuse. An official judge with the Guinness Book of World Records presided over the twerkfest, which featured a diverse group of people, with ages reportedly ranging from 8 to 80.
Luckily (or unfortunately, depending on your outlook), footage of the event has bubbled up and can be seen above. Hit the play button above to catch a bunch of strangers unite for a greater good: To show Miley Cyrus how it's really done.
On the subject of proper twerk technique (twerknique?), let's scan the event's official rules and regulations:
1. Body must remain upright, with movement concentrated in hips
2. Participants can put hands on knees or hips for support
3. Twerking action cannot come from knees – hips only
4. Freestyling or additional choreography not permitted – no hands on the ground, feet in the air, twirling, etc.
5. Twerking action must be synchronized, can be at own pace
6. All participants must twerk simultaneously for two minutes when Big Freedia gives the signal
7. Any performers who do not participate fully for the entire two minutes will be deducted from the final total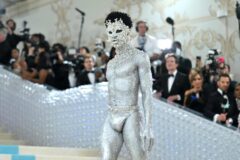 As per the good people at Guinness, only 250 participants were necessary to set the twerking record, a figure that Freedia and disciples easily to put to shame (along with, possibly, themselves). The whole ploy was done to promote the upcoming reality television series Big Freedia: Queen of Bounce, which, whadda ya know, debuts on the Fuse network on October 2.
When asked about the significance of the record, Freedia told Fuse, "It would open a lot of doors and set history for bounce music and let the world know that we've been twerking for a long time. This is not new at all. Now it's time to set the record." And that day, while "Excuse" blared through the streets of New York City, history was made.