Five hundred seventy-five million. That's the number of estimated Apple iTunes customers wordwide. It also might the most important idea to keep in mind when grappling with the computing giant's new iTunes Radio music streaming service, which rolled out yesterday alongside the release of Apple's new iOS7 mobile operating system. At least, that's the first impression of one basically satisfied but not especially amped user of the service.
Apple's M.O. has never been to do things first. It has been to do them better. Steve Jobs didn't invent the mouse, or the MP3 player, or the smartphone, but the company he co-founded built a reputation for excellence. It's fair to say Cupertino arrives a little late to the streaming-music party: Along with Pandora, Spotify, Rdio, Mog, and the rest come the recently introduced Google Play Music All Access and Trent Reznor's upcoming Daisy project with Jimmy Iovine's Beats by Dre. In this instance, then, Apple looks more like Jobs' old rival Bill Gates' Microsoft: Millions of people will probably use iTunes Radio mainly because it happens to work easily with the gadgets they already own. If the quality is any better, that's just a bonus.
So is iTunes Radio the "pure dose of awesomeness" described by one Apple exec at a recent press conference? It's fine! It's a streaming service, and this is September 2013; you know what to expect. We'll blame a few technical hiccups on first-day glitches — attempts to download Apple's new iTunes 11.1, which comes with iTunes Radio, were unsuccessful on the September 18 launch date, and our attempt to listen to the first featured station, iTunes Top 100 Alternative, crapped out a couple of tracks after Lorde's "Royals" (sorry, Capital Cities). But on first blush, the experience seems convenient enough to become a go-to for many Apple users. Especially those who don't already subscribe to a streaming service. Still, we'd be surprised at this point if iTunes Radio generates the usual fanatical Apple devotion.
This all assumes you have iTunes already. If you don't, the basic idea of iTunes Radio is pretty similar to Pandora — you build radio stations around a song or artist, and there are some genre-based stations as well — though unlike with Spotify, you can't play a song on demand. For those of us who would be using iTunes anyway, the service is easier than opening its competitors in a new window, and it's relatively self-explanatory. Choose from a list of featured stations, or create your own. Once the station is playing, you can share it via Twitter, Facebook, or copying a link.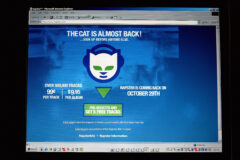 A big area where Apple stands out is the ease with which listeners can buy songs. You can add songs to your iTunes "wish list" to revisit later, and iTunes also keeps a history of songs you've been playing. Others have reported problems with the history, but none have shown up in our quick efforts. Again, you can't stream a given song on demand, so you may want to buy it to listen later without advertising. Speaking of ads: Yes, iTunes Radio is free but includes ads, though iTunes Match subscribers can listen without interruptions.
How good are the stations? They appear to work about as well as you're probably used to at this point. Set up a station based on Asheville, N.C.-via-Pittsburgh psych-rocker Jackson Scott, for instance, and you hear his debut album Melbourne's biggest song, "That Awful Sound," and then move to other predictable indie faves: Beach House's "Norway," Deerhunter's "Helicopter," and so on. We like this stuff, and it might be perfect to play in a room shared with colleagues or customers, but it's not exactly helping us find other fairly little-known artists. Scott is about to open up a tour with Unknown Mortal Orchestra — how about some other acts on that level?

That's where one potentially great feature of iTunes Radio comes in, though: the ability to refine it. Of course, you can tell it to "never play this" or to "play more like this," but there's also a little tuning bar that allows you to put the station somewhere between "hits," "variety," and "discovery." A station set up for Solange's new video selection "Lovers in the Parking Lot" is even better than expected in "hits" mode, highlighting the similarity between the drum sounds on Solange's "Losing You" and Drake's "Hold On, We're Going Home." Next up: Solange collaborator Janelle Monáe's "Q.U.E.E.N.," with Erykah Badu. But tweak the dial to "discovery," and you're sent off to the-Dream IV Play deep cut "Self-Conscious." Not as great, maybe, but still fun to hear. (Warning: You can only skip six songs on a station per hour. But you can seemingly change stations as often as you like.)
A whole lot of iTunes Radio's value will reveal itself over time. iTunes Radio is supposed to sync seamlessly with your iPhone, iPad, and other Apple devices, though our test run has been limited to the computer so far — it's possible this convenience will give it an edge. But claims you'll control your music with Siri sound dubious, at least until "she" is made vastly more useful.
Apple has also touted iTunes Radio as a source for exclusives, and given the the company's marketing clout, that will be another area to watch. Right now there's a "Guest DJ: Katy Perry" station, though its "exclusive" track, Juicy J collaboration "Dark Horse," isn't so exclusive anymore. If you can hear music via iTunes Radio you can't hear on other streaming-music services, you'll have to go with iTunes Radio. It won't necessarily be because iTunes Radio is as inherently game-changing as the iPod or iPhone. But Apple is big enough now to be sure that even at this late date, its streaming service will just be handier for many people than other, less-familiar brands.
Think different? Think not that different, but good enough. Also think: 575 million.