Rather than explain their career via Wikipedia, a press bio, or oral history, Yo La Tengo have opted to retell their history in cartoon form. In the video for "Ohm," off of the New Jersey band's recent Fade, a professor asks two students a simple question: "What is Yo La Tengo?"
While one opts to break down the history of music starting with the trio's fellow Hoboken native Frank Sinatra, the other is magically transported to a colorful alternate universe where his tour guide is a cigar-smoking baby — Roger Rabbit tribute? — who drives a flying VW Beetle that has tentacles instead of wheels. The baby shows the student how Yo La Tengo is assembled in a factory, while the band's laguid, '60s-reminiscent music soundtracks the psychedelic footage.
Directed by Donick Cary, who's written for The Simpsons, New Girl, and Bored to Death, the clip is followed by a bonus video (seen below) set to another Fade track, "Is That Enough." This time, the first student's complex musical equation is seen in all its glory, with word and name associations, detours through lyrics and genres, and even a breakdown of The Fresh Prince of Bel-Air folded into the telling. And then there's a cameo by the hilarious Fred Willard, so stick around for that.

"That was a full Saturday," Cary told Pitchfork about coming up with the equation. "I sat down and just started writing and having fun with all the strange connections, and by the end of the day I had that mess of ideas. In so many ways, Yo La Tengo's music does touch on all corners of the musical spectrum … maybe not exactly the theme to Fresh Prince of Bel-Air (which is in the equation), but I wouldn't put that past them either."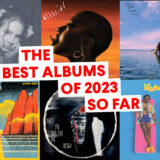 In other Yo La news, the band recently bid farewell to Hoboken's legendary venue Maxwell's with a two-set performance. Now turn that frown around with the videos for "Ohm" and "Is That Enough."
//www.youtube.com/embed/4IwA9IimYSc