Twenty-five years after its birth, and five years since we last heard a new Nine Inch Nails album, Trent Reznor's art-rock project is obliterating the festival circuit, collaborating with icons such as David Lynch and Lindsey Buckingham, and still flooding the Internet with new material. But Reznor is surprisingly hesitant to acknowledge NIN's status as an influential force in music.
"I got hints of being influential back in the dark ages of late '90s," Reznor said, humbly, while speaking to SPIN for our upcoming September cover story. "But the bands I would hear it in bummed me out so much that I can't listen for that anymore. I did notice [my influence] post-Social Network. I started hearing a few things that made me think, 'Okay, I bet you've heard our score.'"
When SPIN's David Marchese drew a line from Nine Inch Nails' punishing, bleak aesthetic to one of the biggest releases of 2013 — Kanye West's bleak, punishing Yeezus — the Oscar winner said he was flattered before heaping praise on Mr. West.
"I know [Kanye] a bit," Reznor said. "He's come out to shows and we've had some humorous— I've listened to him talk backstage a few times. I can't say that we had a conversation. I find him an interesting character. Yeezus, I really love it. I think the sound of it is cool. I can't endorse what he's saying lyrically, but I will say that in terms of the role of the dangerous entertainer in 2013, nobody is beating him at that game. It feels like he might implode. Even if it is calculated to some degree, it feels rough on the edges in a way that I can appreciate. I'm glad he's out there. Consistently he's put out ahead-of-the-curve shit. He's definitely a talented guy."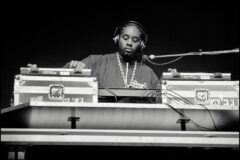 Nine Inch Nails' eighth album, Hesitation Marks, arrives September 3 through Columbia Records. Look for SPIN's September 2013 cover story on NIN next week, and in the meantime, revisit the magazine's 1992 cover story on Reznor, Nine Inches of Love.