If a short, cryptic video circulating this week is to be believed, Timbaland might be producing songs written by none other than Michael Jackson, who would've turned 55 today (August 29).
Revolt TV posted the 39-second clip but has since taken it down, though you can watch a third-party version of the clip above while it lasts. Timbo never explicitly mentions Jackson. But images of the late King of Pop are interspersed with footage of the producer saying his next project will feature "two kings working together."
Timbaland also mentions that L.A. Reid, the head honcho of Jackson's label Epic Records, is the catalyst behind whatever is going on, and that the first "single" is going to be a song called "Chicago." "It's hard to bring anything out, because now you're going to hear my music with his voice on it," the producer says. "Now it's my turn. Watch me go."
On a side note, Timbaland hasn't always been a fan of posthumous productions. In a Revolt TV YouTube interview earlier this summer, he chastised Drake and Chris Brown for recording songs with Aaliyah's vocals. He later apologized for the remarks, however.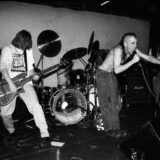 If the Jackson collaboration comes to fruition, it'll be the apex of an already busy year for Timbaland. He has worked as a producer on Justin Timberlake's The 20/20 Experience, Robin Thicke's "Take It Easy on Me," and almost all of Jay Z's Magna Carta … Holy Grail. On top of all that, Timbo has also said he's planning a track called "Sorry," where he'll apologize to Jay for their brief falling-out. This guy apologizes a lot, huh? Let's hope the mysterious M.J. project doesn't require one.