The Best and Worst Moments From the 2013 MTV Video Music Awards
Miley twerked, Rihanna smirked, Kanye raged, One Direction preened, Taylor sneered, Macklemore pandered, Gaga vamped, Katy jumped rope, Bruno triumphed, Daft Punk faltered, and JT just dragged on and on and on, all while Will Smith and his lovely family looked on in horror. Yes, time to count down the highlights and lowlights of the 2013 Video Music Awards, live from the Barclays Center in Brooklyn, where, appropriately enough, the evening's unofficial theme was gentrification! Enjoy.
1. The Best and Worst Moments From the 2013 MTV Video Music Awards
1/17
2. BEST: Taylor Swift's Very Special Message for Harry Styles
2/17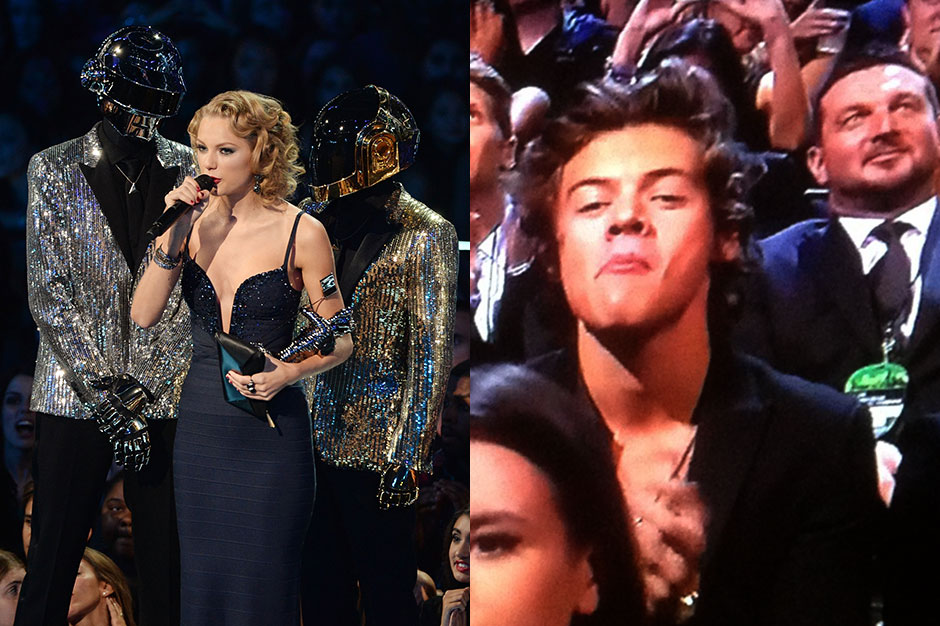 You're going to be dealing with dozens of cut-to-Taylor moments at every single VMAs for the rest of your life (turns out she's an 'N Sync fan), so you might as well learn to love it, or at least acknowledge when such mania results in a truly transcendent moment, as when America's Delightful Sweetheart mouthed "Shut the fuck up" at America's Inexplicable British Heartthrob. Shit was even colder than "Dear John." ROB HARVILLA
3. WORST: Daft Punk's Dud
3/17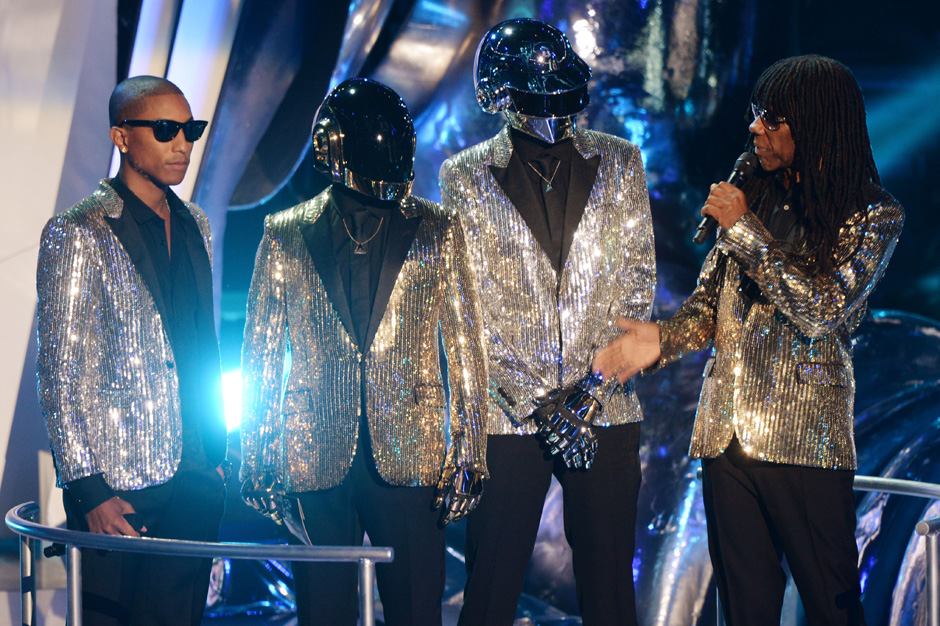 After blowing off an appearance on The Colbert Report to appear on the VMAs, one had to assume that les robots had something particularly sly and savvy in store. Sadly, the duo offered up nothing more than a tease of the "Lose Yourself to Dance" video, then strolled down the catwalk with Pharrell and Nile Rodgers to silently present a Moonman to America's Bitter Sweetheart Taylor Swift, who noted, amongst other bubbly blather, that "I tweeted about this a lot!" All around, it was nothing more than a well-dressed F-A-I-L, and far from the sort of needle-moving magic one might expect from the duo who brought us the year's most tightly managed marketing campaign. Triste. CHARLES AARON
4. WORST: Macklemore and Ryan Lewis' Mega-Sanctimony
4/17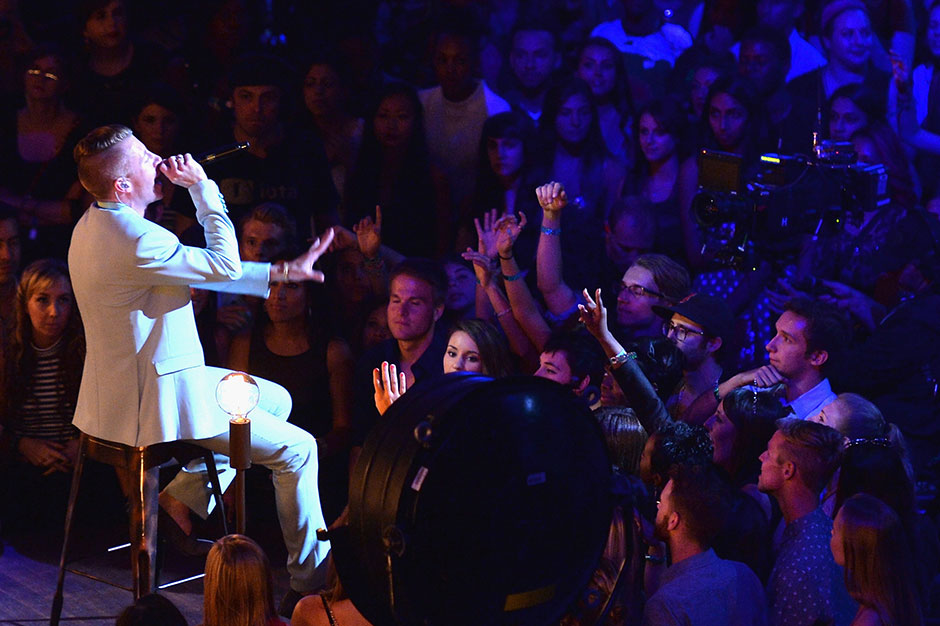 So Macklemore — a straight man — wrote a pro-gay-marriage song called "Same Love" that begins with him attempting to identify with actual gay people by revealing that he thought he was gay as a child because he liked to draw. At the VMAs, the song made him the central face of LGBT, with actual gays and lesbians only orbiting around him. It earned him the award for "Best Video With a Social Message," which he accepted without handing the mic over to Mary Lambert (a lesbian singer who performs the song's hook); later, they performed the song after an introduction by Jason Collins — the first active out male athlete in one of America's four major sports — in a moment that was a very literal representation of the "white knight" phenomenon. "Same Love" is fine in theory, and maybe so was Macklemore's performance, but the execution of both can only galvanize those who find it particularly brave for a straight man to speak up for queers in 2013. JORDAN SARGENT
5. BEST: A$AP Rocky's Wildly Inappropriate Product Placement
5/17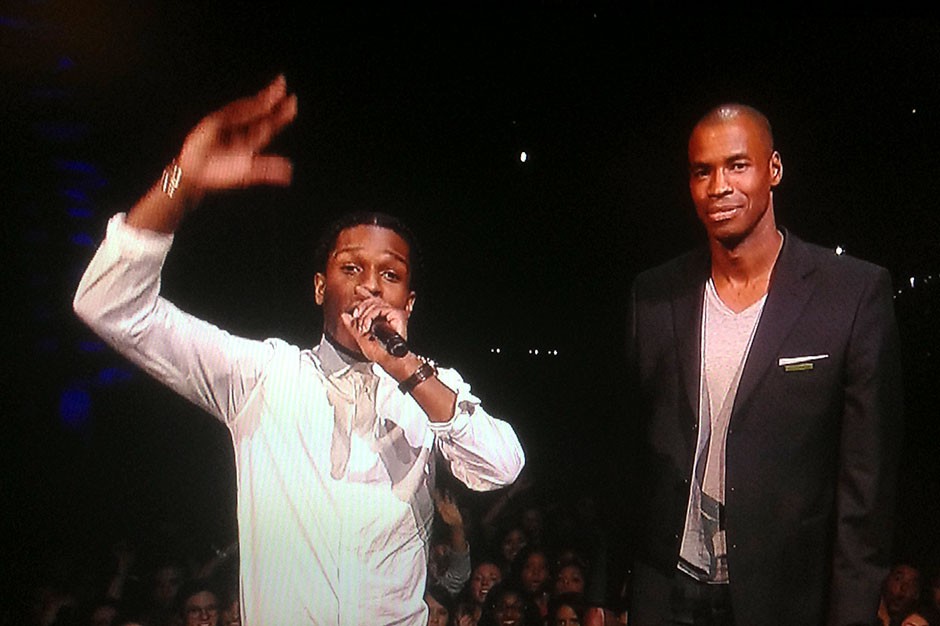 Jason Collins was joined onstage for that Macklemore introduction by one A$AP Rocky, who chose that very poignant, maudlin moment to remind everyone that his pal A$AP Ferg's dank, violent new album, Trap Lord, was in stores. In an evening awash in unrelentingly crass self-promotion, credit the guy at least for finding a way to make his personal contribution hilarious. R.H.
6. BEST: Jennifer Hudson Further Redeems Macklemore
6/17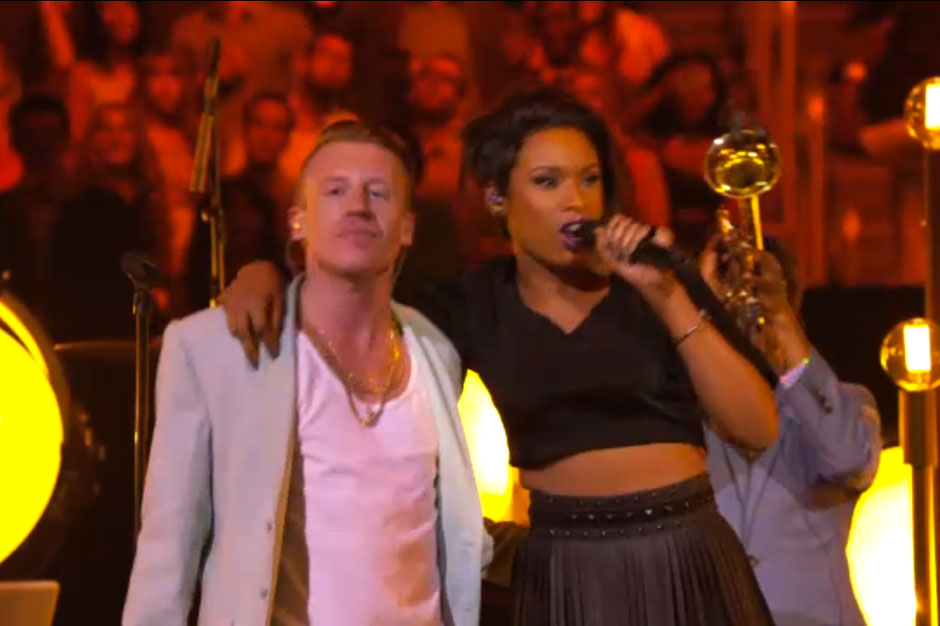 For its first three minutes or so, the highlight of that mawkish performance of "Same Love" was when the rapper brought out a stool — because when someone makes a point of sitting down to deliver a message, you know it's important. Then Jennifer Hudson appeared. Gliding to the stage, looking radiant in a black skirt and midriff-baring top, she threw her arm around the Macklemore and delivered some soothing vocal runs, then took the hand of hook-deliverer Mary Lambert as the two swapped the song's "Not cryin' on Sunday" line with a dignified gospel fervor. As far as I can tell, Hudson is incapable of emotional dishonesty when she sings: If she believes in the song, she'll take it where it needs to go. This was a masterful rescue operation. DAVID MARCHESE
7. WORST: Miley Cyrus, Holy Shit
7/17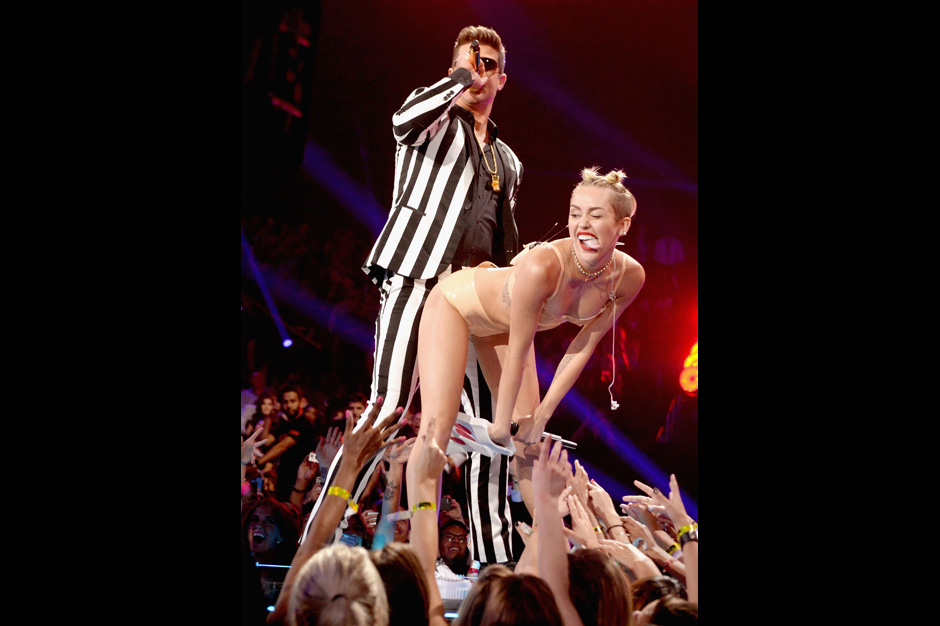 Even if you were prepared for this, you weren't prepared for this: a Flaming Lips concert, a Pokémon-themed soft-core porno, a nightmarish Japanese game show, and a "white girls twerking" YouTube video colliding over Brooklyn, leaving no survivors. Not Billy Ray Cyrus, not Rihanna, not America. R.H.
8. BEST: Bruno Mars Beats His Chest
8/17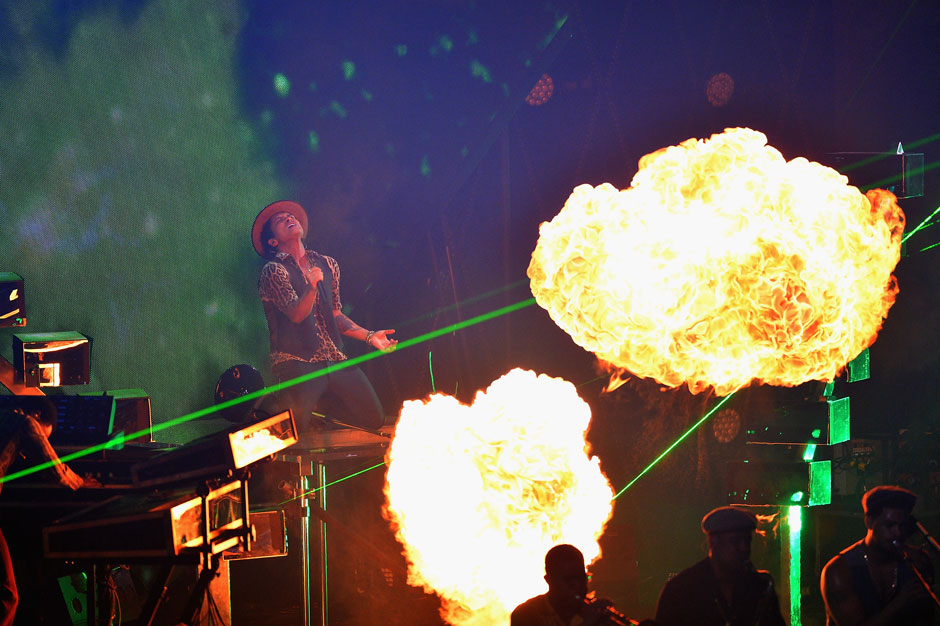 Given that "Gorilla" is about doing the dirty like great apes, it's both impressive and surprising that Bruno Mars was able to turn it into one of the night's most moving performances. Singing from a raised platform, he pleaded and bellowed, shouted and hit stratospheric high notes, all the while surrounded by lasers and exploding pyro, turning a song about rough sex into something closer to fiery soul. The song's sonic synths-and-guitars template nods to the work of another diminutive artist with a knack for that kind of subject-matter sanctification, and like Prince, baby, he's a star. D.M.
9. WORST: Drake's Stirring Tribute to 5 Gum
9/17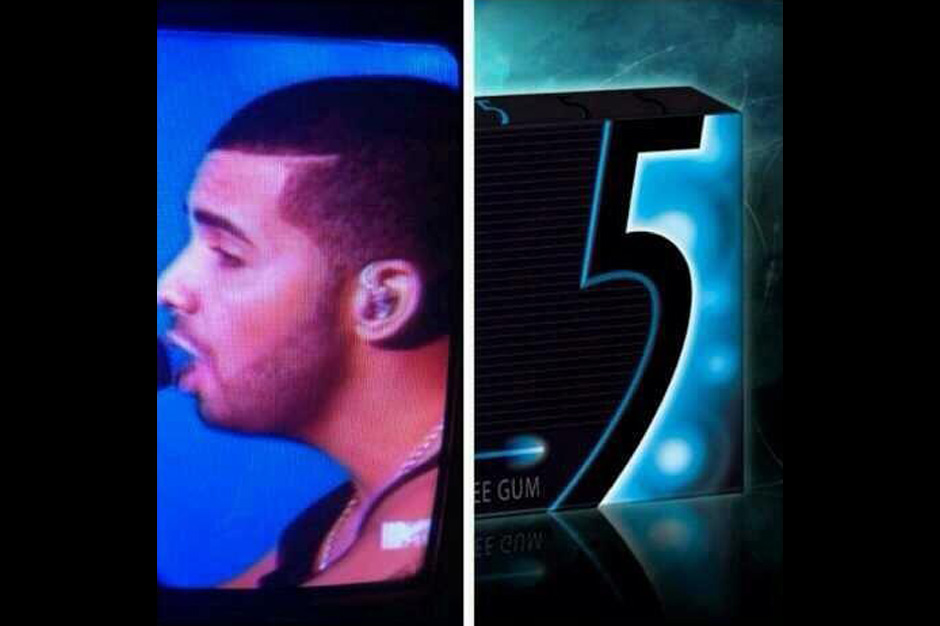 Undaunted by the hoots of derision triggered by Nothing Was the Same's sky-blue, airbrushed-T-shirt-worthy cover art, Drake opted to give it the living-sculpture treatment as he moaned through the equally polarizing lovey-dovey jam "Hold On, We're Going Home," in the process paying tribute to everyone's favorite high-concept sugar-free chewing gum. His hairstylist's body will never be found. R.H.
10. BEST: Justin Timberlake, Multi-Tasker
10/17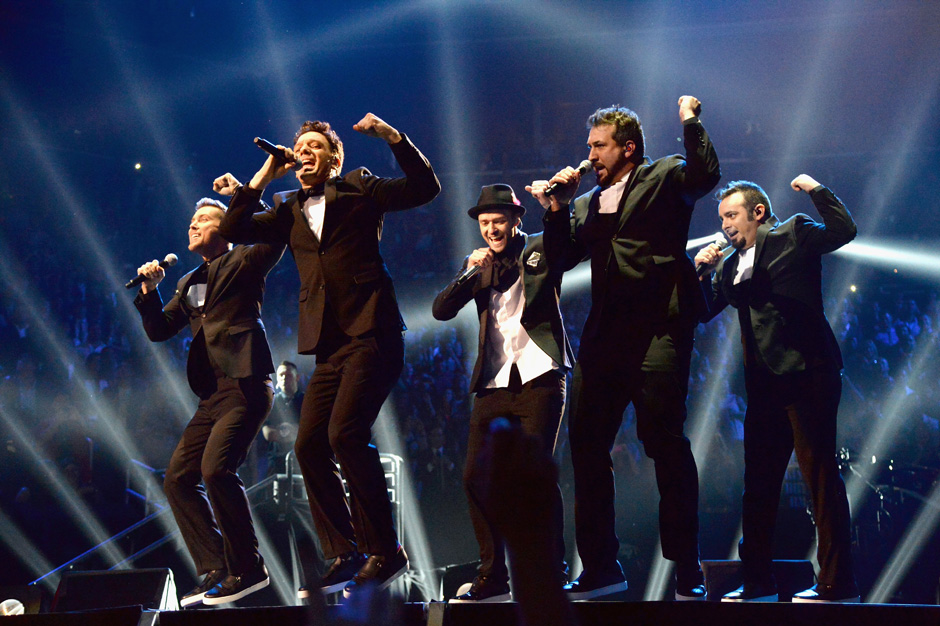 Credit JT for the sheer logistical feat of pulling off a 15-minute medley on five different stages spanning the entire floor of the Barclays Center. Those of us inside the arena could see just how many marks he had to hit; we also witnessed a priceless Spinal Tap moment when one of the stage elevators failed to work at the end of the 'N Sync segment, leaving Joey Fatone standing comically alone. Cheers also for managing to be almost humble in the face of a mind-blowingly sycophantic introduction from Jimmy Fallon, and an awards show that practically doubled as a political rally in his honor. JEM ASWAD
11. WORST: Justin Timberlake, Inadvertent Noise-Rock Pioneer
11/17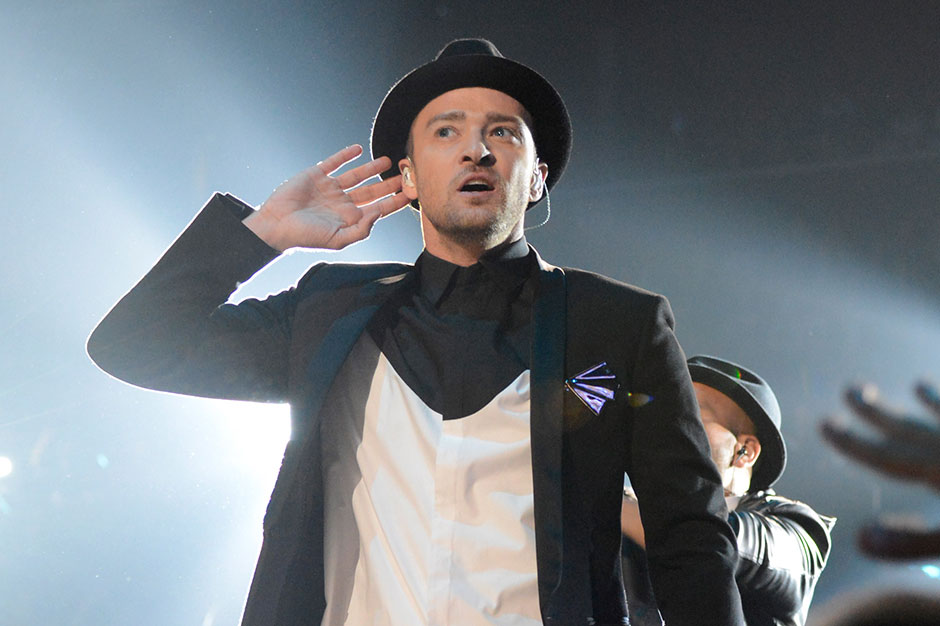 Justin Timberlake's performance was thrilling, kinetic, electric, and sounded awful at home. It's hard to know if the problem was with the telecast or a front-of-the-house issue at the Barclays Center, but for long stretches of his long set, the music was muddled, distant, and full of distortion. There are parts of Brooklyn where such haphazard sonic confusion is usually intentional; this was not one of them. And poor *NSYNC! Lance Bass, JC Chasez, Joey Fatone, and Chris Kirkpatrick joined their old bandmate for brief snippets of "Bye Bye Bye" and "Girlfriend," and then just as quickly disappeared back to the C-, D-, and E-lists from whence they came. D.M.
12. BEST: MTV's Reaction-Shot Trolling
12/17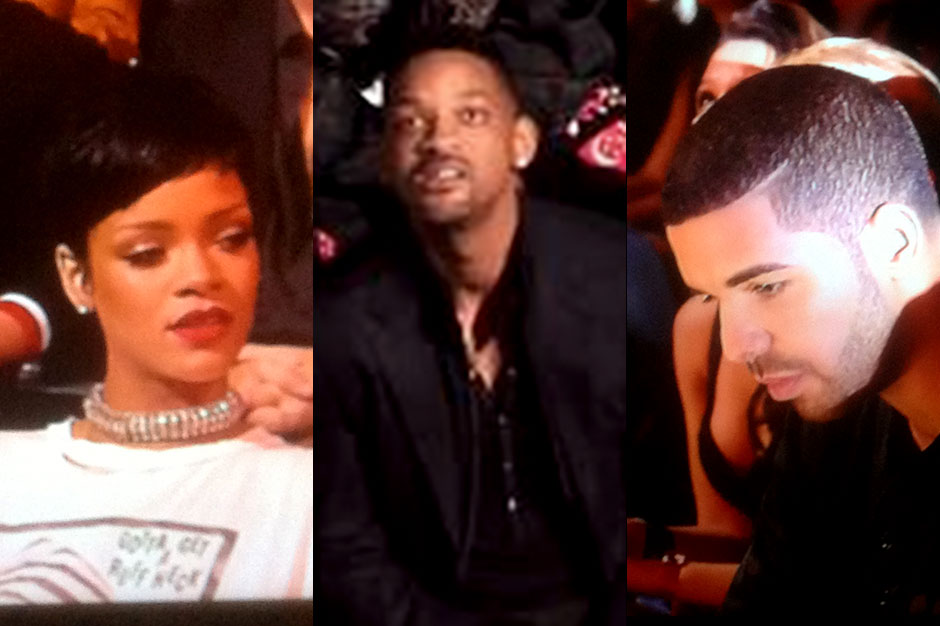 The VMAs remain on unsteady footing from a ratings perspective, but the show has proven that it can completely consume Twitter. MTV is surely very aware of this, and the network openly courted the phenomenon this year by frequently cutting to reaction shots that acknowledged and/or cultivated gossip: Drake cringing through Miley Cyrus' twerkathon, Rihanna turning blank emotionlessness into a statement during Drizzy's performance, and yes, again, the various antics of Taylor Swift. Performance reactions are the new performances. J.S.
13. WORST: The Smith Family's Misattributed Shock
13/17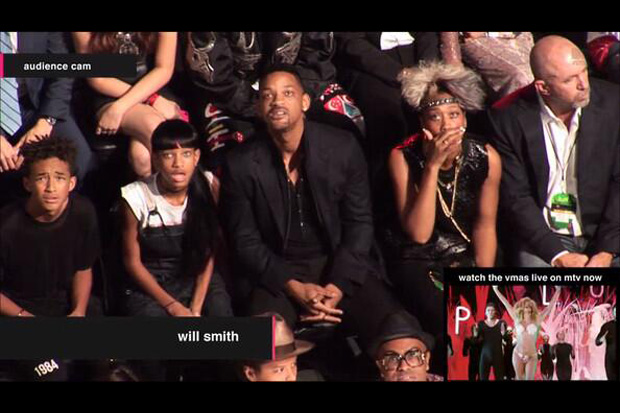 The night's most lasting imprint on social media, though, was easily a screenshot taken from an online-only audience feed of Will, Jada Pinkett, and Jaden and Willow Smith reacting in horror to… something. Despite an image of Lady Gaga's performance appearing in the bottom-right corner of the frame, it was passed around liberally on Twitter as being captured during Miley Cyrus' circus, even making its way up to legitimate web sites as a news item. The context of the image may never be confirmed, but most everyone seems content with letting the Smiths' bewilderment serve as the country's official response to the new Miley because someone on Twitter thought it should. J.S.
14. BEST: Kanye West Blasts Through "Blood on the Leaves"
14/17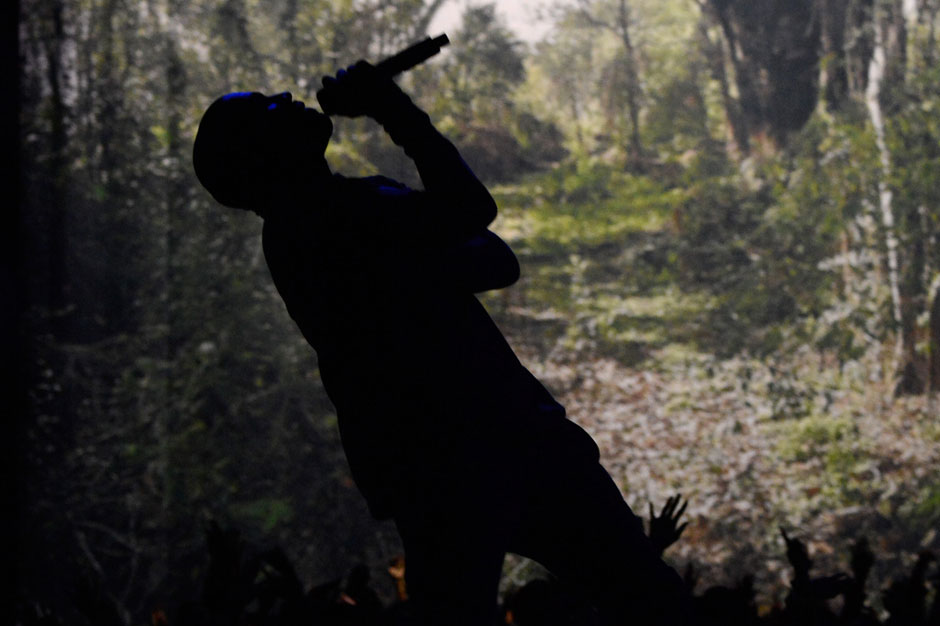 You are always braced for Kanye to do something outrageous, self-destructive, and profoundly ill-advised — especially in this particular setting — but no, he played his "seething lover's lament set to a 'Strange Fruit' sample" dirge fairly straight, screaming in AutoTune and stalking the stage in chilling silhouette, injecting a note of raw, unsettling rage into a symphony of stylized gaudiness. We're also relieved he didn't attempt "I'm in It." R.H.
15. WORST: One Direction Wins "Song of the Summer"
15/17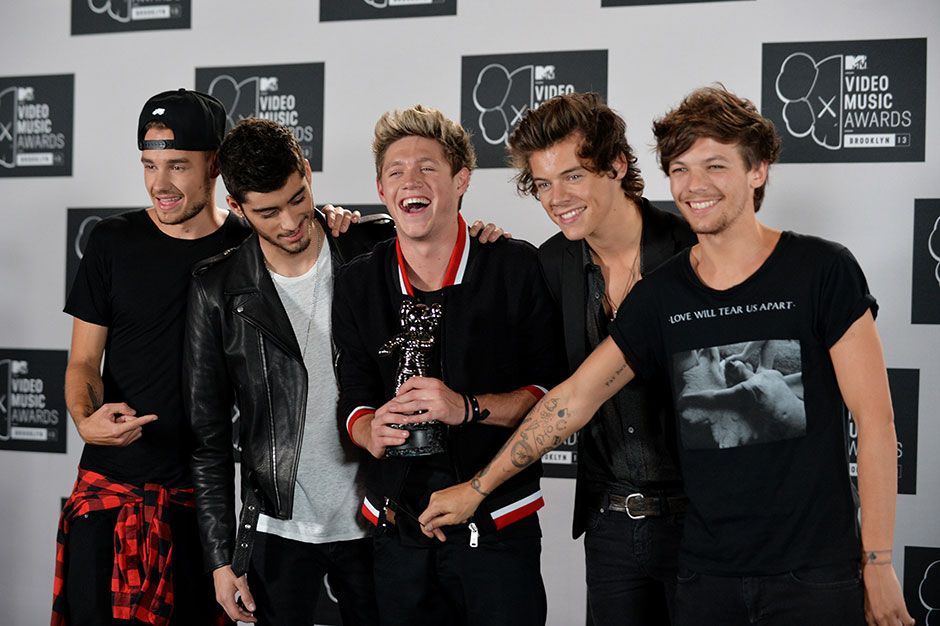 So the song-of-the-summer debate has been a hotly contested race between early leader (Daft Punk's "Get Lucky") and late closer (Robin Thicke's "Blurred Lines"). Or at least that's what anybody over the age of 13 had assumed, but no, MTV's unquenchable, awkward-years demographic thirst needs slaking at every turn, so we were treated to the news that "Best Song Ever," by boy-band cockup One Direction, was actually the "Song of the Summer," in spite of the fact that it was possibly the worst song ever, and not a memorable soundtrack to any summer activity except perhaps premature ejaculation, which the crowd verified by booing lustily and drowning out the inane pabulum being mouthed onstage. C.A.
16. BEST: Katy Perry at the Final Bell
16/17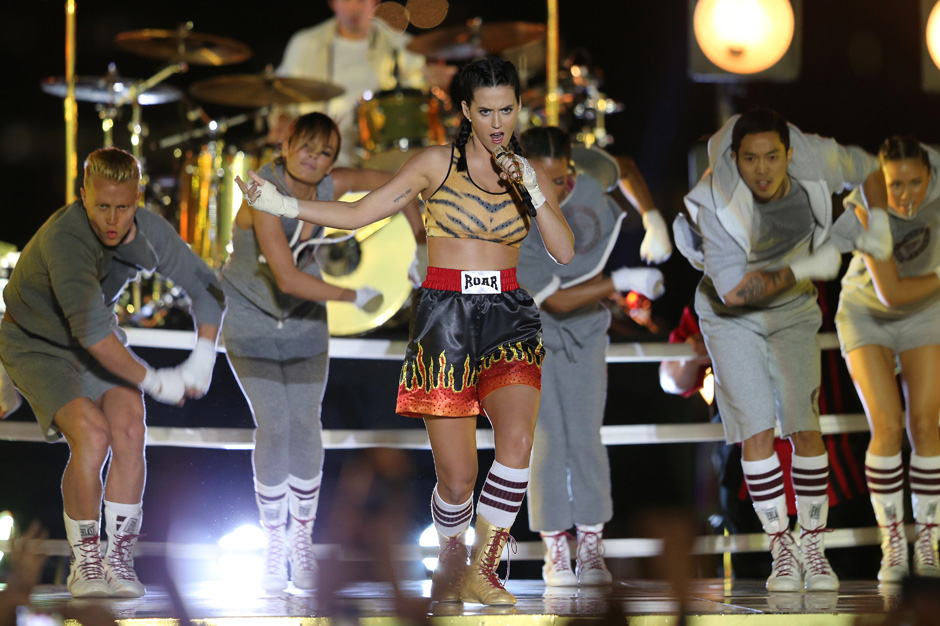 Katy Perry closed the show performing her insta-smash single "Roar" at the foot of the Brooklyn Bridge. Clad in boxing trunks, her fists wrapped in boxing tape, she jumped rope, threw jabs, climbed the ropes, and donned an oversized championship belt in a display of go-for-it-ness charming in its Balboa-esque moxie. Perry is far too successful to be considered an underdog, but the performance was so goofily committed (and weirdly down-to-earth?) that it never tipped over into the self-seriousness that doomed Gaga's show-opening splat. So let's say she earned the decision on points. D.M.
17. WORST: Where Brooklyn At?
17/17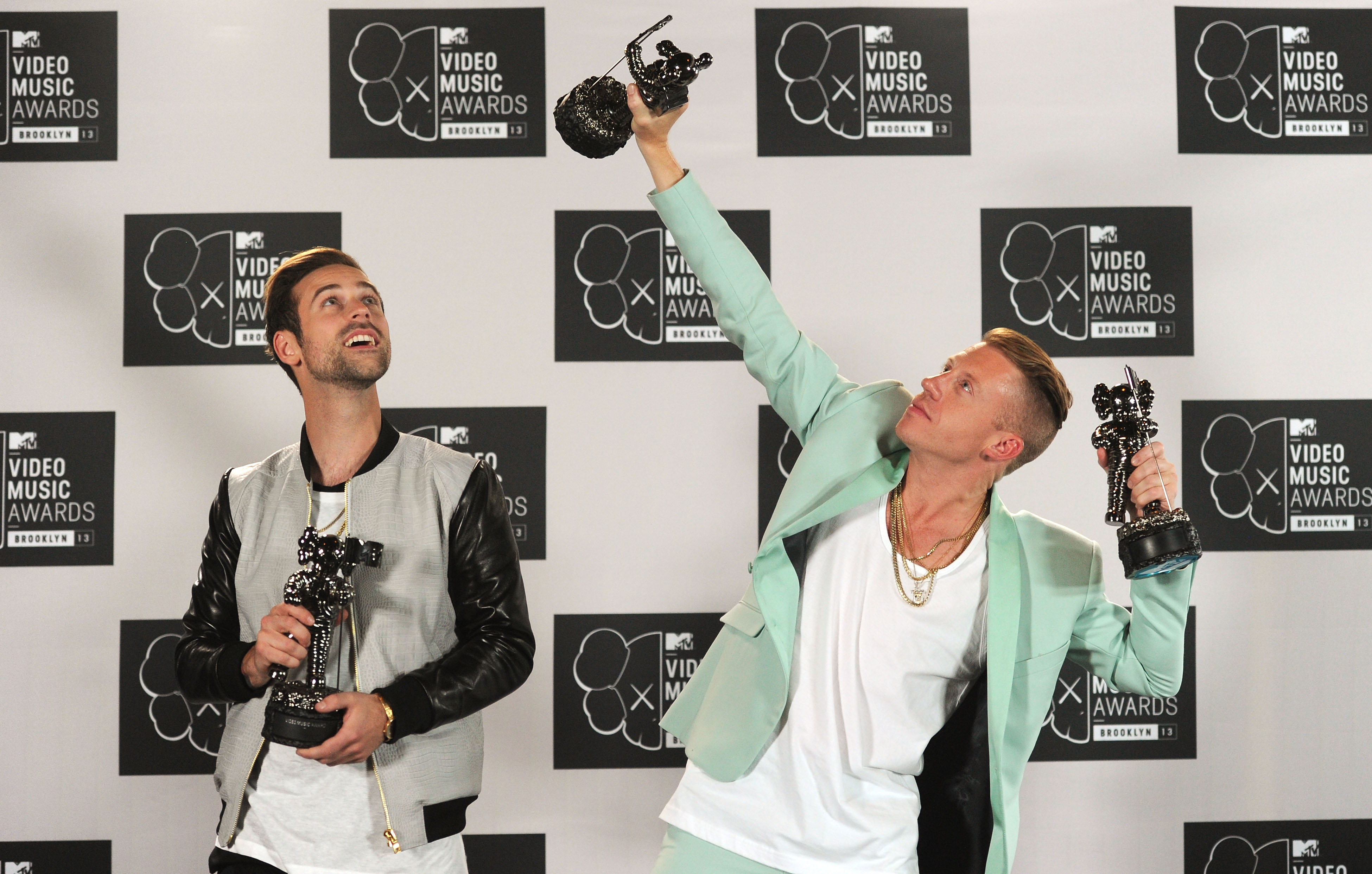 Brooklyn, long a mecca of African-American culture, has been gentrifying exponentially in the past five to 10 years — i.e., welcoming monied whites at the expense of less-affluent you-know-whos — and the Barclays Center, site of this year's VMAs, is one of the more obnoxious symbols of that socioeconomic shift. What's more, the show itself mirrored the borough's gentrification by literally flooding the zone with white artists humping it through some sort of misguided (yet obviously marketable) minstrel mackadociousness, or simply owing an obvious, unpaid debt to African-American artists (who were notably marginalized).
See everything from super-producer Mike Will Made It being reduced to Miley Cyrus' Black Man Friday on the red carpet to Lady Gaga opening with what appeared to be a cheeky Beyoncé impression to Miley scraping rock bottom with a delirious Disney-furry stripper routine (repeatedly slapping an African-American woman on the backside, an act that was more shocking than any of her suggestive foam-fingering) to Iggy Azalea's immaculately groomed RealDoll femcee pose-a-thon to Justin Timberlake's marathon coronation as "President of Pop" via the Michael Jackson Vanguard Award to Macklemore and Ryan Lewis dominating with their well-meaning clumsiness (the duo's mute black sideman was given a Moonman to hold while Macklebore inexplicably admitted that he issued the command, "I need a dude with dreadlocks," for the "Same Love" video) to Austin Mahone shouting out his "Mahomies" to Vampire Weekend (indie's crown princes of Afro-influenced ingenuity) presenting yet another award to the pale poo-butts of One Direction. And to sum it all up, ABSOLUTELY NO BLACK PEOPLE WON A COTTON-PICKIN' THING! As Killer Mike put it on Twitter, "Lemme say White people have kicked black ass like it was the 50s tonite at the VMAs." Sadly, that wasn't hyperbole. C.A.