On a soft July evening in Durham, North Carolina, shortly before the singing of our National Anthem, John Darnielle holds forth on baseball and breakfast. "Where have you eaten since you've been in Durham?" he asks, adjusting his glasses. "You didn't happen to stop by Loaf this morning, did you? Because if you did, and there weren't any peanut-butter-and-chocolate croissants left, I apologize: I grabbed the last few. They're insane."
The voice and face of much-beloved rock band the Mountain Goats, Darnielle is publicly passionate about a great many things, generous with deftly phrased opinions on sports and music and animal rights. But as he comes alive in Durham Bulls Athletic Park, touting his adopted hometown's ongoing renaissance from within its jewel-box minor-league-baseball stadium, his enthusiasm borders on the evangelical.
"We have so much good food in this town, it is crazy," he enthuses, between bites of a squishy veggie burger, as his sturdy two-year-old son, Roman, "our cookie sommelier," bulldozes a path to a platter of chocolate-chips just within his reach. "You go to these restaurants and you have profoundly good meals. You go to Loaf, you get the best loaf of bread you've ever had for five bucks."
A few blocks away, past the center-field bleachers, the city's once-abandoned downtown is now teeming with vibrant local businesses, including a staggering array of first-rate, farm-to-fork destinations, often natural extensions of already-successful vendors in the bustling Durham Farmer's Market and rapidly expanding swarm of food trucks. Bars, breweries, galleries, and urban farms have sprouted up, while the arrival of luxury condominiums is both luring new residents downtown and providing cause for concern among other Durhamites. Substantial retail operations seem to be finding some footing, and, not far from DBAP, you'll find the Durham Performing Arts Center, a recently built, Carnegie Hall-sized auditorium that has ranked nationally in ticket sales since opening in 2008.
But tonight is the Bulls organization's first official collaboration with another Durham institution: Merge Records, formerly and famously of neighboring Chapel Hill, 10 miles to the southwest, and label home to Spoon, Wild Flag, Arcade Fire, the Mountain Goats, and Superchunk, the pioneering 24-year-old punk-rock band of label co-founders Laura Ballance and Mac McCaughan. Both of whom are here as well, mulling over the catering options alongside Darnielle in the luxury box allotted to the label. At the Bulls' request, Merge has tapped its coveted back catalogue, providing the songs to which every Durham batter will stride to the plate tonight.
The entire stadium is gleaming in high definition, from the pink towers of cotton candy tottering through the aisles to the sweaty trains of light beer changing hands to the batting helmets of the visiting Pawtucket Red Sox, a team whose first, fruitless few at-bats are soundtracked only by narcotic crowd murmurs. But when a relatively propulsive snippet of the Mountain Goats' "The Diaz Brothers" cues up the approach of Bulls third baseman and leadoff hitter Cole Figueroa, all seems right in the Merge box. "Figueroa's got an older brother in the Big Show," Darnielle says to Ballance and her husband, Luc, an esteemed sound-engineer-turned-local-wine-importer. "We want him to go yard at least once tonight, so that he can say to the world that he owes it all to the Mountain Goats." Ballance, bratwurst in hand, cracks a smile and laughs. "John," she says slowly, "This is so weird."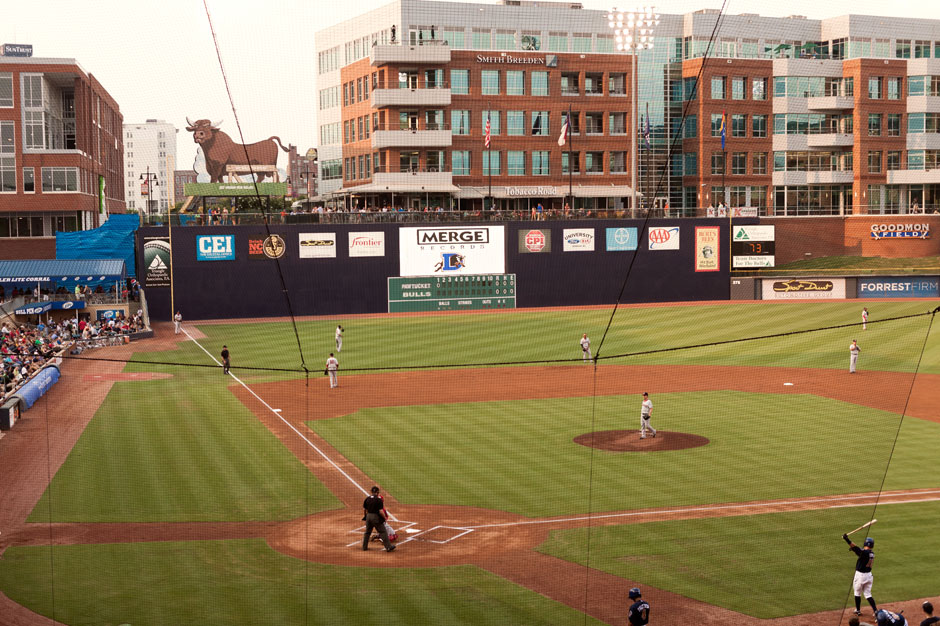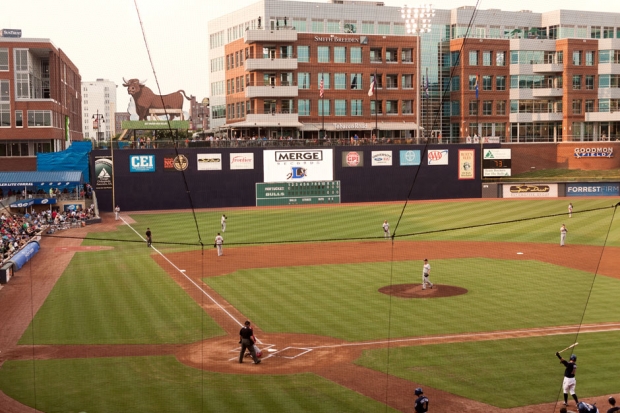 That's the good news, in terms of North Carolina's evolution during Merge's tenure here: Ten years ago, this moment wouldn't have been possible for a variety of reasons. But the surreal joy of this evening is undercut by recent political machinations at odds with the growth visible on the streets of downtown. For the past few weeks, Darnielle and Ballance, their children in tow, have taken to the State Capitol in nearby Raleigh for Moral Mondays, the NAACP-organized gatherings in protest of what they see as a state government run amok. Under recently elected Republican Governor Pat McCrory, North Carolina's Republican-controlled legislature has recalibrated the state's stance on public education, women's rights, unemployment benefits, racial justice, and voting laws, a path that McCaughan believes is sending his home state "back to some fantasy they have of a pre-Civil Rights South."
In the past year, Forbes placed Durham at No. 10 in its list of "Best Places for Business and Careers in 2013," while the New York Times has published a healthy stream of travel coverage trumpeting Durham's many cultural virtues ("I think someone at that newspaper must have a girlfriend or grandmother they have to visit down here," Ballance tells me, "because it's like they never leave."). But that praise was punctured in early July by "The Decline of North Carolina," a stinging Times op-ed piece addressing the political shift.
"It's embarrassing," McCaughan told me earlier in the week, using a word echoed by both Ballance and Darnielle, who has taken a break from Moral Mondays, he says, to save Roman from possibly seeing his father led away in handcuffs. "It's so outlandishly bad and backwards-looking that it endangers the progress made, because it dissuades smart, creative people from moving their businesses here," McCaughan continues. "There are no plans to move Merge out of North Carolina anytime soon, but it makes you want to."
Though Merge has yet to take direct political action, the label's contributions to downtown Durham are reminiscent of those made by Michael Stipe and R.E.M. in their native Athens, Georgia, another progressive Southern community that shares its space with a major university. Both have invested money in local restaurants (Merge in Pizzeria Toro, and a nearby bakery called Scratch; Stipe owns Athens vegetarian outpost the Grit, as well as the building that houses it), and both have been active (McCaughan is a board member at nearby Duke University's Nasher Museum of Art; Superchunk recently played a benefit to combat the chaining of local dogs) in communities that, because they're located in the South, experience a persistent cultural pushback from the rest of their respective states. "They're threatening what we've built here," Darnielle says of North Carolina's Congress. "This little oasis of ours, it's a 20-, 30-year project. And these politicians want more chains and more Wal-Marts."
That Times op-ed piece has been blown up, printed, and hung prominently in the front window of a gallery near Merge's downtown Durham headquarters, a pre-war building the label bought and inhabited in 2001, when much of the neighborhood was still vacant, boarded up, and thought to be dangerous. Though their original Chapel Hill post-office box continues to appear on every record pressed, the label has enjoyed all of its success in the past decade right here in Durham, in that two-story, fully modernized, but historically accurate red-brick office on the edge of downtown. "Philosophically, it meant something when Merge arrived," Darnielle says, hoisting up his son. "People come here now and realize they need to spend time here, because when you're in downtown Durham, you feel like you're in a vital place. Merge is part of that. They belong here."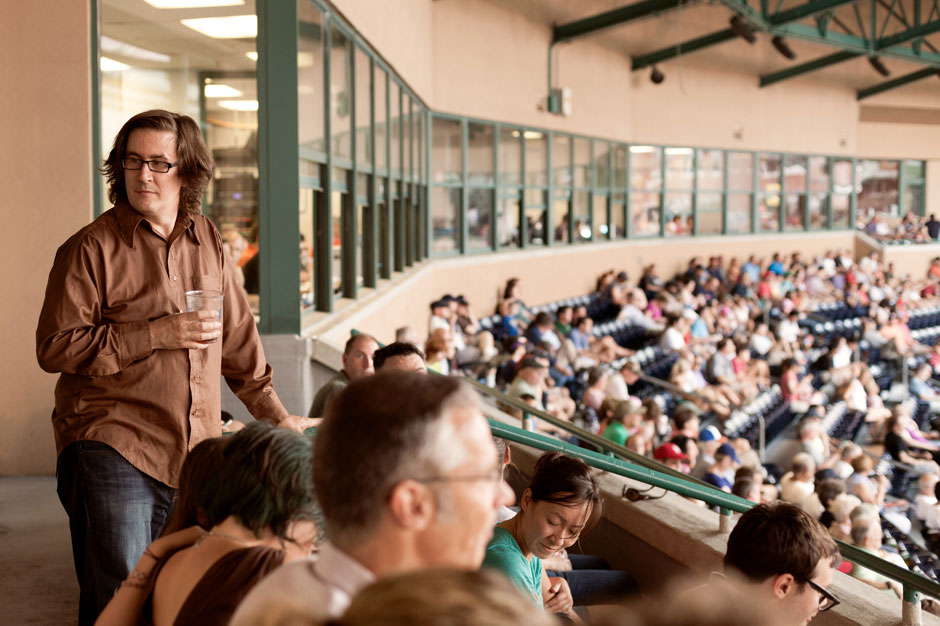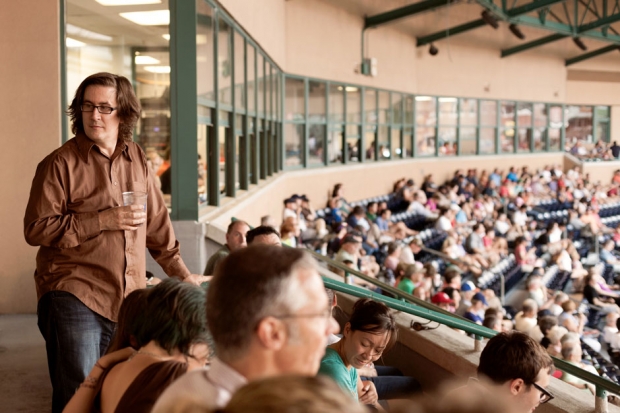 McCaughan and Ballance clearly take belonging seriously, a sentiment palpable in the familial, all-inclusive feeling of the outing to the ballpark, and forever visible in the fan-minded approach they've applied during the past two decades to making music and selling albums. This month brings the release of I Hate Music, Superchunk's tenth studio full-length, which throws everything they've accomplished into heartbreaking perspective. It's a record about questioning the lasting emotional impact of every riff and yelp that came before, a record about finally seeing the beginning just as clearly as you do the end, by a band that — nearly a quarter-century in — sounds as close to their raw, exuberant origins as they ever have. But its release has been tempered in part by the news that, for the first time, Ballance will not be joining the band on the road to support it. After years of crushing volume, she's experiencing symptoms of hyperacusis, a condition marked by oversensitivity to certain ranges of sound.
As the first few innings melt away, Ballance, her hair a shoulder-length Neapolitan of salt, pepper, and faded Windex blue, turns to her husband and admits, "This is a lot more fun than I expected it to be." Soon, Bulls mascot Wool E. Bull commences a nutty performance to "Eye of the Tiger," "Bohemian Rhapsody," and Céline Dion's "My Heart Will Go On."
"Ah," Darnielle says, breathing in the night air. "Another Merge classic."
Merge's beginnings were actually not all that different from Loaf's, the downtown bakery whose founder, Ron Graff, got his start selling the bread he baked in his Durham backyard out of his station wagon. "Originally, we started the label so that we could document all of this cool stuff happening here," Ballance explains over lunch at Pizzeria Toro. (The restaurant's chef/owner, Grey Brooks, was a classmate of McCaughan's at Jordan High School.) "It quickly expanded beyond that, though: One of the advantages of being in a band was that we'd always meet other bands while we were out on the road. It's not all that local anymore."
Superchunk, whose lineup would solidify in 1991 — with McCaughan up front, Ballance on bass, and guitarist Jim Wilbur and drummer Jon Wurster rounding things out — spent much of the following decade on tour and in league with other likeminded artists. And by the turn of the millennium, Merge (which, like the band, officially started in '89) had released two underground blockbusters (Neutral Milk Hotel's In the Aeroplane Over the Sea and the Magnetic Fields' 69 Love Songs) that would further bolster the label's reputation as a safe haven for small, independent bands. That wellspring of creative (and commercial) credibility would help lead to yet more success in the years that followed, including three Gold records and a 2011 Album of the Year Grammy for Arcade Fire's The Suburbs. "We're going to go play another song," the band's bewildered frontman, Win Butler, told a nationally televised audience that night, seconds after receiving the reward from an equally bewildered Barbra Streisand. "Because we like music."
The walk to Pizzeria Toro that afternoon offered more than just sweltering heat and humidity — it also emphasized the intensity of Durham's ongoing resurgence. There's the Stay and Play, a recent café/daycare two doors down, in another vacant building she and McCaughan purchased and refurbished five years ago, in an effort to revitalize their block. Then comes Rue Cler, the French bistro whose 2006 arrival signaled substantial change: "They had an espresso machine," says Ballance, guffawing. "And I remember thinking, 'My, aren't we getting fancy now.'"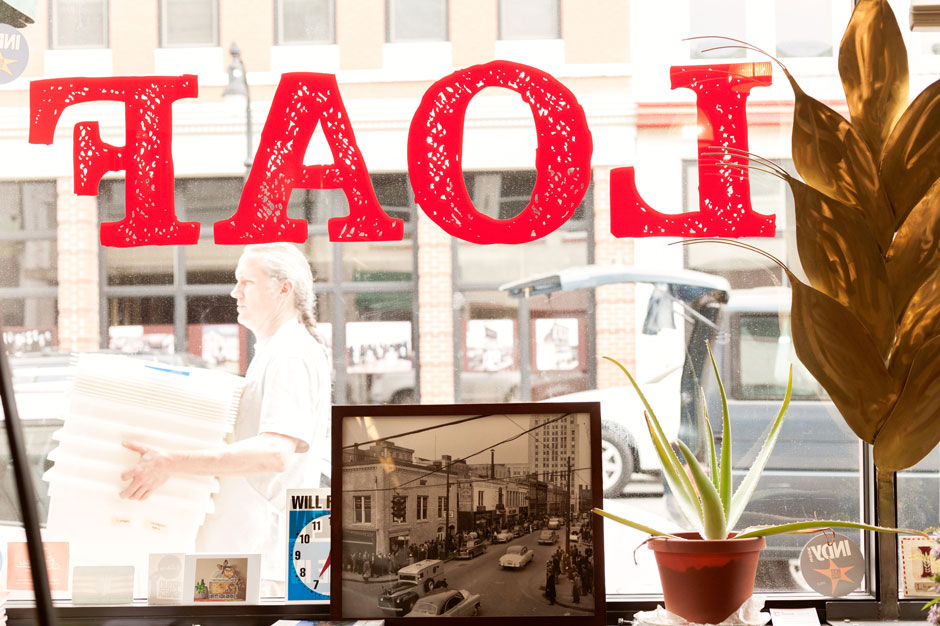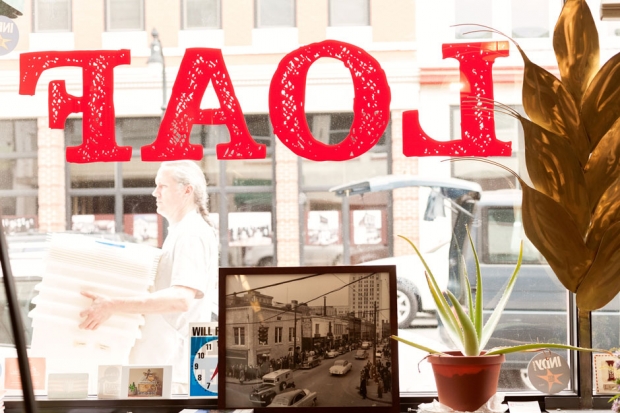 Further along, an aging post office gives way to an Organic Transit, a local startup that builds and sells OTVs, electric-assisted commuter vehicles you pedal along yourself. The fact that you can walk around at all is actually a sign of progress. Downtown Durham was hit hard not only by American Tobacco's departure in the 1970s (as seen and felt here in now-converted warehouse spaces, the landmark Lucky Strike smokestack rising from its former plant, and the local inescapability of the word "tobacco" and its legacy), but by the rise of car culture, luring away foot traffic and emphasizing loopy, one-way traffic re-circuiting that necessitated the razing of older buildings to make way for parking lots. But in the past two decades, Durham has experienced significant economic growth, with Duke, in particular, attracting thousands of new jobs to the city,
From there, past SpeeDeeQue copy shop, a family-owned relic that's been operating at the corner of East Chapel Hill Road and Foster Street for a staggering 38 years, you can cross Bull Park, a mostly empty, sparsely landscaped plaza of red-brick tile spread out in the shadow of the Sun Trust Bank and former Jack Tar Motel, a toolbox-like block of mid-century modern architecture (and tiered parking) more commonly referred to as "the Oprah Building," thanks to the "We Want Oprah" plea that late landowner Ronnie Sturd