On a soft July evening in Durham, North Carolina, shortly before the singing of our National Anthem, John Darnielle holds forth on baseball and breakfast. "Where have you eaten since you've been in Durham?" he asks, adjusting his glasses. "You didn't happen to stop by Loaf this morning, did you? Because if you did, and there weren't any peanut-butter-and-chocolate croissants left, I apologize: I grabbed the last few. They're insane."
The voice and face of much-beloved rock band the Mountain Goats, Darnielle is publicly passionate about a great many things, generous with deftly phrased opinions on sports and music and animal rights. But as he comes alive in Durham Bulls Athletic Park, touting his adopted hometown's ongoing renaissance from within its jewel-box minor-league-baseball stadium, his enthusiasm borders on the evangelical.
"We have so much good food in this town, it is crazy," he enthuses, between bites of a squishy veggie burger, as his sturdy two-year-old son, Roman, "our cookie sommelier," bulldozes a path to a platter of chocolate-chips just within his reach. "You go to these restaurants and you have profoundly good meals. You go to Loaf, you get the best loaf of bread you've ever had for five bucks."
A few blocks away, past the center-field bleachers, the city's once-abandoned downtown is now teeming with vibrant local businesses, including a staggering array of first-rate, farm-to-fork destinations, often natural extensions of already-successful vendors in the bustling Durham Farmer's Market and rapidly expanding swarm of food trucks. Bars, breweries, galleries, and urban farms have sprouted up, while the arrival of luxury condominiums is both luring new residents downtown and providing cause for concern among other Durhamites. Substantial retail operations seem to be finding some footing, and, not far from DBAP, you'll find the Durham Performing Arts Center, a recently built, Carnegie Hall-sized auditorium that has ranked nationally in ticket sales since opening in 2008.
But tonight is the Bulls organization's first official collaboration with another Durham institution: Merge Records, formerly and famously of neighboring Chapel Hill, 10 miles to the southwest, and label home to Spoon, Wild Flag, Arcade Fire, the Mountain Goats, and Superchunk, the pioneering 24-year-old punk-rock band of label co-founders Laura Ballance and Mac McCaughan. Both of whom are here as well, mulling over the catering options alongside Darnielle in the luxury box allotted to the label. At the Bulls' request, Merge has tapped its coveted back catalogue, providing the songs to which every Durham batter will stride to the plate tonight.
The entire stadium is gleaming in high definition, from the pink towers of cotton candy tottering through the aisles to the sweaty trains of light beer changing hands to the batting helmets of the visiting Pawtucket Red Sox, a team whose first, fruitless few at-bats are soundtracked only by narcotic crowd murmurs. But when a relatively propulsive snippet of the Mountain Goats' "The Diaz Brothers" cues up the approach of Bulls third baseman and leadoff hitter Cole Figueroa, all seems right in the Merge box. "Figueroa's got an older brother in the Big Show," Darnielle says to Ballance and her husband, Luc, an esteemed sound-engineer-turned-local-wine-importer. "We want him to go yard at least once tonight, so that he can say to the world that he owes it all to the Mountain Goats." Ballance, bratwurst in hand, cracks a smile and laughs. "John," she says slowly, "This is so weird."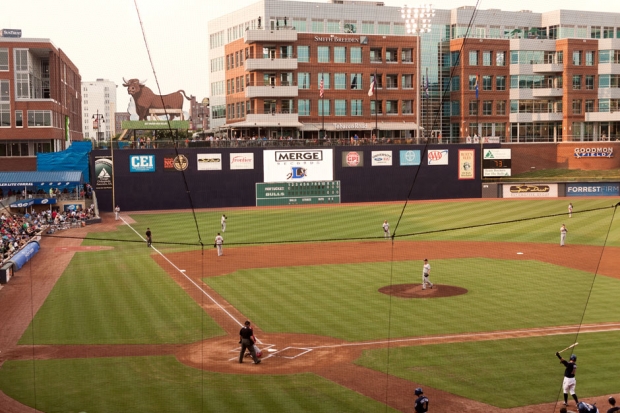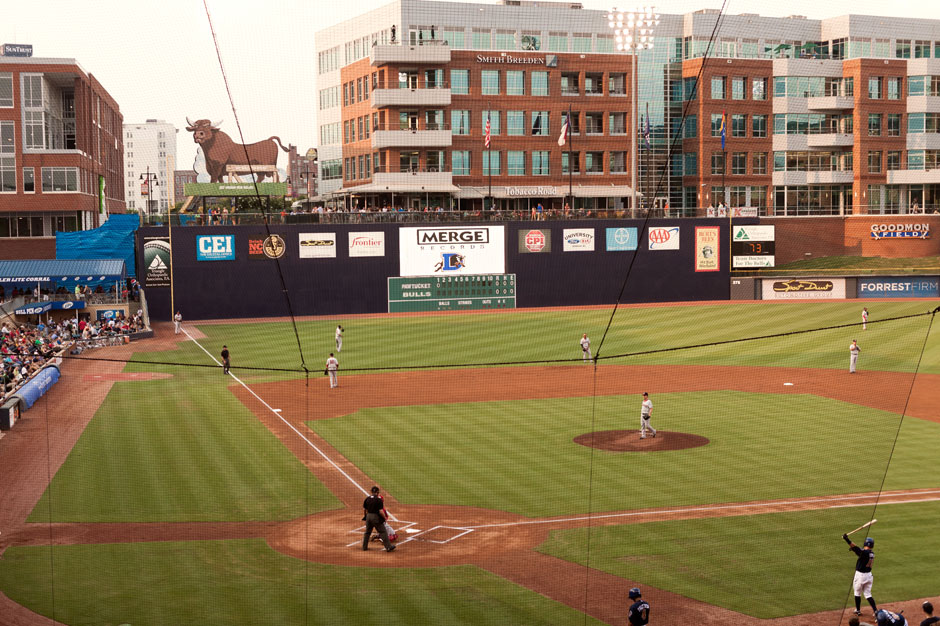 That's the good news, in terms of North Carolina's evolution during Merge's tenure here: Ten years ago, this moment wouldn't have been possible for a variety of reasons. But the surreal joy of this evening is undercut by recent political machinations at odds with the growth visible on the streets of downtown. For the past few weeks, Darnielle and Ballance, their children in tow, have taken to the State Capitol in nearby Raleigh for Moral Mondays, the NAACP-organized gatherings in protest of what they see as a state government run amok. Under recently elected Republican Governor Pat McCrory, North Carolina's Republican-controlled legislature has recalibrated the state's stance on public education, women's rights, unemployment benefits, racial justice, and voting laws, a path that McCaughan believes is sending his home state "back to some fantasy they have of a pre-Civil Rights South."
In the past year, Forbes placed Durham at No. 10 in its list of "Best Places for Business and Careers in 2013," while the New York Times has published a healthy stream of travel coverage trumpeting Durham's many cultural virtues ("I think someone at that newspaper must have a girlfriend or grandmother they have to visit down here," Ballance tells me, "because it's like they never leave."). But that praise was punctured in early July by "The Decline of North Carolina," a stinging Times op-ed piece addressing the political shift.
"It's embarrassing," McCaughan told me earlier in the week, using a word echoed by both Ballance and Darnielle, who has taken a break from Moral Mondays, he says, to save Roman from possibly seeing his father led away in handcuffs. "It's so outlandishly bad and backwards-looking that it endangers the progress made, because it dissuades smart, creative people from moving their businesses here," McCaughan continues. "There are no plans to move Merge out of North Carolina anytime soon, but it makes you want to."
Though Merge has yet to take direct political action, the label's contributions to downtown Durham are reminiscent of those made by Michael Stipe and R.E.M. in their native Athens, Georgia, another progressive Southern community that shares its space with a major university. Both have invested money in local restaurants (Merge in Pizzeria Toro, and a nearby bakery called Scratch; Stipe owns Athens vegetarian outpost the Grit, as well as the building that houses it), and both have been active (McCaughan is a board member at nearby Duke University's Nasher Museum of Art; Superchunk recently played a benefit to combat the chaining of local dogs) in communities that, because they're located in the South, experience a persistent cultural pushback from the rest of their respective states. "They're threatening what we've built here," Darnielle says of North Carolina's Congress. "This little oasis of ours, it's a 20-, 30-year project. And these politicians want more chains and more Wal-Marts."
That Times op-ed piece has been blown up, printed, and hung prominently in the front window of a gallery near Merge's downtown Durham headquarters, a pre-war building the label bought and inhabited in 2001, when much of the neighborhood was still vacant, boarded up, and thought to be dangerous. Though their original Chapel Hill post-office box continues to appear on every record pressed, the label has enjoyed all of its success in the past decade right here in Durham, in that two-story, fully modernized, but historically accurate red-brick office on the edge of downtown. "Philosophically, it meant something when Merge arrived," Darnielle says, hoisting up his son. "People come here now and realize they need to spend time here, because when you're in downtown Durham, you feel like you're in a vital place. Merge is part of that. They belong here."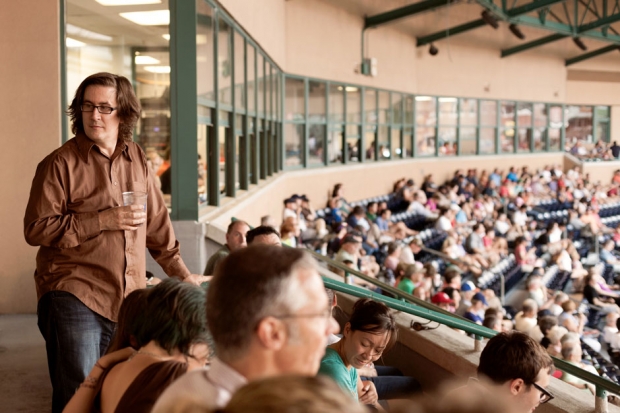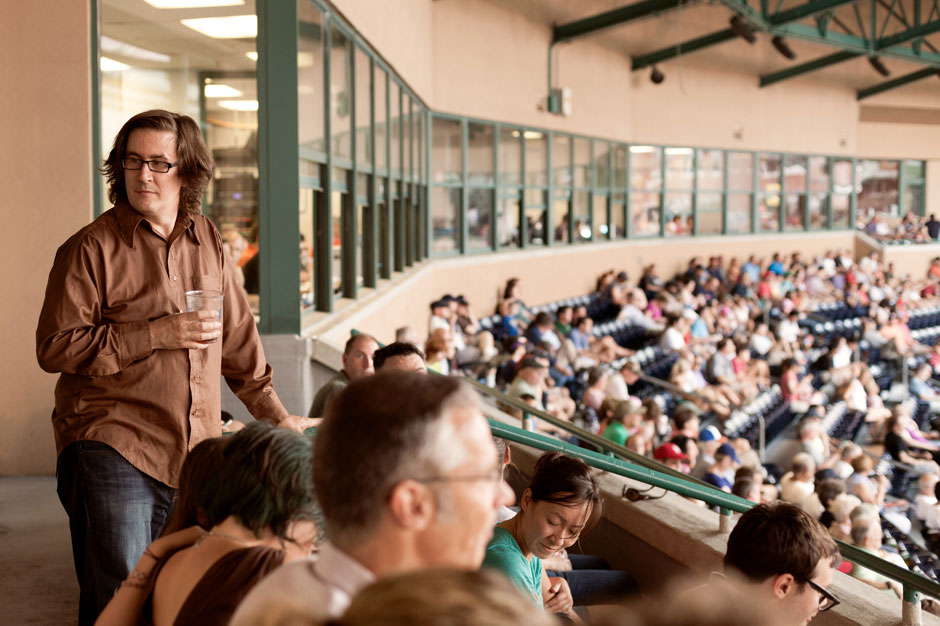 McCaughan and Ballance clearly take belonging seriously, a sentiment palpable in the familial, all-inclusive feeling of the outing to the ballpark, and forever visible in the fan-minded approach they've applied during the past two decades to making music and selling albums. This month brings the release of I Hate Music, Superchunk's tenth studio full-length, which throws everything they've accomplished into heartbreaking perspective. It's a record about questioning the lasting emotional impact of every riff and yelp that came before, a record about finally seeing the beginning just as clearly as you do the end, by a band that — nearly a quarter-century in — sounds as close to their raw, exuberant origins as they ever have. But its release has been tempered in part by the news that, for the first time, Ballance will not be joining the band on the road to support it. After years of crushing volume, she's experiencing symptoms of hyperacusis, a condition marked by oversensitivity to certain ranges of sound.
As the first few innings melt away, Ballance, her hair a shoulder-length Neapolitan of salt, pepper, and faded Windex blue, turns to her husband and admits, "This is a lot more fun than I expected it to be." Soon, Bulls mascot Wool E. Bull commences a nutty performance to "Eye of the Tiger," "Bohemian Rhapsody," and Céline Dion's "My Heart Will Go On."
"Ah," Darnielle says, breathing in the night air. "Another Merge classic."
Merge's beginnings were actually not all that different from Loaf's, the downtown bakery whose founder, Ron Graff, got his start selling the bread he baked in his Durham backyard out of his station wagon. "Originally, we started the label so that we could document all of this cool stuff happening here," Ballance explains over lunch at Pizzeria Toro. (The restaurant's chef/owner, Grey Brooks, was a classmate of McCaughan's at Jordan High School.) "It quickly expanded beyond that, though: One of the advantages of being in a band was that we'd always meet other bands while we were out on the road. It's not all that local anymore."
Superchunk, whose lineup would solidify in 1991 — with McCaughan up front, Ballance on bass, and guitarist Jim Wilbur and drummer Jon Wurster rounding things out — spent much of the following decade on tour and in league with other likeminded artists. And by the turn of the millennium, Merge (which, like the band, officially started in '89) had released two underground blockbusters (Neutral Milk Hotel's In the Aeroplane Over the Sea and the Magnetic Fields' 69 Love Songs) that would further bolster the label's reputation as a safe haven for small, independent bands. That wellspring of creative (and commercial) credibility would help lead to yet more success in the years that followed, including three Gold records and a 2011 Album of the Year Grammy for Arcade Fire's The Suburbs. "We're going to go play another song," the band's bewildered frontman, Win Butler, told a nationally televised audience that night, seconds after receiving the reward from an equally bewildered Barbra Streisand. "Because we like music."
The walk to Pizzeria Toro that afternoon offered more than just sweltering heat and humidity — it also emphasized the intensity of Durham's ongoing resurgence. There's the Stay and Play, a recent café/daycare two doors down, in another vacant building she and McCaughan purchased and refurbished five years ago, in an effort to revitalize their block. Then comes Rue Cler, the French bistro whose 2006 arrival signaled substantial change: "They had an espresso machine," says Ballance, guffawing. "And I remember thinking, 'My, aren't we getting fancy now.'"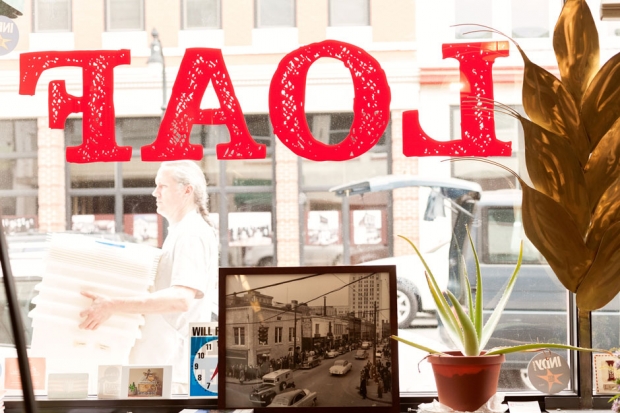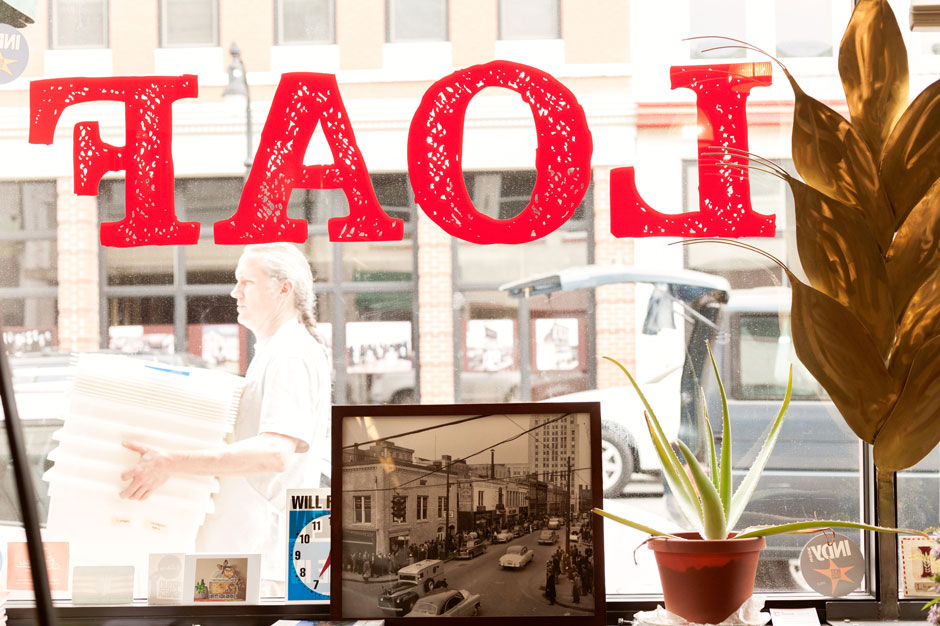 Further along, an aging post office gives way to an Organic Transit, a local startup that builds and sells OTVs, electric-assisted commuter vehicles you pedal along yourself. The fact that you can walk around at all is actually a sign of progress. Downtown Durham was hit hard not only by American Tobacco's departure in the 1970s (as seen and felt here in now-converted warehouse spaces, the landmark Lucky Strike smokestack rising from its former plant, and the local inescapability of the word "tobacco" and its legacy), but by the rise of car culture, luring away foot traffic and emphasizing loopy, one-way traffic re-circuiting that necessitated the razing of older buildings to make way for parking lots. But in the past two decades, Durham has experienced significant economic growth, with Duke, in particular, attracting thousands of new jobs to the city,
From there, past SpeeDeeQue copy shop, a family-owned relic that's been operating at the corner of East Chapel Hill Road and Foster Street for a staggering 38 years, you can cross Bull Park, a mostly empty, sparsely landscaped plaza of red-brick tile spread out in the shadow of the Sun Trust Bank and former Jack Tar Motel, a toolbox-like block of mid-century modern architecture (and tiered parking) more commonly referred to as "the Oprah Building," thanks to the "We Want Oprah" plea that late landowner Ronnie Sturdivant spelled out in its third-floor windows, in hopes of luring the media magnate to Durham.
Oprah finally came in 2009, though only to speak at Duke's commencement ceremonies. Unlike Chapel Hill's relatively harmonious relationship with its own resident college, the University of North Carolina, Duke — an elite private school — has long suffered from a cultural disconnect between its student body and mostly working-class Durham. But that's changing too.
"I think Duke took a long look in the mirror after the lacrosse scandal," says Aaron Greenwald, director of Duke Performances, recalling the racially charged 2006 case in which three white Duke lacrosse players were accused of sexually assaulting an African-American escort and stripper at a university-owned off-campus home. Though the charges were ultimately dropped and the players' lawsuit against the city was successful, the case was emblematic of the divide between Duke's student body and Durham's black residents, an issue the university has attempted to remedy with community outreach programs like Duke Engage, a volunteer initiative funded in part by Bill and Melinda Gates.
At the start of the 20th century, downtown's Parrish Street was heralded for its wealth of flourishing, black-owned financial enterprises, a development that earned it the moniker "Black Wall Street" and Durham a reputation as the "Capital of the Black Middle Class." Today, Durham County's African-American community still accounts for nearly 40 percent of the population — most of which, by Southern standards, remains largely desegregated. That diversity has distinguished it from Chapel Hill and Raleigh, and has played a major role in attracting young artists from North Carolina and elsewhere.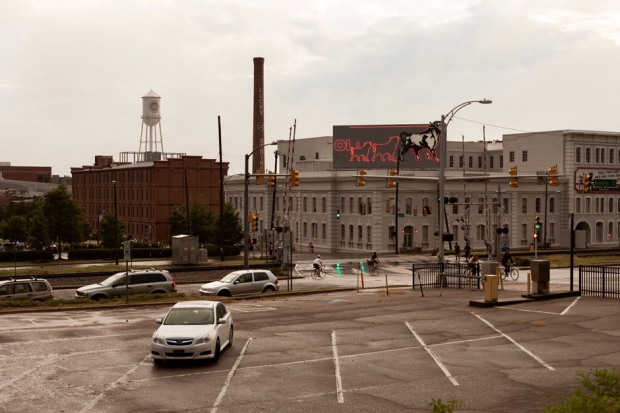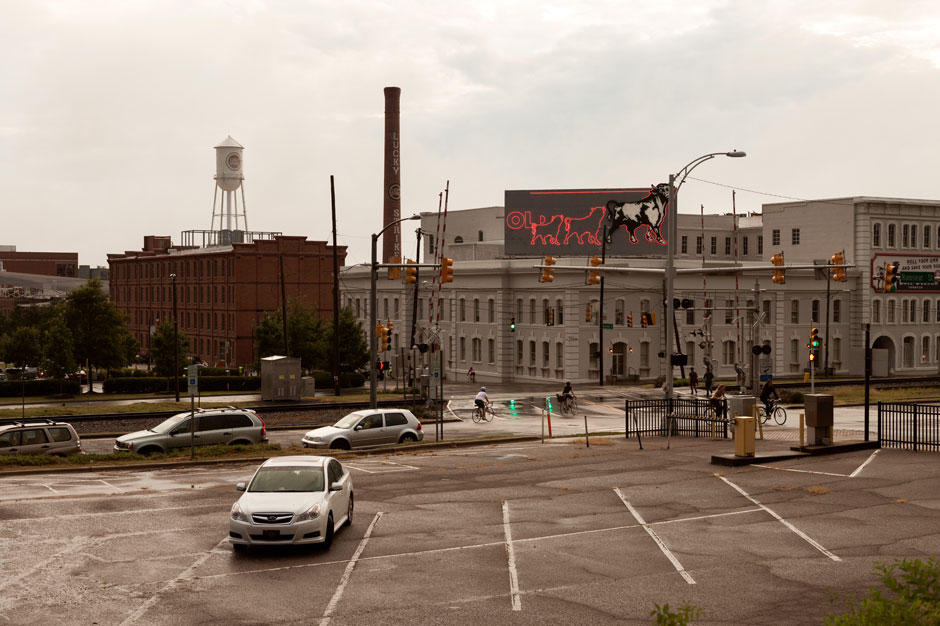 "For the first time in a long time, Durham is more of a focal point [in this area] than it has been," Greenwald says. "Culture plays into that." Since 2008, Duke Performances has been booking 50 to 60 cross-genre shows a year, with the university organization utilizing not just new downtown rock dives like the Pinhook and Motorco, but the Durham Performing Arts Center, as well, which has hosted the likes of B.B. King, Sheryl Crow, and Leonard Cohen.
"We were the city that people in Chapel Hill or Raleigh didn't want to visit because they thought it was dangerous," says Greenwald. "That was a pervasive notion. Durham hasn't been thought of, traditionally, as an idyllic college town. But the Performing Arts Center, just as much as the Bulls, has provided a substantial anchor for the downtown community. If you're doing 100 nights of 2,800 people, that's a quarter of a million people coming to downtown Durham every year, to see shows and maybe have a meal. That's a lot of people."
"There are more and more shows here happening every night," says Heather McEntire, 31, bartender at the Pinhook, instructor at the local Girls Rock! music school, and chief songwriter and vocalist for Mount Moriah, a Durham-based, Merge-signed folk trio. "If you're a touring band and you're in Atlanta, on your way to D.C. or vice versa, traditionally, you're going to need a space in between. But bands aren't just going to the Cat's Cradle or Local 506 in Chapel Hill — a lot of them are choosing to come to Durham."
McEntire grew up on country music in Green Creek, a small town in the Blue Ridge Mountains four hours west of Durham. She left for the University of North Carolina-Wilmington in the late '90s, where she first heard punk rock, working at the college-radio station and watching Superchunk from her dorm-room window as they performed on the campus grounds below. After she graduated in 2003, she moved to Chapel Hill almost immediately. "They're a big reason why people moved here and continue to move here," she says of Superchunk, whom she followed to Durham not long after. "They saw the potential. Back when I first moved here, you didn't really go to Durham. Now, I don't really go to Chapel Hill."
Across the street from Duke's East Campus, you'll usually find a gunmetal-grey '92 Dodge Ram passenger van parked in front of Nice Price books. On its sides, you'll find the sort of non-skid safety plating normally reserved for hot rods. And in front, a decorative Jägermeister plate adorned with the following serving suggestion: "Serve Cold, Keep on Ice."
"This is more rock now than we ever were," says Jim Wilbur with a sneer, as he peers through the van's passenger-side window, pointing toward the chrome skulls that now adorn the lock switches, cigarette lighter, and rear-view mirror. The Superchunk guitarist, dressed in jeans, sneakers, and a ratty green t-shirt, works at Nice Price five days a week now, holding court on eBay via a flimsy dial-up connection on a PC in the cluttered back room, amid stacks of Dungeons & Dragons guides and forgotten second-hand DVDs. He started here when Superchunk began an indefinite hiatus in 2002 (which officially ended with the release of 2010's Majesty Shredding), after 10-plus years of endless touring in the van outside, which his boss, Barry Blanchette, bought from the band in '02 to "haul crap" from estate sales.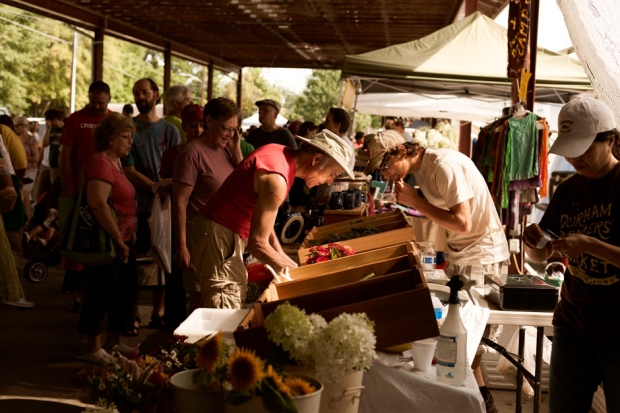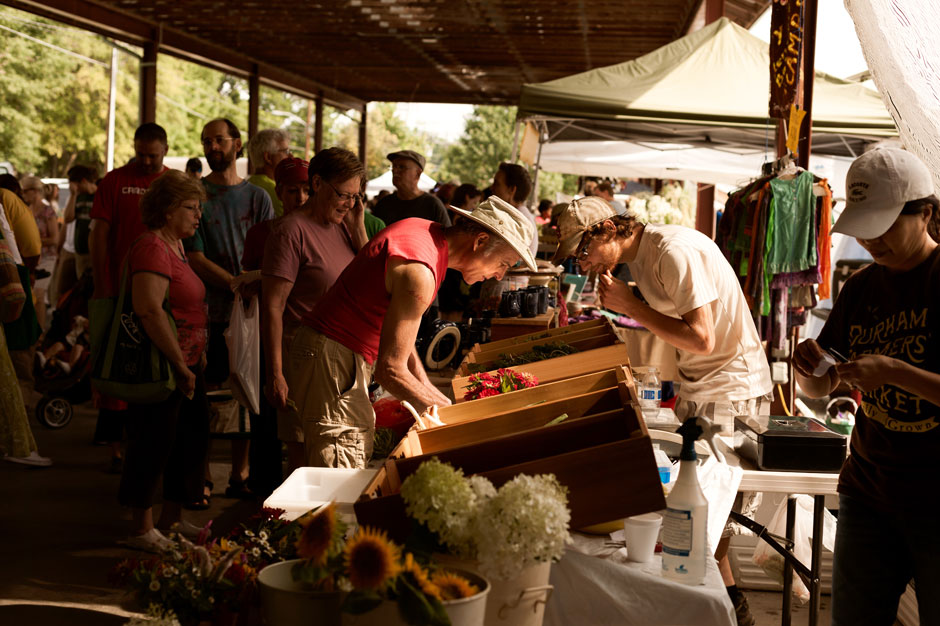 "That was a perfectly good van for a rock band, and you went and gave it a fantasy makeover," Wilbur says to Blanchette as we walk inside.
"It was rusted, Jim," Blanchette retorts with a laugh, his West Texas drawl letting the words lean to the side as they leave his mouth. "It was rusted and embarrassing. I just gave it some touches." (His black PT Cruiser sits just next to the van, its doors replete with flame decals.) "Besides," he says, "y'all wouldn't want to tour in the Zeppelin now, anyway."
When the vehicle belonged to Wilbur and his bandmates, it wasn't referred to as "the Zeppelin." In fact, Wilbur remembers a willful disinterest in giving this van, their home for the better part of a decade, any name at all. "We wanted it to be as nondescript as possible," he says. "Every time I look at [it], I think, 'Jesus, I spent a lot of time in that thing. It was like an apartment." Having done 90 percent of the driving, he tries to recall what exactly he hit to put a crease in the back bumper.
"Towards the end, wherever we went, I would sit outside in this thing at night, in the hotel parking lots, and drink scotch and smoke cigarettes, one after the other after the other," he says. "I'd stumble back inside after midnight, but in the morning, everyone would yell at me." He sighs again. "It would always smell like a fuckin' distillery."
Wilbur is feeling a little more nostalgic than usual. In the next week, he and his wife, Abby, will leave Durham for Asheville, another thriving, similarly progressive community more than three hours west, where she'll be studying Eastern medicine. For the past few days, he's been boxing up his things, uncovering old mixtapes and four-track recordings, "listening to stuff like Verbal Assault for the first time in a long time." And so, for the next hour or so, Wilbur gives me his tour of Chapel Hill, as it was when he first arrived in 1990. "I'm going to be homesick," he says as we drive. "This is good for me."
Wilbur, a Connecticut native who met McCaughan — a fellow hardcore kid — while the latter was studying at Columbia in late-'80s New York City, came down to the Research Triangle (the collegiate triumvirate encompassing Durham, Chapel Hill, and Raleigh, home of North Carolina State University) a year later, after an invitation to replace founding Superchunk guitarist Jack McCook turned into a permanent gig. We roll past his apartment in the Colonial Arms complex, where he found a place not long after crashing with Ballance and McCaughan in their white corner house at 406 McDade Street. He stops the car and points to the latter's front window. "We used to practice in the kitchen right there," he says, his voice barely audible over the cicadas rattling in the trees outside. "We'd throw these impromptu parties, play in front of maybe 15-20 people, drink tons of cheap beer."
Minutes later, we're zipping past a FedEx Office outpost on Franklin Street in downtown Chapel Hill, formerly the Kinko's where he and Ballance and McCaughan worked as temps, "collating, clearing jams, making copies, and assembling course packets" for UNC students, "something that now seems so obsolete and absurd." The experience would inspire McCaughan to write "Slack Motherfucker," a keeper from Superchunk's self-titled 1990 debut LP. But to Wilbur, a self-described "miserable New England Protestant," such work was not unlike that which awaited them on the road.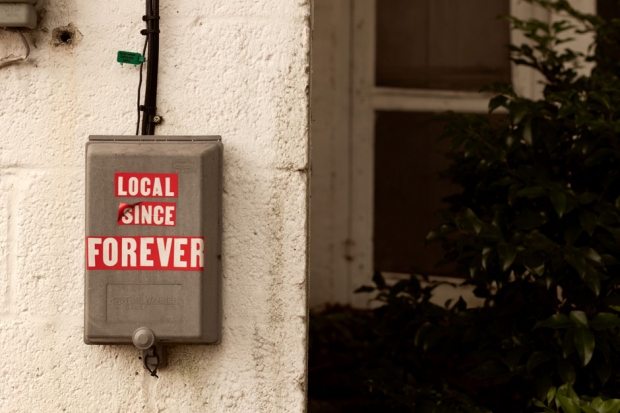 "It wasn't a lot of fun," he says. "It was a lot of work, the hardest of my life. I mean, we were essentially manufacturing an audience, cramming into these vehicles, playing these shows to five people who had no clue who we were. And there are 22-year-old people who do something similar, but it can never be done again the way we were doing it, without GPS and cell phones. It required total faith in the process. It was pure chutzpah."
I ask him what goes through his mind when he comes across a young band just getting started. "I want to say that I'm too old for this shit, even though I'm not," he admits. "But I still wonder, 'Where do they find the energy?'"
A few months ago, Jon Wurster drove from his home in Chapel Hill to downtown Durham for a haircut. As he settled into the stylist's chair, and his thick brown locks started to fall to the floor around him, a familiar sound wafted from the salon's sound system. "It was obviously a Superchunk song, but I had no memory of it at all," he says to Ballance, recalling the moment as he works his way through a stack of promotional posters in need of signing at the Merge offices one recent morning. "I kept listening and kept thinking, 'What is this?'"
"So you knew it was us?" she asks.
"It sounded like us," he continues. "But when the singing came in, I still didn't know what it was. So I Soundhounded it, and it turned out that it was the song 'Here Come the Strings.' I remember us having a record called that, but not a song. It wasn't on the record, right? It must have been a B-side."
"I have no idea," she says. "That happens to me sometimes. But I expect that to happen to me, not to you. I mean, we've recorded so many songs, I've lost count."
"It feels like we must have 700."
His forgetfulness is not all that alarming, if only because Wurster, 46, spent much of his time during Superchunk's hiatus learning even more songs. At the moment, he's enjoying a rare, albeit short break from touring, spending some time with his parents, who recently moved down to the Triangle from Pennsylvania. On Sunday, he'll be back in the studio to record drum parts for new Mountain Goats demos, before the band flies to Rhode Island for the Newport Folk Festival. And in a month, he'll rejoin legendary Hüsker Dü/Sugar frontman Bob Mould for another slew of dates that will intersect with Superchunk's own tour for at least one festival appearance in September, an infrequent occasion on which he'll pull double duty, as he did at last November's Fun Fun Fun Fest in Austin. (All three of those bands have recording contracts with Merge). And as a writer for television shows, Wurster has elevated his profile as an alt-comedy avatar considerably in recent years, the result of his longtime contributions to indie-rock lifer (and zine writer) Tom Scharpling's The Best Show on WFMU. "There's this great Roger Daltrey quote," Wurster says, "where he's talking about all the individual side projects that the guys in the Who would take on: He said he felt like the Who was the Mothership. That's how I feel about Superchunk. It's like going home. They're my family at this point. "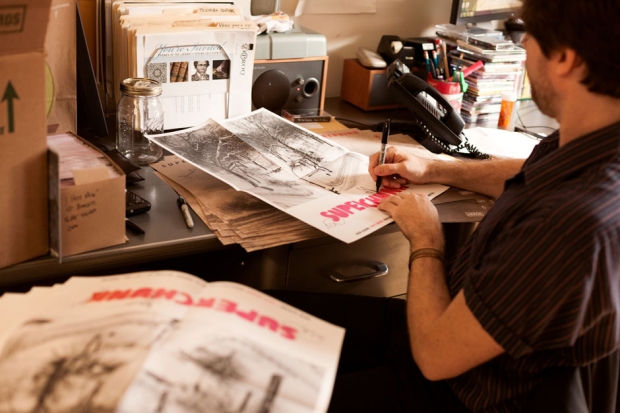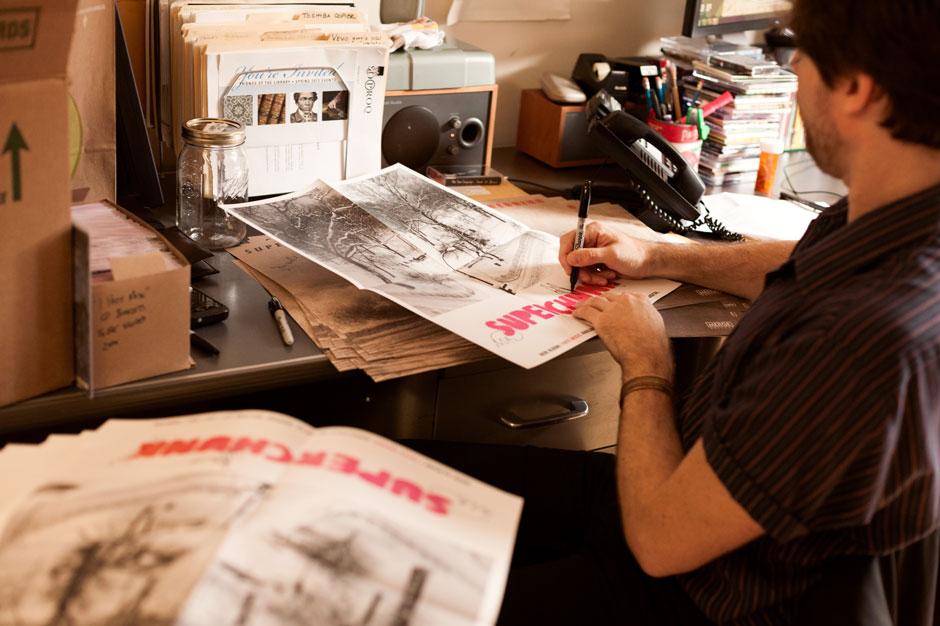 But if he has a gift, Wurster says, it's his ability to recall both songs and buried details, like the first thing Ballance said to him on the night of his first band practice in 1991 ("Hi — I'm the weakest link") to the Post-It note McCaughan left for him on the door in case he arrived on time ("Went to buy beer, be right back — it is our fuel") to a conversation he had with a friend the first time they saw a pre-Nevermind Nirvana perform for a modest Chapel Hill crowd: "I remember saying they sounded almost as good as the Screaming Trees had in that room a few weeks before. It's funny: As I recount this stuff, it feels like yesterday, and it feels like another lifetime all at once."
After spending his youth playing punk shows (with Psychotic Norman) and booking them (he handled the Dead Milkmen's debut) in suburban Philly, Wurster came down to North Carolina in the mid-'80s to join another band: the Right Profile, a short-lived, Winston-Salem-based Stones/Replacements hybrid that already had a major-label deal with Arista. But it was the "corporate red tape of that world and that experience" that allowed him to appreciate Superchunk so much more when he joined in 1991. McCaughan saw Wurster washing windows around Chapel Hill — including at Schoolkids, the record shop where he was working at the time — and asked the drummer to join the band after they'd parted ways with founding member Chuck "Chunk" Garrison. And so, to learn McCaughan's latest batch of songs, Wurster would listen to a cassette of Superchunk's sophomore full-length, 1991's No Pocky For Kitty, on headphones as he worked. His first album with the band, 1993's On the Mouth, was their last for Matador before releasing their records on Merge.
"Going through that major-label thing, where you can't do anything yourself, makes you realize you're dependent," he says. "You become dependent on this guy OK'ing this, this person OK'ing this. Then you get to make your record, and they judge whether or not that's OK or releasable. The thrill of going from that to Superchunk and Merge, where we did everything ourselves, was so refreshing." He cracks a boyish grin. "It's kind of an amazing story when you think about it: That two people in the band went on to form one of the greatest, most successful record labels of the past 20 years. I mean, it couldn't have worked out any better for the band — we're probably not going to get dropped."
In her office window, Ballance has taped a small piece of art to the glass: "MERGE IS MAMA'S BAND, I MEAN RECORD LABEL," it says in her eight year-old daughter Nina's handwriting. But for the first several years, Superchunk was very much a reflection of Merge and vice versa: independent but sensible, pragmatic but not dogmatic. That ethos permeated the work of both entities. And for a decade, they toured and recorded without pause, furthering the blueprint for what a self-sustaining indie-rock band could be.
At the suggestion of McCaughan's father (an estate-tax attorney at Duke) and the insistence of Ballance (longtime fiscal manager for both the band and label), the members of Superchunk earned monthly paychecks and annual bonuses. Everyone received the same pay, everyone enjoyed health insurance, the van was maintained, and Ballance saw that they operated within their means.
"For some reason," she says, "people don't grow up knowing how to handle money responsibly. I don't know why I know how. But when I think about how I perceived my parents as a kid, it was like, 'My mom is crazy, she spends more money than we have. My dad is sitting around with a checkbook, pulling at his hair.' That was enough to make me realize that I didn't want to live like that. "
Ballance had bounced around the South as a kid, from Georgia to Arkansas to North Carolina, where, as an anthropology major, geology minor, and high-functioning Goth at UNC-Chapel Hill, she met McCaughan for the very first time. They were both working at Pepper's Pizza, an enthusiastic employer of local weirdos. He had dreadlocks, she'd soon grow hers out, too. Before he returned to New York for school, they'd started both a romantic relationship and a rock band, Chunk (the "Super" came later), a bouncy, post-hardcore outfit he'd somehow convince her to join before she'd ever played a note of bass guitar. And though they'd break up in 1993, the band, improbably, stuck together. Now, watching McCaughan motor purposefully around Merge's two-story, tin-ceilinged, naturally lit office, you can understand how he first talked her into all of it.
"Mac is a forceful personality," she explains. "He'll say, 'Let's do it!' and I'll say, 'But can we afford it?' Part of our success comes from those two opposing forces." She laughs quietly. "He's talked me into a lot of things. But Merge is not one of them."
In fact, by the time Ballance had moved to Durham in 1998, Merge had started to sell enough records (largely thanks to Neutral Milk Hotel and Magnetic Fields) to result in a sizable "nest egg," the sort of financial reservoir they'd need to finally move out of their Chapel Hill home office and into a Durham space she'd found one day while riding her bike around downtown. This time, it was Ballance's turn to convince McCaughan. And it wasn't so much the romance of forging another path as it was simple economics: Property in downtown Durham was very cheap at the time. "I didn't think he would be into it," she says. "But he was."
She'll soon be spending more time in this office than she'd like. After years of playing in small rooms, caught between McCaughan's amp and Wurster's cymbals, Ballance recently realized that she'd developed a condition known as hyperacusis — a sensitivity to loud, sharp noises. She'd felt it for the first time at a parking-garage show in Chapel Hill for local Merge signees the Love Language, and then again shortly thereafter while hosting a New Year's Eve dinner party. Everything she heard was crunched and mashed together into a single, painful wash.
A conversation with Magnetic Fields mastermind Stephin Merritt all but confirmed her fears. "It's a self-diagnosis," she admits. "But he's been complaining about his ears and been sensitive to playing live for a long time. After [the Magnetic Fields] finish a song, and people applaud or yell, he covers them, because sudden noises set it off. I asked, 'What is this thing that's happening to me?' He gave me the name for it. And there's nothing anybody can do about it."
In an attempt to fight the condition, some people carpet their entire lives. But Ballance, who started wearing earplugs in 1992, is giving up what she says has always been her favorite part of Superchunk. McCaughan will leave for a tour, and Ballance will weather the forthcoming release of a new Arcade Fire record on her own, a first since they signed the band 10 years ago. She struggles now to hear her daughter and husband at times, and — just as she does in our time together, her eyes often narrowed — she occasionally reads lips to make out what people are saying around her. "Sometimes, when we were touring and we'd had a bad day or a bad show, I'd have these moments," she says. "I'd think, 'Wow, what a stupid job. What a stupid, ridiculous job I have: I drive around and drink free beer and get up onstage and jump up and down for an hour, and then start over the next day.' But it's worth it. It means so much to people. I wish we didn't have to be as loud as we are. But that's the way it is."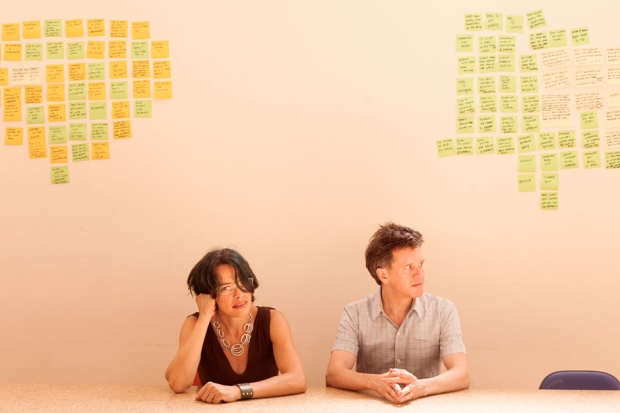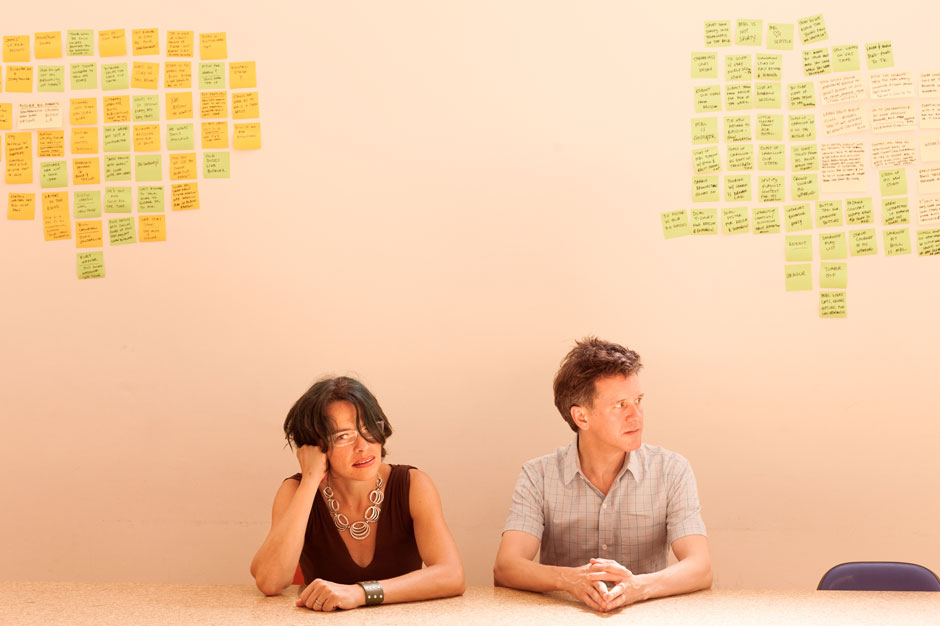 Though McCaughan is the only member of Merge's staff of 16 who continues to live in Chapel Hill, he doesn't mind the drive each morning. "That half-hour back and forth each day," he says later that afternoon, "is the only time I get to myself." The 46-year-old is sitting at his long dining-room table, surrounded by work, awaiting the return of his two kids, Oona, 10, and Arthur, 6, from summer camp. Their artwork lines the kitchen wall, their penciled-in height measurements climb its entryway. When the doorbell rings, he sprints to intercept a UPS package he'll hide before they both come home. "That was a close one," he says. "Oona's birthday present."
McCaughan and his wife Andrea, a James Beard Award-winning chef at Lantern in Chapel Hill, moved into this house nearly 10 years ago, an earthen, mid-century modern that hugs the side of a hill obscured by pines. As their family has grown, they've renovated, adding a basement studio and a lengthy back porch where you can sit eye-to-eye with the tree canopy. "I'd recorded Summer of the Shark here, in a bedroom in the back," he says, referencing a 2003 album from his prolific solo project, Portastatic. "I thought that was my home studio, but because we have kids, that changed right away." When they finally arrive, Oona is wearing a long Bon Iver T-shirt (her uncle Matt, Mac's younger brother, plays drums for the group), while Arthur boasts a mess of blisters on his feet, souvenirs from spending the day with his shoes on backwards. "Oh, buddy," his dad says, holding Arthur's right foot. "That looks like it hurts."
Downstairs, you'll find a cool, high-ceilinged room crammed with amps and guitars, a drum kit, and a simple recording rig. The floor is covered in rugs and crumpled-up set lists, some belonging to Portastatic, some to Superchunk. A pair of Steve Keene-painted covers to Born to Run and The Freewheelin' Bob Dylan sit atop an upright piano in the corner. (In the Merge office, you'll also find Keene's renditions of most of Superchunk's '90s output lining the walls of the staircase.) Before McCaughan built this space, Superchunk lacked a dedicated place to rehearse, and were forced to rent. Now they have a place to demo and sharpen up.
It was McCaughan who insisted on a hiatus, as opposed to a more definitive breakup. After a few dalliances with the mainstream, including appearances on MTV's 120 Minutes, Conan O'Brien, and a Lollapalooza tour, Superchunk eventually found themselves trailing a generation of musicians they'd influenced. In 2001, just a week after 9/11, they released Here's to Shutting Up, their eighth and aptly titled full-length. And after a year of thankless touring at a time "when it felt like the world was ending," as McCaughan remembers it, they found themselves open to the idea of supporting the Get Up Kids, a much younger band whose burgeoning, emo-oriented audience promised something new. The result was the indie-rock equivalent of Pearl Jam opening for Creed, a nightly experience demoralizing enough that the band's rhythm section concluded that the time was right to stop. ("It was like playing to a painting for a month," Wurster told me with a laugh.)
"We had seen bands break up and say, a couple of years later, that it'd be fun to play what would inevitably be billed as a reunion show, presented as nostalgia," McCaughan says of insisting on a hiatus. "And I didn't want to get into that cycle. To me, it was predictable that we'd want to play shows together again. We could all just start other bands, but if I knew that Superchunk was good, why be so wasteful with all of the valuable time and energy and hard work we put into getting there?"
The solution was a nine-year break dotted with one-off performances and benefits. In the interim, McCaughan became a husband, a father, a homeowner, a landlord, and a Grammy Award-winning record-industry mogul. But if there has been one governing principle behind his approach to leading both his label and his band, it was to make and release the records he'd want to hear himself, just like the bands (Hüsker Dü, Dinosaur Jr.) and labels (Dischord, Amphetamine Reptile) that inspired him to start his own. "I was never a writer," he says. "I didn't feel like I had to express myself. I wrote lyrics because songs need them. It wasn't about articulating a point of view. I just wanted to be in a band."
In 2009, he started "doing some arm-twisting" to convince the rest of the group that it was time to be a band again. Two years later, it yielded Majesty Shredding, a wheelie-popping treatise on realizing you're old enough to look back, on co-opting nostalgia even if you're allergic to it. That it sounded like early-'90s Superchunk was part of its magic. "I wanted to surprise people," McCaughan says. "Not that it's surprising that a Superchunk album has loud guitars on it, but I wanted to make something that no one would expect us to make at this point in our career. I wanted us to use the fact that we've been together for so long to make it sound great."
It worked. And now, I Hate Music arrives as an equally surprising, similarly effervescent companion piece, inspired in part by the early-2012 death of David Doernberg, a friend to the band, label, and McCaughan's family personally, a production designer who sold merch on early Superchunk tours and even designed Andrea's restaurant. For McCaughan, Doernberg's battle with cancer threw everything into stark, painful relief. "Beyond the sadness, realizing that people your age can get sick and die is bound to make you realize that life is moving towards a definite end. You understood that intellectually, but it's easy to forget that at 25."
Arguably McCaughan's finest hour, I Hate Music is a set of songs whose subject matter — the ephemerality of both life and rock'n'roll — doesn't exclude the young, many of whom are showing up to Superchunk shows these days in surprisingly larger numbers. "How do you take something that is valuable to you, like music or the feeling you had the first time you heard Minor Threat, and hold onto that?" he asks. "Do you try to keep experiencing it? Or do you accept the fact that you will never feel that again, that you will never experience certain things again for the first time or in the same way? Yeah, this record is about getting old, but it couldn't be slow or depressing. That's not anything someone wants to hear, and that's not a record I ever want to make."
Back at Durham Bulls Athletic Park, both Ballance and McCaughan are too preoccupied to notice when "Big" Shelly Duncan, the Bulls' Ponderosa-like designated hitter, brandishes a bat to the tune of Superchunk's "FOH." Though he normally takes the plate to the opening rumble of Metallica's "Enter Sandman," this new tune, Duncan says via e-mail, was "close enough." But along with their kids, everyone in the Merge camp seems more eager for the seventh-inning stretch, when Wool E. Bull takes his traditional lap around the diamond in a tiny car. Ballance is particularly excited.
As Oona and Arthur leave to seek out ice cream, McCaughan tells me about childhood Februarys when he'd watch baseball with his father in Fort Lauderdale, Florida. Each year, the New York Yankees would come to town for spring training, and young Mac would marvel at guys like Reggie Jackson and Mickey Rivers. When the family moved to Durham a few years later — where he'd eventually discover both hardcore and R.E.M. — Mac would occasionally go with his parents to see the Bulls in the team's old ballpark.
I ask him what does make him nostalgic, if anything. "I guess I don't really know what the definition of 'nostalgia' is anymore," he says, his speaking voice just as young, nasal, and citrusy as it always has been on record. "I mean, I don't wish I was still in Florida watching baseball. If there's still something you enjoy doing, there's no reason to stop, even if you were, say, 20 years old when you started. If you keep creating, then you keep moving forward. It's the looking back that's a dead end."
Down on the field, the Bulls wade through a long, languid fifth inning, part of a scoreless stretch which lasts until the seventh, when Wool E. takes his spin and the owner of the ballpark, Jim Goodmon, walks to the first-base line alongside Durham's mayor, Bill Bell, to publicly announce DBAP's downtown lease for another 20 years. "I heard a good radio interview the other day with [the artist] Ellsworth Kelly," McCaughan says, just before he leaves to put his kids to bed. "He's 90. He said, 'I figured if I keep painting, I'll never die.' That was his take: 'As long as I'm still working, I'm still living.' That's the way to look at it."