While the International Olympic Committee kowtows to Russia's draconian anti-gay legislation, the club scene is beginning to fight back as it best knows how: by partying.
Berlin's Berghain, Munich's Harry Klein, and Brooklyn's Output will throw coordinated events on September 12 under the banner, "Promote Diversity," reports Resident Advisor. The full admission fees from the events will go to All Out, a non-profit organization that works to defend the rights of LGBT people worldwide. (Updated: On Thursday, a Berghain rep emailed SPIN to announce that Tel Aviv club The Block will also join the charity effort with a September 12 fundraiser.)
In a press release for the event, Berghain's management wrote, "Human rights are not negotiable — or are they?" Noting the grim news coming out of Russia, they stressed, "Intolerance is not simply a territorial problem — but we would like to take recent developments in Russia as the mark to send out a clear signal with the 'Promote Diversity' party. Equality and tolerance are basic values that the club and music scene has always supported. Sometimes we have to remind ourselves that the level of freedom we have achieved cannot be taken for granted, be it here or elsewhere." In the German-language version of the press release, they also noted that even in Berlin, special effort was required to preserve Berghain's role as a libidinal free zone — a nod, perhaps, to the club's no-cameras policy and infamously difficult door. (They aren't the only ones fed up with cameras in clubs.)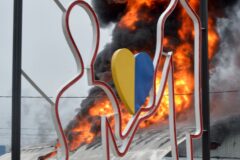 The Dutch DJ Steffi, a resident of the Berghain's sister club Panorama Bar, elaborated on her colleagues' decision to take action. "Awareness is essential," she told SPIN. "These new laws in a country as huge and powerful as Russia lead to extreme forms of fascism that don't belong in a free society. Equality and diversity should be possible for everybody in this world."
The Berlin DJ Andreas Baumecker said, "I think it is important to mention that the event on September 12 isn't all about the new laws in Russia, but to promote diversity in all countries in the world and stop all kinds of homophobia. The impulse came from the current situation in Russia since the life conditions for LGTB people are getting worse, but there are by far more severe laws in other countries in the world today criminalizing gay people. It is necessary to educate society about the danger for all non-straight people in the world. The house and techno scene stands for diversity, equality, and open-minded thinking — unfortunately even this is not the case if you look at the chatrooms of the Boiler Room, for example. There is a lot to do."
A similar benefit will be held at Berlin's Humboldthain Club on August 24. Called "Make Love," the event features Soundstream, Tama Sumo, and Portable; all proceeds from the event are to go to a "grassroots" non-profit still to be determined. The dance-music scene has begun to show its solidarity with Russia's LGBT community in other ways, as well. Inspired by Tilda Swinton's unfurling of a rainbow flag in front of the Kremlin, the South African DJ Portable (Alan Abrahams, a.k.a. Bodycode) wore a t-shirt reading, "IN RUSSIA I CAN'T BE GAY," during his recent performance on Boiler Room. The example was more than merely symbolic: Wearing such a T-shirt in Russia would be illegal under a law that bans any discussion of homosexuality as "propaganda on nontraditional sexual relationships."
Russia doesn't look kindly on foreign artists who flout its laws or mock its leaders. Bloodhound Gang were banned from playing the Krasnodar region's Kubana festival after bassist Jared Hasselhoff stuffed a Russian flag down his pants at a show in Odessa, Ukraine. According to the New York Times, Russians threw eggs and tomatoes at the band's van, and a group of Russians attacked a band member with an American flag in an airport lounge as the group prepared to exit the country. Madonna's advocacy for both gay rights and the imprisoned members of Pussy Riot led first to a lawsuit by anti-gay groups accusing Madonna of "the propaganda of homosexuality and pedophilia among minors," and, once that was thrown out, an accusation that her performance violated the terms of her visa — a bureaucratic oversight that, if one St. Petersburg lawmaker has his way, could end up costing her $16.7 million. Lady Gaga is also under investigation for allegedly performing in Russia while in the country with a tourist visa. But her real "crime," in the eyes of homophobic local authorities, may have been Gaga's on-stage declaration: "Tonight, this is my house, Russia. You can be gay in my house."
As an underground house DJ, Alan Abrahams' T-shirt is unlikely to attract much attention from Russian authorities, but it could conceivably lead to his being banned from playing in the country. Not that such a prospect worries him. Abrahams recently announced a "personal boycott" of Russia, refusing to take any bookings in the country.
Music and geographic boycotts make uncomfortable bedfellows. Stevie Wonder recently announced his decision not to perform in Florida or any other state with a "stand your ground" law on the books. (Despite rumors, Jay Z and Kanye probably won't sign on to a boycott.) But as SPIN reported in 2010 when a controversial anti-immigration law in Arizona led Conor Oberst, Massive Attack, and even Kanye to boycott the state, some local musicians argued that outreach, rather than isolation, was the answer, urging out-of-state bands to turn shows into voter-registration drives. But, as a black South African, Abrahams can speak personally to the power of saying "no": Widespread boycotts of his native country played a crucial role in ending Apartheid.