The Replacements played their first show in 22 years Sunday night (August 25), performing a 23-song set for Riot Fest Toronto. 'Mats leader Paul Westerberg and bassist Tommy Stinson shared the stage with previous Westerberg bandmates Dave Minehan on guitar and Josh Freese on drums. They kicked the gig off with "Takin' a Ride," the opener from the Minneapolis band's 1981 debut, Sorry Ma, Forgot to Take Out the Trash. As Slicing Up Eyeballs points out, the indie-punk heroes drew heavily from their mid-period output — the unimpeachable run from 1984's Let It Be through 1987's Pleased to Meet Me — and, of course, they tossed in a couple of covers, taking on tunes by Chuck Berry and Sham 69.
Some fan-shot clips have surfaced online, and miraculously, the World's Most Unsatisfied Band still plays like they're a crew of scruffy-haired, foul-mouthed kids just achin' to be. Watch "Alex Chilton" above, and scroll down to see "Takin' a Ride," "Favorite Thing," "Color Me Impressed," and "Bastards of Young," followed by the full set list. Audio of the full show has also emerged, thanks to the Replacements Live Project, so stream that below, as well.
Right now, the Replacements only have two more reunion shows planned, a September 15 appearance at Riot Fest Chicago and a September 22 engagement at Riot Fest Denver. We can't hardly wait.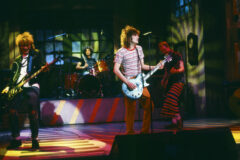 //www.youtube.com/embed/cifW750ANKw
//www.youtube.com/embed/zv9ehBgNzA0
//www.youtube.com/embed/l5fueosDo68
//www.youtube.com/embed/HsQNS6cZRus
The Replacements @ Riot Fest Toronto (August 25, 2013) set list:
"Takin' a Ride"
"I'm in Trouble"
"Favorite Thing"
"Hanging Downtown"
"Color Me Impressed"
"Tommy Gets His Tonsils Out"
"Kiss Me On the Bus"
"Androgynous"
"Achin' to Be"
"I Will Dare"
"Love You 'Til Friday"
"Maybellene" (Chuck Berry cover)
"Merry Go Round"
"Wake Up"
"Borstal Breakout" (Sham 69 cover)
"Little Mascara"
"Left of the Dial"
"Alex Chilton"
"Swingin' Party"
"Can't Hardly Wait"
"Bastards of Young"
"Everything is Coming Up Roses"
"IOU"