10. MS MR
With a messy mop of neon yellow/green/pink hair and clad in checkered pants and a furry peach coat, the MS of MS MR, Lizzy Plapinger, was Gwen Stefani reborn as art-rock seductress. But the comparisons stop there: Where Gwen would pogo, Lizzy undulated; where Gwen would coyly shriek, Lizzy passionately howled. Right from opener "Bones," MS MR's agenda was crystal clear. They played the dark drama card much like Florence + The Machine — all booming drums and grandiose builds (even a creepy organ effect on occasion), all augmented by Plapinger's resonant, soulful pipes. STEPHANIE BENSON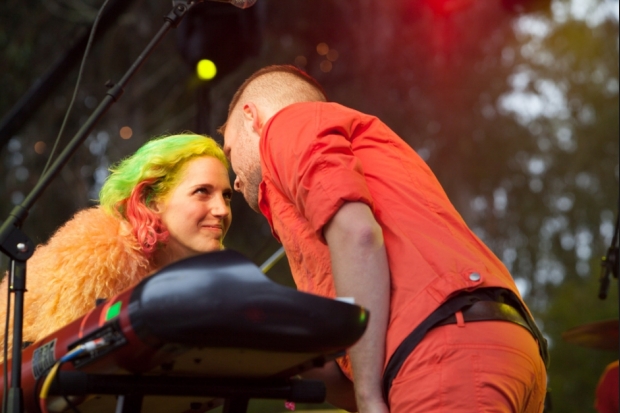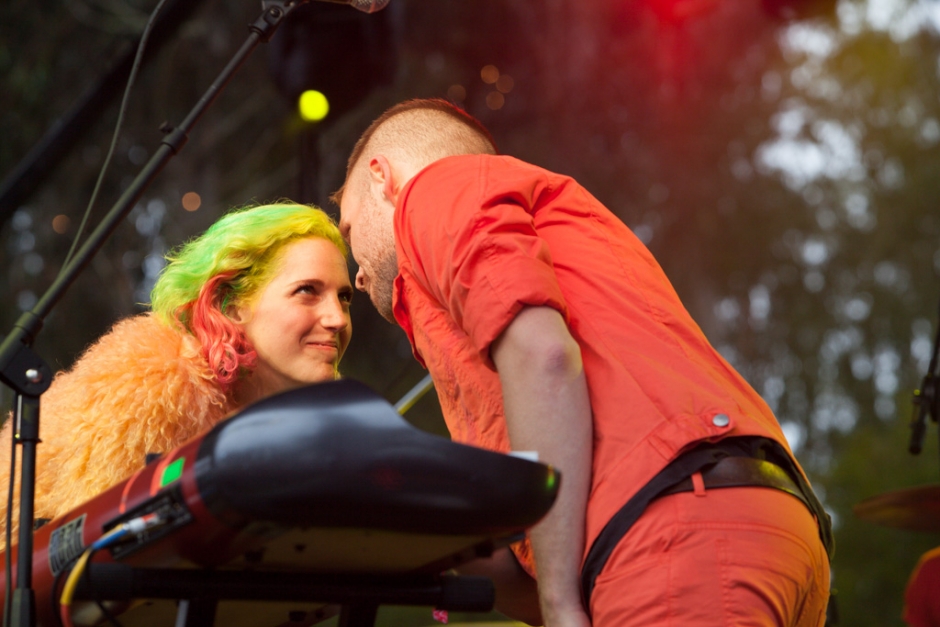 9. Foals
Two Union Jacks waved in reverence as Foals set out to overtake Muse's position as most bombastic British rock band of the new century. The Oxford band's Rapture-esque dance-rock has gotten progressively heavier since their 2008 debut, Antidotes, and aside from the always sublime "Spanish Sahara," they reveled in noisemaking bluster with double kick-drums, splintering guitar antics, and frontman Yannis Philippakis jumping on top of amps to atop the crowd. After eloquently wishing us all a "fucking awesome day," they ripped into single "Inhaler," a blistering mix of punk-funk and Deftones' anguished alt-metal, before ending on the jumpy-jittery "Two Steps, Twice," a track introduced by Philippakis as being "straight from the bowels of Britain." S.B.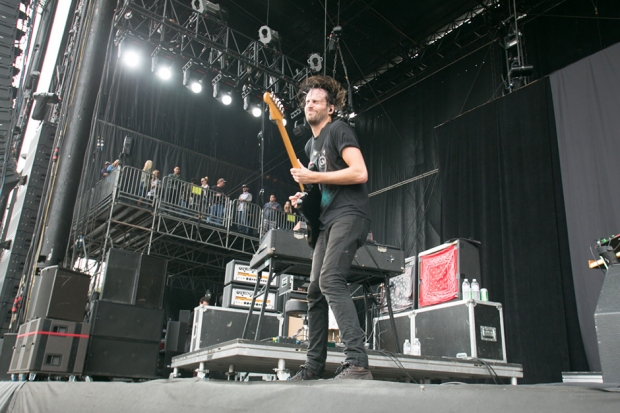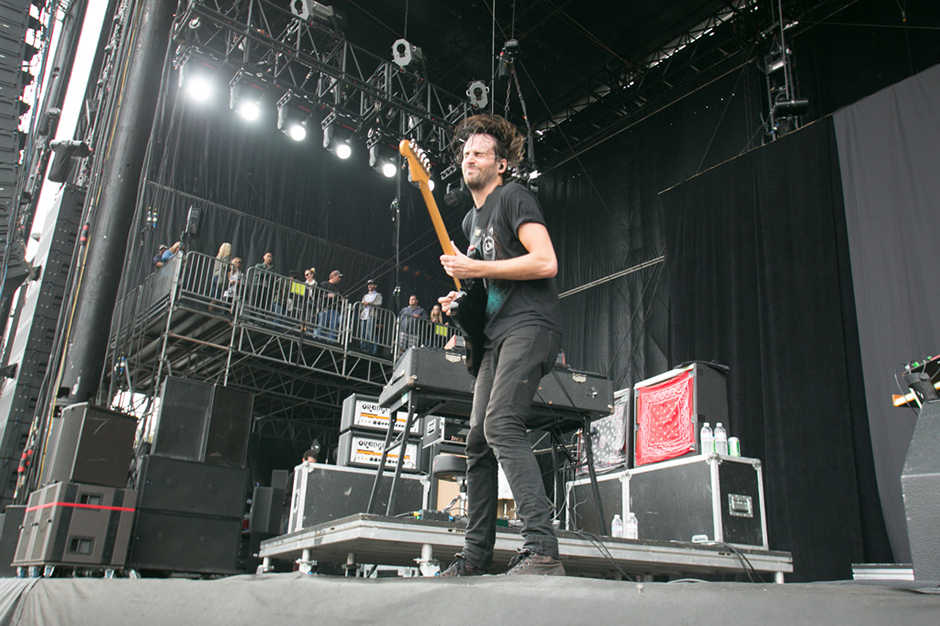 8. Kurt Vile & The Violators
Kurt Vile's luscious curly locks, draped over a youthful visage, belied an old soul. His dusty classic-rock tales betrayed a long, hard life; a resigned sorrow resonates in his sleepy croons, and hints of Neil Young surface often. Live, he's not much of a talker — instead of addressing the crowd with anything other than "thank you," his head remained buried in an acoustic guitar, then an electric one, then back to the acoustic, as his fingers jumped around barre chords and nimble notes. He pretty much went straight down the tracklist of this year's Wakin on a Pretty Daze, near-10-minute jams included. His Violators added rich, subtle textures in just as humble of fashion, one even sitting to the side of the stage (if you didn't look closer, you'd think he was just a roadie), switching expertly between a lap slide guitar and melodica. Longer cuts like "Wakin on a Pretty Day" and "Girl Called Alex," gradually intensified into a windstorm of effects, helping rouse the stony-faced early afternoon crowd. S.B.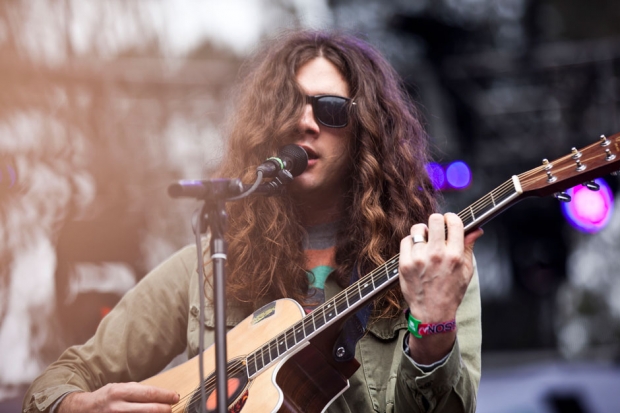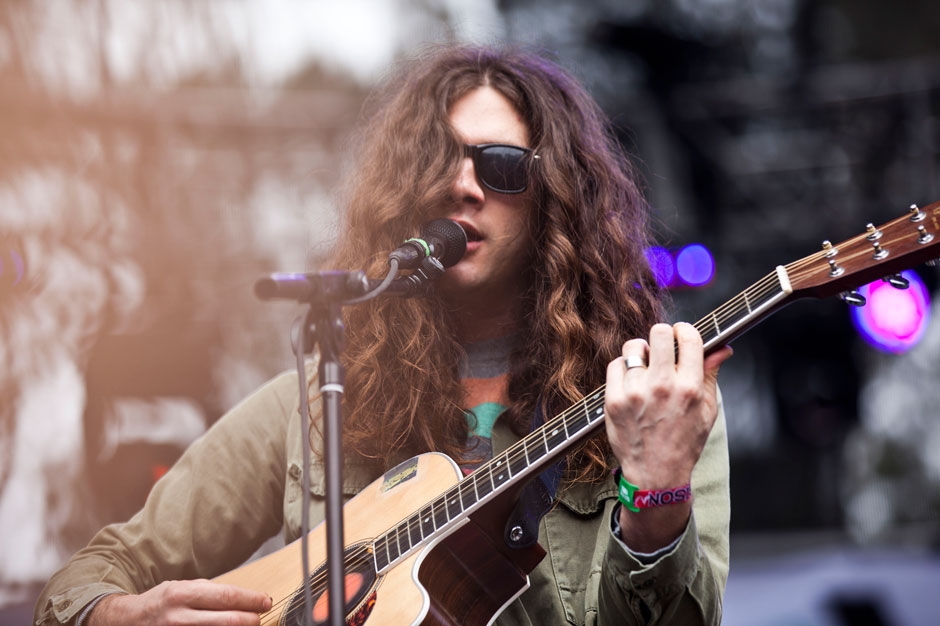 7. Vampire Weekend
From afar the Vampire Weekend stage looked like a live J.Crew ad, the members fresh-faced, white-shoed, and holding their instruments like fashionable props. Up close, Ezra Koenig was the consummate people-pleaser: "People think of us as an East Coast band. But we do have multiple songs named after people in the Bay Area," he announced midway through his band's bubbly set. Of course, this thrilled the SF crowd as the band then broke into the woozy Modern Vampires of the City ballad "Hannah Hunt" and the Afro-popping "One (Blake's Got a New Face)" (apparently about a guy from Palo Alto). Essentially, they make it really damn hard not to like them, especially when they sound as crisp and polished as their prep-boy outfits. S.B.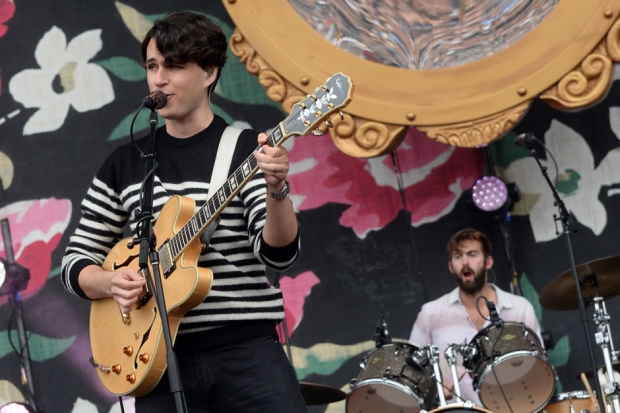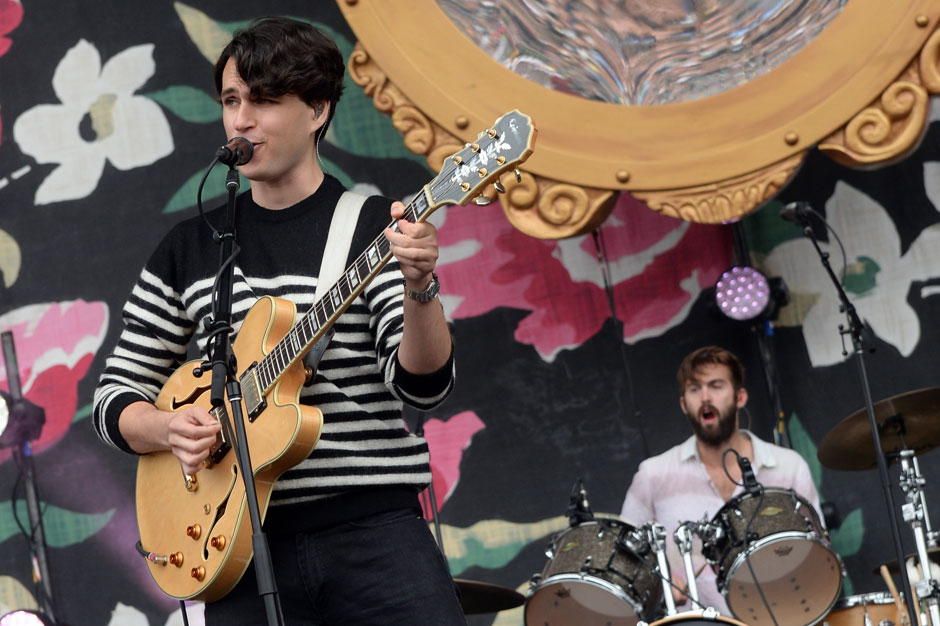 6. Red Hot Chili Peppers
California's own funk-punk O.G.s have 30 years under their socks and 50 singles to their name. If that's not the stuff of a festival headliner, than we wouldn't know one if it came to our house and executed a bitchin' slap-bass solo in our living room. Yes, RHCP is an easy target for writers these days, but mostly because of their staggering ubiquity. In turn, these moments are made for giving a polo field's worth of people the opportunity to scream things like, "Ding, dang, dong, dong, deng, deng, dong, dong, ding, dang," without an ounce of embarrassment. "Music is the voice of God," Flea philosophized at the set's end. Sure, something like that. CHRIS MARTINS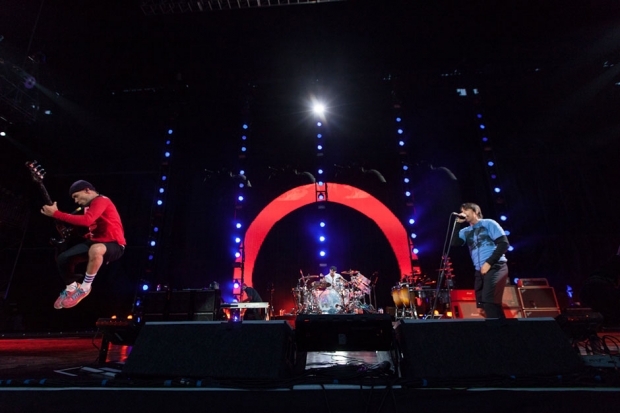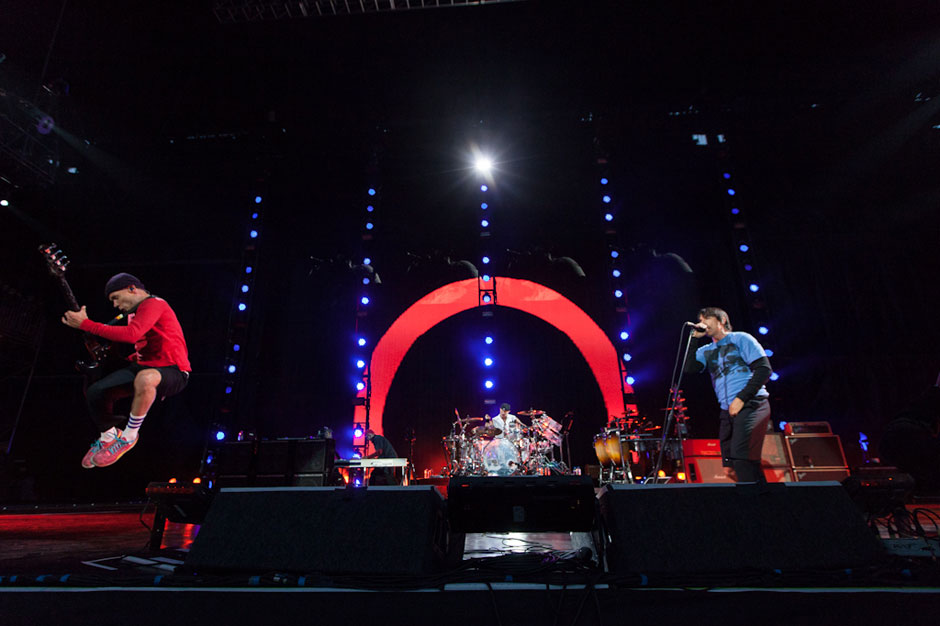 5. Rudimental
London's leading funky drum'n'bass big band was all about the posi vibes. "Open up your hearts, your minds, and your souls," hollered lead toaster DJ Locksmith with an earnestness that was returned from the crowd, arms aloft as if they were feeling a particularly nice breeze blowing through the field. Surprisingly, the group didn't have Emeli Sandé reprise her recorded role on "More Than Anything," but with nine folks on stage working to blow out every song via voice, horns, keys, beats, and bass (plus at least one member just spinning like a happy eagle at any given time), they didn't need much help. After delivering dubwise trip-hop gospel with "Hell Could Freeze," they played some disco licks while half of the crew did the hustle in sync. Still, just because the gang was in a good mood doesn't mean they didn't have teeth. Before launching into "Free" (again, no Sandé), Locksmith announced, "I want to see some shoulder-sitting people." The audience obliged but the authorities tried to shut it down. Rudimental DGAF: "Forget security! It's just us and you!" C.M.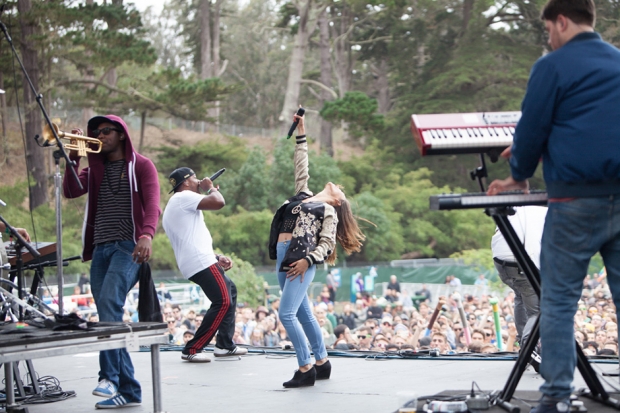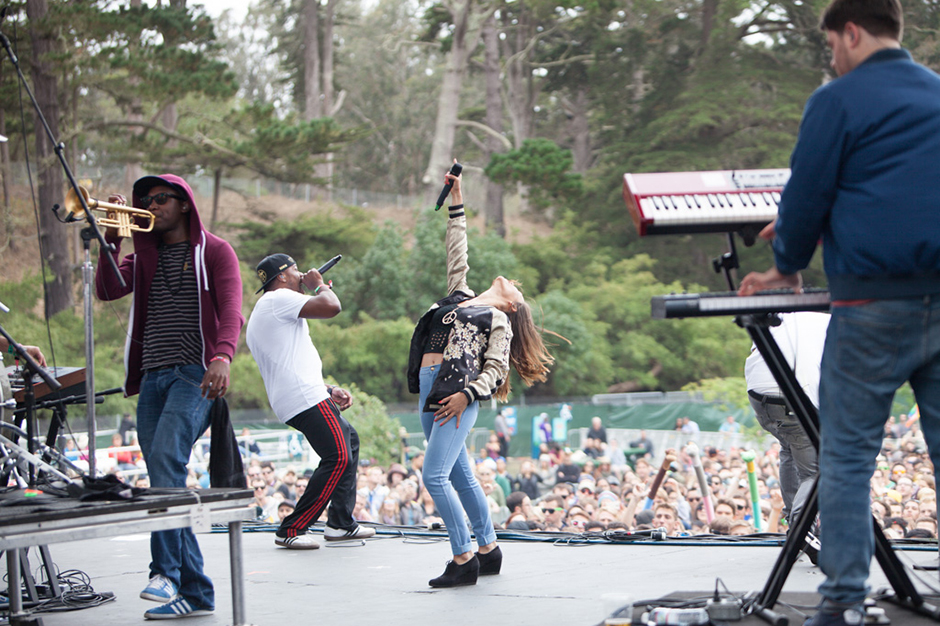 4. Deap Vally
Shredder-howler Lindsey Troy and the kit-crashing Julie Edwards were likely sober considering how tightly packed their afternoon set was with dirging blues and fiery rock, but their pro-party emanations attracted a particularly rowdy crowd. One young woman push-stumbled her way to the front during "Bad for My Body," took one look around, then slur-shouted, "Why isn't anyone dancing I don't get it!?" Troy then dedicated the next number to the ladies — "Walk of Shame," brilliantly — while that particular lady and her pals kicked off a mosh pit. C.M.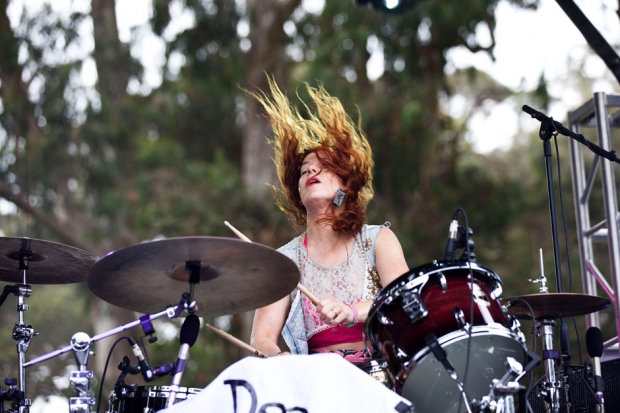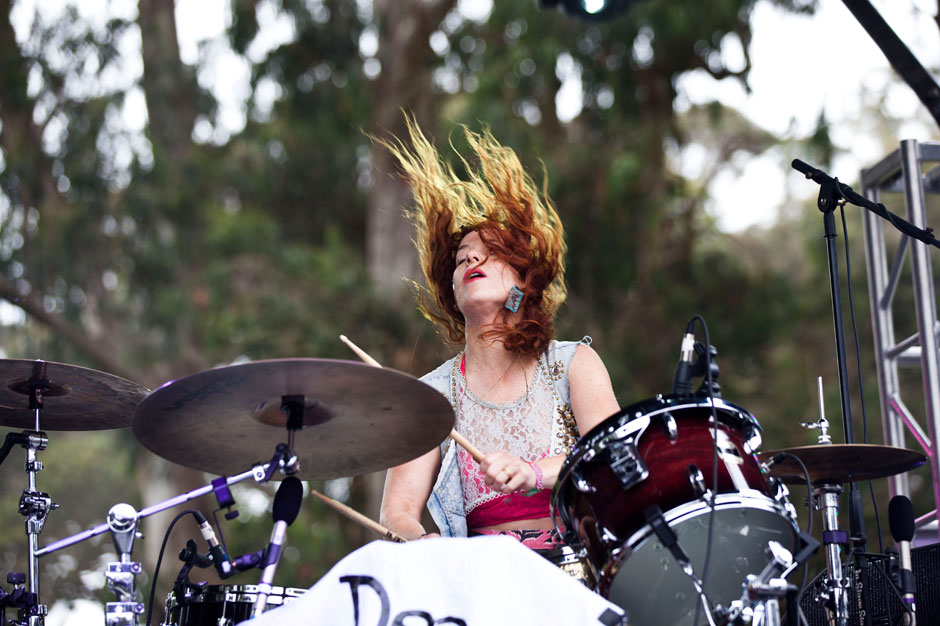 3. Emeli Sandé
If Rudimental were the positivity-slinging descendents of London's 2 Tone ska, their collaborator Emeli Sandé and her similarly sizable band were their dark and soulful shadow. The London songstress opened with "Heaven," a heavy song about waking with good intentions and screwing it all up by nightfall. Backed by six players, she was upbeat and charming in between songs, and even whipped up a sing-along for "My Kind of Love," a song that's about cutting through the candy and flowers of romance to reveal the raw stuff of real nuts-and-bolts dedication. Her R&B was moody to be sure, but the ace players behind her and that incredible voice spoke volumes for her viability as a Top 40 pop performer. "I am full of light / I am full of wonder," she sang on her Naughty Boy feature "Wonder." The lyrics seemed to be reassurance to herself — fair since the crowd was already convinced. C.M.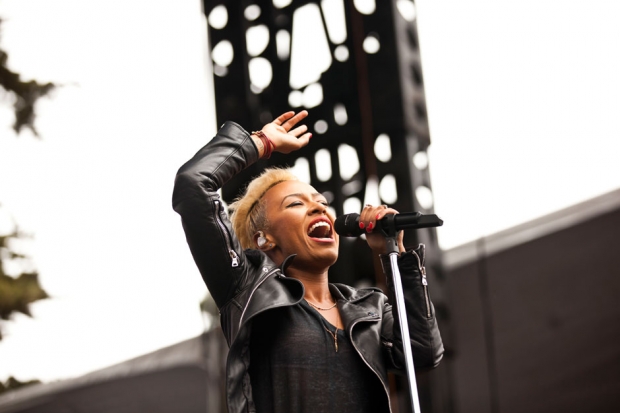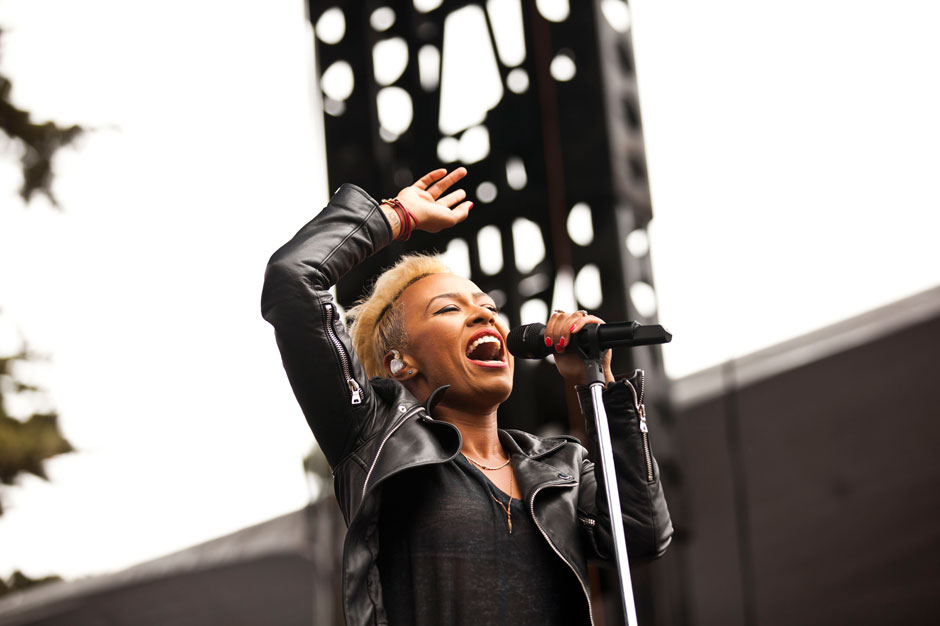 2. Hall and Oates
With his shoulder-length mane, facial foliage, and big, dark shades, Daryl Hall strutted onto the stage in Lebowski-like glory. But soon it was all soul-cheese wishes and 8-track dreams, as he and John Oates tore through No. 1 hit after No. 1 hit: "Out of Touch," "Maneater," "I Can't Go For That (No Can Do)" all included. Oates laid on the stinky-face guitar noodling as Hall played his part as the lovelorn Casanova — of "Sara Smile" he admitted, "Like 'She's Gone,' this is a song that's a little too real." Charles "Mr. Casual" DeChant may have been the unassuming star, though, supplying the duo with more than a few stately sax solos, the ultimate accessory for optimal soft-rock sexiness. And even though the Chili Peppers were the real headliners of the day, Hall and Oates still did an encore, because when you have classics like "Rich Girl" and "You Make My Dreams" still to play, you deserve it. S.B.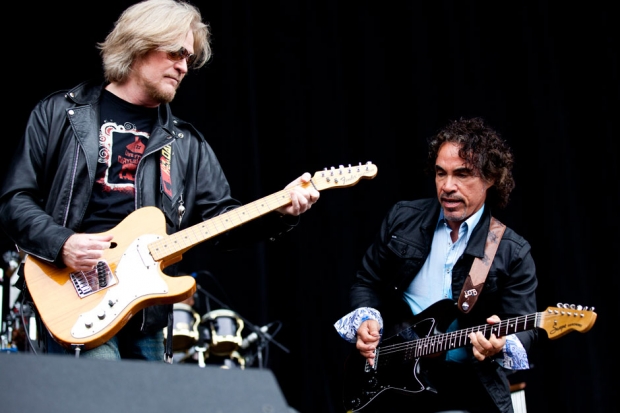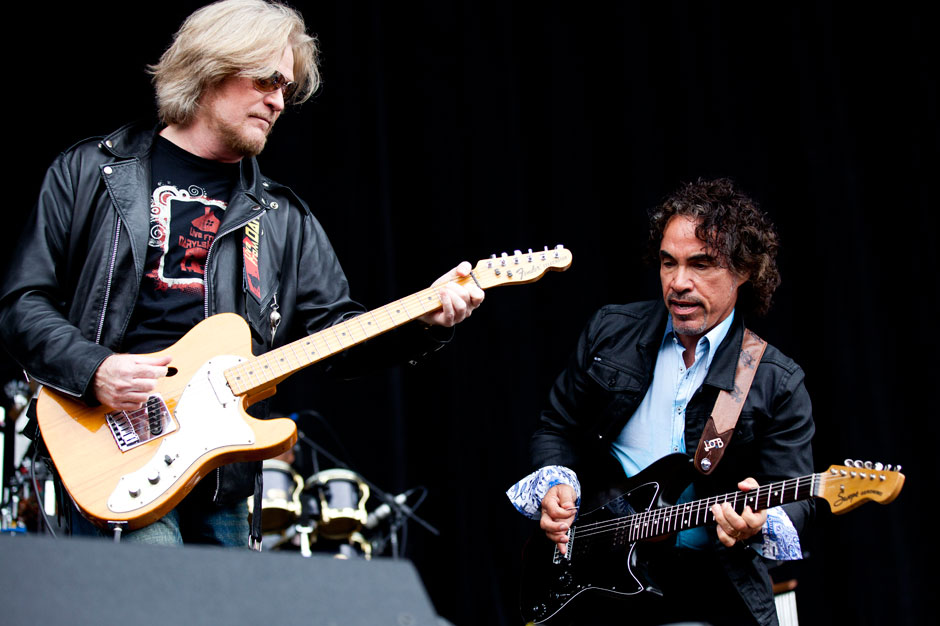 1. Willie Nelson & Family
The redheaded stranger turned 80 this year and he's no worse for wear. Like the whiskey he often sings about (he opened with 1973's "Whiskey River") Willie Nelson only seems to get better with age — his voice deeper, his words wiser — even if he's increasingly aware of his creeping mortality. That the man closed his triumphant set with "Roll Me Up and Smoke Me When I Die" seemed a little morbid if not too on the nose, but that combination of libertarian spunk and unblinking truthfulness is what makes Nelson a living classic. Which must be the reason John "Uncle Jesse" Stamos felt compelled to slip onstage and play bongos in Willie's Family band for the second half of the gig (he did fine, now let's move on). "Still Is Still Moving to Me" was another latter-day highlight, though the Outside Lands audience was most thrilled to hear old soulful numbers like "Georgia on My Mind" and "Night Life," and outlaw tales like "Beer for My Horses" and "Me and Paul." Unofficial fest mayor Bob Weir also showed up to assist on a cover of Hank Williams' "Jambalaya (On the Bayou)," and Nelson tossed out a half-dozen hats and bandanas from his head to fans' hands before the things was over. The bells and whistles were fun, but we were there for the tunes, and to remind the world once again (by slurring loudly in unison) of the dangers mammas letting their babies grow up to be cowboys. C.M.