10. Bombino
When you've got a Black Key on your album, people will come. And a few of the wiser ones showed up at 4:30 to see Tuareg guitarist Bombino's West-Coast-meets-West-Africa jam-out sesh. He's has been plowing through the festival circuit with a style that can appeal to fans of dusty Saharan blues and rhythmic jam-rock alike. Properly turbaned for the desert (or maybe just the Bay chill), Bombino's cohorts rhythmically swayed as his guitar oozed with the liquid licks of San Francisco's own Carlos Santana. STEPHANIE BENSON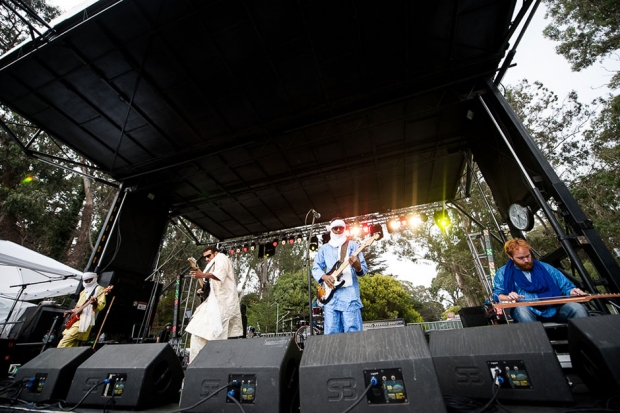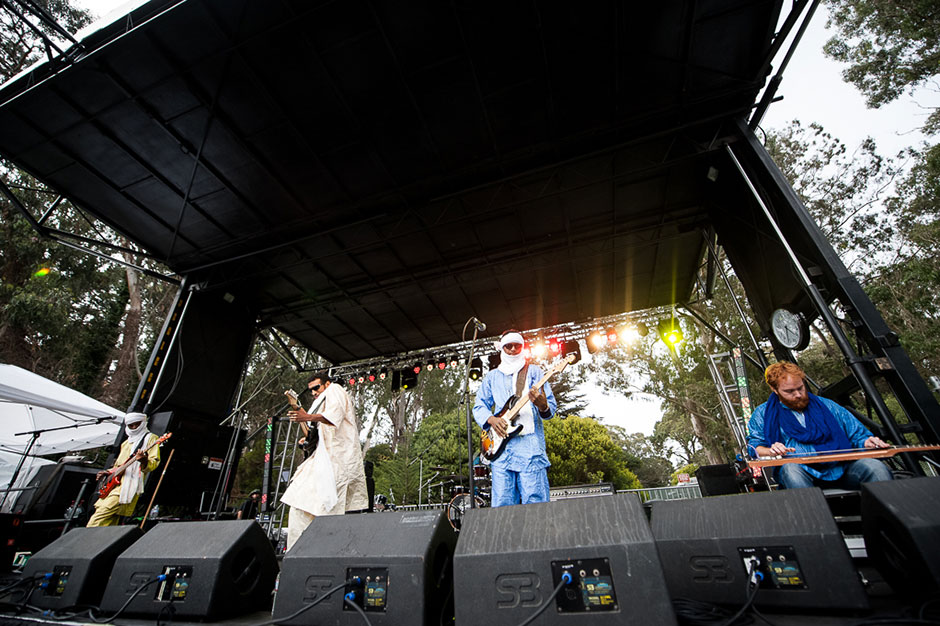 9. The Tallest Man on Earth
San Franciscans got a strong dose of earnest strum and plucked heartstrings on Saturday afternoon and not a single "Hey! Ho!" was uttered. Credit folksy Swede Kristian Matsson, who held his crowd enrapt with just a guitar, a microphone, and an off-white folding chair. A humble romantic with a taste for Dylan and Drake, the Tallest Man alternately cooed and roared his way through simple janglers like "The Gardener" and darkly tinted serpentine numbers like "Leading Me Now." While most of his songs played the plucky silver lining to the gloomy clouds above, he picked up an electric axe for "Where Do My Bluebird Fly," whipped up some stormy feedback and sung of flitting ghosts amidst fog while actual mist coated the crowd in front of him. But he rose "out of the darkness" with closer "The Wild Hunt," which became a wistful cover of Paul Simon's "Graceland" before he took his bow. CHRIS MARTINS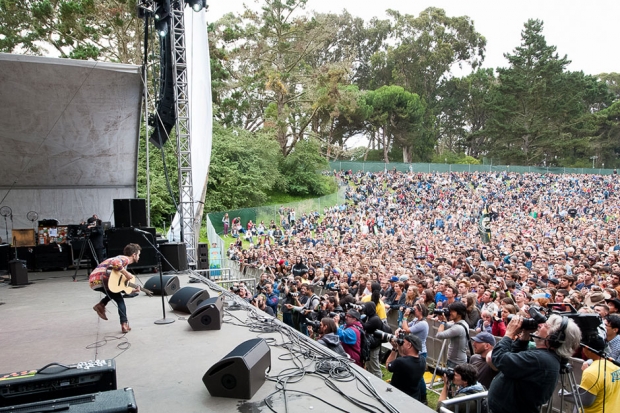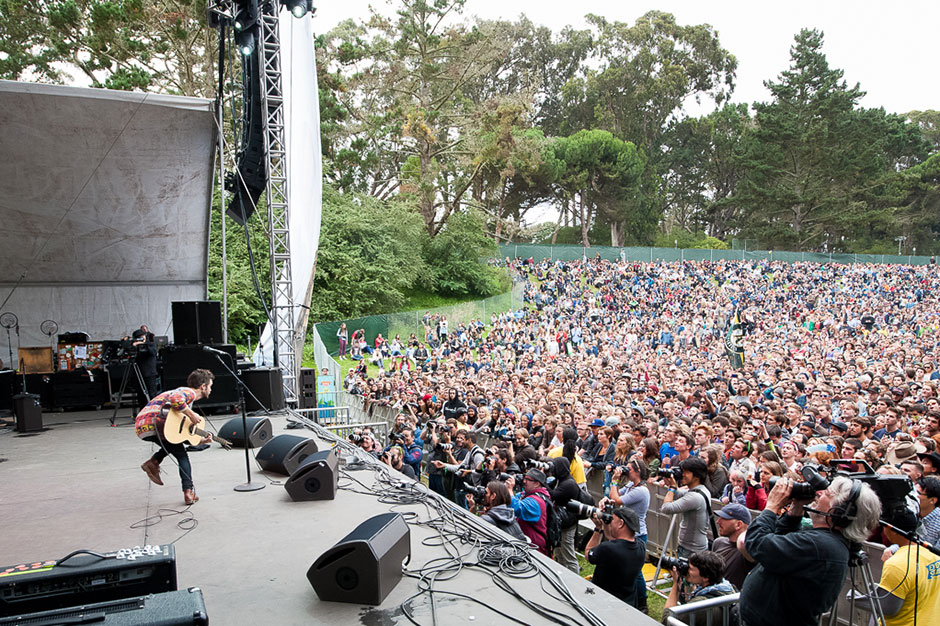 8. The Growlers
Sure, Nine Inch Nails had an award-worthy display of choreographed lights, but these SoCal beach bums deserve some credit for their DIY décor. This acid-fried cowpunk wasteoid sextet was surrounded by eight-foot-tall slabs of plywood painted to resemble their very own custom lotería deck, the highlights of which included: "El Barto" (a gawky version of Bart Simpson telling the world to "Suck it!"); "El Zonkey," a wigged-out burro painted to look like a zebra wearing a Tijuana headband; and "El Mundo," which featured the earth as a yin-yang surrounded by a rainbowfied ring, held aloft by a buff dude who looked far more Venice Beach than Atlas. As for the tunes, the Growlers churned out their weirdo sea shanties while sipping grog from plastic cups, singer Brooks Nielsen always in a half-lean or near-stagger à la Jack Sparrow. He fantasized about a day ("Someday") when "tall boys turn into champagne [and] bologna turns into steak," and inspired a morbid sing-along with "Sea Lion Goth Blues" ("Oh you never know when it's your time to go"), then dedicated "Gay Thoughts" to the City of S.F. C.M.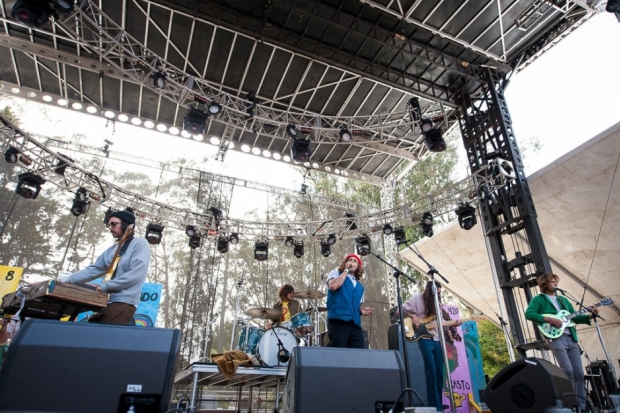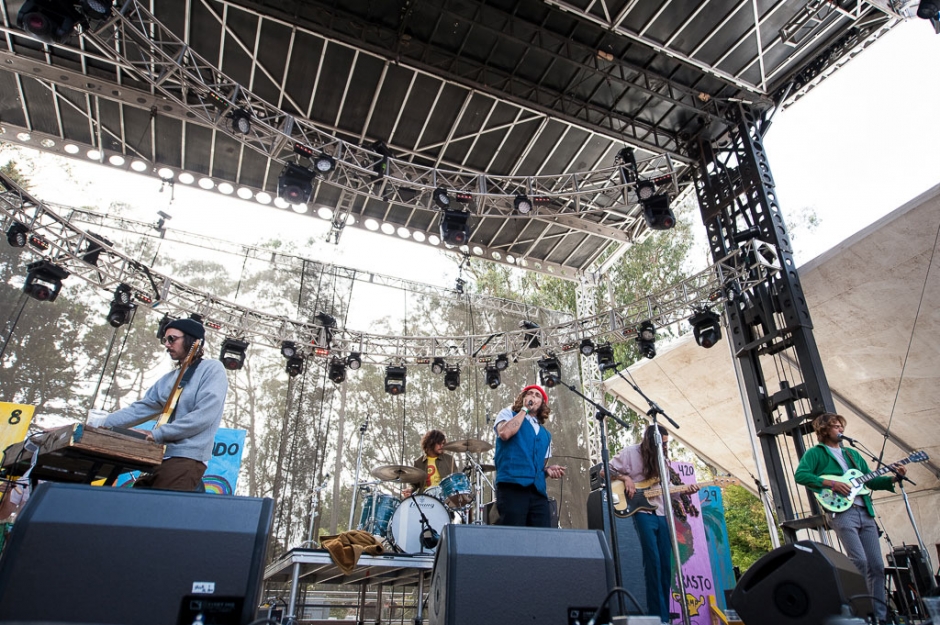 7. Grizzly Bear
Grizzly Bear had men carrying girls on shoulders out in droves. The band's presence was mostly mannered, their focus mainly on getting their cavernous choir-boy croons and swirly baroque pop to carry without getting muffled by the fog. It wasn't always successful (the dramatic builds of songs like "Ready, Able" and "While You Wait for the Others" lose a bit of their poignancy in big, open spaces) and so their newer material from Shields, the more dynamic, almost free-jazz-like arrangements, ruffled the crowd a bit more. Though nothing hit like "Two Weeks," which even had lines at the Porta Potties collectively swaying. S.B.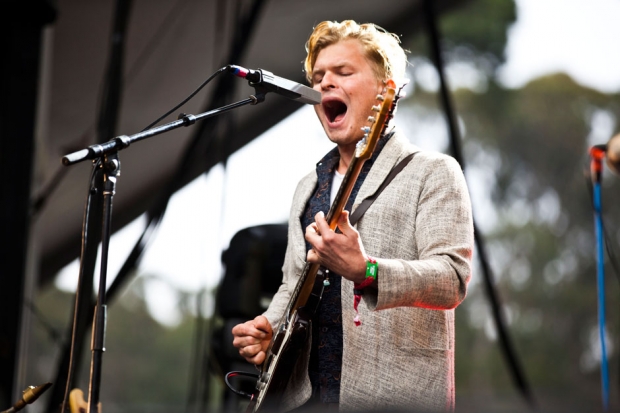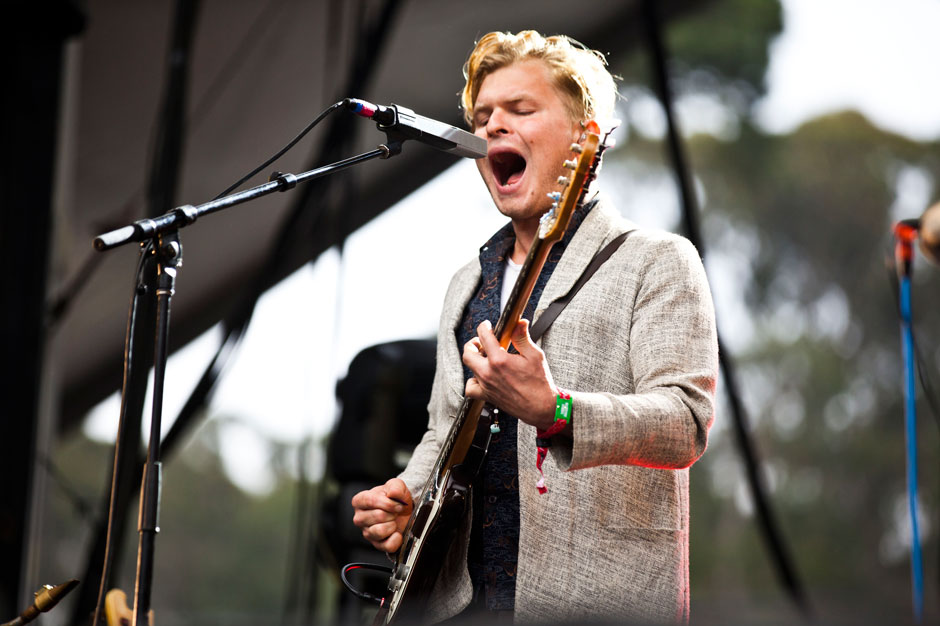 6. Thao & the Get Down Stay Down
"Hometown! Hometown!" Thao Nguyen shouted by way of an introduction after she and her formidable band opened with her 2010 post-punk-alt-folk breakout "Body." The S.F.-based guitarist came equipped with a bari-sax blaster, a trumpeter, and all of the usual bells and whistles, but she could have kept the crowd enthralled all on her own. Surrounded by a half-circle of stringed things just waiting for her expert touch, she cycled through hollow-bodies, banjos, electric axes (sometimes mounted for a slide performance), and something that looked violin-ish, with each stroke, strum, or shred amplifying her impassioned vocals in turn. Of course, without the Get Down Stay Down, the ramshackle grooves and occasional hoedowns of We the Common wouldn't get a chance to truly shine. Nguyen picked up steam as she went, commanding the crowd to, "Find some hips and ask for permission," before playing "When We Swam," and shortly thereafter blessing the propulsive crescendo of "Move" with an interpolation of Ludacris' "What's Your Fantasy." C.M.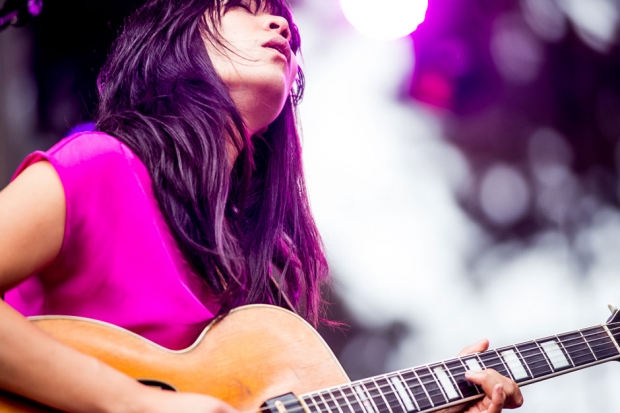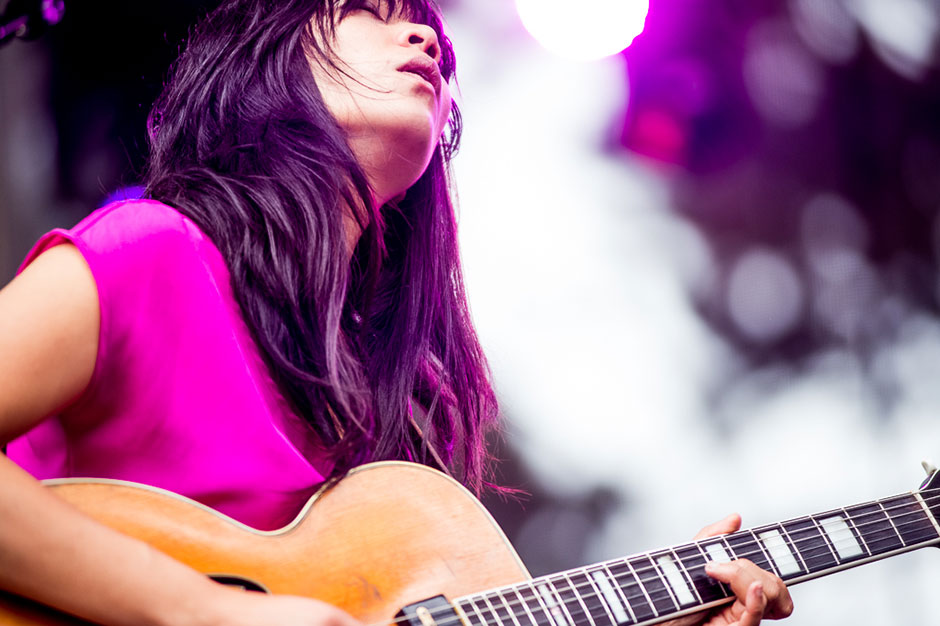 5. Youth Lagoon
Youth Lagoon's Trevor Powers has transformed from reserved bedroom-pop darling to mad scientist, fit with frizzy, wild, blond-streaked hair seemingly styled by Robert Smith. It seems Powers is playing the old rebellious sophomore nowadays, attempting to alienate fans by playing almost no tracks from his first, beloved release. Instead, he barely acknowledged the crowd, looming fanatically over his keyboards, every move frantic and deliberate, as if every key he hit would result in a catastrophe. He transformed sounds from psychedelic to churchly to celestial to dissonant in dizzying fashion. His longhaired support band let him indulge, perhaps hypnotized themselves by it all. It was a dark, weird, and woozy set — even the sun chose to hide until the last chords dissipated — but by far the most haunting of the day. S.B.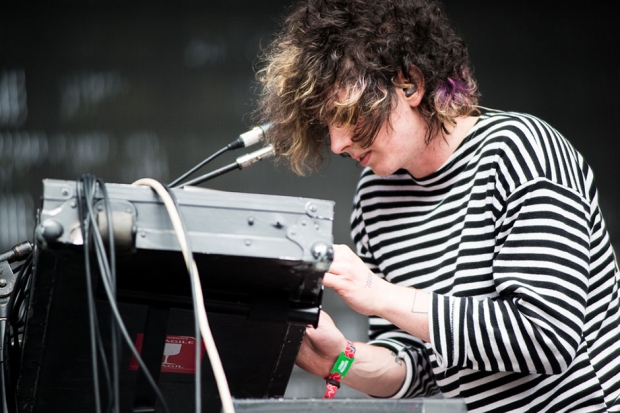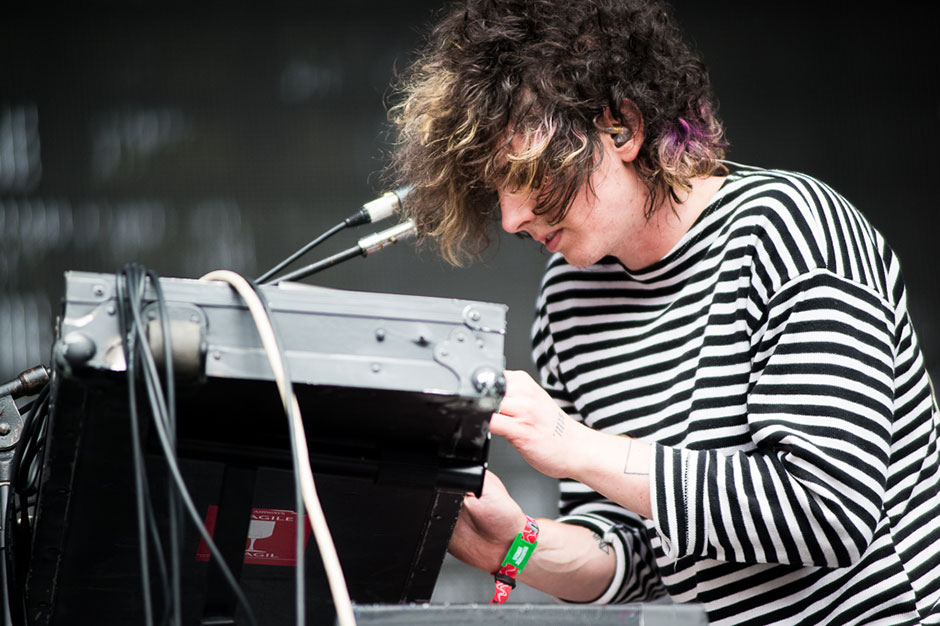 4. Jurassic 5
It's been 20 years since J5 first came together in the Los Angeles underground, and even then the crew was, "On some other shit…all about the beats and the lyrics." Rap music has mutated in a dozen different directions since, but the palpable classicism and athletic ability of "Concrete Schoolyard" still has its place — more than ever, in fact, if the Outside Lands crowd was any indication. The fully reunited crew (with both Cut Chemist and DJ Nu-Mark on deck) drew more than Nine Inch Nails by a considerable margin, packing out the park's polo field with predominantly pale palms bobbing in time with the sunshiney soul-kissed beats and barbershop raps (plus that kazoo solo). Unofficially led by baritone carnival barker Chali 2na, MCs Akil, Zaakir, and Mark 7even presented a united front — "full frontal assault" might be more accurate — hustling hard to remind everyone why a highly honed posse will beat the pants off of a solo dolo rhymer any day of the week. C.M.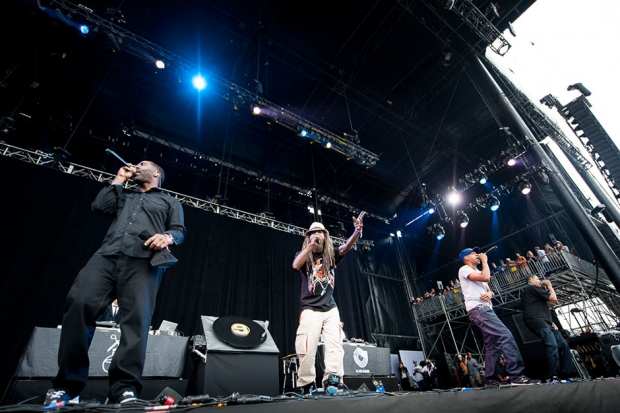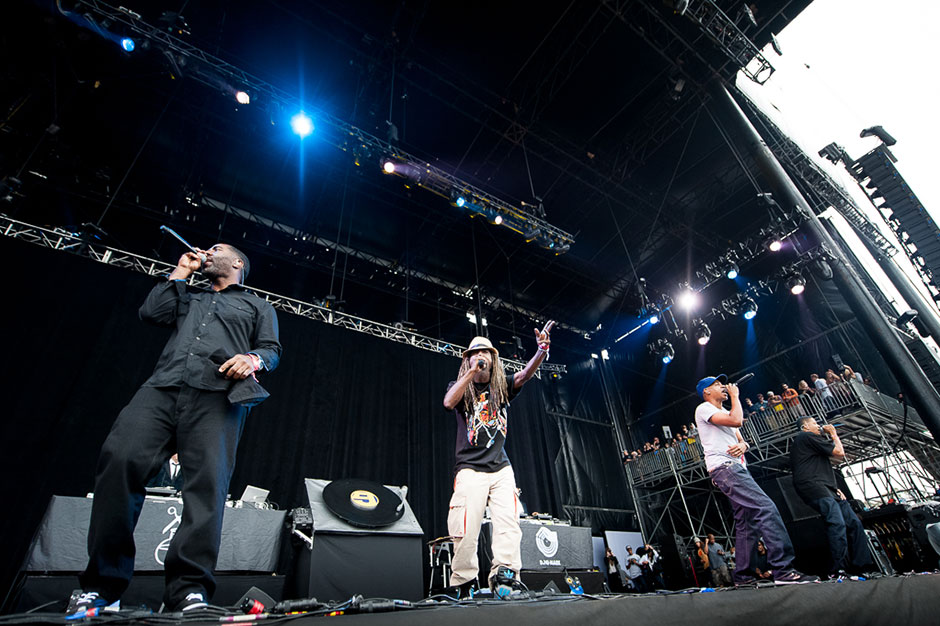 3. Yeah Yeah Yeahs
Shiny purple and gold suit, papal hat, and clownish makeup aside, indie rock's most vivacious frontwoman came off somehow relatable. Sure, she played the untouchable rock star, head-banging, scarf-whipping, floor-gyrating, backwards-bending in sacrificial style, screaming lines like "I'll suck your blood." But there was almost always an innocent smile behind her Jagger-esque poise as if she still can't believe she's actually doing this rock star thing for a living. Not to be outdone, though, Nick Zinner had his guitar at 11, muting the drums a bit much, but the dub groove of "Under the Earth," throbbing beats of "Mosquito," and dance-floor bounce of "Heads Will Roll" helped bring back a sexy kind of rhythm — the only kind worthy of Ms. O. S.B.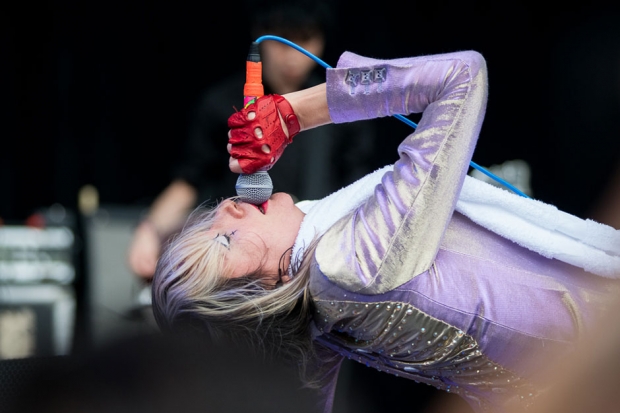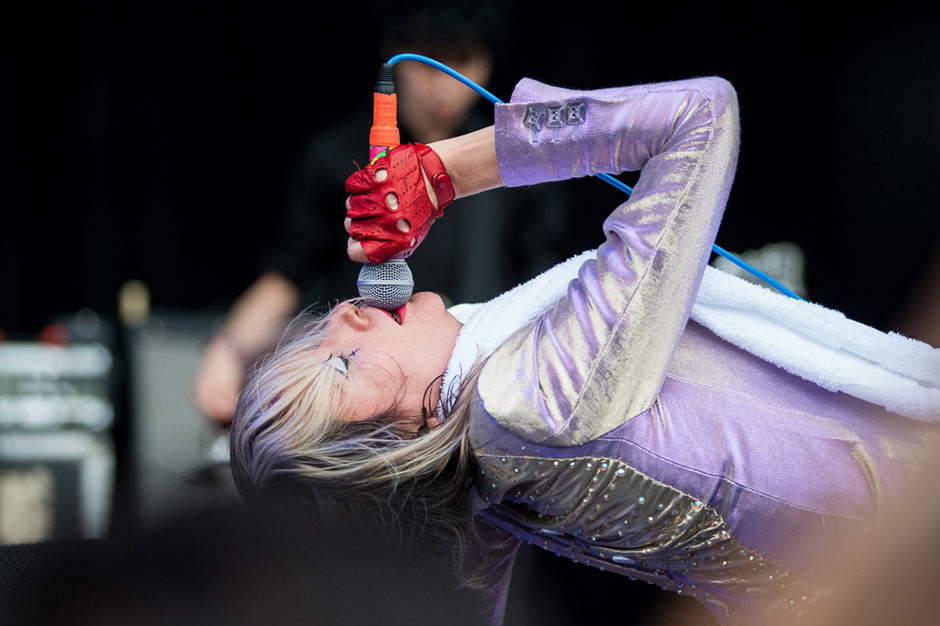 2. Phoenix
Those not in touch with their dark side, skipped dancing to Trent Reznor's gloom-pulse to instead gleefully bop along to the affable Phoenix. This side of the festival was arguably the much, much brighter — and younger — one. Every color of the rainbow flashed from the stage as light mist cleansed the bubbly crowd — who mostly seemed to think Phoenix only have two albums under their belts. (It's five.) Still, the boys played with that carefully cool composure only sophisticated Frenchmen could get away with. "Entertainment" was the lead single off this year's Bankrupt!, which means they had better damn well bring just that, and with snappy guitar and synths that fizzed and popped as impressively as Sir Paul's fireworks show the previous night, the kids ate it up with as much sugar-high glee as those chowing down on the big-ass peanut butter cups selling for a whopping $8 at the fest's formidable Choco Lands. If it was up to the under-30 crowd, you better believe Phoenix upstaged scary old Trent. S.B.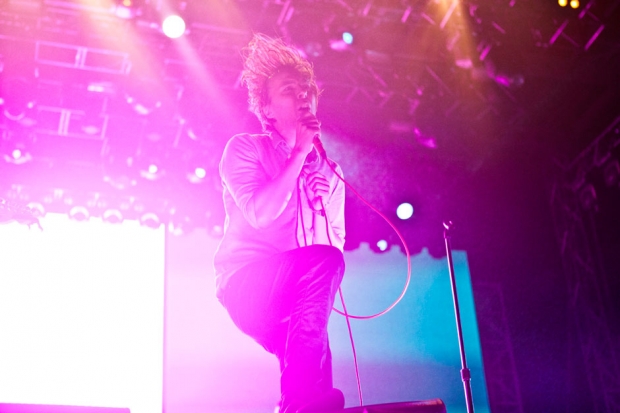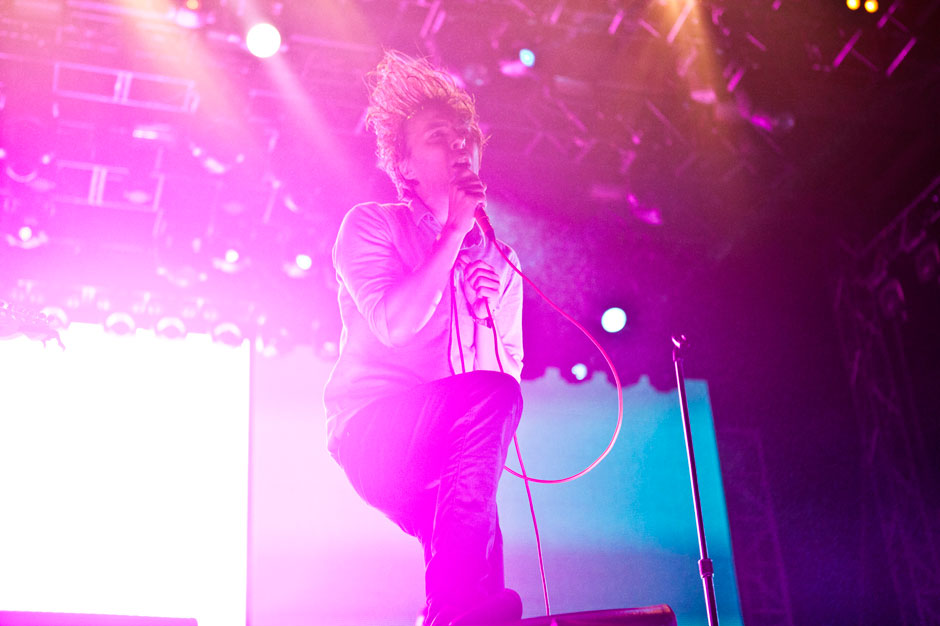 1. Nine Inch Nails
The beginning of NIN's set — their fourth show since getting back in the swing of things — must have thrilled fans of the group's icy latter-day material and filled their old-school fans with dread. An increasingly swole Trent Reznor took the stage alone for the new "Copy of A," hissing out the lyrics while the busy beat built and his bandmates joined one by one. The austere setup found each man at his own electronics station, long shadows simply silhouetted against a plain white backdrop, all signs pointing toward "cold" and "heady." But after a bit that involved Josh Eustis playing some kind of table-mounted Chinese violin, the LED panels behind each man rolled aside to reveal a full drum kit ready to be rocked, and things got smolderingly, viscerally hot at an alarming rate. While the opening songs seemed to start with burbling digitalia and build to a noisy, danceable peak, older songs like "March of the Pigs" were a firestorm from the get. The minimal backdrop transformed into a warzone of ambient red light and rapid-fire blasts of yellow from all sides.
"Terrible Lie" too was a furious seether replete with clanging sequences and punishing drum-work, while the moveable screens somehow turned the band's shadows into whorling masses of static. It's impossible to overlook the carefully choreographed lightshow and much credit is due to the stagehands who also kept the musical gear cycling through. Despite how much effort undoubtedly went in to making Reznor's 20-foot-wide face emerge from a roiling ball of Matrix-made hellfire during "Closer," Nine Inch Nails never seemed the least bit hindered. They were perfectly at ease dishing out gobs of unease from their 25-year-old Empire of Dirt (yes, they played "Hurt" too) for the entire 90 minutes. C.M.