10. The National
Go ahead, call the National "dad-rockers" — they probably wouldn't object. The always dapperly dressed lead man Matt Berninger is all about showing his fatherly support, mentioning his daughter more than a few times during the band's set, even giving a shout-out to her preschool teacher in the audience before playing the precious "I Need My Girl." But after playing tracks like "Afraid of Everyone" and the troubling drug addiction tale, "This is the Last Time," he had to let the teacher know, "This is not how it's like at home!" Meanwhile, his band seemed nothing but cool and collected alongside the great chamber ensemble Kronos Quartet, and with Grateful Dead guitarist Bob Weir, who joined them on closing track "Terrible Love." STEPHANIE BENSON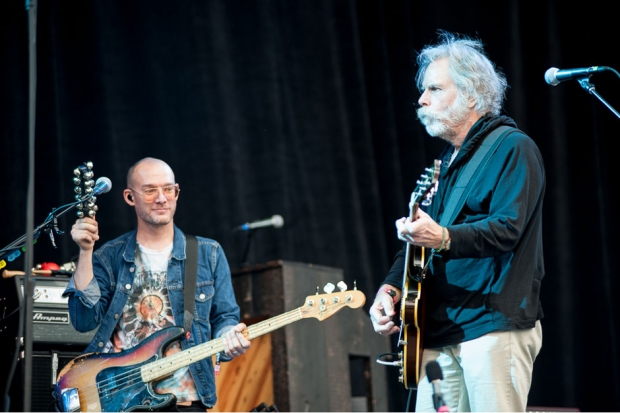 9. Twenty One Pilots
This acrobatic, emo-rap, screamo-synthpop, cabaret-core duo can be a lot to take in for the uninitiated. But given half a chance — about a quarter of a set — they may wiggle their way into your heart via intense genre hybridization (there's definitely something for everyone) and their unique charm. While Josh Dun is an explosive skinsman who can execute a mean backflip from atop a grand piano, Tyler Joseph is a dynamo of a different sort, bouncing around stage with a nervous glee that befits a dude who: (a) fast-raps like a version of Eminem that grew up idolizing CocoRosie, (b) strokes the ivories like a Rat Pack reject who got the boot for listening to too mich Xiu Xiu, and (c) shreds as if Cex (sans Pistols) invented punk. Shortly after having an insecure moment over his stage garb ("These are totally girls' pants, and I apologize for that") and dedicating a song to his mother, Joseph performed half of a song while standing on the hands of his fans. Unexpectedly, we wanted to prop him up too. CHRIS MARTINS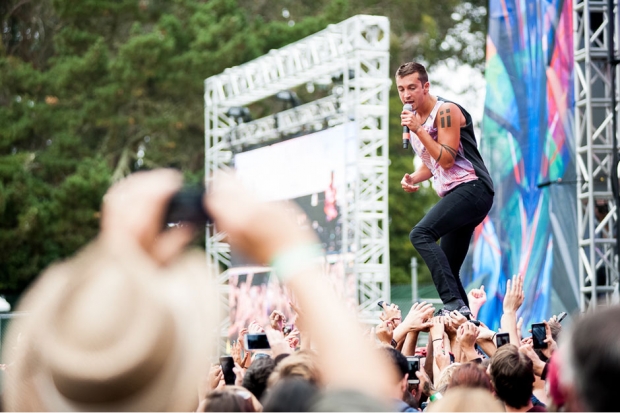 8. The Men
Bedecked in their best flannels, these Brooklyn punks pumped out fiery blues-addled psychedelic nastiness, the warped nature of which was highly amplified by the presence of a wicked pedal-steel player. The five-piece hit the ground running, barreling through wild rippers filled with perfectly imperfect backing harmonies and loads of slackerly yearning ("Please don't go away," sung a fella who sounds like he's sunken too far into the couch to ever give chase). But as the set progressed, those rapid combustions evolved into a slowly blooming sort of explosion — space-rock grinding over deep hard-won grooves. The Men weren't much for banter, but when they opened their mouths, they made it count. Shortly after bashing out "New Moon," they bid us adieu. As he reached down to unplug amidst the fading squeal, bassist-singer Ben Greenberg had some final words for his small but faithful crowd: "Thanks, have fun, say hi to the Red Hot Chili Peppers for me." C.M.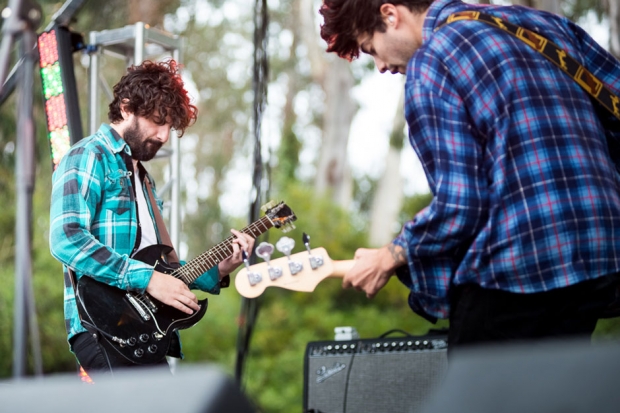 7. Daughter
A neon-shaded bro in the crowd at the packed Panhandle Stage for London dream-poppers Daughter seemed slightly confused: "Everyone's down and not smiling," he sulked, maybe lost on his way to see Zedd. "Well, it's sad music!" his companion wisely retorted. This, indeed, is sad, sad music: Daughter frontwoman Elena Tonra is a sullen siren, building lovelorn tales with poetic beauty and preciseness (a line like "If you're still breathing, you're the lucky ones/ 'Cause most of us are heaving through corrupted lungs," should leave anyone breathless). Her cohorts in Daughter wrap these stories in stormy atmospherics as beautifully haunting as fellow Brits the xx, but with an even greater post-rock-level of grandiosity. But though Tonra's lyrics are dim, her pixie presence is humble and bright — she just couldn't stop smiling after the crowd cheered on gorgeous single "Youth." S.B.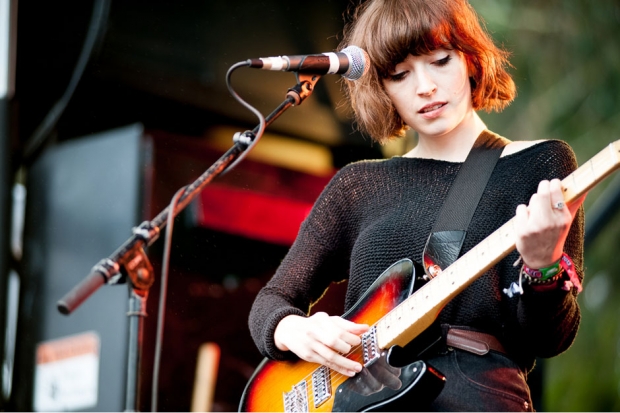 6. Pretty Lights
A palpable change overcame the festival grounds as the sun sank deeper into the Pacific. People seemed somehow loopier and far more grindy with the teeth. Shortly after watching two patrons gleefully confirm that they'd freshly become "rolling buddies," we witnessed a young woman simply fall over from a standing position (she's fine, by the way). Following the sea of people headed to festival's far end for Pretty Lights, the neon and glowthings began to appear in force. A rave had materialized! Derek Vincent Smith lorded over his laptop tower, a benevolent baseball-capped king showering his molly-enriched citizenry with funky breaks, bounding glitch, soulful samples, and space age effects. Imagine DJ Shadow on steroids or Prefuse 73 as a bro and you'll be in the right ballpark. His nonstop mix was full of crate-digger delights and the day's first real excuse to dance one's ass off. C.M.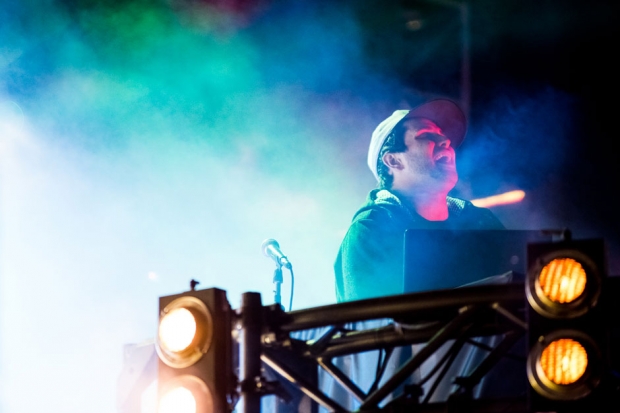 5. Rhye
Worst drinking game — or best, depending on your style of festival-going — take a shot every time you hear the word "Sade" at a Rhye set. Mike Milosh's gooey vocal androgyny is a knee-weakening thing, especially when employed to gush things like, "Mmmmmmmmake love to me." His coo is elemental, yes — sometimes a warm breeze, often a swelling tide — but more remarkable is the man's subtle mastery over it, a feat that his band pays back in spades. Behind Milosh were keys, bass, drums, violin, trumpet, and some kind of minimal future-cello that worked in consort to unspool groove in a deliberate 50-minute spin. "We've got three days to sing this song," goes the hook to one of their quiet-storm masterpieces, and at times it felt like Rhye would take that entire span if Outside Lands had let them. But a 10-minute version of "Open" begged enough metaphors about the art of slow seduction. C.M.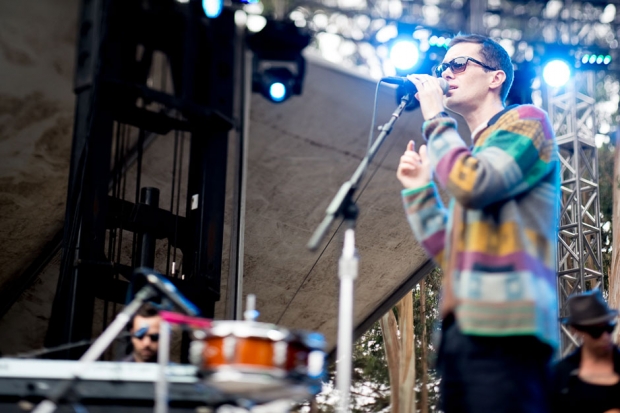 4. Chromatics
It was a shame that one of Johnny Jewel's exquisite electro-noir outfits had to go up against Sir Paul, but seeing Chromatics before the sun went down would've doubtless been synthpop sacrilege. The Portland posse has been doing this Drive-score shit for more than a decade — long before their music made it into the actual Drive score — and their ownership over that winning combination of icy ennui, luxe robo-skronk, and motorik rhythm is a sight to behold. They held forth on their own undeniable highlights ("Lady," "Kill for Love") and applied equal aplomb to expertly chosen covers: Kate Bush's glistening New Age fantasy "Running Up That Hill" and Neil Young's proto-grunge downer dirge "Hey Hey, My My (Into the Black)." Though Adam Miller (in shades and leather, natch) leant his Vocodered pipes to the cause, it was Ruth Radelet who took down both versions with her chilling, crystalline intonations. It's no wonder the S.F. mist came a'calling during their set. C.M.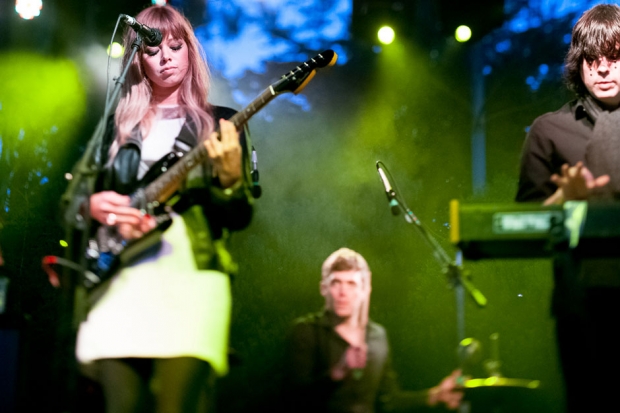 3. Paul McCartney
Sir Paul turned a mere 71 years old a few months back and the man's still got some pretty wagalicious hair. And that's not the only impressive thing: The Beatle played nearly three hours to a jam-packed crowd, plowing through classic after classic. Sure, his set and his stories haven't changed much over the last decade or so, but it's still a delight to hear a mini-Hendrix tribute (via some "Foxy Lady" riffage) complete with a story on how Hendrix played "Sgt. Pepper's Lonely Hearts Club Band" two days after its release back in 1967, and asked for Eric Clapton to tune his guitar. Jimi seemed to be on Paul's mind all night, his rock side eclipsing his poppier reputation. He even chose some of the Beatles' more eccentric tracks, like "All Together Now," "Lovely Rita," and an especially woozy "Being for the Benefit of Mr. Kite!," to be heavily sprinkled throughout the set, perhaps as an homage to San Francisco's psychedelic proclivities. Fire blasts and fireworks on "Live and Let Die" threatened to nearly deafen the legend, but fear not, he can still get the young girls' tongues wagging: During his first encore, McCartney signed the wrists of two girls who held up signs saying: "Paul sign me! Be my first and only tattoo." S.B.
2. Jessie Ware
British chanteuse Jessie Ware apologized profusely for hitting the stage about 15 minutes late, but the crowd quickly forgave and forgot, soon swaying and grinding to her sensous electro-soul. "I need your devotion," she pleaded on the set's opener, playing coy with a black, belly-baring top under a cream, robe-like cover; a wardrobe choice not unlike her music — dark and subtly sexy yet light and casually playful. She brought bedroom steam to the cool, overcast Golden Gate Park with atmospheric tracks that truly groove, like crowd faves "If You're Never Gonna Move," "Imagine It Was Us," and a not-yet-released track, whose newness seemed to trip her up on the drum machine: "It's going on the second album. I hate it!" she giggly interjected. And it was this sort of cheeky stage banter that made her just as charming (or maybe just as sassy), as she urged the crowd — and a security guard — to do a two-step dance, and then proudly introduced closing track "Wildest Moments" by sharing her excitement of its use in a condom commercial: "I wanted people to kiss to my music. Well, now they can have sex to it." S.B.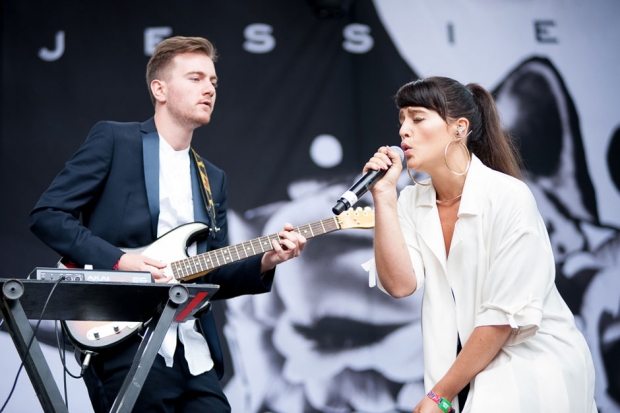 1. Chic featuring Nile Rodgers
The slot originally held for R&B voodoo master D'Angelo (who had to cancel due to a medical emergency) was filled by freakery of another kind thanks to Chic and re-energized disco don Nile Rodgers. Still riding on the high of Daft Punk's "Get Lucky," co-writer Rodgers and Co. closed their set by simply dancing along to a recording of the robot rockers' smash hit — just in case anyone in the crowd was still doubting his relevance. The bulk of their set, however, was plated in classic disco gold with some of the slickest, sassiest, boogiest hits ever — from "Everybody Dance" to "Dance, Dance, Dance (Yowsah, Yowsah, Yowsah)" to Bowie's "Let's Dance" — all proving Chic's timelessness and universality: It's not every day you'll see a hippie bro with butt-length hair shaking said butt to "I'm Coming Out." S.B.