Space Oddities: 15 MTV Video Music Awards Performances That Time Forgot
While the image of Madonna writhing around in a wedding dress and Britney Spears handling her snake are now pop-culture bedrock, it's easy to forget that the MTV Video Music Awards usually have about two hours and 55 more minutes to fill every year. In that spirit, here are 15 moments that even Arsenio Hall probably forgot.
1.Space Oddities: 15 MTV Video Music Awards Performances That Time Forgot
1/16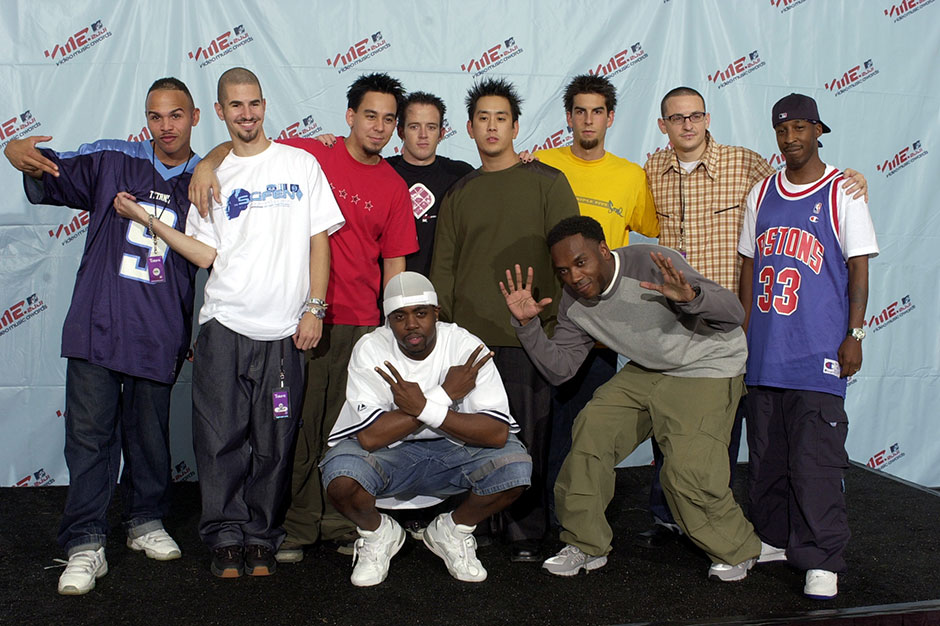 2.1986: The Hooters — "And We Danced"/"Nervous Night"
2/16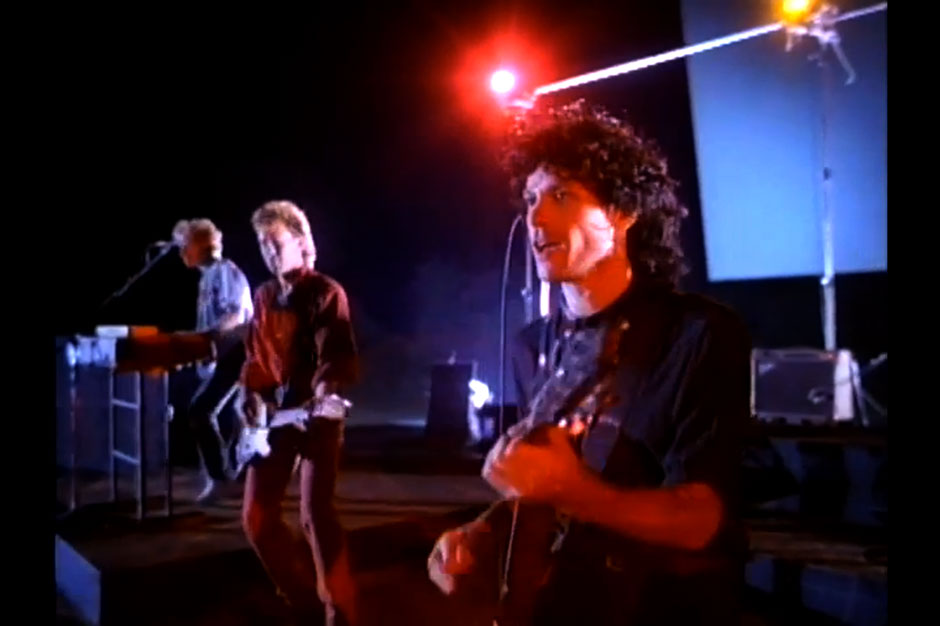 Although it seems improbable by today's deflated music-sales standards, Philly band the Hooters scored a double-platinum record in 1985 for Nervous Night, an album of straight-ahead John Cougar/Springsteen-esque subgenre-free rock at crest of New Wave. Sure, they used a little more mandolin and melodica than their peers, and maybe that's why they dropped off the charts in the late '80s (though they've had two gold records in Sweden). What made them a shoo-in for a VMA performance in 1986 was the sheer ebullience and proud Americana of "And We Danced." The video, which depicted a sort of American Graffiti experience where kids with vintage cars go to a drive-in and (duh) dance, didn't win them that year's Best New Artist in a Video trophy: They lost to a-ha's iconic "Take on Me" KORY GROW
3.1986: Mr. Mister — "Kyrie"/"Broken Wings"
3/16
Twelve artists performed at the 1986 Video Music Awards — including softies like Genesis, the Monkees, and Van Hagar — but only one group had a vocalist benign enough to be offered leading roles in both Toto and Chicago. Luckily for Rosannas 'round the world who didn't need another teased-hair lecher serenading them, Richard Page, an occasional Quincy Jones associate who almost got a song he wrote on Thriller, stuck with his formal pop-rock gig, Mr. Mister. It was a smart move, since the group became MTV darlings, getting a gig before Starship on MTV's 1986 Spring Break concert at Daytona Beach, and garnering twin No. 1 singles for "Kyrie" and "Broken Wings." The former riffs on a liturgical prayer between heavily reverbed snares and "Money for Nothing" synths, while the latter exudes self-importance, which Page highlighted with his giant white peacoat and Christ poses during his VMA performance. K.G.
4.1988: The Fat Boys (featuring Chubby Checker) — "Louie Louie"/"The Twist"
4/16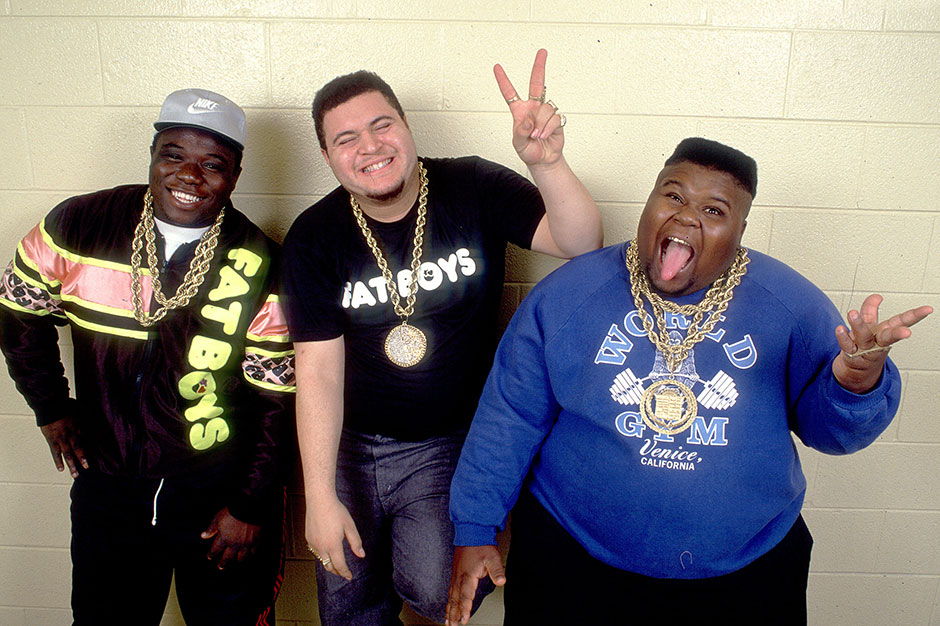 Months before the 1988 VMAs, MTV had finally relented to the cawing of a young, tenacious promotions assistant named Ted Demme and aired the pilot of a little experiment called Yo! MTV Raps — one of the highest-rated events in the channel's history. But by September, MTV was still getting its hip-hop sea legs, handing the ceremony's second rap performance ever to the sheer tenacity of the Fat Boys during their very last gasp of fame. It's not that their remake of Chubby Checker's "The Twist" wasn't a video smash at the time — after Jazzy Jeff and Fresh Prince's ubiquitous, barrier-breaking "Parents Just Don't Understand," "The Twist" was the second most popular rap video on MTV's 1988 year-end countdown. But eventually 1988 would be immortalized as hip-hop's greatest year, and it was the advances of countless others — Public Enemy, N.W.A., EPMD, Big Daddy Kane, Boogie Down Productions, Marley Marl, Ultramagnetic M.C.'s, MC Lyte — that would end up in the history books, and not the briefly profitable fad of remaking '60s hits for the kids of boomers. CHRISTOPHER R. WEINGARTEN
5.1990: World Party — "Put the Message in the Box"
5/16
"Please, don't fall asleep on me now." Way towards the back end of 1990 VMAs, sandwiched between high-octane performances by Aerosmith and 2 Live Crew, host Arsenio Hall was feigning more excitement than believably possible to introduce World Party playing something "from their latest release Goodbye Jum-boooo. There was certainly nothing wrong with the buoyant, Paisley-misted jangle rock of World Party, they were just on the wrong side of history. It wouldn't be until the following year when MTV would change the "Best Post-Modern Video" category to "Best Alternative Video," priming the pump for a little band from Seattle to change everything. The year was marked by Janet Jackson's pyro, Mike Patton doing the fish-flop, and Madonna bringing the entire set from Dangerous Liaisons. World Party's "we brought a little inflatable globe" effort wasn't exactly going to keep their performance from being lost to the sands of time. C.W.
6.1990: Phil Collins — "Sussudio"
6/16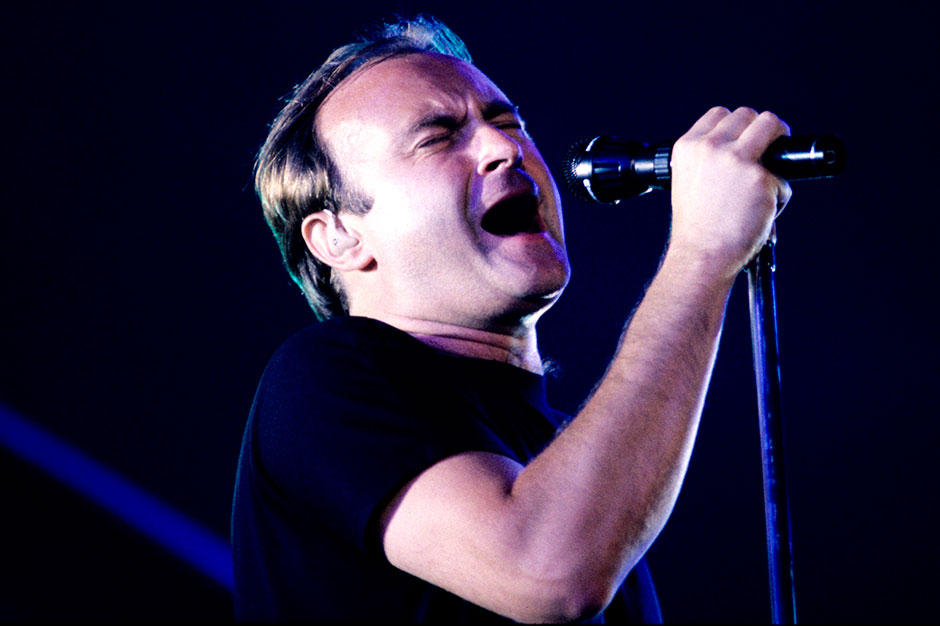 In an electric year celebrating pop at its most boisterous and oversized — performers include Mötley Crüe, MC Hammer, and Madonna's giant dress — here comes soft-rock's elder statesman in the last year he'll ever have a Top 10 single, performing a song that was a half a decade old. We have no recollection of this actually happening, so we'll have to take MTV's word for it. C.W.
7.1994: Alexandrov Red Army Ensemble & Leningrad Cowboys — "Sweet Home Alabama"
7/16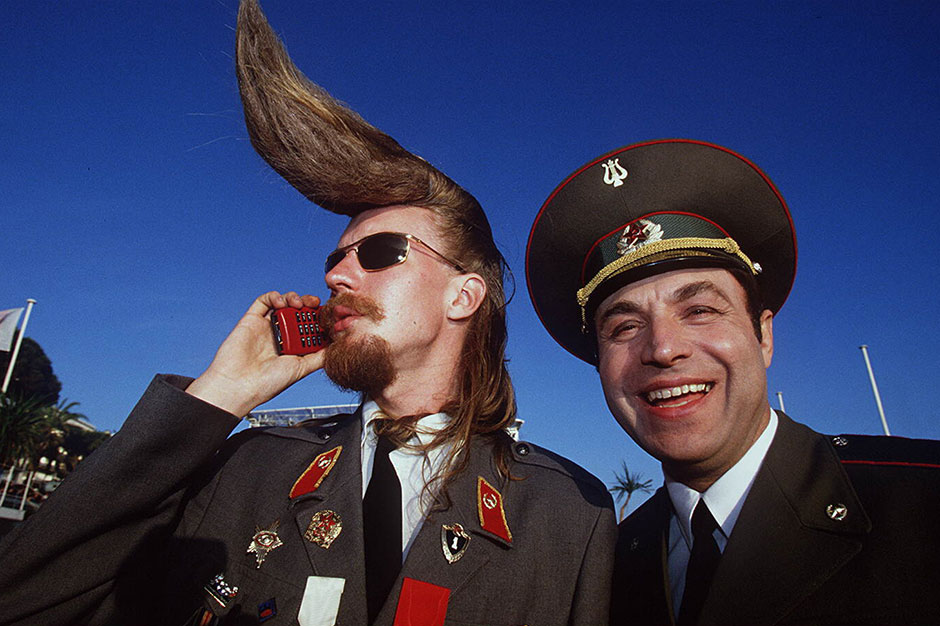 Five years after the fall of the Berlin Wall and three after the disintegration of the Soviet Union, the Russian Armed Forces' 70-person choir, Alexandrov Red Army Ensemble, joined forces with a group of Finnish extreme Elvises, Leningrad Cowboys. Together they paid tribute to American Rebel Pride via Lynyrd Skynyrd's Neil Young diss track "Sweet Home Alabama." While that all sounds insane in hindsight, the collaboration had sparked some interest in 1993, drawing tens of thousands of spectators for live performances in Helsinki and Berlin, by the time they performed with xylophones and giant electric balalaikas for millions of VMA viewers. Nearly two decades later, we still don't really understand the significance behind the team-up, but props are in order for ending the song with a particularly glum, Soviet-tinged outro. Does your conscience bother you? C.W.
8.1996: Hootie & the Blowfish — "Sad Caper"
8/16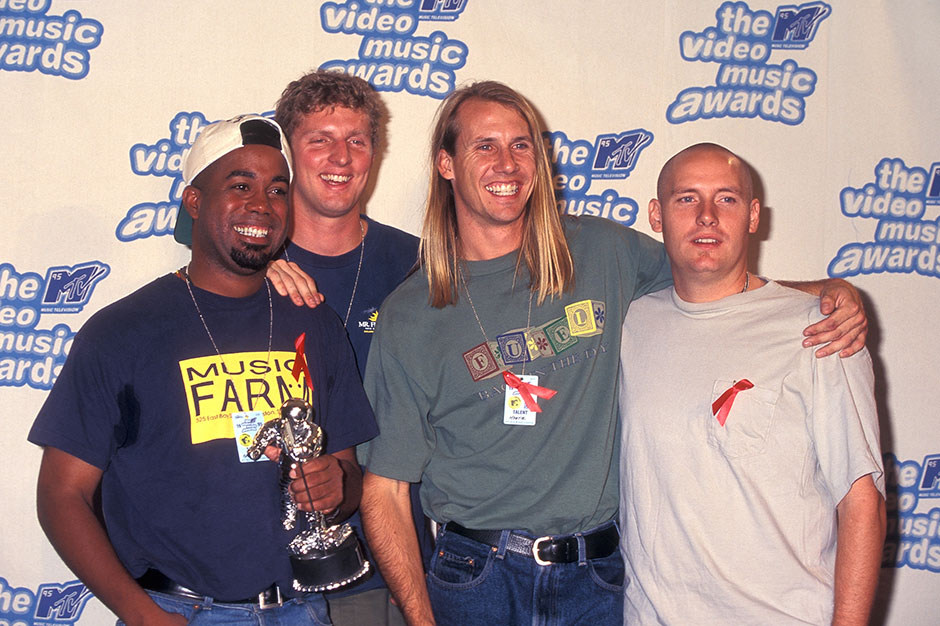 By the time September 1996 rolled around, it was clear that Hootie & the Blowfish would not come anywhere close to replicating the historic success of their debut album Cracked Rear View. They cemented that fate at the VMAs with a performance of the moaning "Sad Caper," the last single off their sophomore album Fairweather Johnson and the one that tied the bow on Hootie as a commercial force. JORDAN SARGENT
9.1998: Brian Setzer Orchestra – "Jump Jive an' Wail"
9/16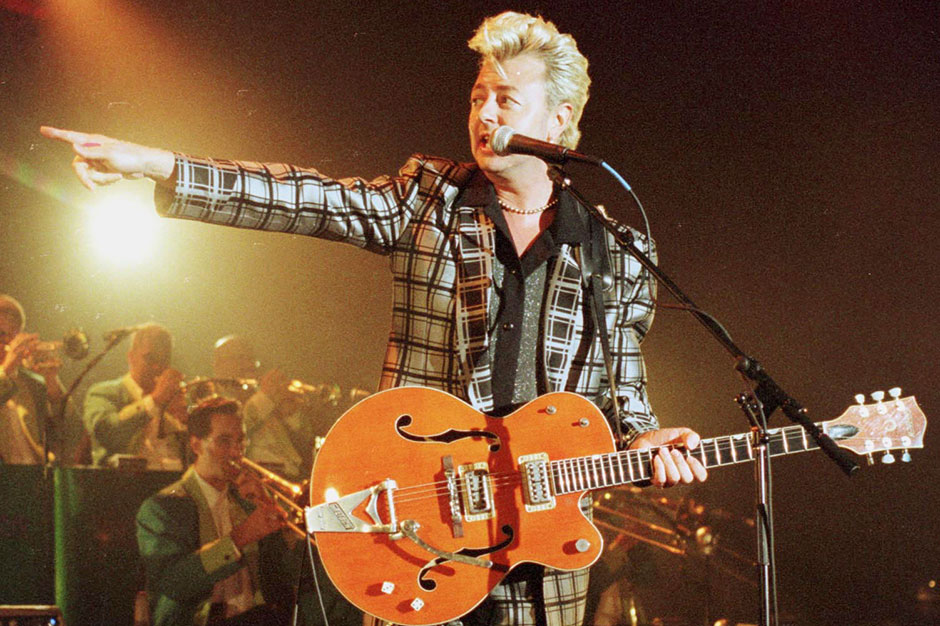 Deep in the lapel of the swing-revival zoot suit riot came a night-closing performance from the Brian Setzer Orchestra. For whatever reason, MTV didn't call in one of the young bucks — Cherry Poppin' Daddies and Squirrel Nut Zippers were probably available — and instead brought in a dude whose cat class and cat style last had him at the VMAs 14 years earlier, when he lost a Best Cinematography award to the still-active Police. This was basically the Gap ad turned real. C.W.
10.2001: Linkin Park and The X-Ecutioners — "One Step Closer"
10/16
Not exactly notable for Linkin Park, obviously, who were well on their way to being the biggest rock act of the decade, but for being the most high-profile relics of the major label's gamble on explosive turntablist crew the X-Ecutioners. The idea of a chops-heavy turntablist becoming this generation's Eddie Van Halen had been floating around ever since the first Return of the DJ compilation in 1995. And after more than a decade of toiling in the underground as one of the most otherworldy crews of scribblers and wikki-scientists around, the X-ecutioners moved on up to Loud/Sony. They released an album shortly after their national TV moment (introduced by Dale Earnhardt Jr.!), giving Linkin Park some much-needed hip-hop cred. They also provided a befuddling blur of scratchy-scratchy four-man cutting in the place where a guitar solo would usually be, and now we have Z-Trip at Coachella. Perfect. C.W.
11.2002: Sheryl Crow — "Safe and Sound"
11/16
A deepish cut on the album that introduced "Soak Up the Sun," the cinematically epic bummer trip "Safe and Sound" chronicles the demise of Sheryl Crow and Owen Wilson's relationship. She adapted, contextually, for the 2002 VMAs, where Rudy Giuliani intro'd the song about a week and a half before the first anniversary of 9/11, complete with a backdrop of New York-centric images.
12.2004: Jet — "Are You Gonna Be My Girl"
12/16
The VMAs rededicated themselves to rock music in 2002, kicking off with Bruce Springsteen, ending with Guns N' Roses, and featuring a mid-show "Battle of the Bands" between the Hives and the Vines. (Fellow "the" band the Strokes were supposed to make it a trio, but they — perhaps wisely — turned MTV down.) This investment in hip rock hit its nadir at the 2004 show, when Jet ran through their iPod-driven smash "Are You Gonna Be My Girl" before segueing immediately into performances by Hoobastank and Yellowcard. J.S.
13.2004: The Polyphonic Spree — "Hold Me Now"
13/16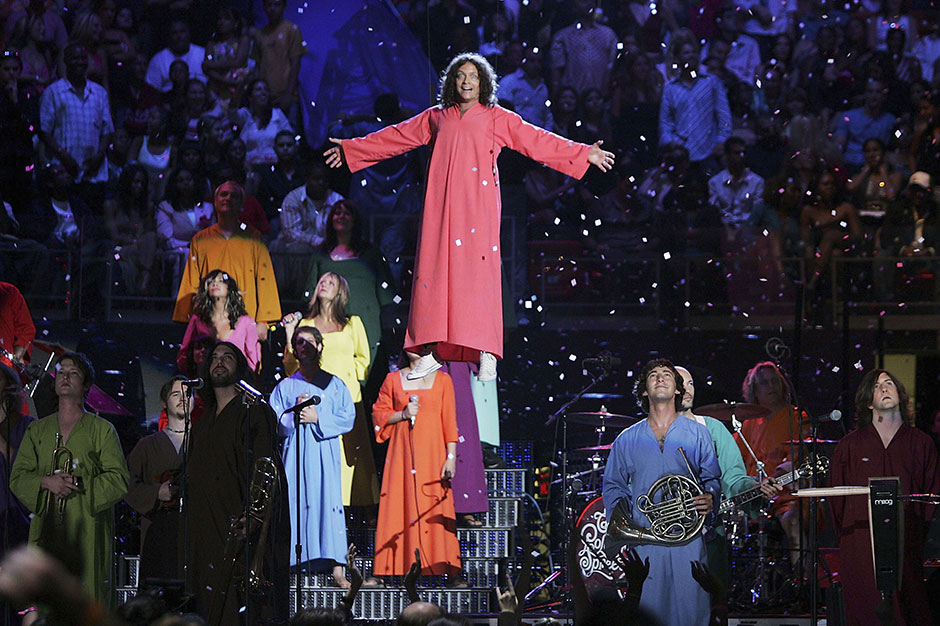 Although the VMA election committee didn't think they were worthy of competing against Franz Ferdinand, they felt a performance by ex-Tripping Daisy frontman Tim DeLaughter's nightgown-clad tabernacle choir might give the show some indie-rock cred. The group's 2004 album, Together We're Heavy, peaked at No. 121. K.G.
14.2005: Don Omar — "Reggaeton Latino"
14/16
Medleys of scenes having a "moment" are pretty standard award-show fare, but that didn't exactly make it any less bizarre that MTV wedged a reggaeton parade in between performances by the Killers and Coldplay. This one was headlined by Daddy Yankee — who had a legit crossover hit with "Gasolina" — and Tego Calderón, who never quite popped off, but would go onto appear on remixes with Fat Joe and Akon. Kicking off the proceedings was the much lesser-known Don Omar, performing a song that at least let bewildered white people know exactly what they were about to watch. Of course, Omar would end up staying relevant for the longest, scoring a massive crossover hit in 2011 with the Pitbull-remixed "Danza Kuduro." JS
15.2007: Mark Ronson feat. Wale — "W.A.L.E.D.A.N.C.E."
15/16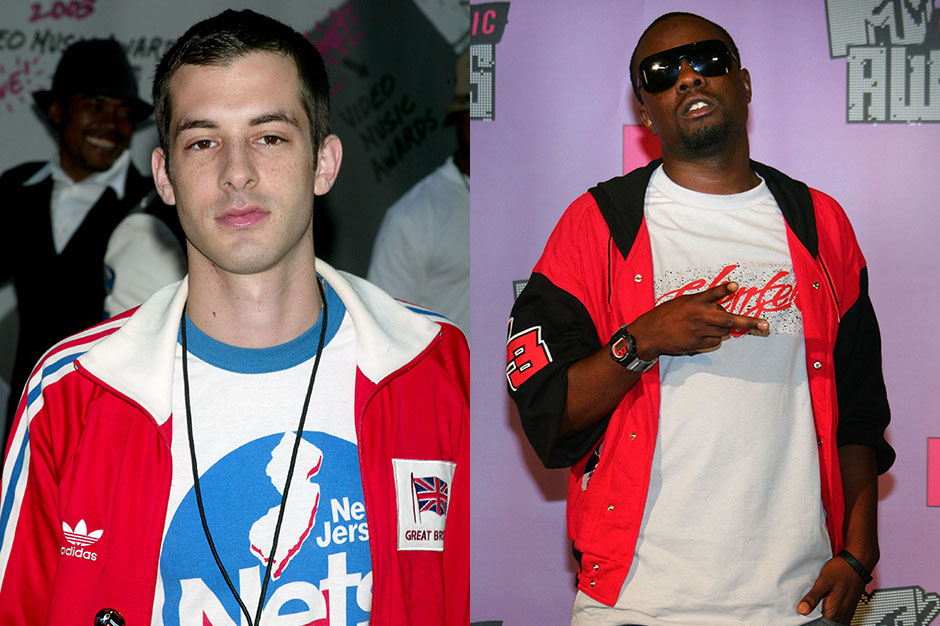 Before he reinvented himself as the loverman of Rick Ross' MMG crew, Wale was set to be the first rapper to crossover from hipster audiences to the radio. His acclaimed Mixtape About Nothing would drop in spring of 2008, but a few months prior, he got some shine at the VMAs with his short performance of "W.A.L.E.D.A.N.C.E." alongside then-mentor Mark Ronson, appearing in the role of "house DJ." The track is a remix of Justice's "D.A.N.C.E.," a then-underground blog hit that helped cement Wale's image as an outsider MC two full years before Swizz Beatz and Jay Z would sample the same track. It was also 18 months before Wale's meticulously planned crossover would be crushed under the weight of a misguided Lady Gaga collaboration and a half-decade before he would rise from the ashes thanks to something called "Lotus Flower Bomb." J.S.
16.2011: Jessie J is the "House Band"
16/16
Rarely is a relatively unknown wannabe pop star so baldly pushed onto the public as Jessie J was in 2011. The British singer — who is not Jessie Ware — is a legitimate sensation in her home country and across Europe. But where British pop stars are normally given years to build a following in America (think Adele, or even Amy Winehouse), Jessie J was shoved in front of our faces at high-profile events at an alarmingly early rate. She managed a few fleeting hits ("Price Tag," "Domino") that sounded like Katy Perry's leftovers (which is because they were written by Dr. Luke), but she was never embraced here in any significant way (as evidenced by the blind eye America has given her second album). But it wasn't for a lack of trying: She hit Saturday Night Live in early 2011 before "Price Tag" had even crept onto Billboard's Hot 100, and capped the year off as the VMAs' "house band," where she played a few of her own songs aside from covering classics like "No Scrubs" and "Girls Just Wanna Have Fun." There was a poetic moment, though, when she covered "Firework," the song that would win the real Katy Perry a Moonman for Video of the Year. J.S.