The Miley Cyrus twerktastrophe is important shit, man. Yes, it's important even at this exact moment, when it looks like we're about to start another war with another country, and your Facebook feed is full of condescending suggestions that we've got bigger problems than Billy Ray Cyrus' daughter (dressed in flesh-colored underpants) grinding up against Alan Thicke's son (dressed like Beetlejuice). We do have bigger problems, it's true. But we can compartmentalize, and not entirely ignore this one.
This is a knotty, vital issue, spanning from racial appropriation to feminist concerns over the ugly, casual rhetoric of slut-shaming. And however you feel about Miley's wildly problematic MTV VMA's performance — a symphony of twerking, tongue-wagging, crotch-rubbing, and butt-slapping — it has already inspired a lot of great writing, including New York Magazine critic Jody Rosen's charge (and subsequent Twitter defense of that charge) that at its worst, the debacle tilted over into minstrelsy, as when Miley slapped the ass of a black dancer, reducing the woman to a symbol — something a provocative (and white) pop star can stand near and fondle and strip-mine for authenticity.
But it's worth noting also that the Artist Formerly Known as Hannah Montana's uncomfortable relationship with black culture has been fermenting for a while. Miley's rollout as a hip-hop-skewing pop star began in March, when she uploaded a video of her twerking to J. Dash's "Wop," sending a two-year-old song to the Billboard Hot 100). In June came future VMA showstopper "We Can't Stop" itself, an appropriately Disney-esque party song with just enough daring to make it seem mature, its video replete with American Apparel-style decadence (and a number of black women). Since then, Miley has stepped in it multiple times in interviews, explaining that she was taking more of a "black" approach (which to her is synonymous with strip-club anthems), further boasting that while she may be "a hillbilly," she can still "twerk." She even showed up in the clip for Big Sean's "Fire," trying on the video-girl persona for a few minutes. Her new album, Bangerz, is out in October.
But this exchange works both ways: "Miley Cyrus" has also become a meme in hip-hop. The once-clever crack-rap trope where rappers would refer to cocaine as "white girl" has shifted to naming all white drugs after specific white female celebs: Atlanta trap trio Migos, for example, have a song called "Hannah Montana." ("I got molly / I got white / I've been trapping, trapping, trapping all damn night.") Meek Mill: "Got a bad bitch in my Chevy / She's selling Miley Cyrus." Lil Wayne: "I wish we were single, like a couple of dollars / And when we get together, she be on that Miley Cyrus." Jay Z, even: "Somewhere in America / Miley Cyrus is still twerking."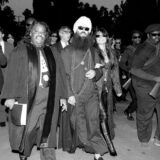 That's a funny, mock-poetic Jay line, actually. It exists to get people talking, of course, but there's a biting edge to it, a bemusement with the racial politics of 2013 even as it perpetuates this sense of a "post-racial America" — enabled in part, Jay believes, by his own rise to superstardom. It's also part of a song about how "you can't teach racism when your child is connected to the culture," as he told Elliott Wilson. That betrays a deeply naïve understanding of how racism is internalized, and/or the twists and turns racists' brains make to accept blackness while also rejecting it. But it's also instructive: Jay's perpetuation of the post-racial myth is integral to the marketing of mainstream music now. Even Mylie's.
This is all part of our current egregious pop moment, when the removal of black voices seems persistent and calculated. So much of the criticism of this year's VMA's has centered on the relentless whiteness, from Macklemore's filibuster of an acceptance speech to Justin Timberlake's epic victory lap. And for me, it recalled another terrible awards show: the 2011 Grammys. Remember that? Gang Starr's Guru left out of the "In Memoriam" montage; the Best Rap Album nod going to past-his-prime Eminem's Recovery; Lady Antebellum paying tribute to Teddy Pendergrass; Mick Jagger singing Solomon Burke songs; and Cee-Lo singing "Fuck You" (or "Forget You," or whatever) with Gwyneth Paltrow, who also sang it on Glee.
At the time, I called the show a "great whitewash"; The Fader's Naomi Zeichner just said the very same thing about the 2013 VMA's. (Perhaps the shock here is that we assumed MTV to be a bit hipper than the Grammys.) That 2011 disaster sure felt like a terrible and significant event: At the precise moment when hip-hop was fully integrated into pop (not hip-hop as pop, but rapping as but one more signifier in every pop-music song), blackness was shoved into the background. Since then, the charts have grown yet whiter, and hip-hop too is suffering a whitewash: Mac Miller is being given a great deal of credit for aping the bugged-out qualities of MF Doom and other eccentric underground hip-hop, while Macklemore is not only presented as a valid rapper, but as a socially aware alternative to mainstream rap's excess. This is how Miley Cyrus happened.
As for this week's raging Miley debate, it often has the odd effect of pitting feminism (combating the clowns whose primary reaction to the VMA's was to make fun of Miley's ass) against racism; Jezebel wisely addressed this issue, offering a woman's perspective that didn't ignore the "incredible racist nature" of her performance. (There's been lots of great writing this week about the way white people objectify black bodies, too.) You can't govern what people — even clueless white people like Miley Cyrus (and the machine behind her, which by the way, knows exactly what it is doing) — get out of hip-hop. She deserves criticism for reducing rap culture to its basest, most sexually depraved instincts, but those who merely slut-shame her in response should invite ridicule, too.
It's outrageous, by the way, that Robin Thicke has shouldered none of the responsibility for the VMA's performance; he didn't exactly comport himself with any more dignity. And don't forget that Miley's father, Billy Ray, gained wider success by objectifying himself, too — within the world of country music, at least, shaking his butt in tight jeans and courting a roughneck, working-class appeal.
Cyrus' story in and of itself is unimpressive and boilerplate: Young white artist looking for edge and controversy, ill-informed about the world bigger than her dumb little Los-Angeles-by-way-of-Nashville privileged bubble, grafts elements of hip-hop culture onto herself in an attempt to appear "down," and winds up talking about "hood" culture and serving up "black is an attitude" nonsense as a result. What's shocking about this is that she's getting away with it, that people are indulging her, and that the interplay between white artists and black artists seems like it is actually growing more one-sided.