Maynard James Keenan's oeuvre spans more than 20 years and a number of projects — most notably Tool, A Perfect Circle, and Puscifer — but as it turns out, the prog-metal mastermind and (occasional) fake-mustachioed goofball kicked off his illustrious career on a dare, more or less. The 49-year-old told a revealing story to comedian Marc Maron in the most recent episode of the latter's beloved WTF podcast.
Keenan recalls the Los Angeles music scene of the late '80s and early '90s, a time when a lot of bands were concerned with trying "to look somewhere between the [Red Hot] Chili Peppers meets Nirvana meets Metallica — funny hats and stupid shit." He went on, "I would go to these clubs and I would see these bands playing and they were all focusing on the wrong shit. There was no heart, there was no soul."
Never known for being shy about his opinions, Keenan would openly criticize uninspired performances. "I'm the drunk guy at the back of the room going, 'This fucking sucks,'" he says. "I said that out loud enough times where somebody went, 'Okay, smart fucker — you try it. You think you can do better?' And I went 'All right.' And that was right around the end of 1990 and by '91 we had a record deal and Tool was on its way."
Cut to present day and Keenan's a winemaker who covers "Bohemian Rhapsody" and writes songs that get remixed by Sir-Mix-a-Lot and Nashville's Five Knives. The Michigan-reared singer dives deep into his life pre-Tool in his hour-plus chat with Maron: He admits to writing "crap poetry" in his youth, explains why he joined the Army, takes pot-shots at his Baptist upbringing, and cites Joni Mitchell as an early influence.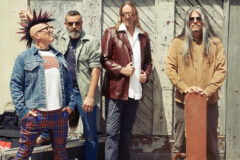 Listen to a snippet of the interview below, stream the whole thing via the WTF website, or download it. The aforementioned Puscifer remixes will be officially released as part of the All Re-Mixed Up compilation, out August 27.
//www.youtube.com/embed/bdj_idndFLA