10. Lianne La Havas
It's easy to understand why Prince is such a vocal fan of eclectic Brit Lianne La Havas — the two share some similarities. She treads between soulful sway and rocking, throwing in minor chords, ornate ad libs, moments of shred. Though she is known for a kind of folky balladry, her early afternoon set lilted toward languid soul jazz — really the sort of torchy thing you imagine at a tiny club, filled with grown folks, not a field littered with crushed beer cans and hungover partiers. JESSICA HOPPER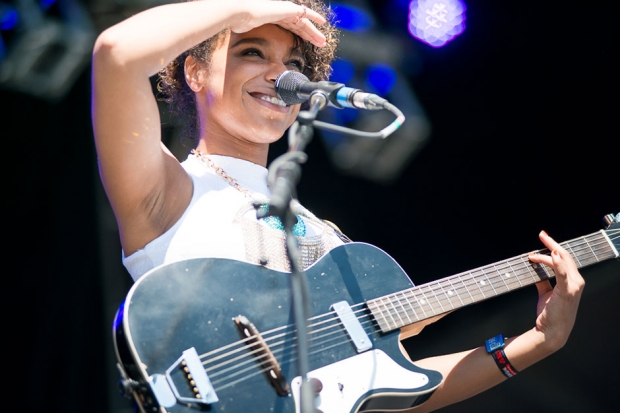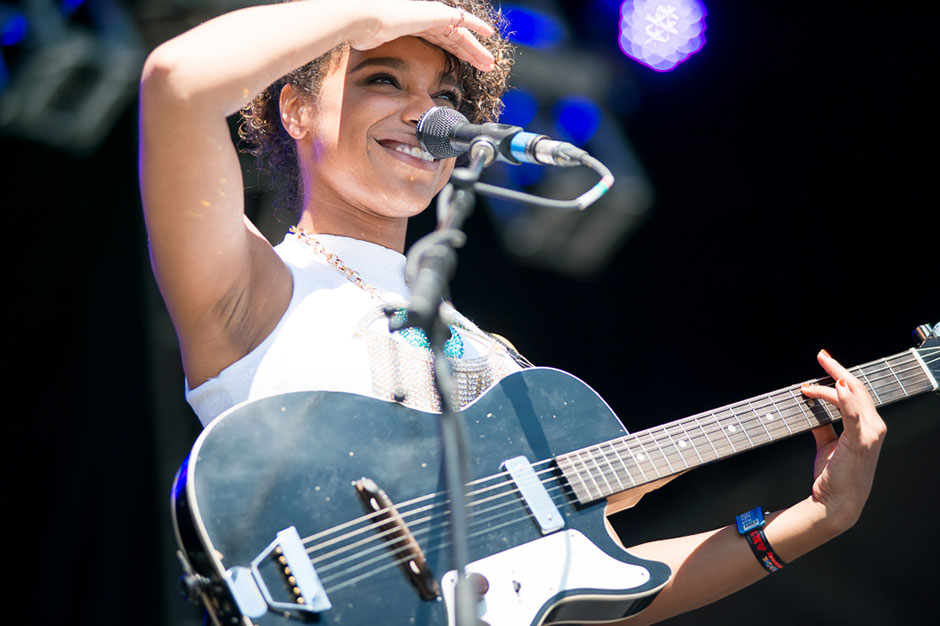 9. The Cure
Sure, compared to keyed-up performers Phoenix and the Killers, veteran romantics the Cure were an odd choice for a co-headliner. All bathed in moody blues with dreary, noisy guitar solos; Robert Smith's hair like a disassembling bale of hay; and his gaggle of mostly 50-something goths who aren't exactly going to be leaping across the stage. But despite all that, their encore was a real dead man's party: six songs (including "Boys Don't Cry" and "The Love Cats"), featuring nothing from later than 1987, that got lots of spirited bouncing from the crowd. CHRISTOPHER R. WEINGARTEN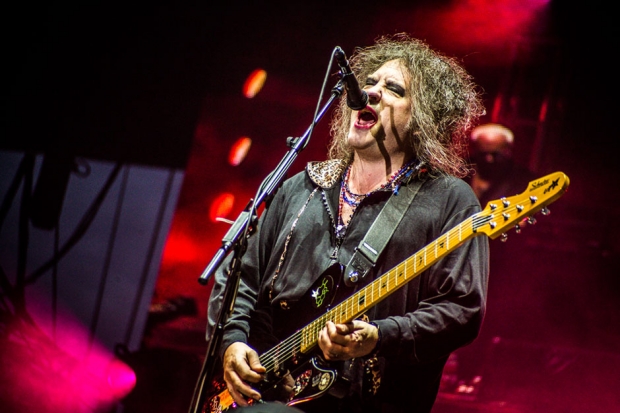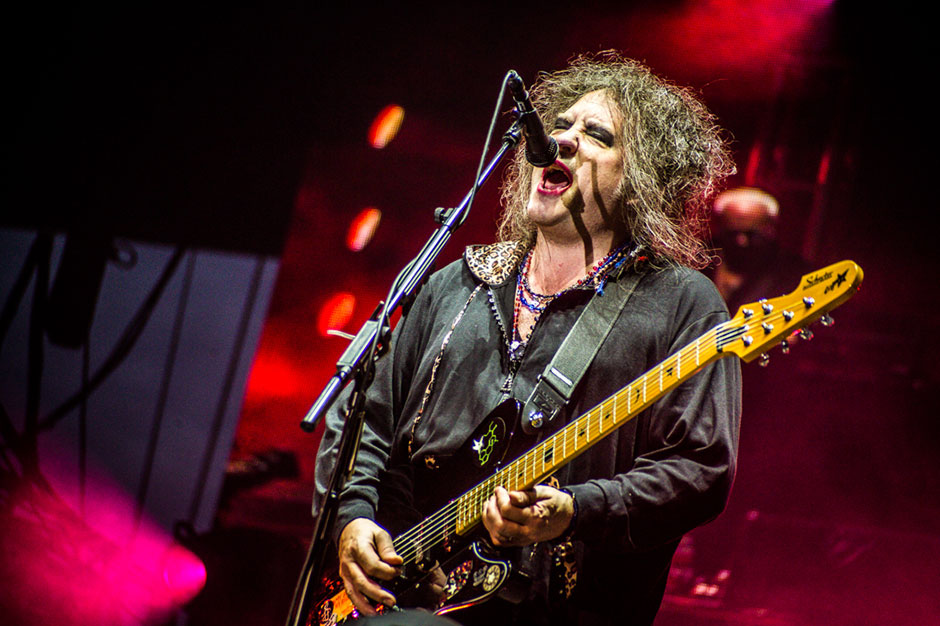 8. Palma Violets
Brash Londoners Palma Violets, playing for what could probably be their largest audience ever, felt a little out of sync with the weather, their Joy Division-style moodiness clashing sharply with the bright sun and Frisbee-ready temperature. Luckily, their sound is already lo-fi rock as festival prospect, so even when they paint in dark hues, there's still rapturous hooks, torrents of distortion, and a drummer that will stand on a monitor at a moment's notice. Their final song, "Brand New Song" was a duet for just singer/guitarist Samuel Fryer and drummer William Doyle, so it allowed the other members to just bounce around like two Bezes and mosh into one another like idiots, giving a fine lesson on how to overexert one's self early in the day. C.W.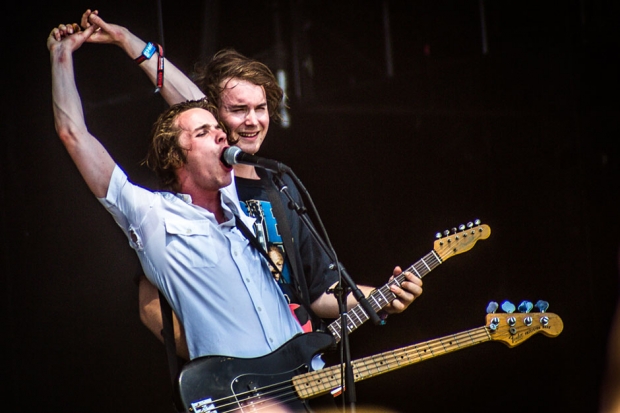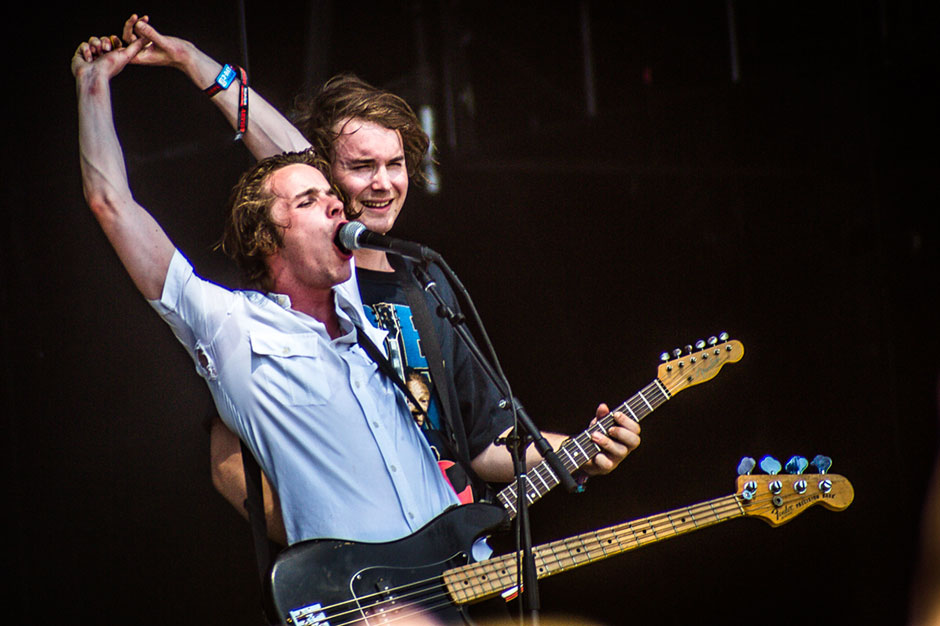 7. Vampire Weekend
Even more impressive than Vampire Weekend's clean-cut, beach-don't-kill-my-vibe tunes was the unfettered jubilation they inspired. What follows is a complete list of dances and moves executed by a freestyle pit toward the back of the massive crowd: 1. Slow partner dancing; 2. Airplane; 3. See No Evil/Speak No Evil; 4. Skanking [Non-Traditional;] 5. Freeze-dance; 6. Hippie twirl; 7. Popcorn; 8. Swan Lake; 9. Bowing; 10. Slo-Mo; 11. Limbo; 12. Conga Line; 13. Real Drunk Yoga; 14. the Twist; 15. Get Small 16. Eat the Sunglasses; 17. Jumping [regular speed]. J.H.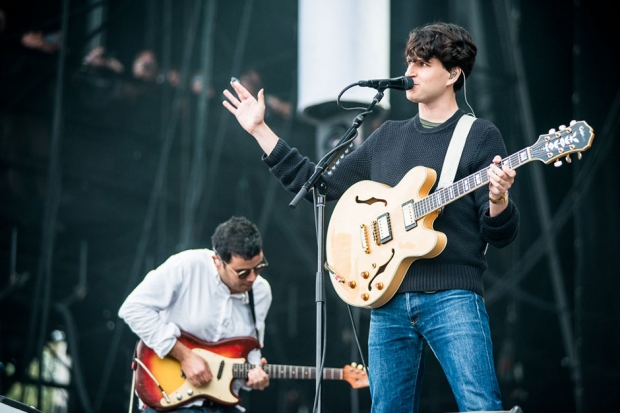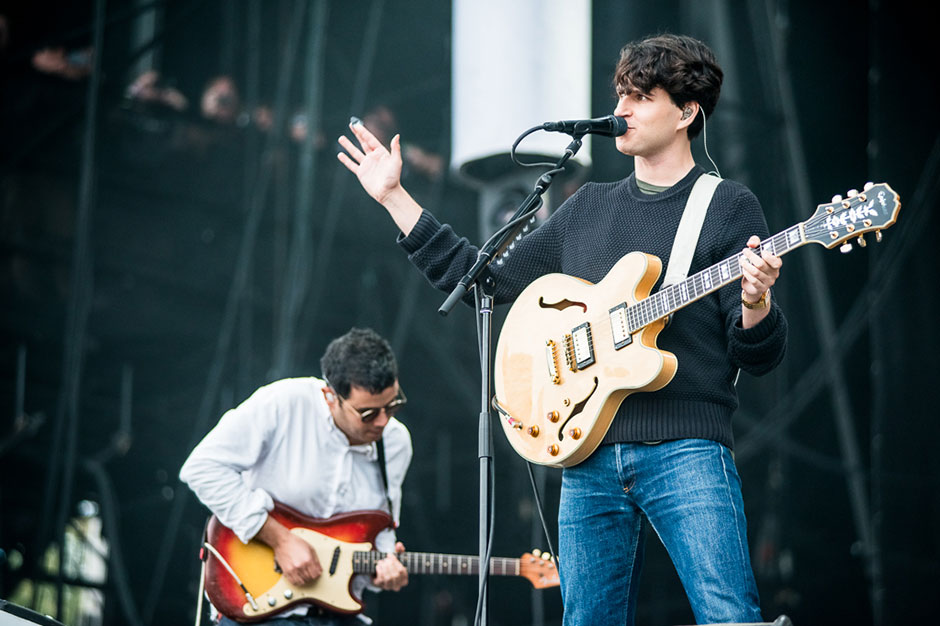 6. Art Department
Critically acclaimed Canadian house duo Art Department make musty, dank, warehouse music, and their muted set worked like a giant "Fuck You" to the charm-braceleted masses at Perry's Stage waiting patiently for Skrillex to fire the bass cannon. The two Department heads — Kenny Glasgow and Jonny White — were almost aggressively aloof, smoking cigarettes and passing a pair of headphones, as their music slowly and patiently bloomed. Prismatic scales climbed, snares echoed murkily, bass rumbled, and Q-Bert noise pierced the air. The audience was grooving by the set's end — that is until they meditated on a hypnotic, acid-house-via-Terry-Riley doom gurgle with no beat. C.W.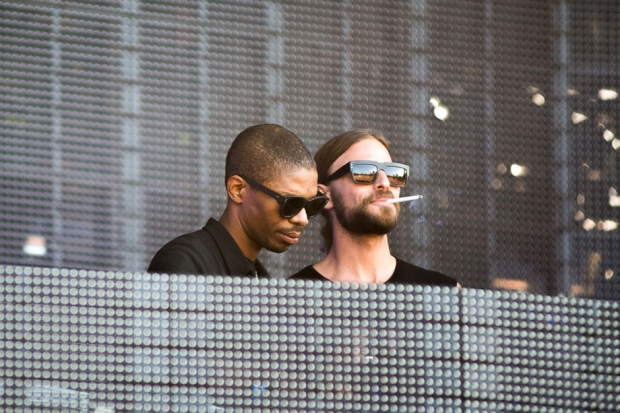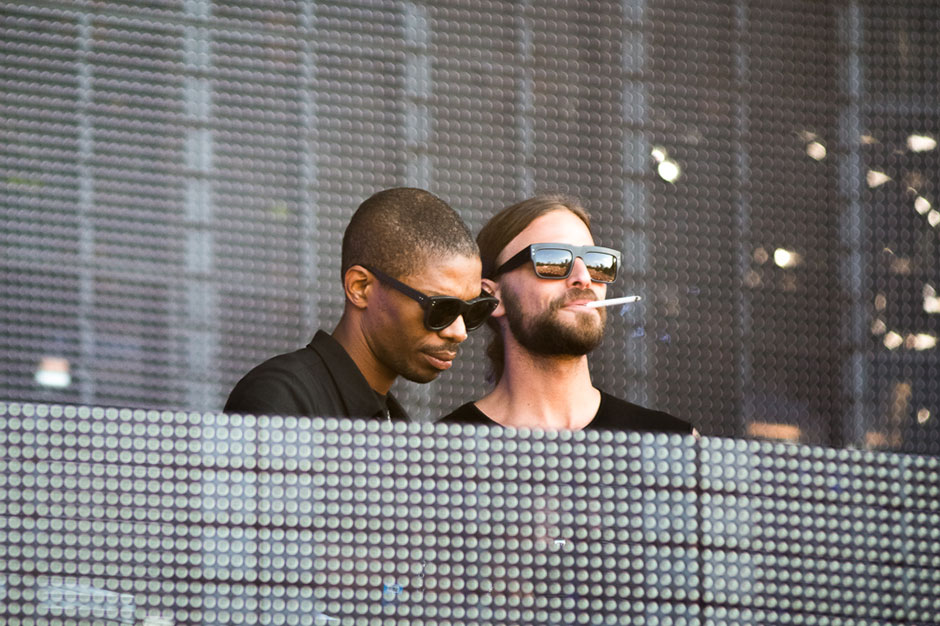 5. Phoenix
Phoenix's ascendancy is only right and natural, and their success has allowed them the opportunity to hone themselves into a consummate big shed act. Before they took the stage, the Jumbotron broadcasted the band threading their way through the backstage — and the second they made it there and took their places under the saturated red lights and the huge, perfect feel-good chords began washing over us, the lighters went up. Indeed, they are a lighters kind of band, of that triumphant Coldplay ilk. For better or worse, the songs sounded flawless. They might as well have been playing the CD of Bankrupt! at stadium-thunder volume. J.H.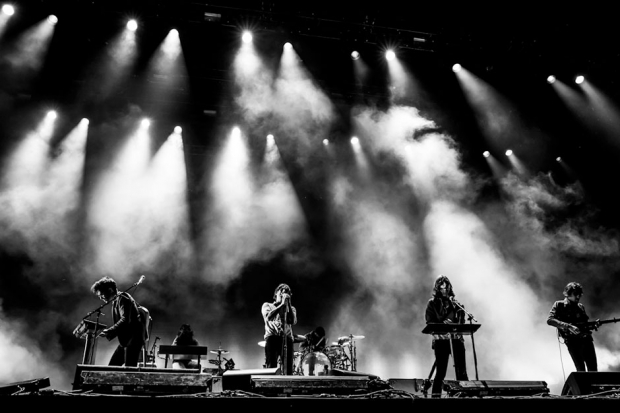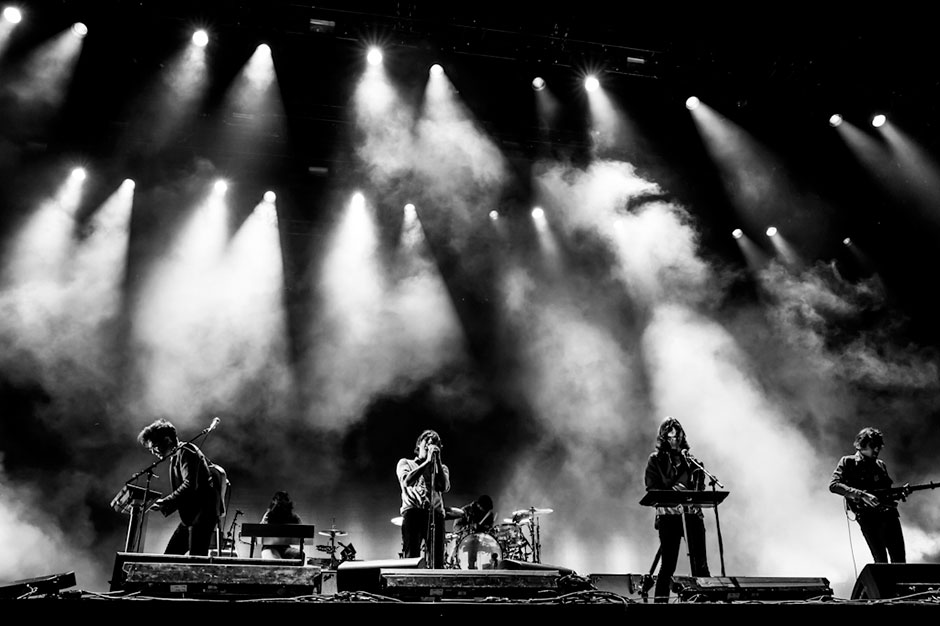 4. Tegan and Sara
One of the day's biggest draws was for the sister duo, who were less banter-y than they are known to be — perhaps owing to Sara's purported perpetual illness. (One fan held a sign that merited comment from Tegan. It read "Sara Will Survive Lollapalooza." Fortunately, she did). Given their harmonies and energy, you'd never have guess they weren't in robust health and fully energized. They did a crowd-pleaser set that included all their singles: "Shock To Your System" and "Crocodile Tears," among others, seemed to have slightly new arrangements, meshing properly with the slick 80's synth pop of the duo's latest, Heartthrob. J.H.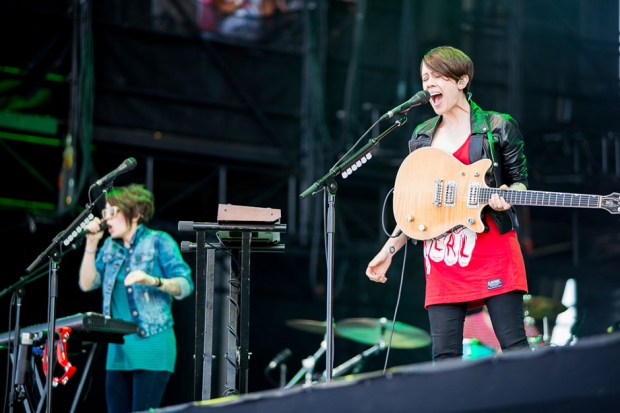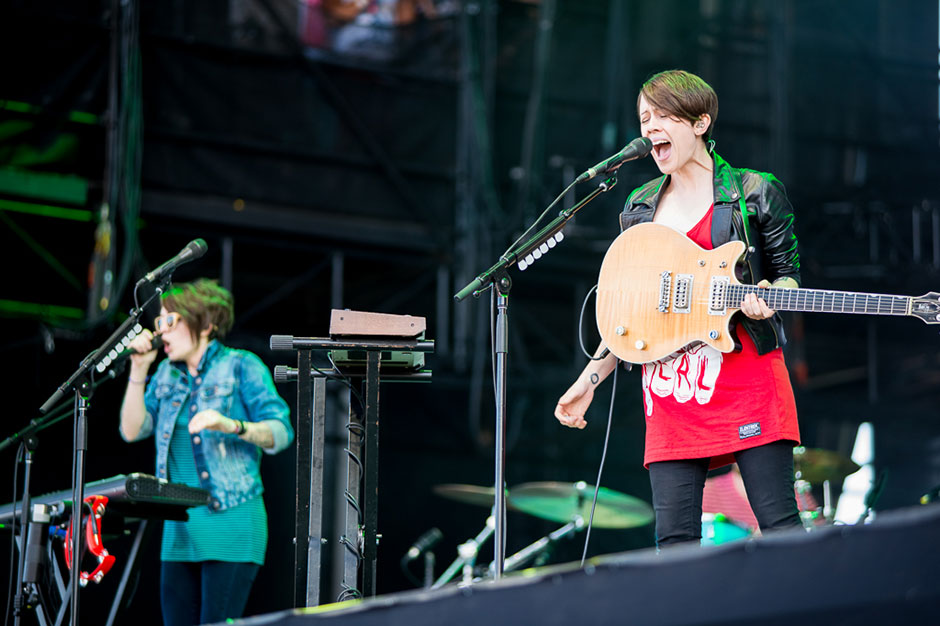 3. 2 Chainz
2 Chainz basically took a crowd on a guided tour of the last two years of hip-hop. Well, he was a part of a lot of of it — Kanye's "Mercy," Juicy J's "Bandz A Make Her Dance," A$AP Rocky's "Fuckin' Problems," Rocko's "U.O.E.N.O.," Nicki's "Beez in the Trap," Lil Wayne's "Rich as Fuck." He got super crunk when he needed to ("Crack," "Riot"), plowed through recent singles ("Feds Watching," "Where U Been") and had the audacity to do "Bubble Butt" while the songwriter, Major Lazer, was performing on the other side of the park. "I wanna say rest in piece," he said, "to this motherfuckin' stage right here." C.W.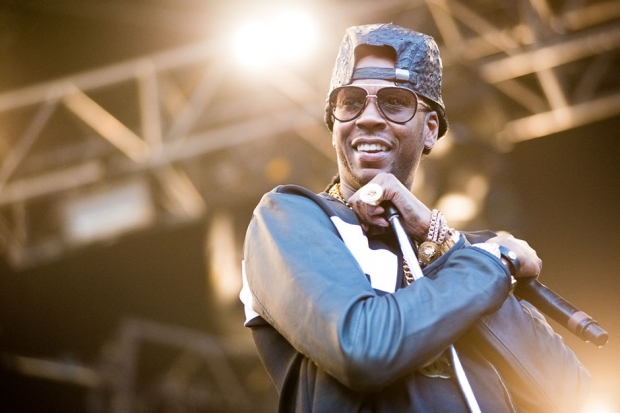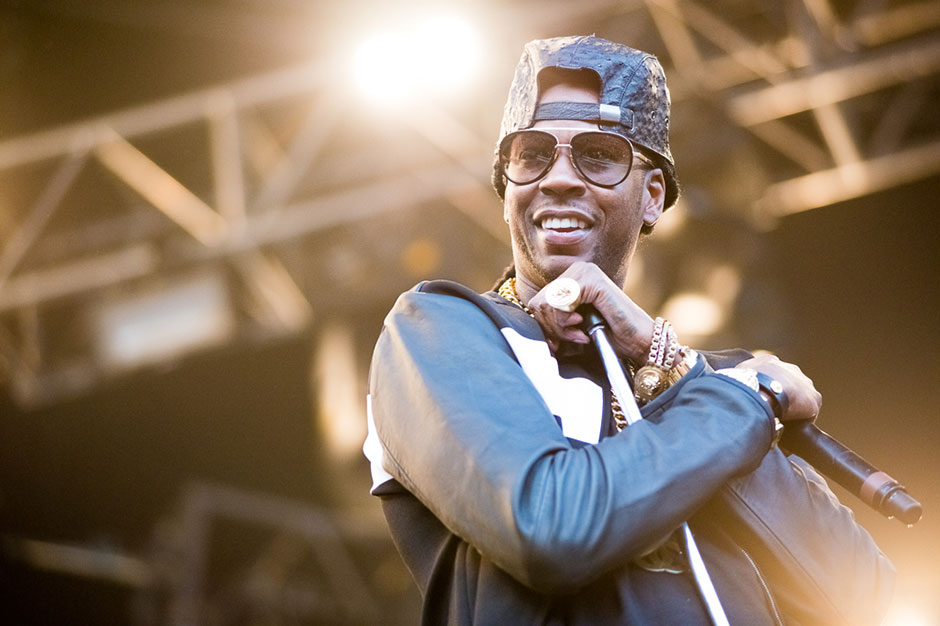 2. Dog Blood
EDM bad boys Skrillex and Boys Noize joined forces for a full-contact rave. Conceptually, it stands to reason that their violent, minimalist, non-wubby Dog Blood project is their Hello Nasty, a rewrite of their genre using the tools of the folks that came before — in their case, '80s acid-house and '90s big beat. In practice it's candy culture shaking hands with grunge, it's a rave with a mosh pit, it's a place where house squelches get the buzzsaw subtlety of brostep, it's a reason for two dudes to be standing on the DJ table and leaping off. At one point, Skrillex, who has a metalcore background, actually had to lower the music during a "Goin' In" remix and offer the kind of warning you'd expect at a punk show: "I want you to go wild for the afternoon or the night or whatever the fuck it is. But take care of yourselves." C.W.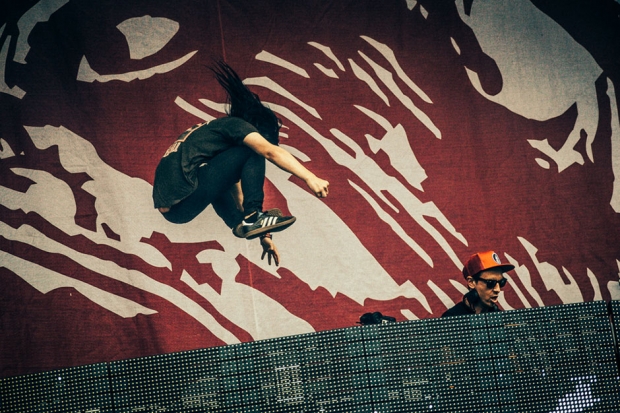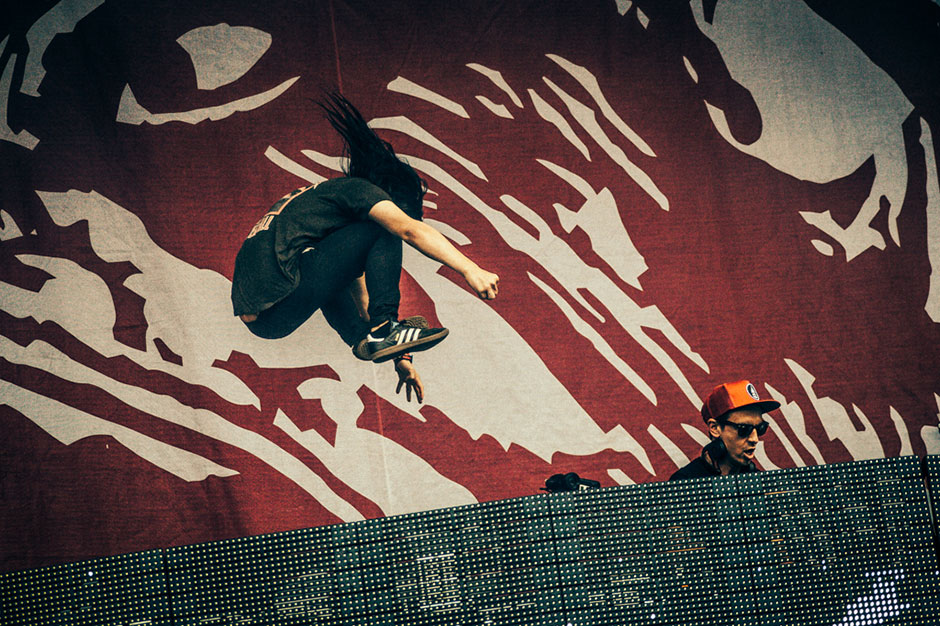 1. Cat Power
Since the initial and mildly disastrous run of dates behind last year's comeback, Sun, Cat Power's Chan Marshall has, by most accounts, retaken the reigns. Sunday night, her band was big, liquid, lithe, and her voice was bigger, more forceful than she's been in, well, ever. Clad in head-to-toe black and a taped-up leather jacket, Marshall was confident — or something damn close — tugging at her shock of platinum hair as she paced in small steps around the stage. She's got a funny little shimmy, some sort of micro Jagger move. She opened with "The Greatest," as a heavy dirge backed by a drummer, guitarist, percussionist, and longtime sideman Gregg Foreman alternating between keys and guitar. She blew out all the Sun singles, and turned "Cherokee" into a garage vamp. She played like she's out to reconfigure how we think of her. "Manhattan" augmented the Teutonic bliss of the original with stuttering drums, making it slinky and loose; Marshall howled like a wolf after the "Don't look at the moon tonight" — an oddly comic ad-lib to a gorgeous ode to the Statue of Liberty.
Even though her live show is much more together, Marshall is as perfectly weird as you want her to be. The set's showpiece is a retooled version of "Metal Heart," from 1998's Moon Pix, which is no longer wan and plaintive, but tense and dissonant with a double-time kick bringing the song to a snarling climax. It was a heretofore unheard side of Cat Power: charged and ready. Before her last song, someone handed Marshall a bouquet of long-stemmed white roses — she tossed a few at her band, then before distributing the rest to the audience, she smelled each bud. It's unfortunate she drew such a small crowd (it probably maxed out at about a thousand, the dull roar of Phoenix's audience was explanation enough) because Marshall, even with her command and finesse, put on a show that was personal, malleable and imperfect. Unlike the many other marquee names who played bigger-than-life sets like they aimed to please, Marshall merely gave all that she could — something real. J.H.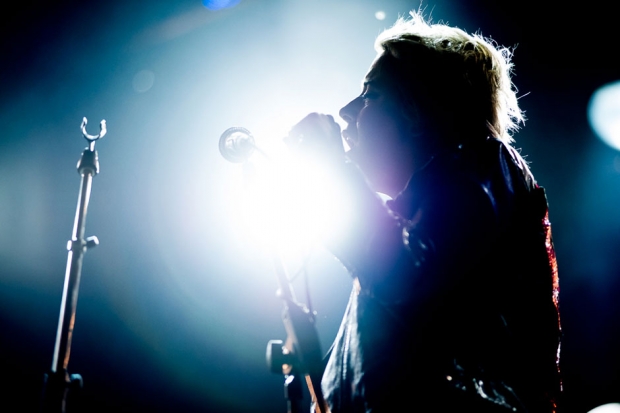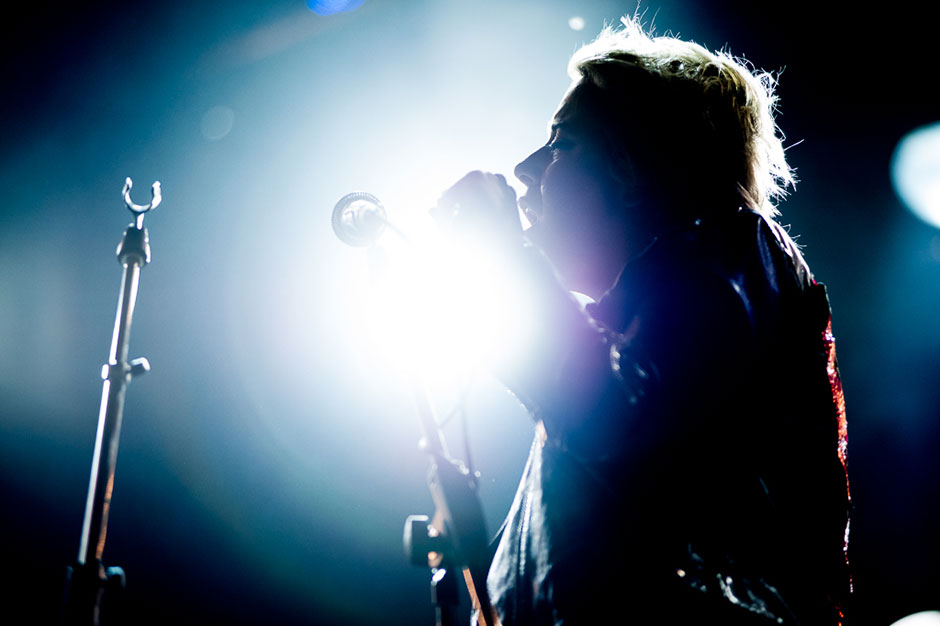 For more coverage on this year's top festivals, visit ToyotaSoundwave.com.