10. Icona Pop
The jury is still out on exactly what Swedish alterna-pop-electro-punkers Icona Pop are trying to be. For their 1:45 p.m. performance, Caroline Hjelt banged her head like a rock star and Aino Jawo screamed until her voice cracked. They tweaked around on gear like Animal Collective. They dressed like chic, MTV-starved 8-bit Gagas in shiny dresses that looked like they were made of painted credit cards. They had the pulse of EDM without the volume of EDM, and at some point, they broke out a kazoo and tooted along. But with all this, they had to prove that they more than "I Love It" — something they didn't exactly do with new tune "Then We Kiss" (you can pretty much estimate how it goes by reading the song title). The audience, however, clearly didn't mind as "I Love It" lit up the festival and sent the duo into the photo pit for hugs. CHRISTOPHER R. WEINGARTEN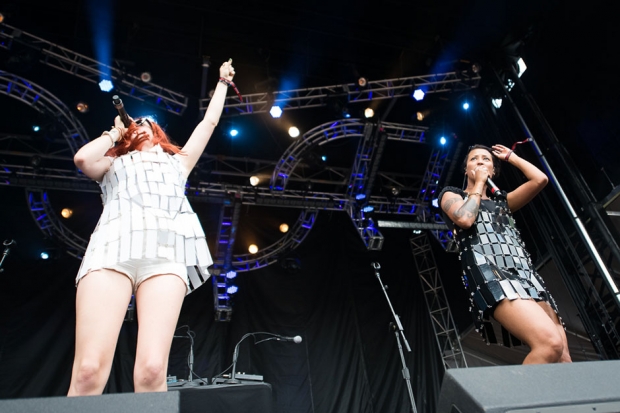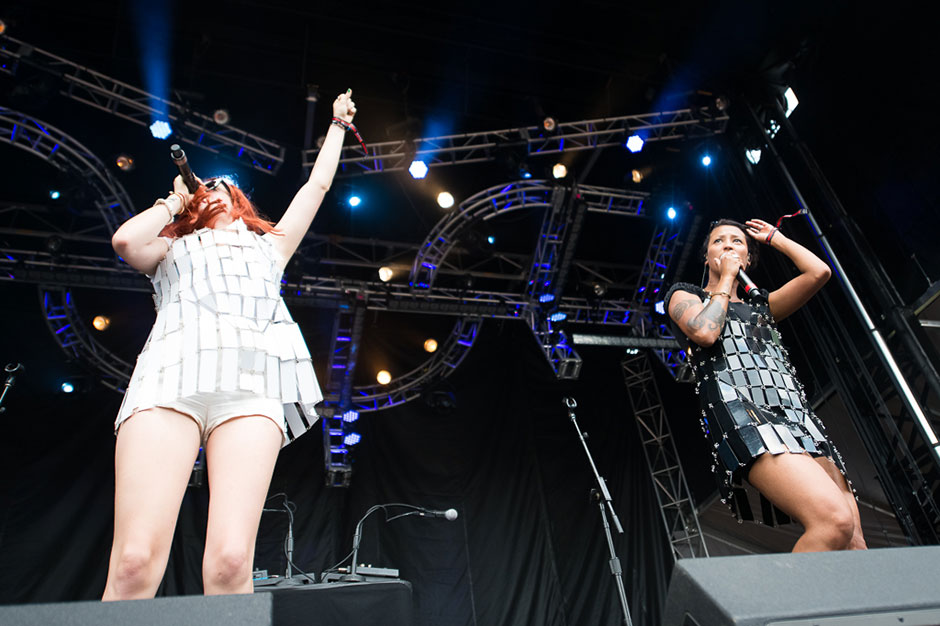 9. Chance the Rapper
You could say it's a failure of low expectations, or maybe Lolla-promoters' generational gap — i.e., they aren't from Chicago and they clearly thought young homie Chance the Rapper is just the city's latest up-and-comer. They didn't know that Chance has spent the last three years selling mixtapes, posters, and show tickets out of the trunk of his car at every single high school in a 60-mile radius of the city. They didn't know that even prior to his Acid Rap mixtape's summer blow up, that Chance is the mayor of teen Chicago, a super-stoned folk hero to 11th graders from Lincoln Park to Englewood, and that the teeny-weeny PA and wooded thicket around the BMI Stage are really not gonna hold the several thousand kids who wanted nothing but to blaze up to "Smoke Again." Chance tried to hold the crowd, but the crowd was too much for the crowd, who were climbing trees and scaling fences and sitting in hedgerows for a proper look at the MC stalking the stage. JESSICA HOPPER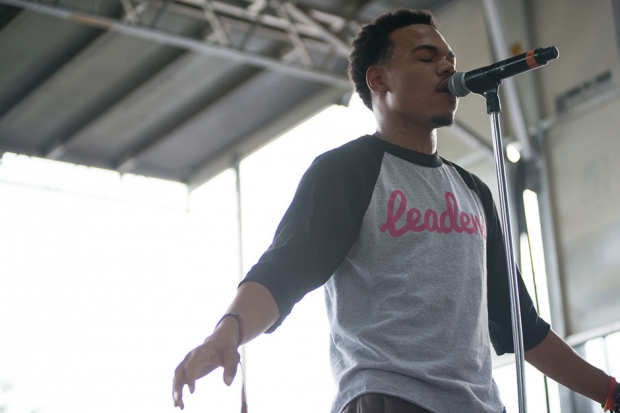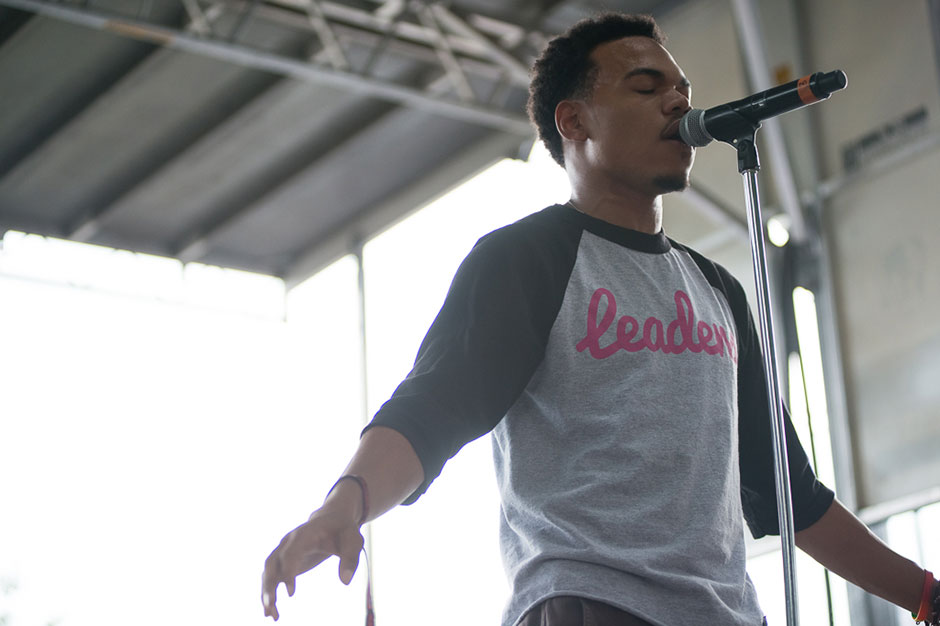 8. Ghost B.C.
Talk about dedication to a gimmick. Even though they have been known to wear whites, Papa Emeritus, frontman for proto-metal bubble-sludge cartoons Ghost B.C., hit the stage in the 82-degree Chicago heat in a black robe, rubber mask, and black gloves — pretty much the only thing that was getting a breeze were his ears. "Holy shit, Chicago, are you doing well?" he said, like an affable Swedish vampire. "Too hot for you?" With his five nameless ghouls in tow, they churned through "Ritual" (it sounded like Blue Öyster Cult taking on Megadeth's "Symphony of Destruction") and "Monstrance Clocks" ("This is a song about fucking! Come on!" he urged). Always putting theater first, they even threw in an encore after much kissing to the crowd and fishing for applause. "Just because you're asking so kindly, we got a few more up our sleeve," Papa Emeritus pronounced. "A little more underneath the cloak." C.W.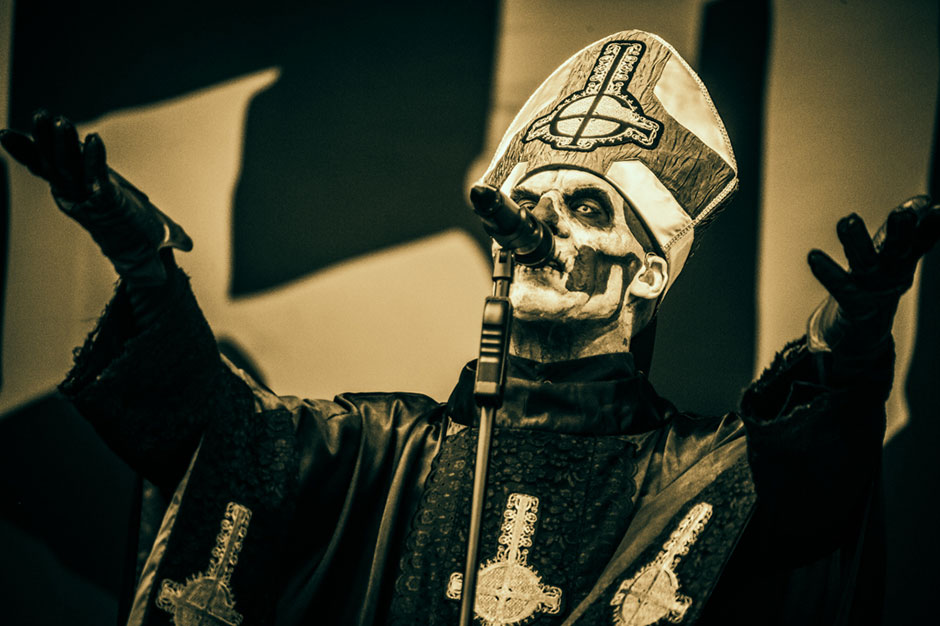 7. Deap Vally
Two tender bros awaiting Deep Vally's set laid out the scuttlebutt on the L.A. scuzz-boogie duo: "They're just two of 'em, kinda White Stripes," one bro says to the other. "Girls. Supposedly they're hot." "That's an afterthought, bro," he's told in return. "They're called 'Deap Vally'— get it?" It's hard to imagine they didn't get exactly what Deap Vally were laying down: overdriven, two-note solos exploding out of sick '70s riffing, brutal backbeat; a lot of hair flying amid their headbanging; frontwoman Lindsay Troy stamping and drawling about her irrepressible hedonist nature. "Supposedly" nothing: They clearly melted some minds. J.H.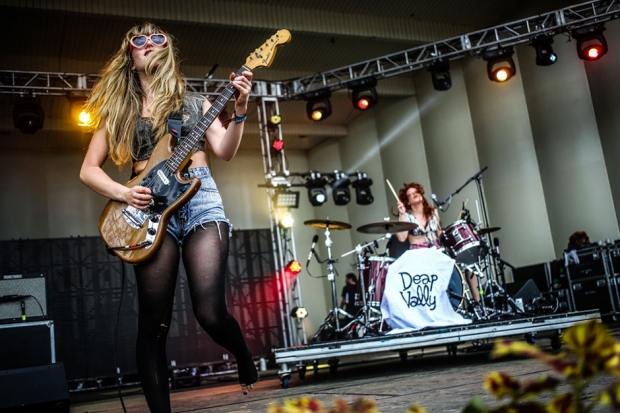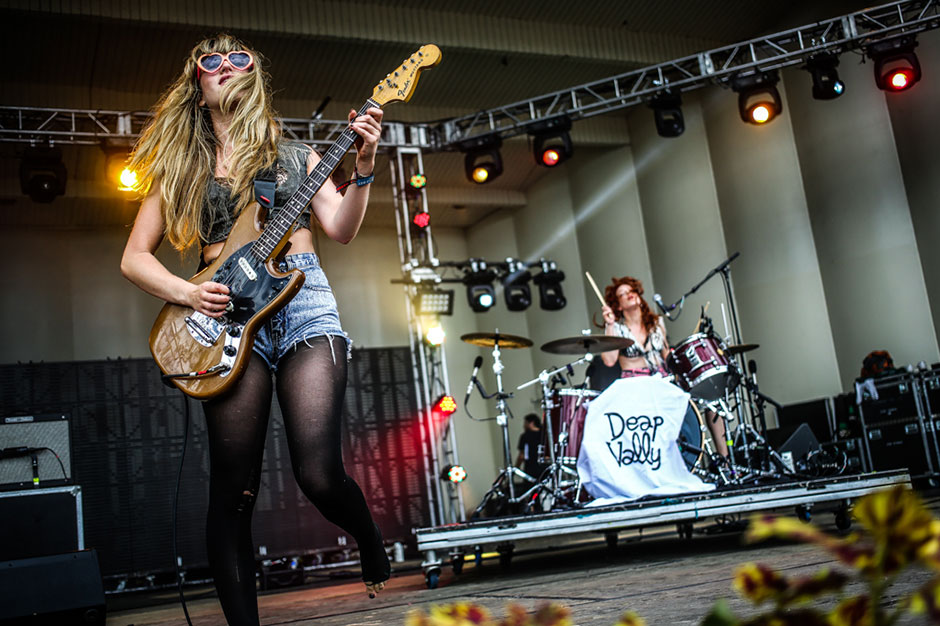 6. Queens of the Stone Age
Queens of the Stone Age are not much for banter — frontman Josh Homme would deadpan stuff like "We came to get loose, man" and "I kind of like the clouds, you know?" They're not much on stage moves either — sure, they dig into their instruments and sweat like crazy, but there's not a whole lot of motion for hard rock's coolest cucumbers. So, QOTSA's set was all about that sound, a tight, monolithic, wall of noise wherein everyone's slamming out the same rhythm. To wit, people actually chanted the riff to "No One Knows" back at them like it was lyrics: "Doo dat doo doo doo / Dat doo doo doo." Not that their 75-minte throwdown wasn't without its variety: The broken waltz of "I Think I Lost My Headache" grew noisy and exploratory, Homme sat down on a stool to play keys for 2013's actual-power-ballad "The Vampyre of time And Memory," and "Song for the Dead" got some pretty unique guitar wolf whistles and Morello-style crossfades in the empty spaces. C.W.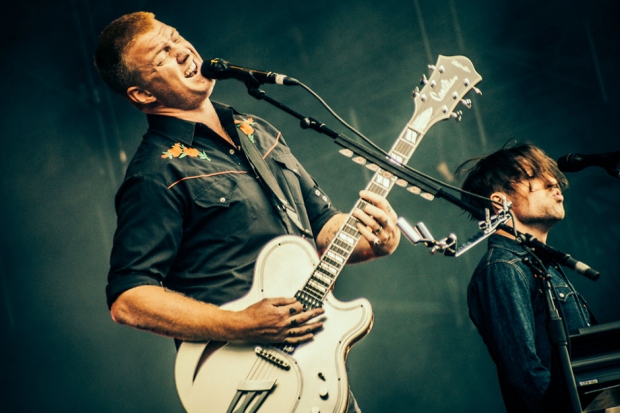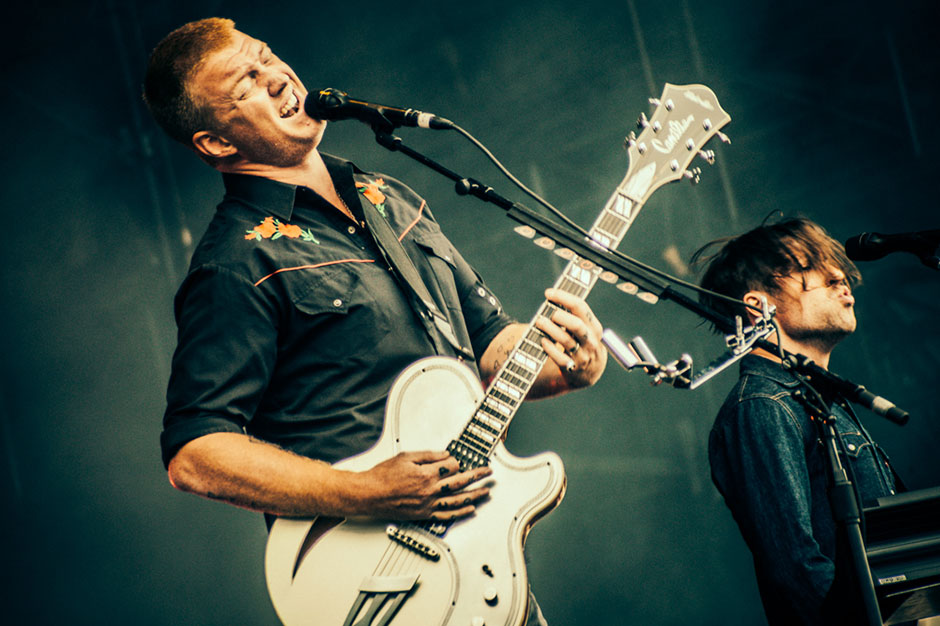 5. Lana Del Rey
If the multitudes of pre-fab flower crowns adorning girls' heads at Lolla did not tip you off in advance, the screaming, teeming LDR masses — the only thing that could blot out the industrial thunder of nearby NIN — made it good and clear: young female America stans for Lana. The polarizing pop ingénue took the stage looking like vintage Cher in a flowing, blood red gown with golden bodice and nearly black hair, looking very Bob Mackie-does-Grecian-goddess. Screams. A few songs in she told her band, "Lets do 'Blue Jeans,'" Screams. Fortunately, the flower crown ladies knew every single sigh and sang along, loudly, with LDR occasionally ceding a line to her rapt fans — which almost made up for how quiet and thin the sound was during her set. In the last year, her command of her voice has finally caught up to her ambition and star power — the delicacy of her baroque, operatic flourishes were in stark relief against the maniacal grunting of Trent Reznor, which punctured those swelling strings and sighs of longing from three blocks away. J.H.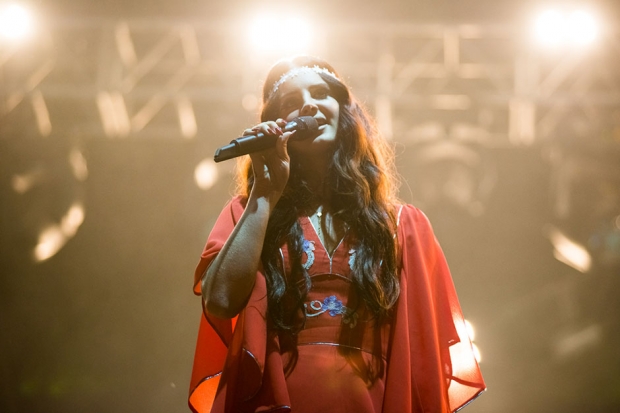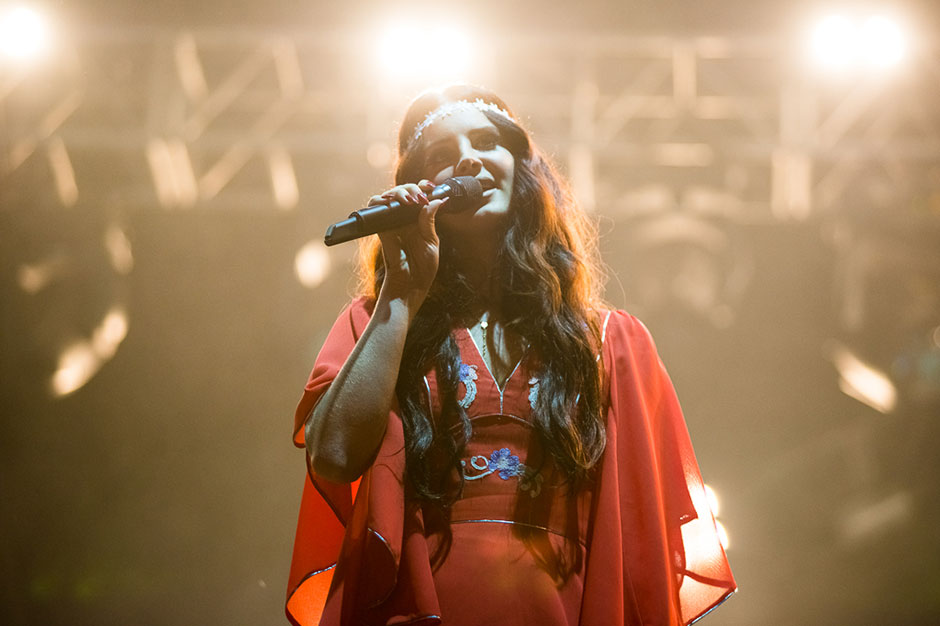 4. Dillon Francis
Dillon Francis is a dapper gentleman not only in his suit and tie, but quick to play "Suit & Tie" as well. His hour-long set, however, was more panic than disco. Met with a far more aggro response than, say, a crowd politely watching Queens of the Stone Age, Francis was a DJ unwittingly capturing the alt-metal spirit of Lollapalooza circa 1993: rowdy, muddy, shirtless dudes nearly moshing; crowd surfing all over; girls pulling each other around by the Camelbak (or the hair); an open umbrella being tossed like a beach ball; his cry "I wanna see as many girls on dudes' shoulders as possible" being answered accordingly. And standing on the DJ podium is kind of like standing on the drumset, right? His set was built upon taut yet aggressive house that squawked and sqwerked, with flecks of moombahton thrown in (not to mention a naked chunk of Blur's "Song 2"). He was both clever — a "Who Let the Dogs Out" snippet preceded KW Griff's "Bring in the Katz" — and contemporary, ending with a trap-rave coda as toilet paper went flying above the crowd. C.W.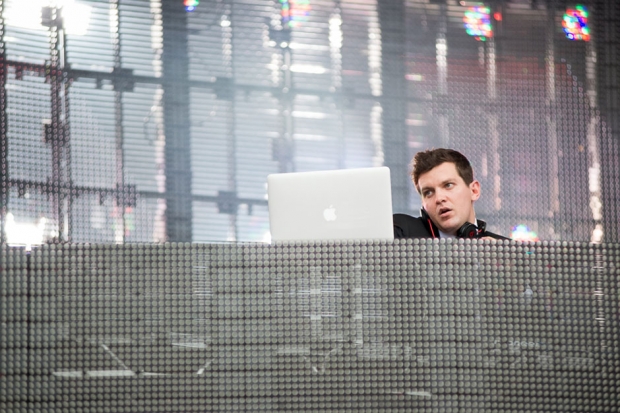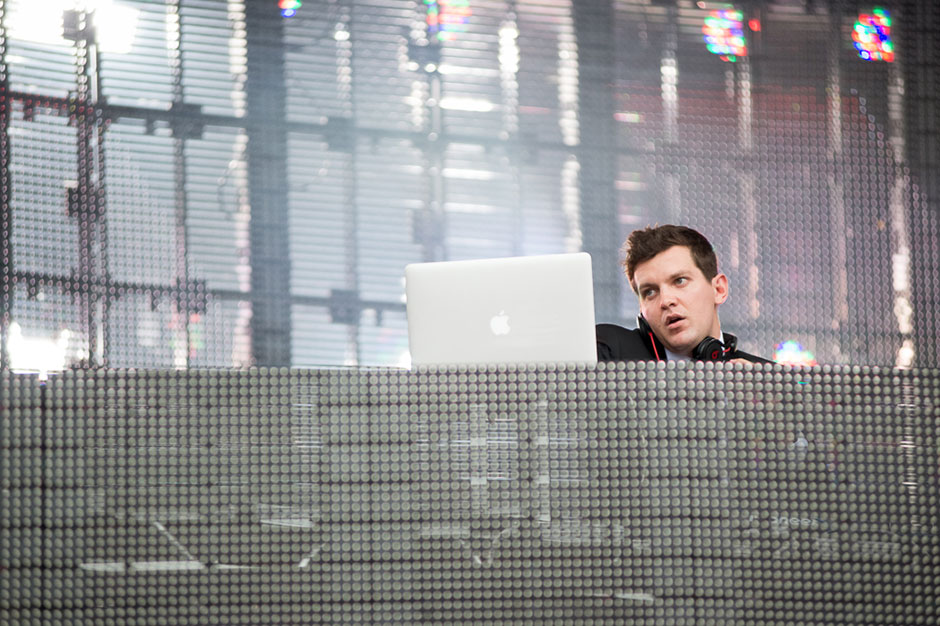 3. Jessie Ware
Her voice is on some grown'n'sexy after-dark after-club plane, but Ware did it, worked it in the daylight, ever the ebullient, dark diva, adorned with enormous gold hoop earrings that could probably be seen from space. Over the course of an hour, she worked the stage, pounced, pranced, swayed, tapped out synth bass notes on her little keyboard while her back band noodled and fonked on some primo Flyte-Tyme-throwback bump. She flirted with the audience in all the usual ways, commanding us to put our hands up, assuring us that she would love to get down and join them if it weren't for the array of potted plants ringing the bandshell. Sultry, slow swaying R&B is not the sort of thing that usually works on an un-drunk crowd a mere two hours into their daylong Lolla-sperience, but Ware showed she was a pro and entertainer of the highest order, and kept us right in her pocket. J.H.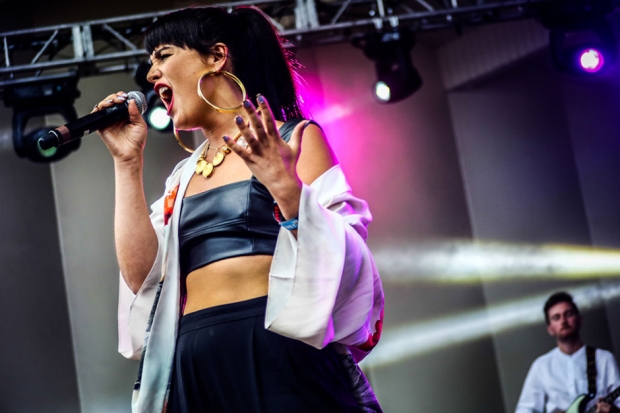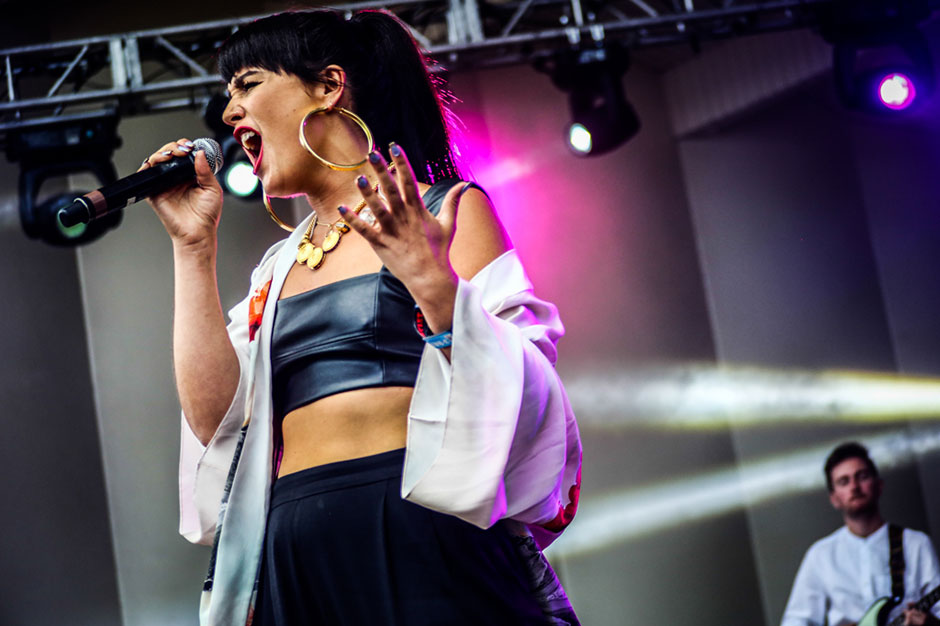 2. Disclosure
House music is the lingua franca of Chicago, it is the sound of the city in the summer. And because the songs that birthed house are still in daily rotation on pop stations here, it was no surprise that seemingly everyone that ran through the stand of trees around the Grove Stage screamed, "This is my jam!" as soon as Disclosure started. The duo might be from distant shores, but they housed us, utterly and completely, like they had been born out of the 4 a.m. warehouse parties that were Chicago's dance music epicenter circa 1987. Unlike some other stages (cough, cough Perry's) there was no egregious twerking, no rave lights, no stuttering air horns piercing our sanity — just pure communal worship of the god within the thundering 808. J.H.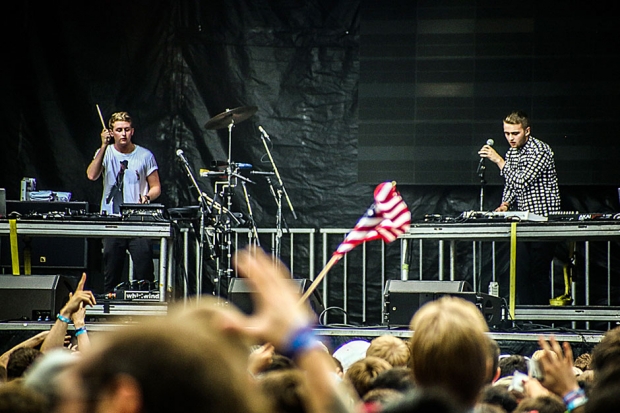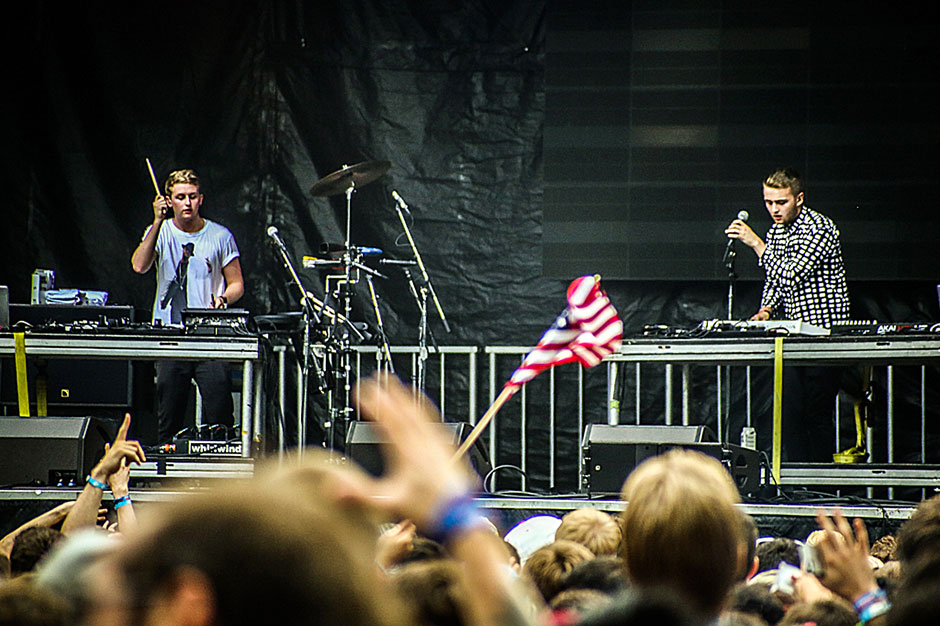 1. Nine Inch Nails
For their first American show since 2009, Nine Inch Nails didn't skimp on familiar hits, so their restless energy was spent finding new ways to present them. The show started with Trent Reznor alone, poking at a tiny table of gear, as the stage slowly filled up with other musicians. The idea was clearly influenced by Talking Heads' Stop Making Sense concert film, but the sound was like a minimalist remix molded in their own influences, equal parts Chicago house and Tubeway Army, playing songs like 1989's "Sanctified" with no guitars and letting Reznor bang a tambourine (!) on his chest for this year's "Came Back Haunted." It's safe to expect upcoming eighth album Hesitation Marks will either bear the stripped-down leanings of recent Kanye West (Trent was wearing something very close to a kilt) or just a darkly bloopy message to the EDM generation from someone who remembers EBM.
The much-ballyhooed light show was actually more of a "shadow show," blasting the band's likenesses 20 feet high or letting them move as silhouettes drowned in a screen's glow. Lights blurted out like machine gun fire during "March of the Pigs" and scrolled like Men in Black eyeball scanners during "The Wretched." As screens cycles around the band, the show worked like a deconstructed tour of Reznor's influences: The Wax Trax!-y opening suite, an ambient middle section where drummer Ilan Rubin played cello (on Girl With the Dragon Tattoo's "What if We Could?) and noise scrapes ("The Way Out is Through") ; a dance-punk detour ("Only," "The Hand That Feeds"); and finally closing with "Hurt" for a swell of traditional alt-rock emotion. This meant Trent trembling on the mike stand, those familiar black-and-white video images back for another round, and thousands of people singing the lyrics until it doesn't matter that it's louder than the music coming from the stage. C.W.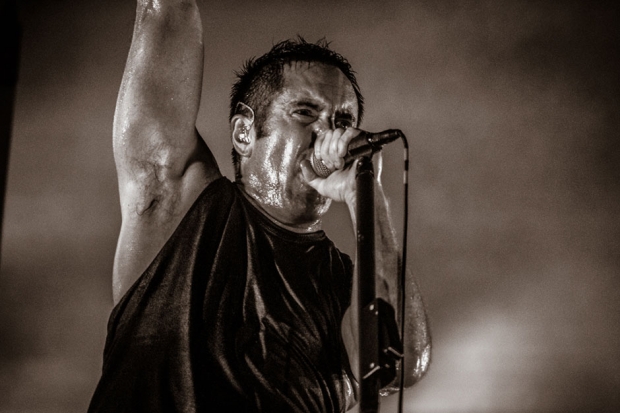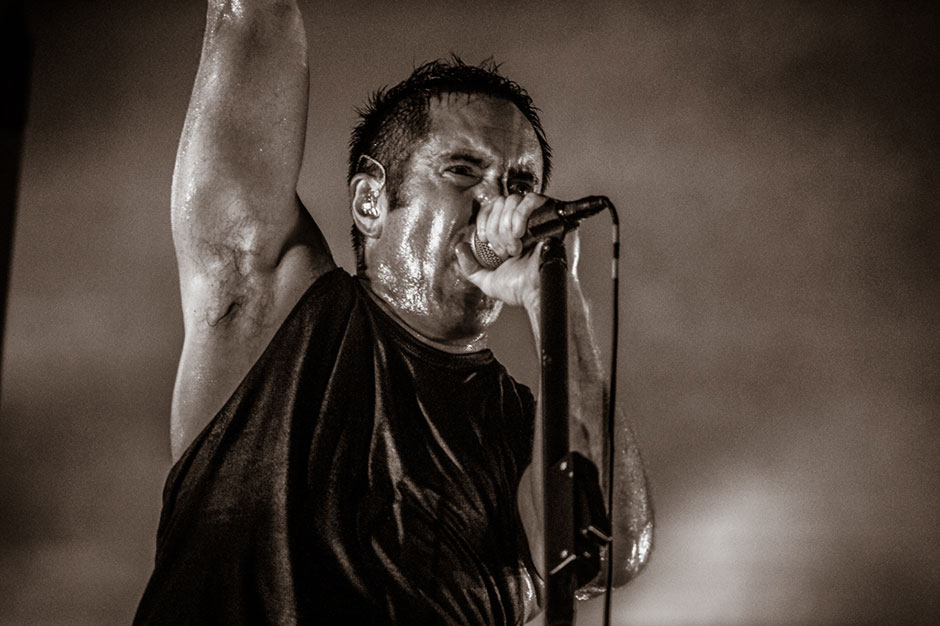 For more coverage on this year's top festivals, visit ToyotaSoundwave.com.