In 1993 at the age of 26, Juliana Hatfield was in the eye of the alternative-rock storm. She'd made a name for herself as one third of sharply sweet alt-poppers Blake Babies, she'd played bass on the Lemonheads' cherished It's a Shame About Ray, and she'd released a solo debut, Hey Babe, which contained heart-on-wrist tracks like "Everybody Loves Me But You" and "Ugly" (with a capital 'U'). She'd even anticipated Nirvanamania with a 1991 song named for the band, which she wrote after becoming obsessed with the Bleach track "Negative Creep." She courted controversy by suggesting that women can't play guitar ("I was just being a brat," she says now, "because people were asking me, 'How does it feel to be a woman in rock?'") and entered the celebrity gossip mill, being paired Evan Dando and Johnny Depp. ("I don't know how that rumor got started," she told SPIN in 1994.)
So it was really no surprise that with the release of Become What You Are, her Nietzschean-titled second solo album — and her only LP released under the name the Juliana Hatfield Three (which included bassist Dean Fisher and drummer Todd Philips) — she would start to climb the charts. Its hits were unusual: The giddy, flirtatious "Spin the Bottle" (also on the Reality Bites soundtrack) with its off-kilter 5/4 groove, hit No. 97 on the Hot 100. And its first single, definitive sororal love anthem "My Sister," is one of the rare songs to become a hit without a chorus — in company with the Beatles' "Yesterday" and Lionel Richie's "Hello."
Picking apart the hopeful, brooding ruminations of the jangle-pop masterstroke could take hours because Hatfield, once and always a mystery, never had a sister. When Hatfield is calling her sister "such a bitch" or "the best," she's drawing from an amalgam of ideas — some real, like her friend who took her to her first all-ages show (the Violent Femmes and the "Del Foo-way-goes"), and some personal, such as wondering how others saw her. Ultimately, "My Sister" became a sensation anyway: A spot in MTV's coveted Buzz Bin, a No. 1 Modern Rock single, and the cover of SPIN's March 1994 issue. It was so popular, in fact, that Hatfield's label, Atlantic, allowed another of its artists, folk singer Melissa Ferrick, to release a track titled "The Juliana Hatfield Song (Girls With Guitars)" that complained about its title character's success.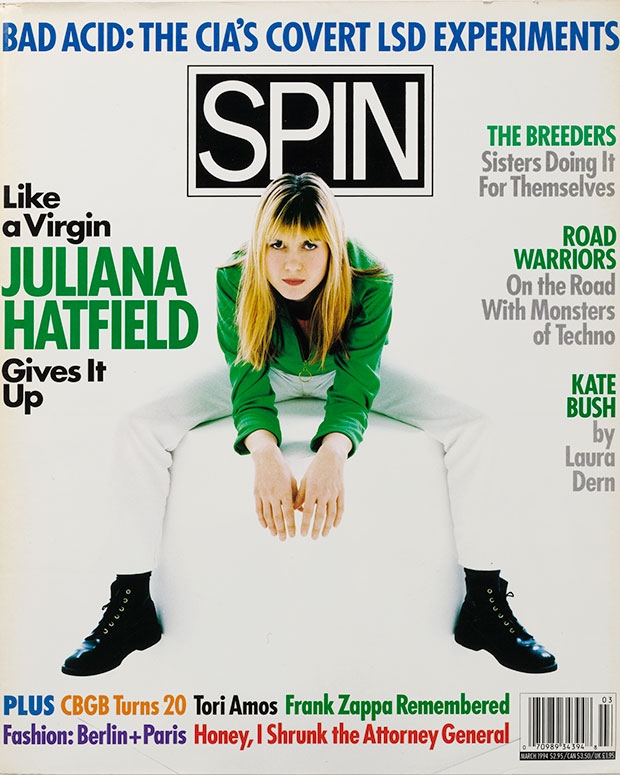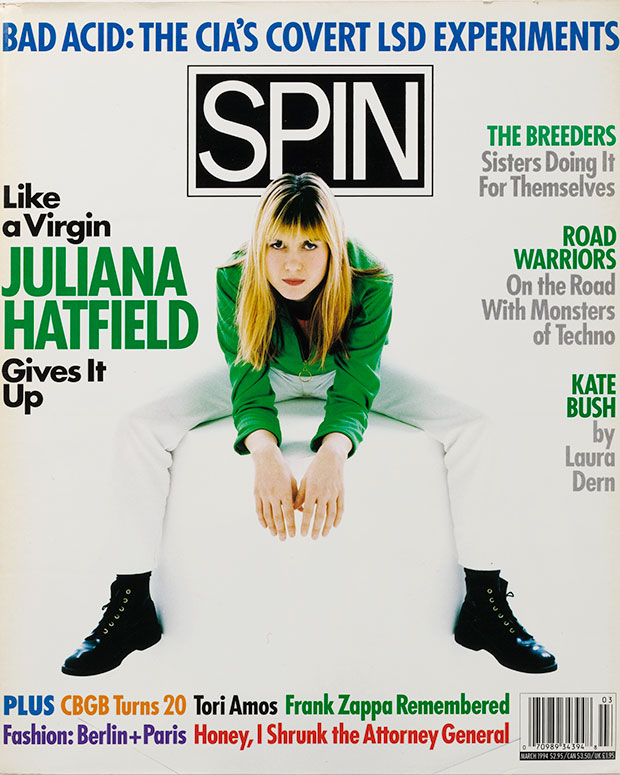 Through it all, Hatfield maintained her cool, calm, and curious demeanor; and by the time her third album was released, 1995's Only Everything, she got her highest Hot 100 chart showing ("Universal Heart-Beat") and the Beavis and Butt-Head treatment (which she jokingly calls "my proudest achievement"). SPIN caught up with Hatfield — as well as the Violent Femmes and Del Fuegos — about this era-defining tale of two sisters.
Juliana Hatfield: I was living in a studio apartment in Allston, Massachusetts, which is sort of like a student ghetto of cheap apartments. Evan Dando was sort of crashing there. He had nothing to do with it, but I just remember he was around. And I was trying to write something catchy and accessible, but not in a crass, commercial way. I just came up with those four chords that are the verse, and then it sort of ended up not having a chorus.
I've always been in this sort of perpetual state of existential longing. I feel like something's missing. I almost feel like I have a twin who died at birth but no one ever told me that the twin existed. And with this song, I was trying to explore the idea of a sister who I never had. In the beginning, that seemed like a really nice idea. I had two brothers, but I never had a sister. But then the song ended up being kind of sad. It was more of a longing for a sister who was never nice to me, or a relationship lacking the things that I wanted from it.
I guess I was thinking a little bit about my relationship with my two brothers and putting myself in the role of the sister. I was trying to see myself from their perspective. Maybe they thought I was aloof a little bit. But I was also thinking about a real woman named Meg. She was seven years older than I was, and she was like a sister to me. She was dating my older brother for a while. She had a bit of a troubled family life and she came to live with my family for awhile when I was in high school. It was so great. I never had anyone like that in my life, someone whose shoulder I could cry on and who I could talk to about my fears and my anguish. She also brought her record collection to my house, which really opened my eyes to a whole lot of bands.
Meg Rafferty: She was so pretty, so creative, kind of introverted but confident. I remember shortly after that, when her song was a hit, Dean Fisher would tell me, "She talks about you all the time in interviews. She talks about your leather coat. She talks about your records." I never realized how much she ate it up.
Hatfield: She took me to see the Del Fuegos and the Violent Femmes. It was my first club show, in Boston. It was at a tiny little basement club in Kenmore Square called Storyville. And it was just a really, really important experience for me because it was the moment where I realized, "Wow, I could start a band and I don't have to aspire to playing the Enormodome," which is the only venue I'd really seen bands in before.
Rafferty: It was my birthday, either in '82 or '83. I just remember Juliana sitting on the wall of the club and watching from a distance and taking it all in.
Hatfield: It was so thrilling to be so up close to this music that was really interesting and new and raw. It was raw but really melodic, and that was what turned me on and excited me.
Dan Zanes, singer-guitarist, the Del Fuegos: I remember it was packed. It was a mob of young people. We thought that was because the Violent Femmes had made a video. We were so clueless. We didn't think it was because they were an incredible band that spoke to young people in a way that almost no band had.
Brian Ritchie, bassist, Violent Femmes: I don't remember that gig specifically, but I remember meeting the Del Fuegos very early, around 1983 or so. They were a trashy garage band playing Danelectros and the like, very much out of the '60s mold. They invited the Femmes to their gig, I think at the Inn-Square Men's Bar in Boston, because they had recently signed to Slash and wanted to welcome us to town. We became friends and did a lot of shows together over the years; Storyville must have been one of them.
Zanes: When ["My Sister"] came out, I was disengaged from rock'n'roll, wanted nothing to do with it. I'd drive to the store to get groceries and I would hear that song on the radio and I just kept thinking about some life that I couldn't even remember having lived. It was pretty comical.
Ritchie: I liked it. There were not as many girls rocking back then as there are now, so it was always fun to hear someone like Juliana. It was flattering that a young artist was not only influenced by us but also namechecking us in the song. So it gave us a mild credibility boost.
Todd Philips, drummer, the Juliana Hatfield Three: The first time I heard it was actually before Dean joined the Juliana Hatfield Three. We were auditioning Mary Timony, who went on to form Helium, as our bassist. Juliana broke it out at the practice, and the second I heard it, I thought it was just awesome.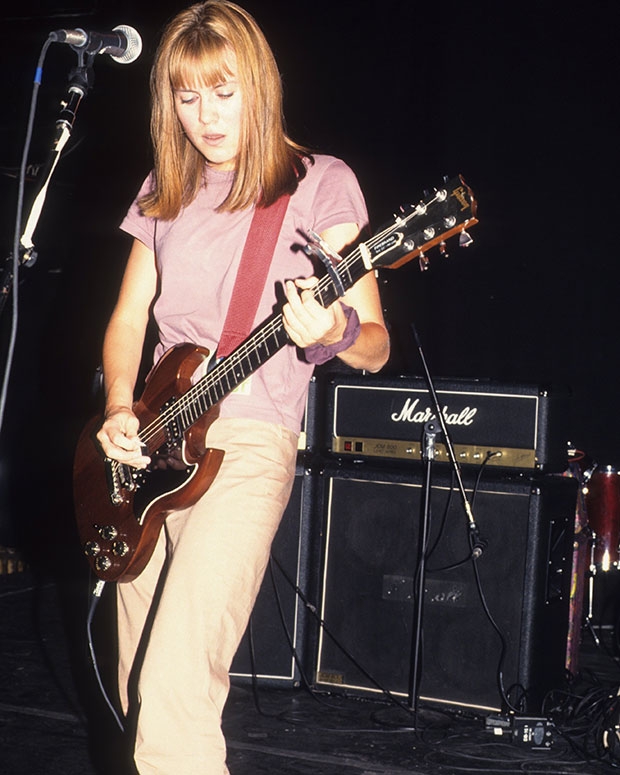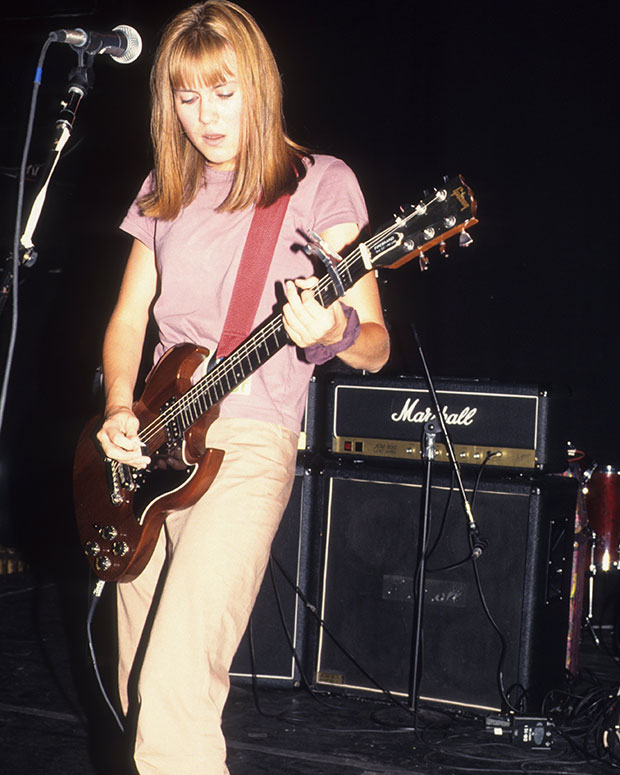 Dean Fisher, bassist, the Juliana Hatfield Three: I remember we were all crashing at Juliana's place in Allston. At the time she was famous for having no furniture. There was a mattress, a boombox, a guitar, water bottles. She was living simply. We were still touring Hey Babe; I was brought in mid-tour. I remember Todd said, "You've got to hear 'My Sister.'" He loved that one.
Philips: That intro drum part took a while to figure out. We used to play it a lot straighter. I was listening to this record Lolita Nation by Game Theory all the time. I was obsessed with a song called "We Love You, Carol and Alison," because the drummer, Gil Ray, played the verses with his toms instead of the hi-hats. And I copied that in "My Sister." She had written it maybe a year before we went in the studio with Scott Litt, so it was well-formed by the time we recorded it.
Scott Litt, producer: I love her. And that was a great song and a great time. I recorded her album between Automatic for the People and working with Nirvana.
Philips: Scott made us feel comfortable. We wanted to work with him because we were really taken by Automatic for the People. I thought that was R.E.M.'s best record. We listened to it in the van a lot on the Hey Babe tour. I couldn't believe how cool he was. It felt like a family. And we really wanted to make it sound raw.
Litt: There's not much more to do to the sound. She's playing guitar and leading the band. We added stuff, but it's Juliana. It's rockin'. Everything on that record has a hook. I remember playing the finished record of Become What You Are for the R.E.M. guys when we were planning a next record and being really excited about it… I don't think the song missing a chorus was a problem. She had a lot to say. I didn't think it needed a chorus.
Hatfield: I was surprised by other people's surprise. They were like, "You don't have a sister? But you wrote about your sister." But to me that was inconsequential because the sister was more like a metaphor for a whole bunch of things. To me, it just seemed like the most natural thing in the world to write about a sister that I never had, a sister that I wanted to have.
Litt: I remember thinking that it was like the song "The End of the World" by Skeeter Davis. In that song, you think it's about a breakup, but it's about her losing her sister. That was real. But for Jules to do something fictional like that was pretty cool.//www.youtube.com/embed/siJZXTuwBjA
Hatfield: [For the music video], I was trying to copy the Police video for "Roxanne." We copied a shot where Sting is sitting and holding the microphone and the mic chord is leading out from him up toward the camera. I was a big Police fan.
Philips: It was with our friend Phil Morrison, who is this great film director. He later directed a movie called Junebug. It was the first time I'd actually done real hair and makeup and that made me feel strange. It's funny because I was 23 and I thought, "Oh my God, you made me look like I'm 16!" [Laughs]
Fisher: Juliana and I would spar sometimes before a show. I don't know why, but we were roughhousing with each other on the set. She took a kick at me in the video and it was a lot closer than I remember. [Laughs] She made no contact, though. I didn't have to call the authorities.
Philips: When it became an MTV Buzz clip, we were shocked, but also we were so goddamned busy I wasn't really aware of what was happening. When I was watching the VMAs that year, the bumpers going into commercials were playing "My Sister," and I was like, "Wow, that's pretty big." It was a whirlwind.
After the runaway success of "My Sister," Massachusetts folk-rocker Melissa Ferrick released a "Roxanne, Roxanne"-style answer record called "The Juliana Hatfield Song (Girls With Guitars)"
Hatfield: I remember people telling me, like, "Oh, check this out, Melissa Ferrick's bitter about your success." People would sing it back to me, "She doesn't even have a sister." [Laughs] I don't think I ever heard it. I just felt bad. I felt like, I don't want to hurt anybody. It's not my fault the song's getting played. I didn't try to fool anyone into thinking I had a sister. It was just this weird little song with no chorus. So that song took me by surprise. All this attention was suddenly on me and it was bewildering.
Philips: I remember it being a trite, bitter song. She was pissed that Atlantic was putting more effort and marketing into Juliana than into Melissa Ferrick. It actually really sucks because Melissa was making her record in L.A. when we were, and we were staying in the same place and we'd go out and have drinks with her. She was really cool and really friendly, and lo and behold she's recording this fucking song a year later. It was really off-putting.
Melissa Ferrick: It actually wasn't meant as a "diss" at all. I was and am a fan of Juliana's. We were both on Atlantic along with about 14 other female songwriters. I was brand new and was annoyed by the whole, "There are so many girls with guitars and we are all the same" thing [in the press], so I wrote the song as a sarcastic response, a joke really. The song got a little press, a "blip" on the radar for me. What sucked about it was, I think people thought I was hating on Juliana, and I wasn't coming from that place at all. It was meant more as a general statement on the scene at the time.
Hatfield: I have no hard feelings toward her at all. If I'd been her, I probably would have been annoyed with me, too. I sense that a lot of people were annoyed with the success that we had back then. But I was just as surprised as anyone.
Rafferty: I had no idea ["My Sister" was partially about me]. When I read her book, it hit me. My two stepsons like to quote the song and say, "You are such a bitch, Meg!" My husband and my stepsons like to gang up on me like that. [Laughs] And, of course, my husband analyzed the whole song. [Laughs]
Zanes: I ran into [Juliana], years back, in the West Village. She introduced herself. And I said, "Oh, hey, thanks for including us in that song. Actually, I don't really have much going on now, so do you think you could mention me in another song? That would really help." And she got really flustered and wasn't sure if I was kidding or not.
Hatfield: I think it has aged really well. It wasn't part of a musical trend. A lot of my older songs are mortifying to me now, but that one doesn't embarrass me.