Vida Loca: 36 Hours with Gogol Bordello in New York and New Jersey
To celebrate the release of their sixth album, Pura Vida Conspiracy, Eugene Hütz and his motley assemblage of gypsy-punks, Gogol Bordello, stormed New York, the melting pot that launched them back at the end of the '90s. Hitting an in-store appearance, a bonkers show at the Music Hall of Williamsburg, and a quick hop across the Hudson River to New Jersey, we were there to document 36 hours of their wild, wild life.

1. Vida Loca: 36 Hours with Gogol Bordello in New York and New Jersey
1/18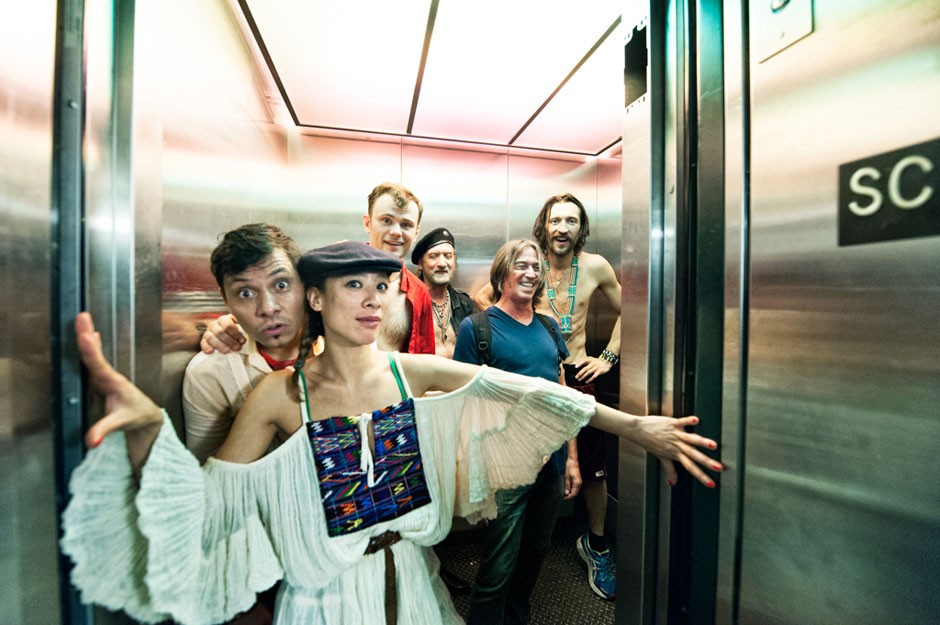 2. On the Bus, 4:21 p.m., July 22
2/18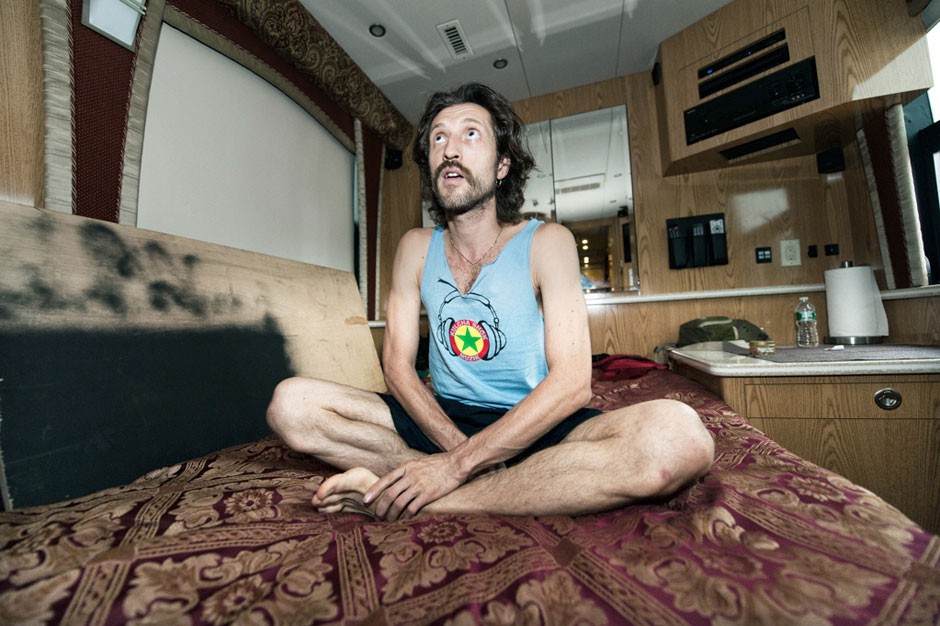 Eugene Hütz: This was a new bus and we had just moved into it, so it doesn't look anything like it would after a week of touring. It still looks ordered and nice, but believe me it was a fucking mess just hours down the road. I can see that the mess is only yet to happen. At the same time, though, whether it is a mess or not, I'm actually quite disciplined in a lot of ways. Being meditative is going to happen one way or another, because it is part of my daily life. Due to the fact that I am half extroverted, half introverted, meditation is very important for me.
3. Bus Rehearsal, 4:49 p.m., July 22, 2013
3/18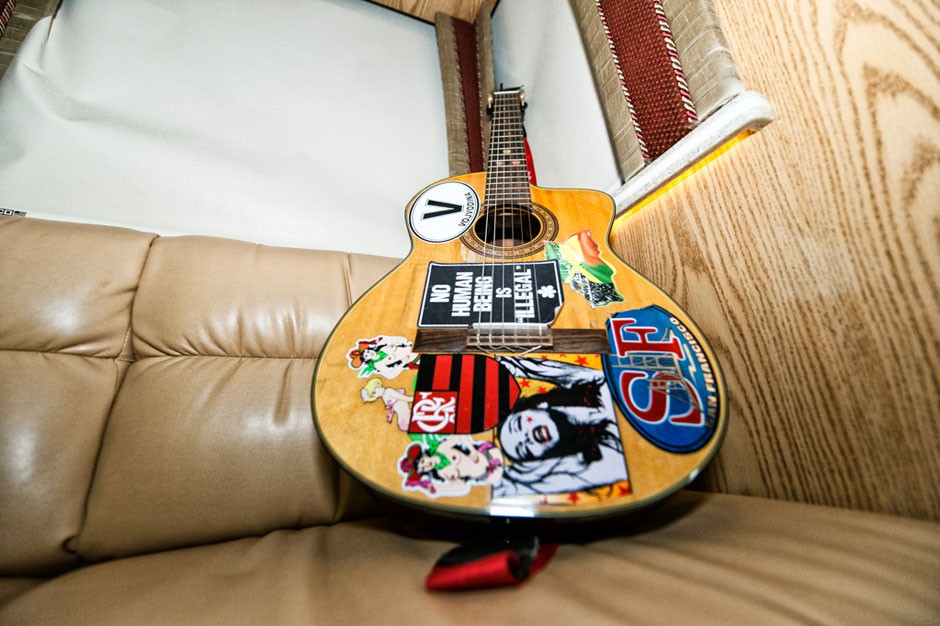 Sun: Practice for us can be literally anywhere. I think. for us, it's always been a really natural thing, because we're always on the road, so we just take advantage of being together and being able to play. Eugene has always got his guitar on him wherever we go, so it could be at 6 a.m. in the airport when we're checking in, and he could be playing a song. We rehearse in the parking lot, on the bus, or anywhere.
4. Pre-Show Dinner, 6:55 p.m., July 22
4/18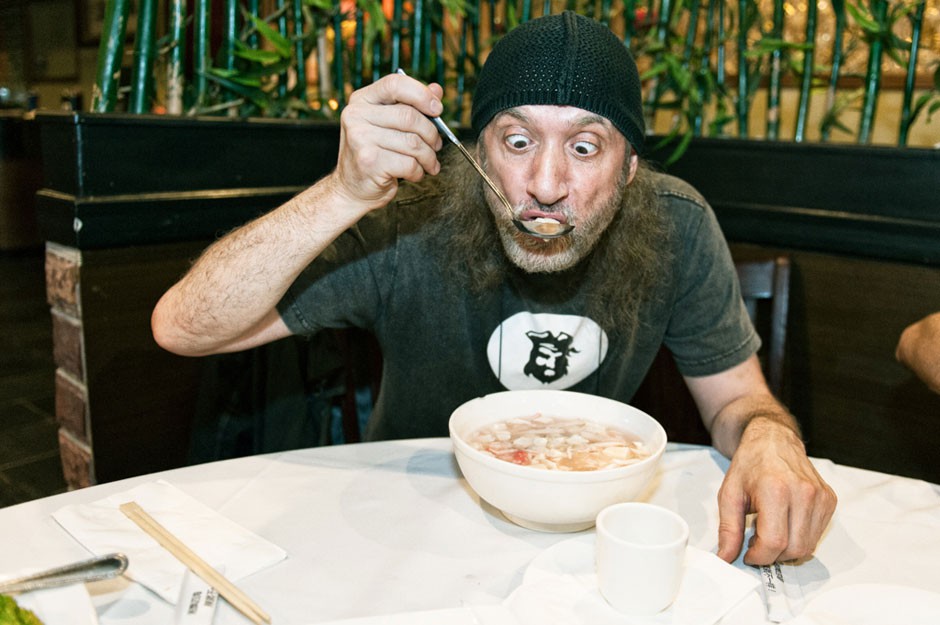 Hütz: It is obviously not our tradition to have a big Chinese meal in a New Jersey restaurant before a show, but our options were limited. We usually are quite concerned with food quality, but we also can roll with the punches and have fun with a modest option.
5. Pre-Show Dinner, 7:30 p.m., July 22
5/18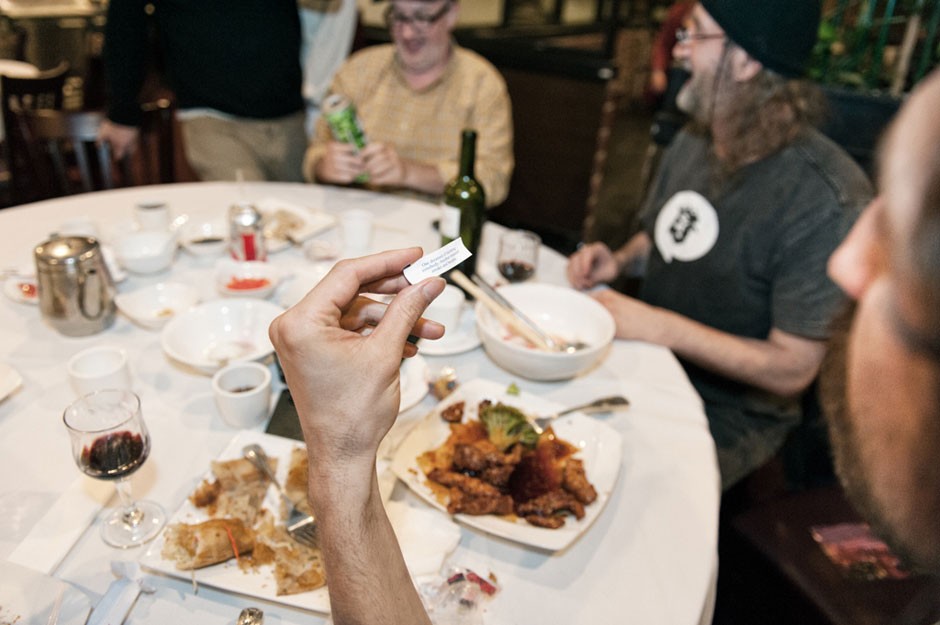 Hütz: I remember my fortune being a phrase connected to martial arts. I literally opened it up and thought it was a lyric from "The Other Side of Rainbow," from our new album. It was something along the lines of, "Go with the flow." It was a basic principle of martial arts and some Eastern religions. I remember walking out and deciding to start with that song.
6. Bus Rehearsal, 7:46 p.m., July 22
6/18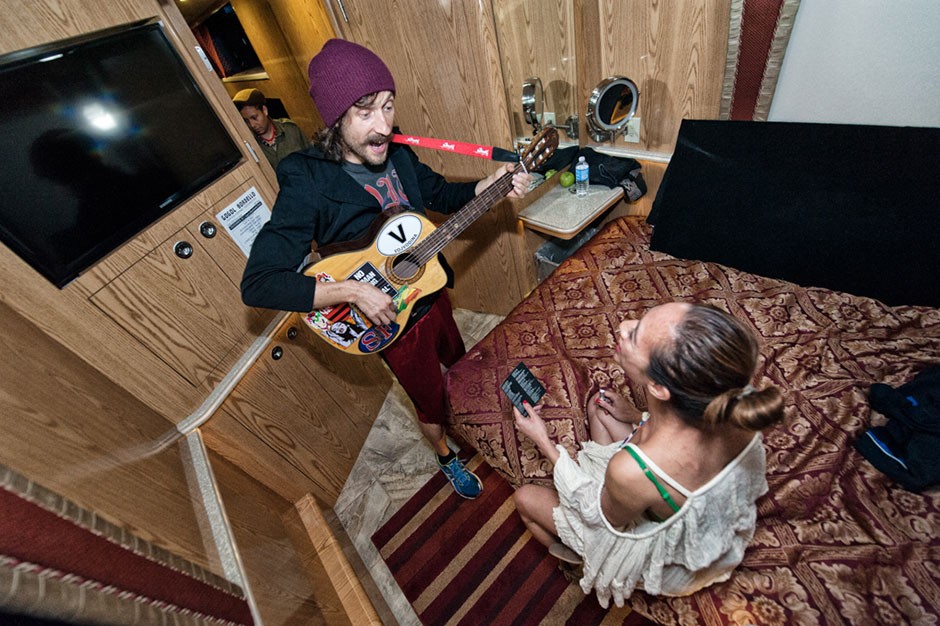 Elizabeth Sun: Caught! I was learning the lines because we just started performing the song recently. I knew the words for the show, but I think Eugene might have gotten the words mixed up ultimately. Sometimes when I learn the words, he mixes up the words, so it doesn't really matter anyway.
7. Bus Rehearsal, 7:47 p.m., July 22
7/18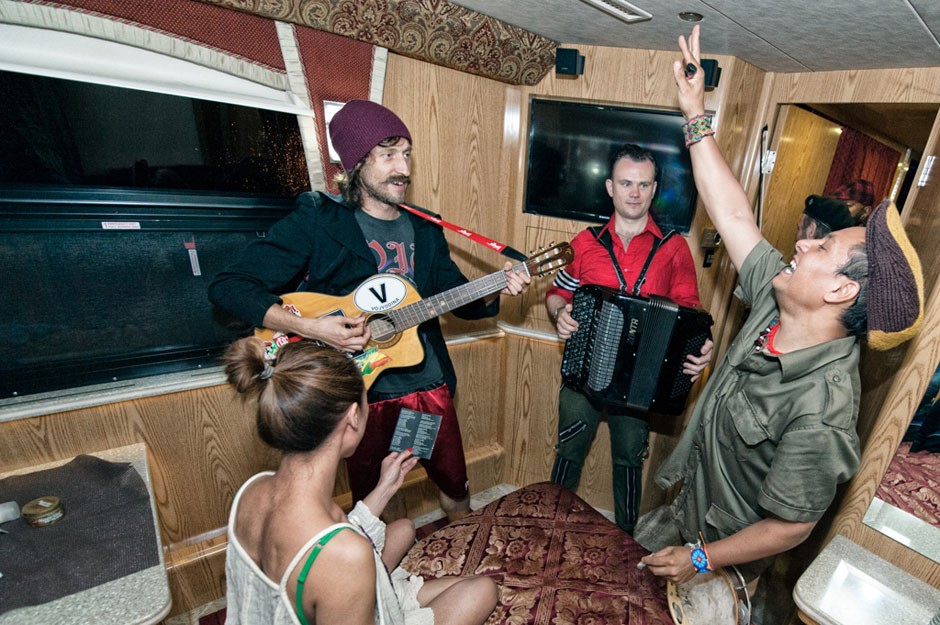 Hütz: Well, Pedro is always having the most fun. [Laughs] I think he's smoking a joint rolled from the setlist.
8. Bus Rehearsal, 7:48 p.m., July 22
8/18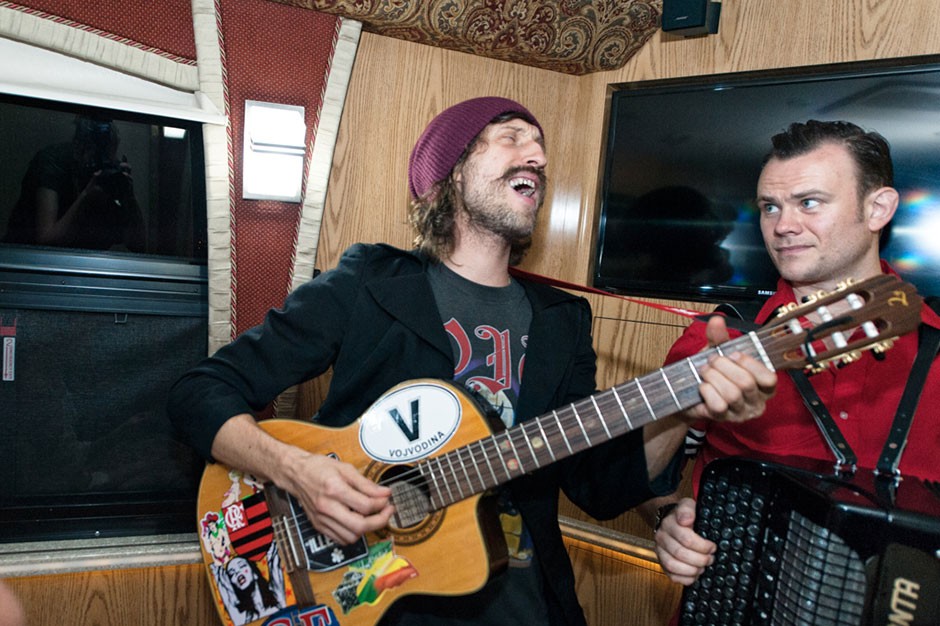 Hütz: It's quite often that we polish up on rehearsals on the road, in the airport, or anywhere. In the core of the band, we have the ability to perform with just acoustic instruments. Our guitar, accordion, violin, and group singing make us less limited than other bands, who can only make sounds when they're plugged in. This allows us to constantly move forward and whip into shape without going into a live rehearsal hall. That's a big part of Gogol Bordello — it's all a work in progress and never really stops.
9. Backstage at Vintage Vinyl, 8:04 p.m., July 22
9/18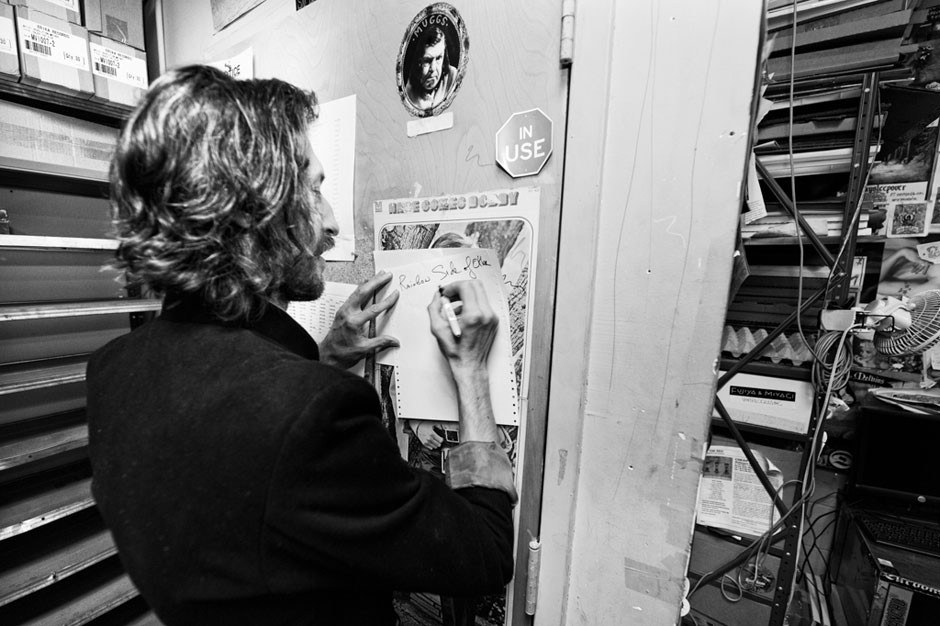 Hütz: Writing the setlist is always immediately before a show, just long enough for the crew to print it out and duct tape it for everyone onstage. It is made up of whatever the band feels inclined to play. There is a lot of bickering going on about it all the time, so it's crucial to keep the setlist rotating at all times. I've tried many different ways, but writing it immediately beforehand is what works for this band.
10. Vintage Vinyl Signing, 9:59 p.m., July 22
10/18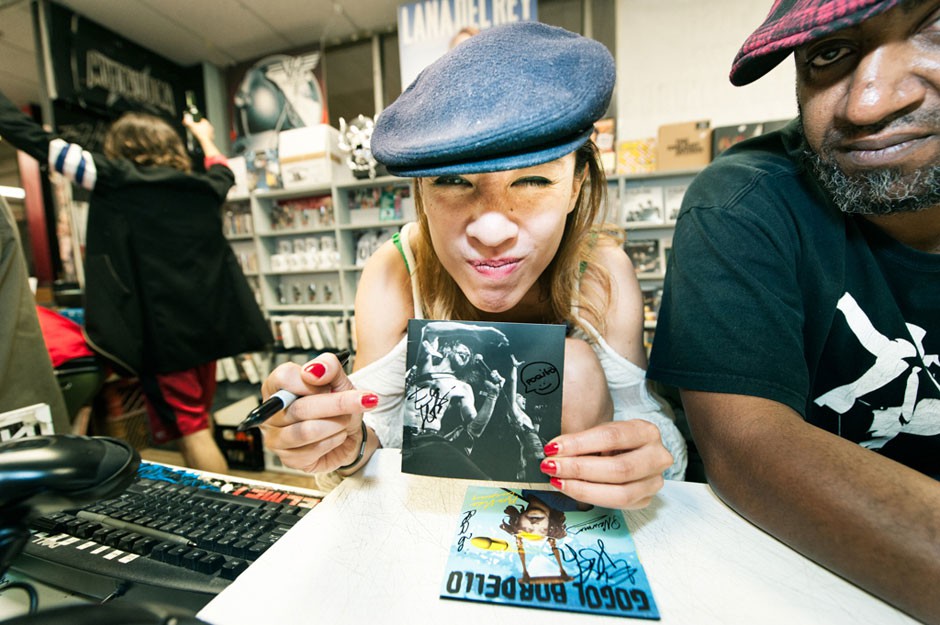 Sun: I think the important thing to remember when people get a bit awkward at these signing gigs or meet-and-greets, is for me to act as normal as I am. That is Eugene being normal, as well, or at least himself, in the background. A lot of these fans come and have an idea about who we are, but in reality that is just a stage presence. I am one character when I am on the stage, but when I'm not on the stage, I'm just myself all the time. When I interact with them at these meet-and-greets, I try to interact as if I was having a coffee with them.
11. Vintage Vinyl Signing, 10:00 p.m., July 22
11/18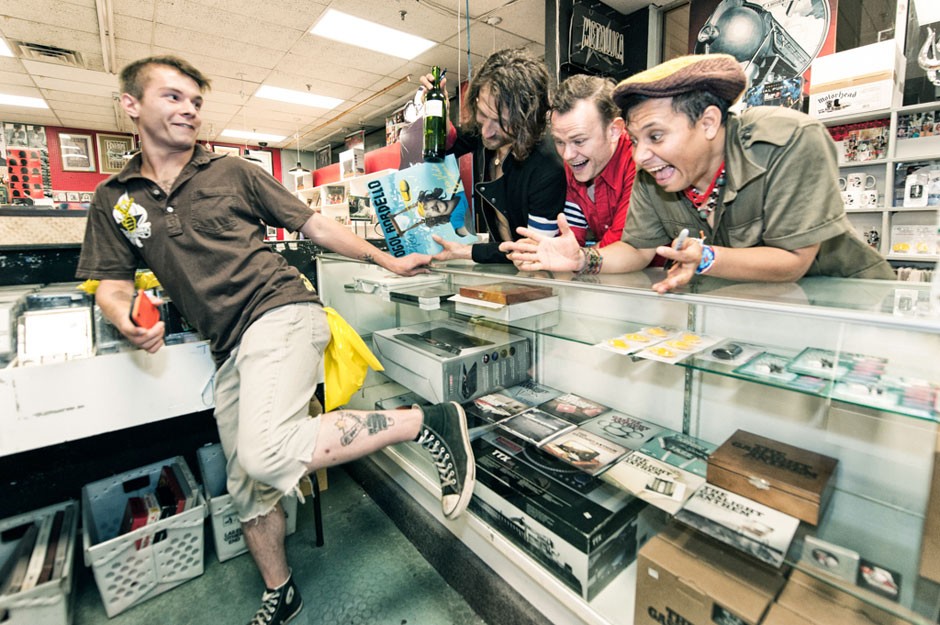 Hütz: His leg tattoo is our slingshot symbol — the album cover from Gypsy Punks: Underdog World Strike, which is the most common tattoo of our band. Fans usually end up tattooing the slingshot or some quote from "Undestructible" or "Tribal Connection." Our bank would be pretty fat, though, if everybody would send in just 20 bucks for tattooing themselves with our slingshot.
12. Soundcheck at Music Hall of Williamsburg, 3:59 p.m., July 23
12/18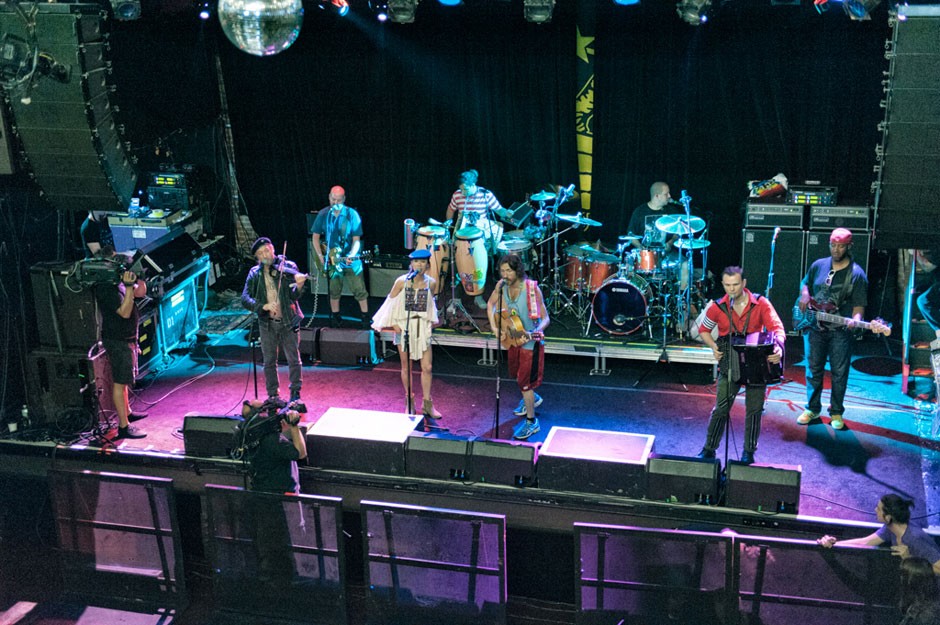 Sun: When we're doing soundchecks, even though there are other things going on, we're focused on ourselves. There was a lot of business going on with setting up lights, cameras, and barriers and we were practicing a quiet song, "I Just Realized," so it was a bit hilarious amidst the confusion.
13. Dinner with Eugene, 5:52 p.m., July 23
13/18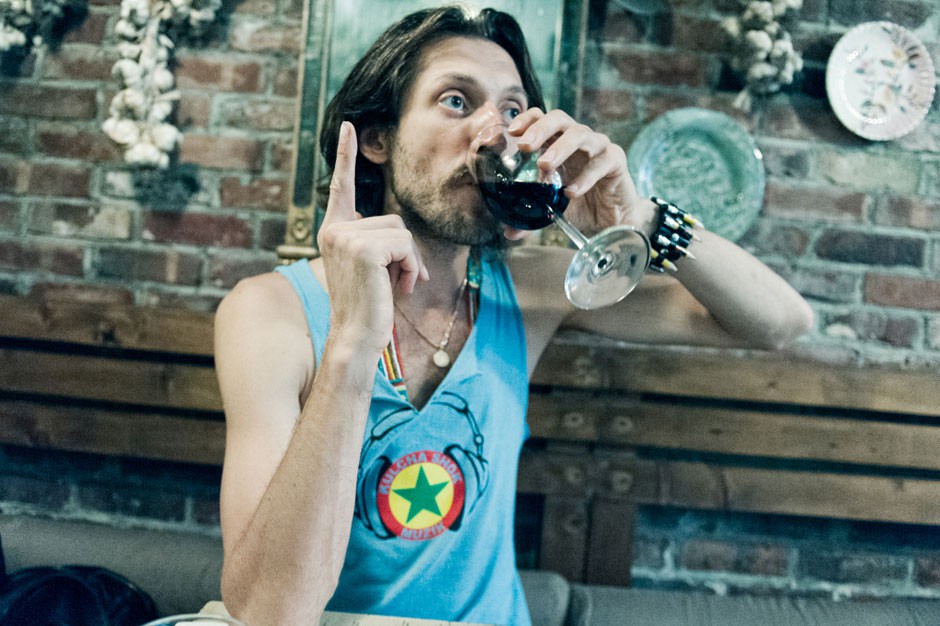 Hütz: I went for a snack before the show and somebody sent me a bottle of wine, so we drank it and I thanked them on the way out. Generally, I am a fan of an after-show dinner though.
14. Getting Ready, 7:39 p.m., July 23
14/18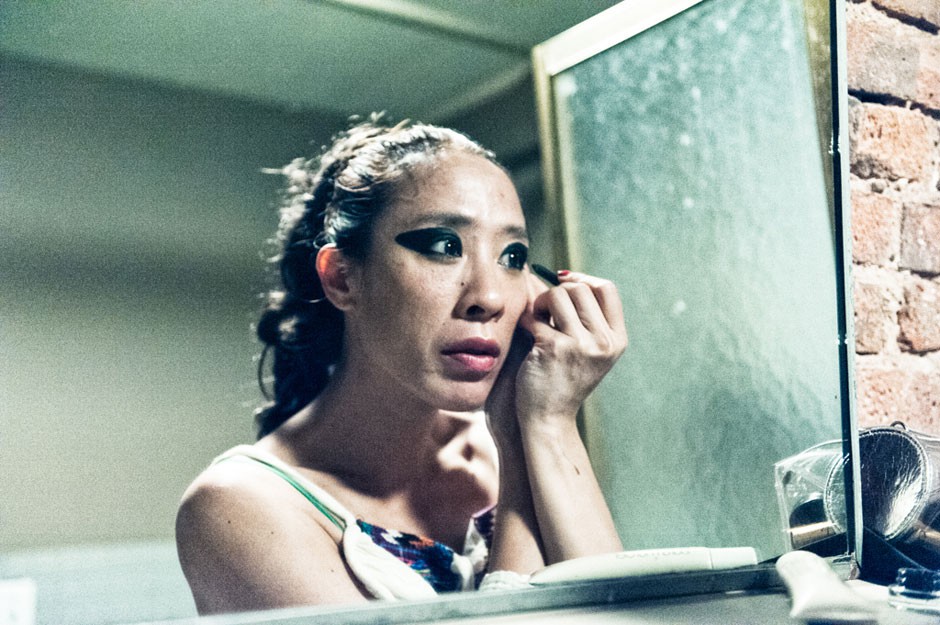 Sun: Yuri [Lemeshev, ex-Gogol Bordello accordionist] was in the bathroom while I was doing makeup. It was a very intimate moment, but we're all so close that it was fine for him to be there while I was doing my makeup.
15. Getting Ready, 8:39 p.m., July 23
15/18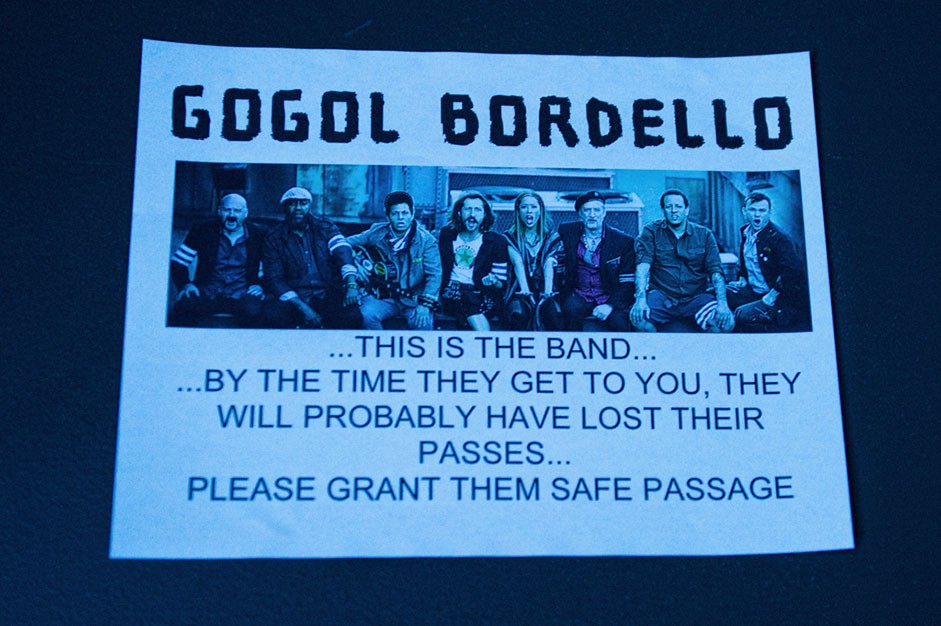 Sun: This is amazing. I've never seen that sign, but it's true. This is what is needed all the time for the band.
16. Music Hall of Williamsburg, 9:04 p.m., July 23
16/18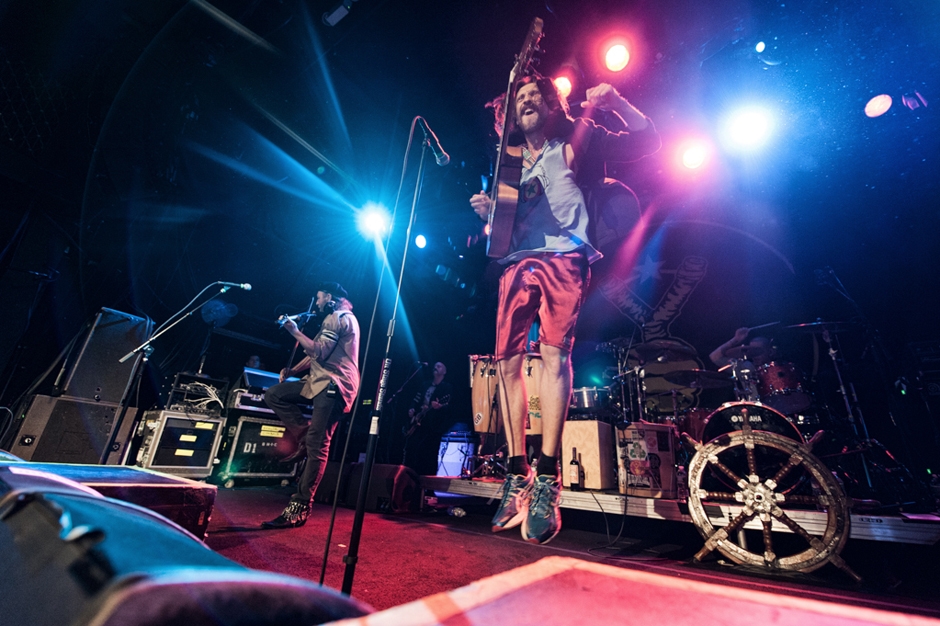 Hütz: The venue was quite small, so usually the whole gang is gathered in those moments, but here we were broken up into little packs. I'm there with Pasha and Sergei and that's always a really beautiful moment of the show. We get off the stage and catch a little bit of breath before going back out. Usually bands do one or two more songs, but we go out and do five or six more songs and destroy the audience. That's where we drop the bombs and the biggest anthems come out.
17. Music Hall of Williamsburg, 10:25 p.m., July 23
17/18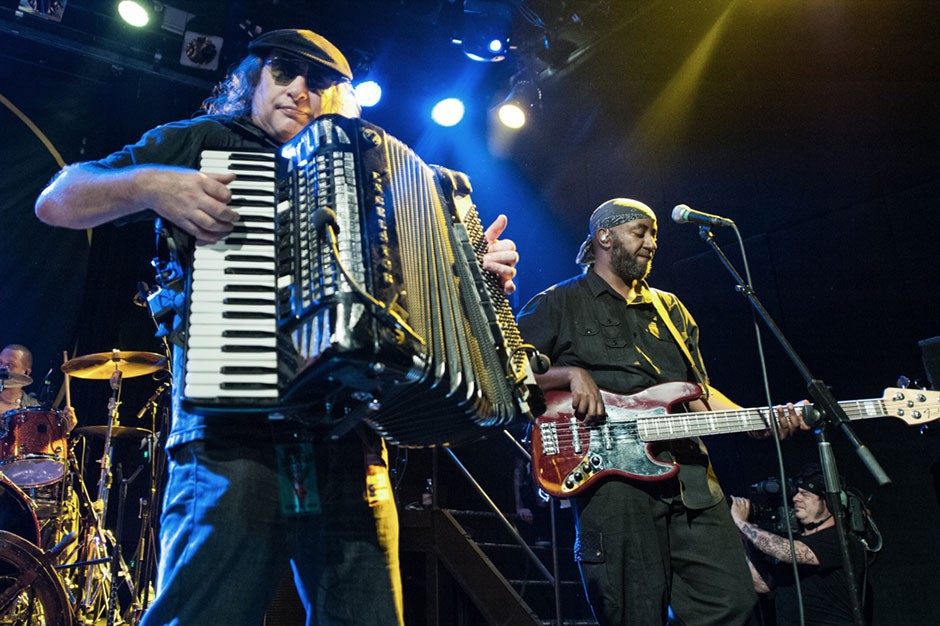 Sun: Yuri Lemeshev is not touring with us now, but he sat in for "I Just Realized" and "Nishta." It was a very magical moment. He is the master and a living legend, so it was really nice to have him back for those two songs.
18. After-Party, 11:28 p.m., July 23
18/18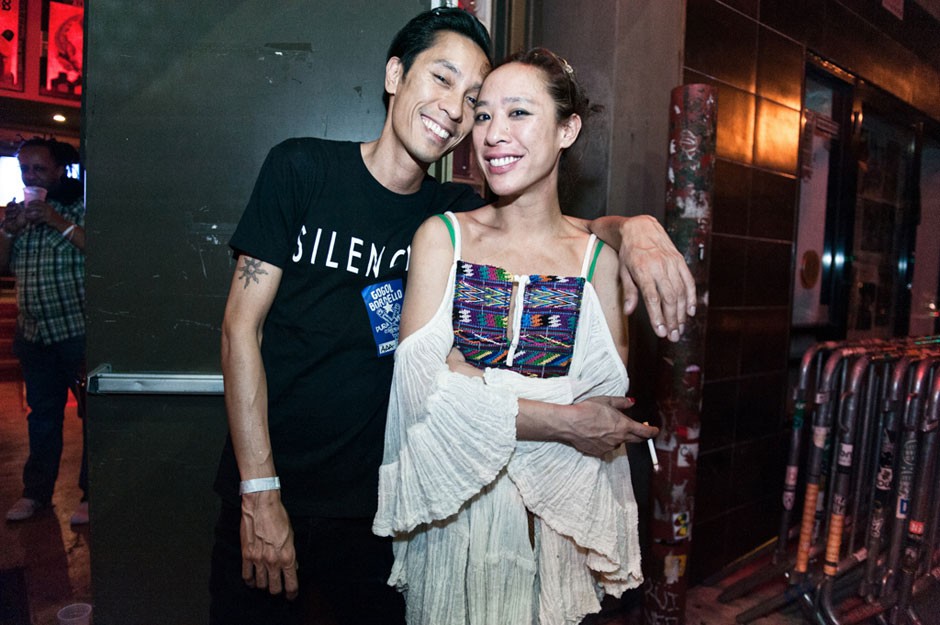 Sun: That's me and my big brother, Simon. It was a really nice moment because I live three blocks away from the venue, I know the people that work there, and we haven't played there in a long time. Those 36 hours were brilliant, but we were running and it was hot as hell. That moment at the afterparty was triumphant.