Former Saturday Night Live star (and sometime SPIN contributor) Fred Armisen is hosting a comedy variety show at Portland's MusicFestNW festival and as part of the fun, he'll take over the Crystal Ballroom to perform as Ian Rubbish, a fictional punk rocker made famous on the sketch show. The Johnny Rotten-inspired dirtbag made his SNL debut back in April, then released an EP of actual songs and performed alongside Kim Gordon, Steve Jones, and J Mascis on the program's season finale. Now, to promote his upcoming concert, the former frontman for the Bizzaros has granted a "tell-all" interview to Oregon alt-weekly the Willamette Week.
For those unfamiliar with the Bizzaros' troubled history, Rubbish was kicked out of the band after becoming a very vocal supporter of the incredibly unpopular Margaret Thatcher. The snarling creep who once sang "special delivery: My boot to your face!" was suddenly recording tracks with completely unironic titles like "Maggie Thatcher and "Sweet Iron Lady." Now, with that controversy several decades in the past, the '70s survivor has a new perspective on his disgraced legacy.
To wit, here's what he tells journalist Matthew Singer about his infamous protest song "Cunt in a Crown": "What that was about wasn't a person in particular but the idea of monarchy. You're a cunt in a crown, aren't you, Matthew? I'm a cunt in a crown. We're all cunts in crowns if we're subscribing to a system that goes back that many centuries, which has nothing to do with giving people hope, or giving people a chance."
Now that he's older though, the former firebrand directs his rage elsewhere. "It's the same things that make anyone angry," Rubbish says of his trigger points. "In the service industry, if I call an airline, and they're just going through the motions — it's a job, I know, but there's not a lot of thought put into it. I don't like apathy."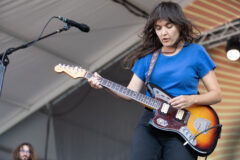 To read the whole interview, which reportedly inspired a 10-minute rant from Rubbish that touched on "vegetarianism, China, South America, war, drones, street fighting, Saddam Hussein, tennis shoes, Alabama, Kmart and, finally, skateboards," head over to the Willamette Week. As a bonus, watch SNL's "History of Punk" skit featuring Ian Rubbish and the Bizzaros below. MusicFestNW runs September 3 to 8, with Rubbish performing on the 5th.
//www.youtube.com/embed/WQesup5wAD4