Over the course of 13 years, Franz Ferdinand frontman Alex Kapranos has proved himself a master of camouflaging his lyrical barbs in brightly melodic, dandyishly danceable indie rock. On "Stand on the Horizon," from the band's fourth album, Right Thoughts, Right Words, Right Action (Domino), out August 27, the Glaswegian singer-guitarist even declares, "I am the cruelest man you have ever known" as longtime bandmates Robert Hardy (bass), Nick McCarthy (guitar/keyboards), and Paul Thomson (drums) hot-potato a disco groove behind him.
In conversation, though, the 41-year-old is as witty and discerning as you'd expect from the author of 2006's charming gourmand-on-holiday foodie diary Sound Bite: Eating on Tour with Franz Ferdinand. Indeed, we caught up with the singer in the lobby of his Lower East Side hotel after he'd been fruitlessly wandering Manhattan in search of a good bialy. Disappointment aside, Kapranos related the lessons he's learned from a decade-plus of making music.

Don't be an asshole!
I remember going — years ago — with a different band to open up at [the] T in the Park [festival]. My little sister came along and was 15 at the time. I'm not going to say who the band was, but we were all backstage in a communal area, and she went up and got the signatures of the guitarist, drummer, and bassist. As she was walking up to the singer, who was surrounded by security guards, he just gave a nod to one of the security guards, who picked her up and moved her away. I remember thinking at the time that if I was ever in that situation, I was always going to be courteous. I can understand why [the singer] felt claustrophobic, but I can also vividly recall how distraught my sister was. That had a huge impact on me.
If the ideas are to flourish within a band, it's all about communication.
You have to make sure there are channels for ideas to be exchanged with the other people involved. I know that when we were making our last record [2009's Tonight: Franz Ferdinand], we were the most fractured we've ever been. We weren't commuting with each other as well as we had been before — and certainly not as well as we do now — and it wasn't as much fun because of that. We were still friends and we still got on, but it wasn't as emotionally fluent as it could have been. All bands have resentments that build up over the years. Anything where you have human beings together, you'll get resentment that builds up, but when you talk about those resentments, it immediately becomes apparent how trivial they are. Once you address them with each other and acknowledge the triviality, they whither.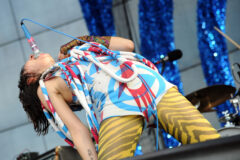 Being in a band is not just about making music. There are so many other outlets that form the band's identity.
We've always designed our own covers, and all of the artwork for this one is so collaborative. I'd scribble what I thought would look good for the cover, and then Paul would say, "You know what? I've been really into cutouts recently." He was really interested in the Paris '68-type posters —— these very bold images that were all handmade. All the lettering is hand cut —— [Paul] did it all with a scalpel, sitting in his girlfriend's apartment. For me, that's just an extension of when you're a kid at school and you're writing on the back of your textbook, drawing logos for imaginary bands.
You can read a William Blake poem and not have to know who he was fucking when he wrote it. Just enjoy the bloody poem.
What I do in my personal life has absolutely nothing to do with the music that I make. Way before we had any success as a band, I decided I had admiration for people who became famous for the thing that they did or made, or the activities of their life, but I have always had total disregard for people who gain notoriety through talking about their personal lives. Whenever that sort of stuff gets scrutinized, I feel extremely uncomfortable.
A band should aspire to be that pivotal point where everything changes.
That was the principle on which we chose the band's name. Franz Ferdinand's assassination was a pivotal point of the 20th century. That's when the world changed. Similarly, we saw what was around us in terms of music in the U.K. and we thought, "We don't want to do this. We want to do something different." We aspired to be that pivotal point, where what comes after that point is different from what came before.
When the four of us got together to do this band, it was to play at parties and have a laugh and enjoy each other's company. That's what should be at the heart of a band.
I remember when I was about 26 or 27, I had been in a couple bands before, and I thought, "Oh well, I gave that a go —— it didn't happen." I completely lost any desire to have fame, success, or to be a star. It was actually a liberating experience, because every band that I was in from that point on was just to have a laugh and enjoy myself with these guys who I happened to be with. That is what being in a band should be about! There was no drive or determination to "make it." 

You need to completely empty your lungs of city air that you might have inhaled over the past year.
Over the years I've built up this studio called Black Pudding, which is about an hour's drive south of Glasgow. Scotland — well, probably, I'm biased —is a very beautiful country: It's a great big green sponge. You have these rolling green mossy hills, and when the sun shines, you have this low, watery, golden sunshine reflecting off the green hills. After you've been on tour, it's a particularly marvelous place to be and to breathe in the air . . . from the muck-spreader in the fields below.