Forest Swords' fast-approaching debut album very nearly never came to be. After releasing 2010's critically beloved Dagger Paths EP, U.K. producer Matthew Barnes toyed with the idea of retiring his dub-and-R&B-mining moniker.
"I was all set on just leaving the whole project as an EP and then going to do other things," Barnes says. "A lot of my favorite bands are punk bands that were short-lived and that only ever did one EP and you can never find it nowadays. I kind of liked being part of that history, being one of those artists that people might rediscover in 20 years accidentally in a thrift store."
Another factor fueling his one-and-done outlook: The 28-year-old Barnes suffers from tinnitus, a constant ringing in the ears that, aside from wrecking his sleeping patterns, can sometimes obfuscate his creative process. "It does affect me day to day and it's really annoying," he says, somewhat downplaying the condition's adverse effects. Despite his hearing problems, Barnes eventually began developing sonic sketches piecemeal, slowly filling out new tracks that felt akin to the "ancient grinds" mapped out on Dagger Paths. "I was definitely interested in refining those things that I started on Dagger Paths, streamlining the ideas," Barnes says. "I felt like it needed a bit more articulating."
Those refinements have since been assembled to form Engravings, due August 26 via Tri Angle Records. As heard on previously shared tracks "Thor's Stone" and "The Weight of Gold," Forest Swords' first full-length hones the tribal meanderings of its shorter, murkier, and more claustrophobic predecessor. The LP still sports a misty coating, but the rust-covered guitar lines feature more prominently and the mechanized beats more pronounced, echoing throughout the caverns Barnes has carved. "Where I live and where I mixed the record is very British coastal," says Barnes, who makes his home 20 minutes outside of Liverpool, on the "quite suburban" Wirral Peninsula. "There's lots of beaches and woodland and sandstone and it's very windy. I was very much interested in trying to take those physical elements and reflecting them in sound and texture and melody."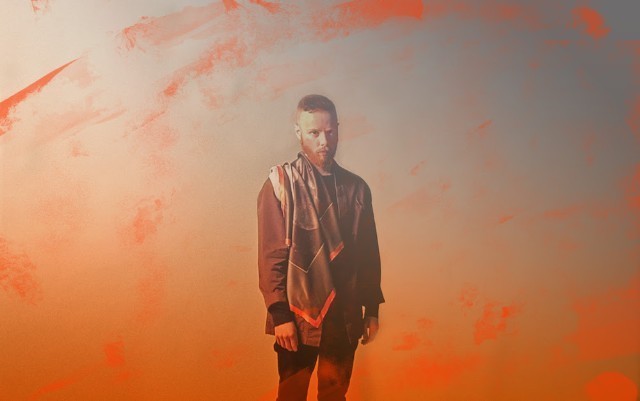 Though he recorded Engravings in his bedroom (as he did with Dagger Paths), Barnes mixed his latest effort outdoors, in the gray countryside, on his laptop. "I didn't want it to sound like one of those records that had just been created in a dark room indoors," he explains. "I wanted to give a huge, open space to it… It definitely imbued [Engravings] with a different kind of energy and vibration." Barnes spent the first half of 2013 revising the upcoming album, stripping layers from "fuller, more padded out" versions of the record's 10 songs.
His minimalist modus operandi was spurred on by the death of a former mentor, a professor who taught Barnes when he attended the Liverpool School of Art and Design. "He was always telling us to take it to the bare bones and understand that the most powerful thing in your work is the idea," Barnes says. "When he passed away I tried to remember all the things that he taught me: You can surround it with lots of bullshit, but the main powerful, beautiful thing is the idea and that's all that really matters. And if you are honest about it and it's done with conviction, then other people will recognize that. He definitely had a lot of impact on this record, unbeknownst to him," Barnes says. "His fingerprints are all over this album."
And though Barnes' own grapple with mortality has certainly informed Engravings, he insists the LP isn't morbid. "A lot of the songs walk that line between being very dark and very sad and very bleak, but also really joyous and euphoric and beautiful," he notes. "If one day my hearing does go, then at least I've created things that I'm proud of."