Foo Fighters frontman Dave Grohl isn't letting the Neve console featured in his Sound City documentary gather dust. "We run our own little hit factory at 606," he joked. "We've done a couple other projects since Sound City. We're recording Foo Fighters stuff as we speak."
Although there's no release date at the moment, Grohl says the eighth Foo record — which is already written — is coming together pretty quickly. "We've gotten back into it in the last couple of weeks," he said. "Over the past year when I haven't been doing any Foo Fighters stuff, I've been loading up my cassette recorder at home with song ideas. Then I hit rewind, listened back and thought, Oh, my God, I have a record! Wow, that was easy. And it's just a matter of getting in the room and banging it out."
Grohl is keeping mum on the contents but promises it will be unique. "I have this idea that I don't think anyone's done before, and we're going to try it," he says. "We don't really want to give away our little secret yet, but it's happening. And we're pretty psyched about it. It's much more of an involved process than just going in to make a record down the street, because we've done that before. And everybody does that. So at this point, maybe let's challenge ourselves to do something that's more than just sitting down and making a record so you can go out and sell a bunch of T-shirts.
"I'll just say it's pretty clear what we have, and it's exciting," he exclaims. "We'll have a Foo Fighters record and it's going to be fucking great!"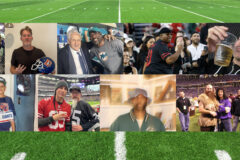 His other projects of late have been mixing some lost circa-1987 takes from crossover punkers Bl'ast (for a record due September 3 on Southern Lord) and taking to the drums again with St. Louis singer-songwriter Kristeen Young. "I played drums on her new record," he says. "We recorded that here. It's me, Kristeen and [producer] Tony Visconti. He plays bass, I play drums, she plays fucking keyboards, and it sounds great. I really love to just play."
Since he's back behind the kit, how does he feel about his No. 1 placement on SPIN's list of the 100 Greatest Drummers of Alternative Music? "Oh, my God, you have no idea how incredibly honored and mortified I was when I saw that," he says with a big laugh. "I swear to God, I almost cried. I was so incredibly honored. I thank you very much for putting me up there at the top, but you're sadly mistaken. There are some of my heroes and some real legends that should be much higher up on the list than I am. I very humbly appreciate the gesture but I would have to share it with all of those other people, because that's too insane."
For more with Grohl, come back on September 2, when we stream the frothing Bl'ast record, BLOOD!, in full.