Earl Sweatshirt has let himself be berated and mocked on wax before, and on the newly leaked, Pharrell-produced "Burgundy" fellow L.A. MC Vince Staples essentially tells him to shut up and rap: "Why you so depressed and sad all the time like a little bitch? / What's the problem, man? Niggas want to hear you rap / Don't nobody care how you feel." Maybe Staples is playing the role of strangers nudging Earl to go back to his "EARL" days or maybe he's playing the devil on Earl's shoulder, but either way he's there to throw that idea right back in our face. He kicks off his first verse with, "My grandma's passing / But I'm too busy trying to get fucking album cracking to see her."
Pharrell filters his sound through Odd Future's own jarring approximation of his old beats, throwing popcorn drums from all angles while keyboards squeegee way deep in the muck. A YouTube clip of a preacher screaming "cut that bitch off!" punctuates the track, a jagged chip of modernity to skewer Pharrell's funk revivalism.
"Burgundy" appears as track two on upcoming album Doris, due August 20, alongside also-heard "Hive" and "Chum." SPIN profile subject Mac Miller, RZA, and Odd Future cohorts Frank Ocean, Domo Genesis, and Tyler, the Creator fill out the guest list.
Speaking of collaborators, Earl teased a team-up with Flying Lotus' alter-ego Captain Murphy and the highly influential MF Doom — the same track that FlyLo previewed at a show recently. Earl is slated to perform on comfortable television home for the kids of Odd-Future, Late Night With Jimmy Fallon, tomorrow night.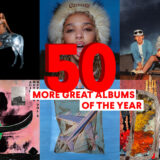 Listen to "Burgundy" over at Atrilli.