Just days after leaked emails from divorce documents revealed that Jack White called Dan Auerbach an "asshole" who copies him all the time, it turns out that the Black Keys frontman is going through a nasty split of his own.
According to TMZ, Auerbach accused his wife, Stephanie Gonis, of attempting suicide twice in one day, first by slashing her legs and ankles in front of their young daughter, and then by attempting to burn their house down. Gonis copped to the first attempt, saying it was due to years of spousal abuse — it's unclear if this means Auerbach was violent toward her — but said the fire was an accident. She committed herself after the incident.
Auerbach was granted temporary custody of their daughter, Sadie Little Auerbarch, who was born in 2008. Gonis can visit under supervision, with the judge saying it'll stay that way until he's convinced she's stable.
The couple's split came to light back in February, when Auerbach attended the Grammys alone and not wearing his wedding band. Us Weekly confirmed the "unfortunate" split with an anonymous source.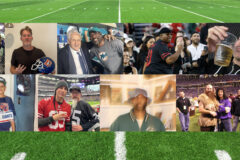 Auerbach will have some support from Black Keys drummer Patrick Carney, who went through a grueling divorce in 2009. Following that, his ex, Denise Grollmus, wrote an article for Salon in which she revealed their mutual infidelity, constant fighting, and cast Auerbach in a particularly unflattering light.
Meanwhile, White — Auerbach's fellow Nashville resident who also found fame by singing and playing guitar in a garage-blues duo in the 2000s — is countersuing his wife, singer and model Karen Elson, in their ongoing divorce saga. She recently filed a restraining order against him, claiming he's a threat to their kids and used emails, including the one where White insults Auerbach in a discussion about their kids' school arrangements, while he's fighting back, saying she's still in love with him and left their children in his care after the court filings.
At least, as far as we know, Carney is happily remarried.