An unheard Bob Dylan song has surfaced after 43 years of dormancy to boggle the minds of three generations of fervent Zimmy completists.
According to Rolling Stone, Dylan recorded "Pretty Saro" in 1970 during the Self Portrait sessions. The song, an 18th century English folk ditty, was recorded six times, but never released. And so, like Donovan after getting upstaged by Dylan in Dont Look Back, it just sort of hid in plain sight for more than 40 years, waiting for stardom.
On August 27, you'll be able to pick up Another Self Portrait, a 35-track box set of demos and live versions from 1969's Nashville Skyline and 1970's Self Portrait and New Morning. The dulcet track is more James Taylor circa Sweet Baby James than the early '60s nasal stereotype Dylan had long abandoned during his country-rock phase.
To compile the Americana-cum-agricultural images for the video above, filmmaker Jennifer Lebeau combed through 1,200 photos from the 1940s to the '60s, selecting pictures from the Farm Security Administration at the Library of Congress. The result feels like a Ken Burns film, a nostalgia-laced time machine to a bygone era.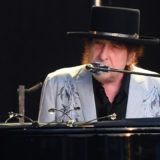 The video should satisfy Dylanologists until next year, when a lost 1945 recording of a four-year-old Dylan counting to three will presumably be unearthed and sold.