The 40 Best New York City Music Videos
For its 30th year, the MTV Video Music Awards are headed back to the city that actually launched the Moonman in 1981, broadcasting live from New York City this Sunday. To celebrate the idea that Lady Gaga might show up in a yellow cab dressed as a soft pretzel, here are the 40 best clips from the last 50 years that show all of the Big Apple's grit, glamour, grime, and big lights that inspire you.
1.The 40 Best New York City Music Videos
1/41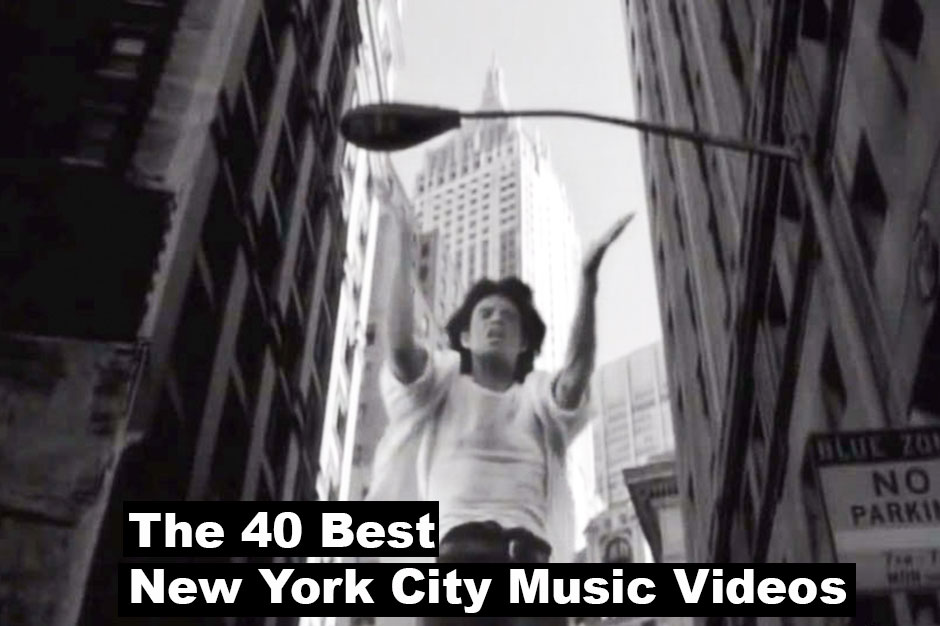 2.Thicke, "When I Get You Alone" (2002)
2/41
The blend of charm and dorkiness that makes Robin Thicke (then just going by his last name) the blue-eyed soul hero of 2013 was on full display 10 years ago. Here, he plays a long-haired bike messenger who travels from Harlem to Brooklyn and back again, lip-syncing and dancing to the "Fifth of Beethoven"-sampling music in his head and irritating people — including a sweary Russell Simmons — the whole way. Two Harlem live-music icons — the jazz club Lenox Lounge and the historic Apollo Theater — also make cameos. MAURA JOHNSTON
3.Black Star, "The Definition" (1998)
3/41
For a track fixated on the recent death of Notorious B.I.G., "The Definition" is bright and jubilant. Its video strikes the same chord, showing Mos Def, Talib Kweli, and Hi-Tek driving around Brooklyn in a van, picking up random passerby in what could be an early version of Cash Cab. The defining moment, though, comes with an interlude that is presented as an un-staged encounter: The van is pulled over by a bristling white cop as Kweli mutters, "Here goes that quality-of-life shit once again." Fifteen years later, a debate over Bloomberg's "Stop and Frisk" policy rages on. JORDAN SARGENT
4.M.I.A., "Paper Planes" (2008)
4/41
When Bernard Gourley was brought on to direct "Paper Planes," he had already become the go-to guy to document regional rap communities in music videos, including E-40's "Tell Me When to Go" for the Bay Area and Rich Boy's "Throw Some D's" for Mobile, Alabama. M.I.A. had Gourley do the same for Bed-Stuy, her Brooklyn neighborhood at the time. Gourley expertly honed in on the details, elevating locations like the Nostrand Ave. subway stop and an import Nollywood DVDs spot. ERIC DUCKER
5.Jon Spencer Blues Explosion feat. Beck and Mike D, "Flavor (Remix)" (1994)
5/41
You've got the tightly wound New York trio sitting down to a dinner prepared by Beck, whose interpretation of "fusion cuisine" involves cutting up records while he's slicing onions. You've got Beck, fired by manager Mike D for his culinary innovation, hawking visors and getting in peoples' faces on the subway. You have an homage to the wall-busting "Walk This Way" visual, which in this particular context feels like a salute to apartment buildings with paper-thin separators. Along the way, the Blues Explosion set up shop outside the East Village egg cream dispensary Gem Spa to remind the world that they are #1 in a slew of cities around the country — including their home base of NYC, obviously. M.J.
6.Special Ed, "I Got It Made" (1989)
6/41
Sixteen-year-old rhyming prodigy Special Ed grew up in Brooklyn's Flatbush neighborhood. And even though he drops ridiculous boasts on "I Got it Made" ("Even got a little island of my very own / I gotta frog, a dog with a solid-gold bone"), he stays humble and relatable here, because he spends the video in precisely the places you'd expect to find a Brooklyn teenager in the late 1980s: with high-top-faded friends outside the high school, in Prospect Park, or exploring a beachfront junkyard. A year later, you could find Special Ed grinding on his girlfriend around New York City in the video for A Tribe Called Quest's "Bonita Applebum." E.D.
7.Ryan Adams, "New York, New York" (2001)
7/41
The alt.country troubadour's clip for his Big Apple ode uses the Lower Manhattan skyline as a backdrop, an aesthetic decision made instantly emotional thanks to its being released on September 11, 2001. (It was shot four days prior.) High-speed shots of the city in motion pepper the video, but the Twin Towers loom large enough that the clip became an inadvertent love letter to their once-formidable presence. Ten years later, Adams told Billboard, "You know, you couldn't take a photograph of New York back then without the Towers being in there... They would get into photos without you even thinking about them." M.J.
8.The Lonely Island, "Lazy Sunday" (2005)
8/41
The Saturday Night Live mythology goes that Andy Samberg and his Lonely Island compatriots Jorma Taccone and Akiva Schaffer were on the chopping block as 2005 came to a close — in their first season with the show, Samberg hadn't made much of an impression as a performer, and the other two only created two sketches that made it to air. "Lazy Sunday" was written in one night and then crudely filmed on a borrowed camera the next day, hitting the original Magnolia Bakery on Bleecker St., the Upright Citizens Brigade Theatre on West 26th Street, and the Chelsea Clearview Cinemas (though the lyrics reference the AMC Loews on 68th and Broadway). By Monday morning, Samberg was a floppy-haired viral star, SNL Digital Shorts were a "thing," YouTube had proved itself useful beyond being a resource for old clips from The Arsenio Hall Show, and thousand of other hyper-local parodies were in the works. E.D.
9.Duck Sauce, "Barbra Streisand" (2010)
9/41
So-Me, the art director for Parisian electro label Ed Banger, is known for his bold illustrations, which he incorporated into his videos for Justice's "D.A.N.C.E., Kid Cudi's "Day 'N' Nite," and Kanye West's "Good Life." But with Duck Sauce, the duo of dance-music luminaries A-Trak and Armand Van Helden, he tried a documentary approach, running amok in New York City, visiting famous friends and making pit stops at Fool's Gold Records' first Day Off party at the City Winery, Le Bain's rooftop hot tub, and a dancehall party in the Bronx along the way. Truly a document of contemporary blink-and-you're-out-of-style hipster culture if there ever was one. The most authentically New York moment in the video may happen around the 1:30 mark, when So-Me perfectly captures the sticky late-summer when you're waiting for a taxi, buzzed after some post-work drinks and trying to figure out how much of a hangover you can handle tomorrow. E.D.
10.Sting, "Englishman in New York" (1988)
10/41
Shot by David Fincher, the French New Wave-tinged black-and-white clip for Sting's jazzy orchestral reggae number captures the city at wintertime — complete with obligatory shots of the Empire State Building, Tiffany & Co., and expensive hotels. Meanwhile, the former Policeman struts the streets beneath an umbrella to protect his then-flowing locks, as the camera alternately focuses on elderly English raconteur and gay icon Quentin Crisp, and Sting's band — featuring soprano saxophonist Branford Marsalis, playing in a café without him. KORY GROW
11.Beastie Boys, "An Open Letter to NYC" (2005)
11/41
This "Open Letter" is actually a love letter, a valentine to the city that the Beasties helped shape for a generation. The video follows suit, stitching together shots of the trio riding bikes through all five boroughs with stock footage of defining architecture like the skyline and the subways. It has the feel of a Bar Mitzvah montage, but the plainspoken open-heartedness of both the song and the clip were apt for a group 20 years deep, and a city still recovering from America's worst terrorist attack. J.S.
12.Fabulon, "In a Mood" (1993)
12/41
Before Björk hopped on a truck and blasted "Big Time Sensuality" around New York City, Kevin Macbeth — a six-foot rocker with dreams of perfecting pop — commandeered a flatbed and rode around Manhattan miming "In a Mood," which blended the swagger of the Stones with the finesse of <em>The Village Green Preservation Society</em>, leaving a blip on the Modern Rock charts. Apartment buildings and hulking corporate structures show up behind Macbeth and his band, but what really makes this video a real snapshot of New York is the people watching the spectacle unfold: Some wave, but others seem completely unbothered by a spontaneous concert that sprung up in the middle of their day. M.J
13.Bananarama, "Cruel Summer" (1983)
13/41
One of New York's simplest summertime pleasures — sweating it out on an apartment roof, the city skyline providing free entertainment — gets the British girl-group treatment in this clip, which has a couple of lovely Empire State Building shots interspersed between its shots of Bananarama dancing in the streets and working at an auto-body shop. The "commandeering a Mack truck and getting chased down by the police" plotline is a boutique summer pleasure, though: Things in New York were a bit more Wild West back when gas was less than a buck-fifty a gallon. M.J.
14.Limp Bizkit, "Rollin' (Air Raid Vehicle)" (2000)
14/41
With an album that went platinum in a week, Limp Bizkit were on top of the world. And so they made it quite literal in the video for "Rollin'," giving an energetic performance more than 100 stories in the air atop the World Trade Center. Towering over the Empire State Building, the band that broke Pearl Jam's first-week rock sales record basked in the glory and bathed in floodlights. On the ground, they mooked around in a Bentley Azure like kids given the keys to the car — and in a way they were. A celebratory, jovial, wildly excessive clip that's a poetic summary of the nü-metal era. CHRISTOPHER R. WEINGARTEN
15.Joe Jackson, "Steppin' Out" (1982)
15/41
Filmed mostly in the beyond-pricey five-star St. Regis Hotel in tony Midtown Manhattan (it was $200 in 1982, and $1,100 in 2000, according to Pop-Up Video), the video for "Steppin' Out" depicts how the other half could live in the Big Apple. Between a hard-to-get shot of the Chrysler Building lighting up and easy-peasy scenes of taxis on the street, pop eclectic Joe Jackson serenades a St. Regis maid who imagines herself on a night out dressed as one of the hotel guests. Before things get out of hand, they're busted, the hotel room's paying guest sits down at the piano, and Jackson walks down 5th Avenue, contented. K.G.
16.Company Flow, "End to End Burners" (1998)
16/41
An ode to bombing subway trains during the peak of indie-rap's four-elements obsession, Company Flow got down and dirty in New York's real underground. Former graffiti writer Big Juss wears a painter's mask as CGI bursts from his sharpie, El-P plays a train-conductor rapping into the P.A. The whole thing maintains respect for the artists who paint cars and the working stiffs who have to deal with the mess. Frenetic, playful, and a good excuse to put graffiti in a video in the '90s. C.W.
17.LL Cool J, "Around the Way Girl" (1990)
17/41
The jamming-est jam of LL Cool J's baggy-hat era finds him performing some rare choreography in front of green-screened images of subways and the Manhattan skyline. But the best parts of the video are when Uncle L busts out the camcorder to make his own '90s-style blog, as modeled by women on the streets of New York City — though at times, it does kind of veer into skeevy lurker territory that wouldn't be out of place on then-contemporary public-access shows like Uncle George. "Around the Way Girl" is one of LL's many collaborations with Emmy-winning director Paris Barclay, now a bigwig in TV dramas who has directed episodes of The West Wing, The Shield, Lost, and House. E.D.
18.King Missile, Detachable Penis (1993)
18/41
John S. Hall's tale of losing his member after a rough night out, only to find it being hawked on the then-grimy streets of the East Village, became a left-field hit in the early '90s. Its attendant video — directed by NYC transgressive cinema icon Richard Kern — pretty much follows the song's plotline, and gives a glimpse of the neighborhood before its NYU-assisted hyper-gentrification: The 24-hour pierogi palace Kiev and the "Desperately Seeking Susan"-enshrined vintage shop Love Saves The Day make cameos. And, to make it a complete New York tale, the NYPD chased them off. "It just looked funny, us standing there with a guy waving a dildo around the street," said Kern. "I guess that bothered them." M.J.
19.Yeah Yeah Yeahs, "Despair" (2013)
19/41
The metaphor of the "Despair" video is painted with a giant brush, but it's beautiful and apt nonetheless. The clip — directed by Patrick Daughters — begins with Karen O singing in a Manhattan dive bar and ends with the band performing atop the Empire State Building. They were the first act ever to do so — a deserved scalp for the defining band of post-9/11 New York. J.S.
20.Jay Z, "Hard Knock Life (Ghetto Anthem)" (1998)
20/41
The track would help propel Jay Z to worldwide superstardom, but in 1998, he was still firmly an emblem of Brooklyn, who could be found a year earlier acknowledging critics that challenged his claim to Biggie's vacated throne. The Steve Carr-directed clip displayed Jay's arrogance (parking a gleaming blue Bentley in the Marcy Projects) and his warmth (soon enough, there are children sitting on its hood). But it mainly grounded itself in the iconography of New York's underclass: stoops, quarter waters from bodegas, and outdoor basketball courts. J.S.
21.Grandmaster Flash and the Furious Five, "The Message" (1982)
21/41
"The Message" wasn't the first socially conscious rap song (word to Brother D and the Collective Effort), and its video wasn't the first hip-hop video out of the gate, either (Sugarhill Gang and Whodini had beat them — though neither were exactly enjoying major airtime during the pre-"Billie Jean" whitewash). But the song's unflinching portrait of urban woes was groundbreaking, vivid enough to hit critical mass with a video that abandoned the disco and hit actual New York City streets: housing projects, traffic jams, peep shows, ambulances, homeless people, overgrown lots, broken glass everywhere. The digital effects look a little dated, but their disorienting pixel mush is a great analogue for how different the song's martial robo-pulse felt after nine years of MC's rapping over super disco breaks. C.W.
22.Billy Joel, "A Matter of Trust" (1996)
22/41
Here we have the Piano Man on electric guitar, just rockin' out with his wacky band (+ Christie Brinkley!) and inspiring a world-class IMDP (Impromptu Multicultural Dance Party) in the East Village on St. Mark's Place, now immortalized as "the street with the Chipotle." Some guy on HuffPo swears a) they recorded this in a lesbian commune (which is funny), b) specifically in the room where they held Alcoholics and Narcotics Anonymous meetings (which is funnier), and c) they reshot the entire thing because some guy in the crew thought Billy's original guitar was a Springsteen homage, and Billy flipped out (which is hilarious). There is no truth to the rumor though that all the extras got souvenir "Fuck You You Fuckin' Fuck" T-shirts. ROB HARVILLA
23.Dinosaur Jr., "Feel the Pain" (1994)
23/41
Wherein a young Spike Jonze films a dapper J. Mascis beating up dudes with a golf club in Central Park, which sums up MTV in 1994 well enough. Apparently the original cut had way more blood and violence, mostly cut to guarantee airtime, much to Mascis' chagrin, per this one-tenth-awake-at-best commentary track that also reveals invaluable logistical info ("Spike got a lot of permits and whatnot") and laments the unwanted contributions of random NYC motorists ("I heard 'FORE!' quite a bit, people driving by — that was a little annoying after awhile"). The romantic shot of the Twin Towers during the climactic putting scene will make you feel some type of way. R.H.
24.Luscious Jackson, "Citysong" (1994)
24/41
"Citysong" is a time capsule of what was considered downtown cool in the mid-1990s. Not only do Luscious Jackson seem like a great group of people to throw a dance party or a brunch with, but the video showcases plenty of local landmarks below 14th Street. Director Tamra Davis and cinematographer Lance Accord use Super 8 and double exposures to give the video a look of immediate nostalgia, even when it caught MTV airtime in a somewhat glorious present. E.D.
25.Rage Against the Machine, "Sleep Now in the Fire" (1999)
25/41
"Sleep Now in the Fire" was the second single to come off Rage's final studio album, The Battle of Los Angeles, but filming the song's video quickly became the Battle of New York. As the Michael Moore–directed clip states, despite requests to film their video, the city had decreed that Rage "shall NOT play Wall Street." So of course, Rage said, "Fuck you, I won't do what you tell me" and stormed the steps of the New York Stock Exchange. In what is an essentially a documentary of performance-as-protest (Free Pussy Riot, btw), their fans pogo, police scowl, Moore gesticulates, and the band plays on. Though maybe ignore the corny vignettes didactically parodying then-popular show Who Wants to Be a Millionaire. The video was nominated for the Best Rock Video VMA the following year, but it lost to Limp Bizkit, prompting bassist Timmy C. to climb a piece of the set in protest. K.G.
26.Wu-Tang Clan, "Can It All Be So Simple" (1994)
26/41
Though its budget was a fraction of Brett Ratner's 1997 clip for Wu-Tang's wide-screen CGI-fest "Triumph," Hype Williams' take on "Can It All Be So Simple" is far more cinematic. Filled with gloomy, slow-motion shots of the Staten Island streets that birthed the Clan — rarely seen in rap, or any music for that matter — each image is as vivid and ominous as the Raekwon and Ghostface verses they accompany. E.D.
27.LCD Soundsystem, "New York, I Love You" (2008)
27/41
Is there a better figure to inject pathos than the so-blue-he's-green Kermit the Frog? James Murphy's resigned ode to his home city's ever-hurtling progress is given an extra kick in the pants by having the Muppets' leader, um, lip-sync it while sitting on a rock across from Manhattan. Be sure to watch to the end, to see the reveal of how thoroughly Murphy saw Kermie as a surrogate sad guy. M.J.
28.Run-DMC, "Run's House" (1988)
28/41
When Run-DMC released their fourth album, Tougher Than Leather, in 1988, they were still the kings of rock, but the young bucks of hip-hop's ascendant Golden Age — Public Enemy, Big Daddy Kane, EPMD — were quickly establishing themselves as the new royalty. To prove that their credibility was still intact after recent dalliances with Aerosmith and "an ill reindeer," they literally took to the streets for first single "Run's House." In this Manhattan journey, director Peter Lauer filmed them guerilla-style, starting in Washington Square Park (home of NYC's last great folk tradition in the 1950s, it's worth noting), then moving uptown to 125th Street in Harlem just as school was getting out. By the end, they head back south towards Times Square at night, causing a frenzy along the way among a star-struck public. Even Geraldo Rivera gets caught up. E.D.
29.Jay Z feat. Alicia Keys, "Empire State of Mind" (2009)
29/41
An anthem as huge as this deserved a sweeping video to match, even if the result is inherently mathematical. So director Hype Williams — who else? — checks all the boxes: Images of the corners listed off by Jay (560 State St., McDonald's on Broadway), grand helicopter shots of the skyline, a performance in Times Square, and Hov rapping with the titular Empire State Building just over his shoulder. Obvious, sure, but undoubtedly cinematic, and probably the best music-video-as-Lonely-Planet-guide around. J.S.
30.The Clash, "This Is Radio Clash" (1981)
30/41
The video for "This Is Radio Clash" is what's left of the aborted documentary The Clash on Broadway, which Don Letts was going to make about the band's legendarily clusterfuck-y 17-concert run at the Bond's International Casino in Times Square. TV transmissions about global conflicts in Nicaragua, Afghanistan, and Iran are transposed with shots of the band strutting around a rather unglamorous-looking New York City — though images of Futura boosting some spray paint and boomboxes still hold plenty of documentary charm. The Clash were so good at looking cool on the streets of NYC that Martin Scorsese had them play the same role for a cameo in his film The King of Comedy. E.D.
31.Björk, "Big Time Sensuality" (1993)
31/41
Directed by Stéphane Sednaoui, this luminous black-and-white clip focuses on Björk happily prancing around the back of a flatbed truck as it slowly rumbles past Big Apple retail mainstays of yore (Kleinsleep! Alexander's!). The shooting was, like many things in New York at the time, fraught — the police weren't thrilled by the open-air concert that resulted, and passerby were offering up their services as extras. But that only added to what Björk referred to as the "elements of danger" that give this clip an extra punch. M.J.
32.Daft Punk, "Da Funk" (1996)
32/41
Random Access Memories was not exactly Daft Punk's first rodeo in terms of using promo materials to elegantly screw with people's heads, FYI: Consider this oddly poignant Spike Jonze vignette, heavy on bodegas, surly street-side booksellers, antagonistic youths, bus-related ennui, and missed-connection romantic yearning, all absorbed by a human-size anthropomorphic dog with a broken leg and a boombox blasting you-know-what. Bonus points for the love interest's Fargo-evoking accent; she is probably not from Queens. R.H.
33.Black Crowes, "Sometimes Salvation" (1992)
33/41
Near the end of David Dinkins' mayorship, the Black Crowes managed to catch one of the last gasps of classic Times Square at its seediest. Directed by Stéphane Sednaoui, the shooting locations included the XXX Roxy Twin Theater on 42nd St., an enclave adjacent to the tattered sign for the New Amsterdam Theater, and a dingy cafeteria. "I think it's a pretty desperate song, and I'd say there's a little desperation going on around here," commented Crowes drummer Steve Gorman in an MTV News clip. That desperation is the connecting thread in the video, which shows close-ups of irate New Yorkers, one particularly distraught woman dressed in leopard print, and seething frontman Chris Robinson wearing a particularly desperate-looking jacket with dramatic shoulder pads. But New York at its grittiest remains the star. K.G.
34.Rolling Stones, "Love Is Strong" (1994)
34/41
The British invasion gets rebooted as a Godzilla tale here, the gargantuan Rolling Stones slinking and slithering through the streets of New York. For a band celebrating their 32nd year and 20th album, it was fitting that they were presented as larger than life: Mick Jagger honking on bobo near the Empire State Building, Charlie Watts drumming on water towers, etc. But the magic is that director David Fincher, years before Benjamin Button, gave these old veterans some young cool, filming what could have been a goofy special-effects blow-out with the slow-motion, French-tinged grace of a cologne ad. C.W.
35.White Stripes, "The Hardest Button to Button" (2003)
35/41
Michel Gondry's hypnotic clip for this Elephant track takes Jack and Meg White — and, most crucially, their gear — on a stop-motion trip that includes sojourns through Riverside Park and the PATH platform in Midtown. Gondry's crew had to track down 32 identical Ludwig kits to achieve the effect of Meg's peppermint-colored drums spawning endless mirror images of themselves all around the city. It was so iconic, even Bart Simpson took a similar trip through Springfield. M.J.
36.Lauryn Hill, "Everything Is Everything" (1999)
36/41
Fourteen years and three Transformers movies later, the special effects that powered the clip for the third single off The Miseducation of Lauryn Hill look a bit dated. But at the time — when labels were routinely dropping millions of dollars on videos — it was captivating. Method Studios (under the direction of Sanji) turned Manhattan into a spinning vinyl record, complete with pedestrians dodging a needle: an overblown but perfect metaphor about how the city powers music and vice versa. A monument to late-'90s music-industry excess, but also to New York as a muse, big and bright and beautiful, but with tension leaking out of the cracks. J.S.
37.Matt and Kim, "Lessons Learned" (2009)
37/41
Polarizingly over-cheerful indie-pop duo/couple strips naked in Times Square, in February; minor blog fame ensues. The cop action (well-timed to the cymbal crashes, it must be said) is apparently real, but no one got arrested. (Their permit simply described the concept as "Two tourists walk through Times Square dressed inappropriately.") The best parts here are pre-nudity, actually, from Matt helping Kim with her coat to the abject terror on their faces throughout. (Passersby are suitably disturbed as well, but not violently so.) Related: If we ever do a "Best Texas Videos of All Time" package, we're definitely saving room for Erykah Badu's remix. R.H.
38.D.A. Pennebaker, "Daybreak Express" (1953)
38/41
In 1953, 14 years before the pioneering move of having Bob Dylan flick cue cards, director D.A. Pennebaker directed his first short film, and possibly accidentally invented MTV in the process. Set to the bustle of Duke Ellington's "Daybreak Express" as Pennebaker rode 3rd Avenue's El train, his film already had all the hallmarks of music television years before Martha Quinn was even born: rapid-fire editing, expressionist shots with no narrative, time-lapse insanity, gratuitous special effects, and shots that move with the pulse of a song. C.W.
39.Public Enemy, "Fight the Power" (1989)
39/41
After Spike Lee used "Fight the Power" in his racially charged 1989 game-changer Do the Right Thing, he and Public Enemy continued their revolutionary partership when he directed the song's video. Together, they stormed Kings County with "The Young People's March on Brooklyn to End Racial Violence." Even before the music starts in earnest, the clip depicts Chuck D, Flavor Flav, and the S1Ws leading a mass of young African-Americans through the streets of the movie's setting, Bedford-Stuyvesant, waving signs of revolutionaries like Muhammad Ali, salvos like "Register to Vote," and of course, PE's guerilla-in-the-crosshairs logo. The video itself shows the celebration that ensues, as the rap group plays a concert in front of a picture of Malcolm X on a red, green, and black stage, and marches through the streets. No music video better summarizes Chuck D's role as hip-hop spokesman, New York's role as hip-hop's center, and hip-hop's role as the political weapon of a generation. K.G.
40.Michael Jackson, "Bad" (1987)
40/41
Hey, no big deal here, just Martin Scorsese directing the King of Pop in an 18-minute black-and-white mini-epic written by Richard Price and featuring an unknown Wesley Snipes playing a thug named Mini Max. This is before you get to the actual-song-length version MTV obviously favored, shot at the Hoyt-Schermerhorn subway stop in Brooklyn and featuring quite possibly the best music-video choreography of Jackson's career (complete with West Side Story overtones), and thus the best music-video choreography, period. (Good luck not getting chills at the dance-rehearsal footage here — the Scoot Train thing!) All that, and it in turn inspired Weird Al's finest hour. R.H.
41.Jay Z, "99 Problems" (2004)
41/41
Don't believe the hype that Jay Z is some gallery-hopping "Picasso Baby" new jack. Back in 2004 Jigga says he put in a phone call to esteemed video director Mark Romanek and said something to the effect of, "Mark, this is what I wanna do. I wanna shoot the hood, I wanna shoot the ghetto like a photographer would shoot it. I wanna shoot it as art." Romanek responded with "99 Problems," a clip that explores the Marcy projects that Jay has vividly painted in his music with Fellini-esque elegance.
"I… felt like most rap videos were kind of same-y," Mark Romanek says on his Directors Label DVD. "It's probably the most vital genre of music going on in pop culture right now, and the least vital music-video culture." For his first hip-hop clip in 13 years, he eschewed speedboats and rented mansions, instead shooting cracked murals, guns pointed outside project windows, motorcycles peeling off, daredevil feats of breakdancing, puke in prison toilets, open caskets, and a room in Jay's actual apartment building. A Brooklyn Bridge shot showed the rapper as the king of New York, but a controversial shot of him getting riddled with bullets showed him as surprisingly frail. Like the best rap music, "99 Problems" depicts under-documented communities with stunning poetry — as its VMAs for Best Direction, Best Editing, and Best Cinematography will attest. C.W.