Zammuto Finds Balance on Second Solo Album
Things are a bit less chaotic in the sessions for ex-Books member's forthcoming LP
Before he began work on his next full-length, Nick Zammuto did a bit of housekeeping.
"I rearranged my studio so that I'm standing while I write," he says. "Since I'm on my feet, the act of balancing seems to translate to hearing balance within the mix."
But it's not just better posture that's making the recording process for his as-yet-untitled second solo outing decidedly different from the first. Last year's debut was a lurching assemblage of polymath pop, miles from the playful, carefully arranged sample experiments that he undertook as one half of the Books. Zammuto blames the disjointedness of that record on a "nervous energy" that resulted from the fallout of the Books' dissolution. The mental toll drove him back to his home studio in Vermont and resulted in tracks as disparate as "Hey" and "Zebra Butt," the former a steady stream of staccato pop and the latter a Microsoft Sam nonsense rap.
By its very nature, Zammuto's first record under his own name was "a difficult scrambled process." But the problems surrounding the release of that album have finally been resolved. For one, Zammuto is no longer undergoing the recording all on his own.
"[The making of the first record] was a fraught and lonely process since the new band hadn't fully formed yet," Zammuto explains. "I was feeling beat up."
Zammuto has found a helping hand in Sean Dixon, a nimble-limbed drummer whose driving grooves and playful embellishments are at the center of the band's live show as well as the new record.
"He can 'think' with his instrument in a rare and beautiful way," Zammuto says of Dixon. "Our sessions are very open, focused on capturing a kind of momentum that I can use while writing."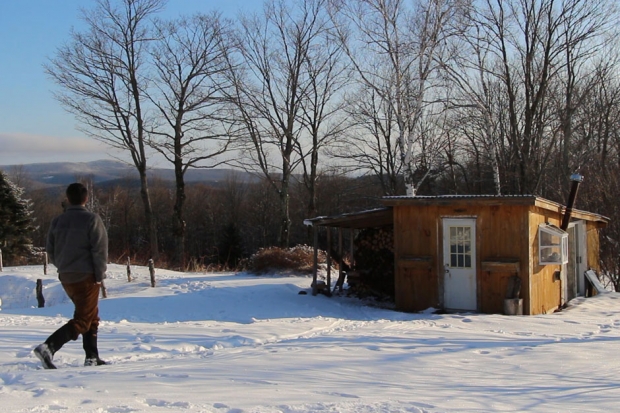 And it's that momentum, conjured by playing with a live band, that Zammuto is attempting to capture now. After all the flux and pain that the divorce of his musical marriage to Books bandmate Paul de Jong caused, Zammuto has finally found some balance. Much of that has come by way of his live band.
"There is a pleasant floating feeling I get when I'm traveling with the band, or here at home watching nature run its course," Zammuto explains. "It's a feeling of stillness and motion at the same time. I'm trying to capture that in the new tracks."
Though he knows what he wants, the record itself is, perhaps a bit ironically, still in flux. Zammuto is hesitant to describe the way it sounds, outside of this feeling, if only because it's still very much in progress.
"Sinker" the first track that Zammuto has released from the new record (and streaming below) seems an apt sonic manifestation of his abstract ideas, moving away from the manic instrumentation of his debut in favor of Dixon's controlled polyrhythms and slow guitar swells. It's something more centered, confident, and controlled than anything Zammuto has attempted in the past. Though an IndieGoGo campaign stands between the band and the completion of the record, if "Sinker" is any indication, the chaos that birthed the project has been supplanted with a blissful momentum.
"It's funny," Zammuto says. "But it feels like the first time I've ever been in a band."