In fall 2011, Tool singer Maynard James Keenan said his bandmates were writing music for a new album. Earlier this year, Tool guitarist Adam Jones told SPIN, "It's taken a little longer." As Loudwire reports, Tool drummer Danny Carey now says the band may finish its first album since 2006's 10,000 Days by the first part of next year.
"Right now, since we haven't started tracking stuff at this point, it'll be hard," Carey told Loudwire. "We could have the record finished by the end of the year — that's a possibility, but the logistics of getting it manufactured and getting the record company in line and all this stuff, I doubt we'll be able to get it out before Christmas. We'll see how it goes. Most likely, it'll be early 2014."
Carey, Jones, and bass player Justin Chancellor are currently working on material for their band's fifth studio album, and Keenan will join them soon, according to the drummer. He said they hope to get into the studio this year. "Stylistically, we're trying to push things in different ways, but it always comes out sounding like Tool no matter what we're trying to do," Carey offered.
Tool have played short tours in 2009 and 2012. Keenan has also been busy with his other bands, touring with A Perfect Circle in 2011, while his group Puscifer followed that year's Conditions of My Parole LP with the Donkey Punch the Night EP earlier in 2013. Most recently, Puscifer collaborated with Sir Mix-a-Lot.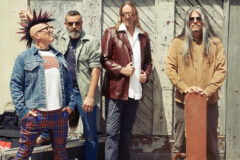 See also: Five Artists Who Still Say No to Streaming