Pussy Riot member Nadezhda Tolokonnikova will continue to serve her prison sentence in a Russian penal colony, as a court has denied her parole once again. CNN reports that the Supreme Court of the Mordovia region upheld an earlier ruling that refused an early release for the imprisoned punk activist. Tolokonnikova was appealing for parole to care for her 5-year-old daughter.
According to the Associated Press (via Billboard), the court based their decision on the fact that Tolokonnikova never repented for her crime. "I do not admit guilt and will not plead guilty," she told the courtroom while seated in a cage. "I have principles upon which I will stand."
Currently, the 23-year-old Tolokonnikova is more than halfway through her two-year sentence for "hooliganism motivated by religious hatred." She and two of her bandmates, Maria Alyokhina and Yekaterina Samutsevich, were arrested following the feminist collective's anti-Putin "punk prayer" performance in Moscow's main cathedral last year. Samutsevich was freed in October 2012.
Alyokhina is also in the midst of a two-year jail term and was also denied parole earlier this week. Unlike Tolokonnikova, Alyokhina was not allowed to attend her July hearing in person; instead, she spoke to a judge via a live video link. Alyokhina protested being barred from the courtroom by going on an 11-day hunger strike.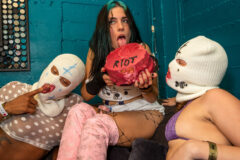 In advance of Tolokonnikova and Alyokhina's recent appeal hearings, some of the free members of Pussy Riot released another anti-Putin protest video, "Like a Red Prison." Amnesty International also drafted more than 100 musicians to sign an open letter demanding their freedom. Paul McCartney, Madonna, Bruce Springsteen, Radiohead, U2, Arcade Fire, Karen O, Adele, Paul Simon, Eddie Vedder, and the surviving members of the Clash voiced their support for the Pussy Riot cause, while Rough Trade is planning an art and poetry book with works by Kim Gordon, Robyn, and more.