Fans of Athens-addled psychodrama rejoice: Of Montreal are keeping up with their relentlessly prolific release schedule. On October 8, Polyvinyl will unleash the strange-pop collective's 12th studio album, the lowercase-loving lousy with sylvianbriar. The upcoming 11-track set follows last year's Paralytic Stalks and the Daughter of Cloud rarities compilation.
According to an official announcement, Kevin Barnes and crew recorded the full-length with engineer Drew Vandenberg (Deerhunter, Toro y Moi) on a 24-track tape machine in a home studio.
"I knew I wanted the process to be more in line with the way people used to make albums in the late '60s and early '70s," Barnes said in the statement. "I wanted to work fast and to maintain a high level of spontaneity and immediacy. I wanted the songs to be more lyric driven, and for the instrumental arrangements to be understated and uncluttered."
Of Montreal fans the world over were shocked to learn that the man who dresses like an extra from the cover of Sgt. Pepper's feels an affinity with that bygone era. For a primer on the impending LP, stream opening track "fugitive air" below. As promised, the new tune harkens back to the band's sunnier days, circa 1997's Cherry Peel, when Barnes focused on channeling the Kinks' princely songcraft rather than Prince's kinky shit.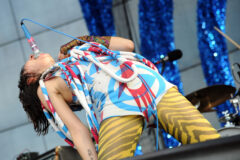 Pre-orders of lousy with sylvianbriar are currently available through Polyvinyl. The album's vinyl pressing includes a green edition (no doubt made from actual sylvianbriar) that's limited to 1,500 copies. The rest of the wax will come in pink. Joyful Noise Recordings will put out a cassette tape version capped at 250 copies.
lousy with sylvianbriar track listing:
1. "fugitive air"
2. "obsidian currents"
3. "belle glade missionairies"
4. "sirens of your toxic spirit"
5. "colossus"
6. "triumph of disintegration"
7. "amphibian days"
8. "she ain't speakin' now"
9. "hegira émigré"
10. "raindrop in my skull"
11. "imbecile rages"