Last night, Jay-Z and Justin Timberlake launched their co-headlining Legends of the Summer tour in Toronto, playing a sold out show at the Skydome to almost 50,000 fans on the hottest day of the year thus far — tropical, suffocating, hot enough to break a sweat standing still.
Ever since the 15-date North American trek was announced — tied to the release of Timberlake and Jay-Z's fizzy-lifting-you-to-nowhere single "Suit & Tie" — there's been some confusion over how it would play out. The pair is only just beginning to release joint material. It's the rapper's third time running a tag-team tour, but each prior outing was linked to an album release: 2004's Best of Both Worlds with R. Kelly, which fell apart halfway through, and the recent Watch the Throne campaign with Kanye West.
Instead, Legends is far more casual: a convivial, loosely orchestrated, two-and-a-half-hour stadium revue, which allows both artists to profit immediately and immensely in the wake of March's The 20/20 Experience and this month's Magna Carta Holy Grail — currently the two best-selling records of the year. They both looked like they came straight from the hotel. Jay spent most of the show in a black tee (maybe the APC x Kanye hip-hop tee?), Don C black leather Nets snapback with the snakeskin detailing, and, like, eight gold chains. Justin wore simple white graphic tees and a bowler hat, before changing into a Guy Fieri-lookin' black bowling shirt and pants. Yeah, it was a surprisingly unsexy show and more like a casually executed feat of strength: four back-up singers, a full band, and a very impressive A/V set-up, which included lots of red lighting and projected visuals inspired by Classicism and Renaissance-era art, as well as naturalistic imagery (the best was the coiling body of a snake), overlaying and framing massive video screens on each side of the stage.
Though the show was heavy on JT's FutureSex/LoveSounds material and Jay-Z's radio hits, it's apparent that people are listening to, and liking, the new material. The pair came out to their MCHG collab, "Holy Grail," and revealed that the purpose of cringingly appropriating that Nirvana chorus is so that fans can yell it back to the stage during a show. The set list was playful and off-the-cuff, a mix of medleys and solo material executed with ease. It has to be said that JT is a competent — though incomparable — sub for Pharrell's memorable, exquisitely lilting choruses on Jigga's "I Just Wanna Love U," "Excuse Me Miss," and "Frontin'." It's not just about falsetto but a certain breezy execution, and last night Timberlake spent most of the time being the manic, showboat-y Danny DeVito to Jay's composed, towering Arnold.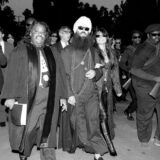 But it wasn't competitive and there was none of the subtle, but friendly, one-upping we saw on the Watch the Throne tour. The rapper rapped with that unflappable gusto — at one point interpolating the hook from Juicy J's "Bandz A Make Her Dance" — and holding court from the middle of the stage. The best part — aside from hearing MCHG's "FuckWithMeYouKnowIGotIt" and "Tom Ford" — was when he stomped down a red-carpeted staircase for "Empire State of Mind," while the brass played the campy melody from "Theme from New York, New York." The singer mostly indulged his musical side, playing piano and guitar for his own songs ("Like I Love You," "End of Time") and Jay's ("On To The Next One," "U Don't Know"), downplaying his vocal performance for general charisma and showmanship, and barely dancing — save for a bumbling take on the Willy Bounce during "Let The Groove Get In." Justin also previewed "Take Back The Night," the new MJ-inspired single, that's prodded controversy for taking the same name as a long-standing, venerated sexual assault awareness foundation.
Would it be too much to hope that he'll use the single to bring more attention, and maybe some dough, to the cause? Maybe. But Jay and JT did end the night — after "Suit & Tie" — on a somewhat conscious note: Blueprint 3's "Young Forever" was dedicated to the memory of Trayvon Martin.