This is why we can't have nice things. Last week, Stevie Wonder took the higher ground and vowed not to play anywhere that has a "stand your ground" law, a type of self-defense rule that came under scrutiny when a Florida jury acquitted George Zimmerman in the shooting death of Trayvon Martin. Today, various websites are pretending Jay Z, Kanye West, Justin Timberlake, and other stars have joined Wonder's boycott of the state. That's right: pretending.
Here's what happened: April Ryan, White House correspondent for American Urban Radio Networks, reported on Monday that "sources close to the Stevie Wonder camp" had confirmed a list of artists "joining him in support of a change" in Floriday's stand-your-ground law. She added that "some of the artists" on the list had even canceled concerts in the Sunshine State. Jay Z, West, Timberlake, Madonna, and many others were on the list, but aside from gospel singers Mary Mary, nowhere did anyone say they were boycotting Florida. They just reportedly agreed with Wonder that laws giving the benefit of the doubt to people who shoot and kill people might be a bad idea. On top of that, 23 other states have similar laws, so any sort of boycott would be crippling to a touring artist.
Today, it's being reported some places that Jay Z, West, and all the rest are joining Wonder's boycott, which is a very different thing and also completely unsubstantiated: Yes, Jay attended a rally for Martin over the weekend, but if he or Kanye are actually standing their ground with Wonder, they haven't said so publicly. Sure enough, Miami TV station WPLG already reports that Jay Z and Timberlake's planned co-headlining stop at Sun Life Stadium will take place as planned, according to "an executive affiliated with" their "Legends of the Summer" tour. Rihanna isn't joining the boycott, either, "a source with knowledge of the matter" told the Huffington Post, which also confirmed that the Rolling Stones have no such plans either. Expect more denials and retractions soon.
You never know, though: Maybe the publicity around these unsubstantiated reports will cause Jay, West, Timberlake, or other stars to put their money where that source close to Wonder's camp's mouth is. It would certainly be a big deal if a rapper decided to boycott hip-hop haven Miami. For now, though, it's all make-believe.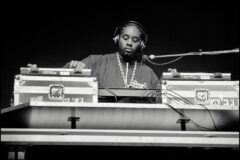 Here's Ryan's full list of artists reportedly confirmed by her Wonder-related sources as "joining him in support of a change" to the stand-your-ground laws:
Mary Mary
Eddie Levert
Rod Stewart
Madonna
Usher
Patti Labelle
Kanye West
Mary J. [Blige, presumably]
Trey Songz
Jay Z
Rolling Stones
Justin Timberlake
R. Kelly
Rihanna
Alicia Keys
Joe
Will.i.am
Keyshia Cole
Young Jeezy
Erykah Badu
Wale
Frankie Beverly
Parliament
UPDATE: Ryan updated her original post, saying artists are denying the boycott because they're "uncomfortable" about announcing anything.
I obtained from multiple sources early Monday a list of artists and entertainers who my sources told me had committed to a boycott of Florida following the George Zimmerman acquittal. Since publishing that list I have heard from several representatives of the artists named who say, on behalf of their clients, they are uncomfortable being identified on that list and are seeking additional information.