And the award for this year's Album With Most Bizarre Features goes to Deltron 3030's Event II. The hip-hop supergroup's first full-length in 13 years will star longtime pals Damon Albarn and Mike Patton alongside Zack De La Rocha, the Lonely Island, Emily Wells, and Jamie Cullum, among others. As if that wasn't enough star power, the sci-fi rap trio — comprising Del the Funky Homosapien, Kid Koala, and Dan the Automator — has also lined up a litany of non-musical talent.
Actors Joseph Gordon-Levitt, David Cross, Amber Tamblyn, and Mary Elizabeth Winstead have all contributed their skills to the record, and so has Momofuku ramen king David Chang (who shows up on a track called "The Future of Food," natch). The follow-up to Deltron 3030's groundbreaking self-titled 2000 debut arrives, at long last, on October 1 via Bulk Recordings. Set phasers to swag and prepare backpacks for impact.
Like its predecessor, Event II is a concept album set in a dystopian future. Del described the plot in a press release: "The Deltron world has gone too far with technology. Everything's destroyed, and you just see the remnants … The streets are run by criminals, the police are outnumbered and outgunned, and we're like pirates, running rogue, doing what we do to survive … We're trying to be as literary as possible while dealing with a musical format. I don't know if you could even categorize this as a hip-hop album – it's more like a rock opera, but using rap." So, like, a rap opera, right? Because that's what everyone called the first one.
Before this project touches down, Deltron will release the City Rising From the Ashes EP on August 13. That short-player consists of three tracks slated for Event II: the previously heard "City Rising From the Ashes" (featuring Patton), "The Agony" (featuring Winstead), and the shockingly guest-less "Pay the Price." Scroll down to sample "Stardate," Event II's spoken opening co-starring Gordon-Levitt. Let the exosition begin.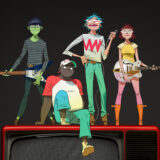 //www.youtube.com/embed/BbIEg1DSHiI
Deltron 3030, Event II track list:
1. "Stardate" (feat. Joseph Gordon-Levitt)
2. "The Return"
3. "Pay the Price"
4. "Nobody Can" (feat. Aaron Bruno of AWOLNATION)
5. "Lawnchair Quarterback Pt. 1" (feat. David Cross and Amber Tamblyn)
6. "Melding of the Minds" (feat. Zach De La Rocha)
7. "The Agony" (feat. Mary Elizabeth Winstead)
8. "Back in the Day" (feat. The Lonely Island)
9. "Talent Supersedes" (feat. Black Rob)
10. "Look Across the Sky" (feat. Mary Elizabeth Winstead)
11. "The Future of Food" (feat. David Chang)
12. "My Only Love" (feat. Emily Wells)
13. "What Is This Loneliness" (feat. Damon Albarn and Casual)
14. "Lawnchair Quarterback Pt. 2" (feat. David Cross and Amber Tamblyn)
15. "City Rising From the Ashes" (feat. Mike Patton)
16. "Do You Remember" (feat. Jamie Cullum)