DJ Koze, Burn With Me (Pampa)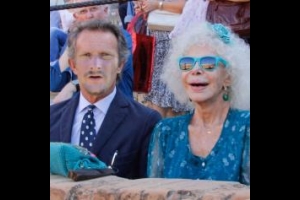 Judging from most DJs' press photos, electronic music is serious business. Downcast headshots are enough of a thing that there's an entire Tumblr, Depressed DJs, dedicated to the phenomenon. But DJ Koze is not like other DJs. He may be capable of jerking tears on the dance floor, but he tends to play the class clown in ways that, say, James Blake never will. Koze doesn't act zany for the sake of acting zany; he doesn't resort to pratfalls and props, like, say, the doofuses in Dada Life. He's more like an actual Dadaist, lacing his self-presentation (like his music) with a sense of humor that's not so much funny-ha-ha as funny-what-the-fuck-just-happened-here? That's certainly the case with the photograph accompanying his most recent Beatport chart, in which the Photoshopping DJ (last seen sitting astride a reindeer, wearing a silk brocade robe and a motorcycle helmet) has inserted himself alongside Spain's Duchess of Alba, an 87-year-old noblewoman and gossip-rag fixture famous for her plastic surgery, pasting his own face atop the body of the Duchess' 63-year-old third husband. Most fans won't have any idea what it's all about — although it's worth noting that there's a track called "La Duquesa" on his recent album — but that seems pretty in keeping with Koze's mischievous M.O. Surprisingly, Koze's latest single, "Burn With Me," finds him sounding uncharacteristically somber. In place of the oddball hijinks of Amygdala, he opts for a sparse, ruminative beat; dirgey, minor-key bass line; and ominous wailing that congeals into an oppressive choral swirl. It's not exactly joyless — Fennesz-ified organ bursts lend color and, maybe, optimism — but it's still dark, dark stuff, bumping and snapping like Four Tet having a terrible, no good, very bad day. Maybe Koze's angling for a feature on Depressed DJs after all.
https://www.youtube.com/embed/OkHxcvzt2YA?hl=en_US Dürerstuben Sheets of Rane EP (Pampa)
Also from Koze's Pampa label comes this deceptively pretty, almost suspiciously (but also deliciously!) smoove three-tracker from the Berlin duo Dürerstuben. "Gscheids Planet" falls somewhere between Daft Punk's recent "Touch" and Floating Points' radiant, pneumatic boogie. It's unusual, with a glitchy, half-speed, slightly amorphous intro gradually assembling itself into a dreamy, doe-eyed house number, but it really doesn't require overthinking; pillow talk like this rarely does. "Haeckls Kosmos" chases Metro Area vibes, all softly rounded brass synths and chiming leads, while its almost petulant bass squelch recalls Isolée's great 2005 album We Are Monster. (That shouldn't be too surprising; Pampa reissued the out-of-print LP in 2011.) Finally, "Freiherr in der Wall" Auto-Tunes a computer-generated voice that sings about trading "passion for glory" over lush, mid-tempo electro funk, piling artifice upon artifice; all that's missing is a CGI sunset. https://www.youtube.com/embed/t5yyp2kIsRQ?hl=en_US The Howling "Shortline" (Innervisions)
You could be mistaken or thinking that "Shortline" was a collaboration between the xx and Jose Gonzales; it's got the gently twanging electric guitar of the former and the heaven-sent falsetto of the latter. These are the same tricks that Los Angeles singer-songwriter Ry Cuming and Berlin house producer Frank Wiedemann used on last year's "Howling," a fetching little indie-pop number that was turned into a fetching little indie-dance number via an assist from Âme, whose remix took last summer by storm. Fortunately, they don't seem content to merely repeat past glories, despite having rechristened themselves the Howling. The song starts off as almost a carbon copy of their debut, but it gathers strength as it goes, building to a climax of wibbling oscillators and Sonic Youth-inspired sheets of dissonance. Once again, though, it's the remix that's the main attraction. Out Âme-ing Âme at their own game, he breaks down the song's constituent parts and adds a few more — trim, plucked guitar; delicately detuned upright piano; gently bashed hi-hats; and that oscillator, sounding creamier than ever — and sculpts them into a long, trembling arc of unrequited desire. https://www.youtube.com/embed/15xTckYKlTo?version=3 Ian Pooley "Kids Play (Stimming Remix")
While we're on the subject of effortlessly emo-house remixes, Hamburg's Stimming deserves a mention. His remix of Ian Pooley's "Kids Play," off the German producer's early-2013 album What I Do, is a classic Midas Touch scenario. The original was a serviceably summery house track stitched together out of playground noises, jangly funk guitar, and contrapuntal vocal lines, but it never quite gelled; it felt more like a collection of samples spread out across a house beat. But Stimming manages to locate the shape of something more substantial hiding inside, and he draws it out line by tantalizing line until it feels like a real song, complete with a demure acoustic bass line and subtle string flourishes. Like Koze, Isolée, and the Innervisions crew, it expertly balances moody affect with a hint of optimism; looks like it's going to be a good summer for conflicted emotions on the dance floor. (Stimming's remix is out now on iTunes, along with mixes from Matthias Vogt, Kyodai, Delano Smith, Daniel Dexter, Magik J, and Suburban Dance Club.) https://www.youtube.com/embed/5n3CLeRd0rA?hl=en_US Sagat Satellite (Vlek)
The Belgian producer Sagat makes techno of a dark, dusky, hesitant stripe; Ben Klock tapped his debut EP for last year's Fabric mix, which should tell you something about the dimly lit dimensions of his sound. His new EP gets its muted melodic sensibility from early Autechre and its geysers of white noise from Actress; the 2-steppy skip of "Satellite" takes after Burial and Zomby at his most morose. But these four tracks are far more than the sum of their influences. Sagat's churning murk always leads deeper inwards, where half-dissolved beats are filtered through strange, sullen melodies, all of it as bleak as silt from the bottom of the river Styx.