Courtney Love is a busy lady these days. Not only is she in the middle of her "I'm Still Alive" summer tour, she's planning to release an album (possibly titled Died Blonde) and a memoir sometime around Christmas. The only potential roadblock? She hasn't finished either.
It's been "three or four years" since she signed a book deal with HarperCollins, and after putting it off she says she'll have it done by August, with a little help. "I have a co-writer now so it's actually much easier," she told Canoe. "I think his name is going to be on it but, I don't know. If I can avoid his name being on it I will happily do that. Basically he sits there and I talk and then somebody transcribes what we talk about and then I go attack what's on the written page and make it more literate."
Anyone who's seen her Facebook and Twitter rants might wonder how literate it could be, but hey, that's what editors are for. And while she's working on the new record, which she describes as "dirty" and inspired by acts like the Stooges, she's bummed that rap is dominant these days. "On paper, I like rap. In real life … I don't get it," she said in an interview with The Grid, also noting that she's "friends with Russell Simmons, I'm okay friends with Jay Z, I'm friends with Eve … I think Kanye's kind of a giggler."
That "okay friendship" with Jay Z helped fill her bank account, after she signed off on his use of the "Smells Like Teen Spirit" lyrics on his Magna Carta track "Holy Grail." Asked if she's upset that her late husband's iconic song was being used in hip-hop, she replied, "It's fine. He paid enough for it."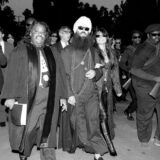 Might we suggest Paid Blonde as a potential album name?