When Matt Berninger landed in New York City in August of 1996, he moved into what he wryly describes as a "converted, semi-converted, mostly unconverted" loft space in Gowanus, an industrialized chunk of South Brooklyn that takes its name from the disease-ridden canal that divides the neighborhood. He remembers stolen cars left to burn on dead-end streets, rats scuttling around indoors, and a cardboard box sitting in the middle of the street in front of his building one morning. "It looked so suspicious, I had to go to see what was in it," he says, grinning. "I opened it up and — this is absolutely true — there, inside the box, was a headless chicken and a double-ended dildo." He sighs and cackles. "It's where this band started — inspiration struck."
Berninger, freckled and rangy at 42, is seated in a verdant garden behind Sycamore, a bourbon bar and flower shop along Cortelyou Road in Ditmas Park, a less foreboding, residential section of Brooklyn that, aside from its connection to his increasingly successful outfit the National, is known for its peeling Victorian homes and the vast lawns that hug them. Hot and humid, today marks the May release of Trouble Will Find Me, the National's sixth LP since Berninger and his bandmates — brothers Scott and Bryan Devendorf and identical twins Aaron and Bryce Dessner, all fellow Cincinnati transplants — first began recording four-track demos at his place in the late '90s. Some 45 minutes before noon, a tweet and an Instagram were sent from the band's accounts, inviting followers to "join [them] for lunch" and the first of three secret shows scheduled to take place throughout the course of the day, each booked in a local venue that helped shape the National along the way.
Though Sycamore is blocks away from where Aaron Dessner lives, it's one of the few rooms the National have yet to play in New York, a city whose DNA has become entwined with their own. They've brought their brand of deeply nuanced brooding to 40 different clubs, by their own estimation. They played the last show at Brownies, the dearly departed East Village dive commonly remembered for its part in the early-2000s rock renaissance. They performed the first sets at both Brooklyn's Music Hall of Williamsburg and Manhattan's Terminal 5, two of the city's most recent and steadfast additions. And on June 5, they'll become the first locally sourced rock band to take the stage at Barclays Center, home to the Nets and a state-of-the-art monument to the 21st-century Brooklyn they've come to represent.
In a city whose complexion and interests change weekly, the National have survived by remaining remarkably consistent, outlasting wave upon wave of their peers in the process. Theirs is a story marked by struggle, humiliation, near-masochistic levels of persistence, and a lot more humor than their songbook would lead you to believe.
"The truth is," Berninger says, "I'm pretty lighthearted. But hearing [our music] tends to make me dwell on the melancholy and romantic and melodramatic. I get into it. I enjoy swimming around in it and wallowing in it. But that's just one side of my personality."
"The National are a band about songs," says fellow Brooklynite Annie Clark, who writes and records as St. Vincent. "I think what we've seen in the past 10 years is that music has become really easy to make on your own, and it's become similarly easy to get some initial attention on the Internet. But it's not that easy to write great songs and it's not that easy to connect with people in the heart. They've managed to do both those things. Every National record is of a certain quality and every song is of a certain emotional resonance. They connect with people on a real gut level. That's why they have staying power."
Drawing power, too. At Sycamore, it's a few minutes after the doors open and the bar's cramped, hallway-like space has already filled with friends and fans, the majority of which are either bald, bearded, or bespectacled. In the back, two neighborhood teenagers are milling around, sweating underneath ceiling fans in their black felt yarmulkes. The band's friend, neighbor, and longtime collaborator Sufjan Stevens keeps mostly to himself in a sleeveless Ghostbusters tee, an orange messenger bag over his shoulder. Babies are out of their Bjorns, being outfitted with ear plugs. The air is thick with the smell of local, carefully hopped craft ales and the perfume of roses and hypericum, lilies and lavender lining the front windows, open now so that the sound can reach a large crowd assembling on the sidewalk.
"Thanks for coming and drinking with us so early on a Tuesday," Berninger says, cheerfully, raising a glass of white wine in the air as he gets settled behind the mic. "How many of you are getting fired today?"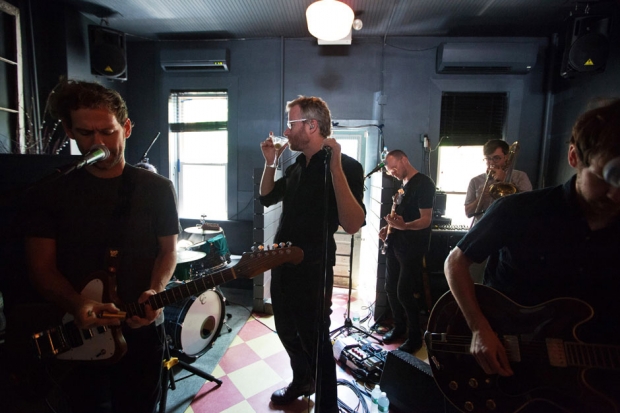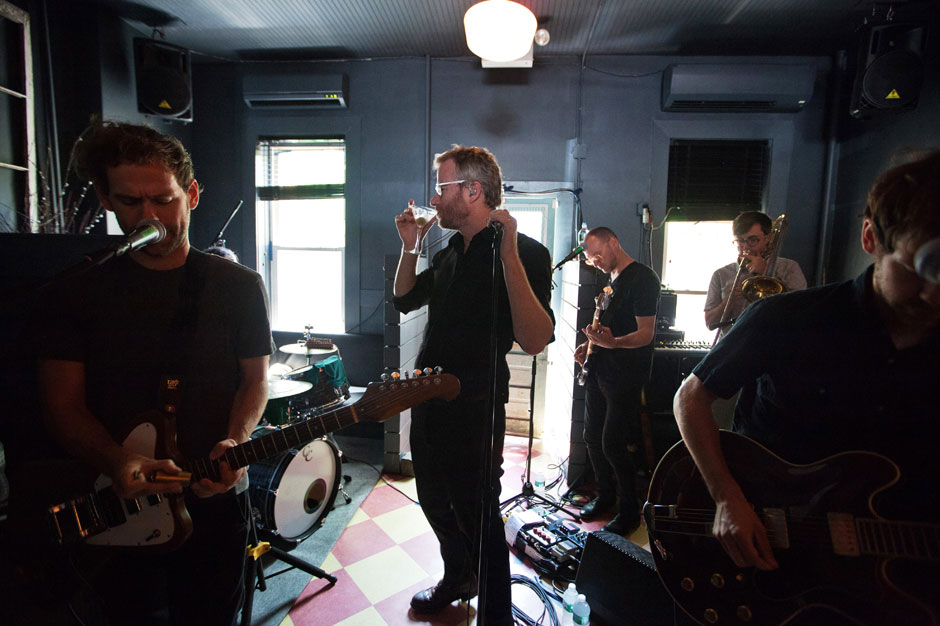 Blood or no blood, it was natural that the members of the National would join forces once they'd all come to New York. While students at the University of Cincinnati, Berninger and Scott Devendorf, 40, had played alongside one another in a short-lived garage outfit named Nancy, while their younger counterparts, Bryan Devendorf and the Dessner twins, now 37, had made music together since they were teens, eventually touring in short spurts as Project Nim, a folk-rock collective that reflected their progressive musical interests — Bryce Dessner studied guitar at Yale School of Music and has collaborated with Steve Reich and Philip Glass — but lacked a force they'd been seeking.
"It was clear that Matt had something," Bryce says of hearing Berninger on those early four-track recordings. "To this day, even when I hear good bands, I often find their frontmen unconvincing. But there was always something about Matt and what he was saying and how he was saying it and how he's struggling to say it that we're able to get behind. It's convincing."
Using their earnings from day jobs both stable (Berninger and Scott worked in graphic design, Bryan as a copy editor) and unstable (the Dessners scraped by as personal assistants, sound guys, and guitar teachers), they all chipped in to rent a South Williamsburg practice space. They began writing songs that drew strength from Berninger's moody baritone, which elicited "dad rock" comparisons, the frontman laments, "before any of us were even dads." But as the National released their self-titled debut in the autumn of 2001, the world was already falling in love with New York rock bands who were on a more stylishly grimy wavelength, namely Manhattanites such as the Strokes, the Walkmen, Yeah Yeah Yeahs, the Bravery, and Interpol, a band that became an early benchmark.
"We practiced next to [Interpol] and I remember hearing them for the first time through the wall and thinking, 'Wow, that band is really, really good and this is great; we're in a healthy, creative space here,'" Berninger says of New York in 1999. "Then, a couple of days later, SPIN was shooting [Interpol] in the hallway of the practice space and they all just looked so cool in their suits. I had my khaki pants on from work and had to weave through them as they were taking photos, feeling the entire time like, 'Fuck, we're definitely not those guys.' But we were always aware of the distance between us and those bands. We weren't going to connect with people on that level. From day one, we wished we were cool. But we weren't, not like them. We were going to have to connect with people on an emotional level."
It took time to create that connection. For the next four years, the National went largely ignored as they continued to write, record, tour, and play out in the city, often to little more than the friends from work they'd begged to come. There was the time they played to no one but the bartender in Louisville, the time they were paid not to play at all in Orange County, and the time one highly influential New York label responded to a submitted copy of their self-financed second LP, 2002's Sad Songs for Dirty Lovers, thusly: "[Matador] has no interest in the National and never will." (The A&R person responsible for the dismissal, while no longer with the label, has apologized.)
There were glimmers of hope brought on by growing crowds in France and the U.K., followed by more disappointment at home. But before long, all that tension and hurt began to galvanize the music. In late 2005, an ecstatic online review of Philly-Brooklyn yelpers Clap Your Hands Say Yeah's self-released debut LP sent hordes of web-bound music nuts flocking to see them as they opened for the National on the band's most important tour yet, a headlining run in support of Alligator, an album that had the urgent sound and feel of a real breakthrough. But the interest in CYHSY was so myopic that audiences would head home as soon that band was finished, leaving the National looking out, again, at empty rooms.
"That was one of our darkest moments," Berninger admits. "It quickly got to the point where [Clap Your Hands Say Yeah] would finish onstage and we would hurry to try to get out there and play our fastest, catchiest song just to stop people from walking out. It stung, but in a weird way it had this boomerang effect. Right around then, we got even steelier about our resolve. And that's when we really started getting good."
A few hours after the Sycamore show, Scott Devendorf and Bryce Dessner have arrived at what is, to them, the barely recognizable interior of Public Assembly, the Williamsburg club formerly known as Galapagos Art Space. Every surface has been painted black, the stage has been moved, and now there's a full-service bar. "This is fancy compared to how it used to be," Scott deadpans. "This is where Matt first started to scream," says Bryce, who briefly worked as a sound tech here. "He was screaming so people would shut up and listen, because they would constantly talk over us."
The area outside the club has changed just as much. Once an industrial enclave for artists and home to 2000s-era titans LCD Soundsystem and TV on The Radio, this cleaned-up and under-construction corner of North Brooklyn now resembles Manhattan. Single-file lines of Chinese tourists in Givenchy crawl past on their way to the East River waterfront, while tattooed Europeans slurp green smoothies as they meander into heritage menswear boutiques and traipse out of high-end coffee shops, the latter invariably full of young freelancers at one with their laptops. Another long-awaited condominium complex has been unveiled across the way on North 6th Street, and next door, a Hasidic man in a yellow hard hat is overseeing a demolition crew as they make way for more. "Ten years ago," Bryan says, "it was a lot darker here at night. I feel like we're probably somewhat responsible for the high real estate prices."
But the line to get in to this second show is both long and diverse. "Holy fucking incredible," says a barrel-chested frat guy to his friend, both of them stopping to marvel at the venue's relatively intimate size as they enter, throwing their arms around one another and singing along as the band locks into "Bloodbuzz Ohio," a particularly sonorous cut from 2010's High Violet.
"Be honest," says Berninger, asking for a show of hands. "Did anyone here see us play this room when it was called Galapagos?" The crowd replies with silence, followed by bits of nervous laughter. "I know my old roommate did," he says, shielding his eyes to better see out from the stage. "Is he still here?"
There are maybe a hundred people in the room right now. Of the 14,000 tickets made available for the Barclay's show, 12,000 had been sold by release day. Which means this set — like this morning's and this evening's — counts as practice. "It's definitely a high-pressure show," Bryan says later about their first arena-headlining gig, just two weeks away. "I mean, I already feel like kind of a dumb-ass being up onstage in general. It's kind of ridiculous if you think about it. So it'll be like that, but on a much bigger scale."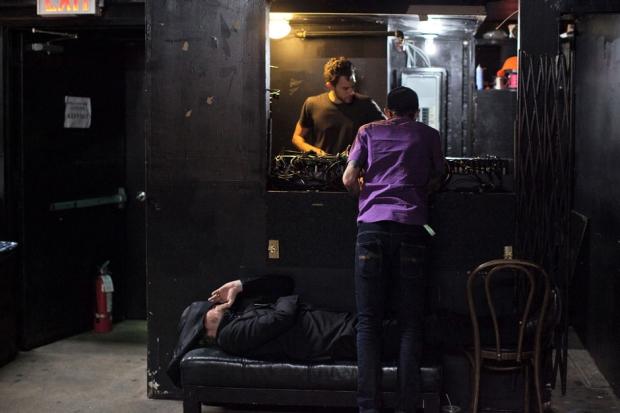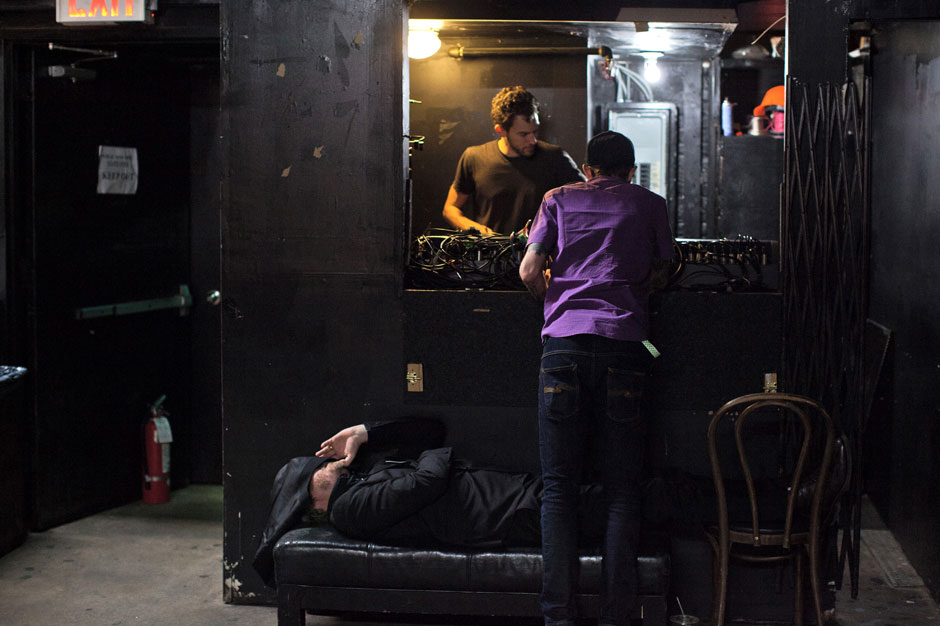 In the fall of 2011, the National headlined a week-long, sold-out stint at the historic Beacon Theater on Manhattan's Upper West Side, a celebration that brought four consecutive years of touring and recording to a close. They'd opened for R.E.M. in amphitheaters and for Obama on a 2008 campaign stop in Cincinnati. They had built their own home studio space in Ditmas Park, curated intimate festivals in both Brooklyn and Cincinnati, and sold hundreds of thousands of their own albums by way of 4AD, the venerable London indie label that now shares ties with Matador as part of the U.K.-based Beggars Group. In the process, they've become comfortable with themselves and their work in a way they hadn't before.
And in the days following their run at the Beacon, Berninger resolved to "put the band far away on a shelf somewhere and not think about it for a year," so that he could finally spend time with his wife and two-year-old daughter. But within weeks, Aaron, at home with a newborn, started sending him song sketches. By late spring of 2012, Berninger had written so many lyrics that the National had more new material to record than they'd ever had before. "This," Berninger says of Trouble Will Find Me, "is the first record I've had fun writing. Every [other] time, there's been an attempt to avoid sad songs. I never could. But this time, in particular, I just didn't care. Ultimately, if the song was good, it was good. And that's all that mattered."
The ease with which they've approached each arrangement can be heard best in its opener, "I Should Live in Salt," a warm, cloud-parting number written with Berninger's wayward younger brother Tom in mind. "Once it came," he says, "it became clear we needed to make a record right away." Just over a year ago, Tom moved out of his parents' home in Cincinnati to stay with Matt as he edited what would become Mistaken for Strangers, a tour movie-turned-exploration of the siblings' relationship that's as devastating and poignant as anything the older Berninger has written. Since premiering at the Tribeca Film Festival in April, the film has enjoyed critical praise, and Tom has received inquisitive phone calls from both Judd Apatow and Michael Moore.
It's a career turn that the band recognizes. "What we've been through is what most human beings go through," says Aaron of the National's trajectory. "They work a job and they struggle. Most people don't get famous at 23. I really think that some of our success comes from the fact that we were tough and that we always treated people around us well. We played shows with the same passion and force for three people as we do now for thousands."
It's now after dark, and as Berninger takes a step outside the day's final stop, Lower Manhattan's Mercury Lounge, he's met with flurries of flash bulbs. A couple has come for their wedding anniversary, and asks to take a photo to commemorate the occasion. Two massive lines of excited ticket-holders and hopeful non-ticket holders extend outward like tentacles in either direction down Houston Street. It's been eight years since the National last played here — tonight marks the 13th time they've taken Mercury's stage — but they've never filled the 250-capacity club until now, and fans have been offering sexual favors on Craigslist in exchange for tickets.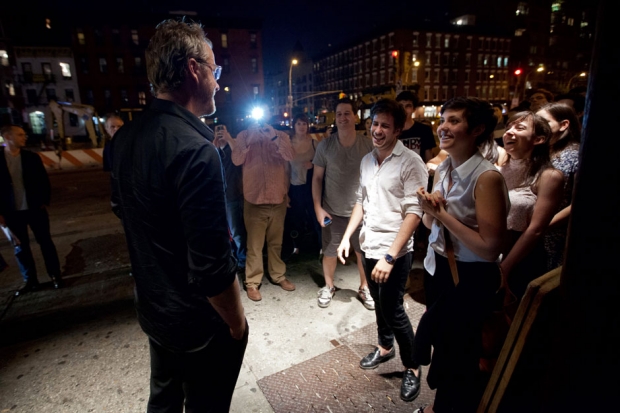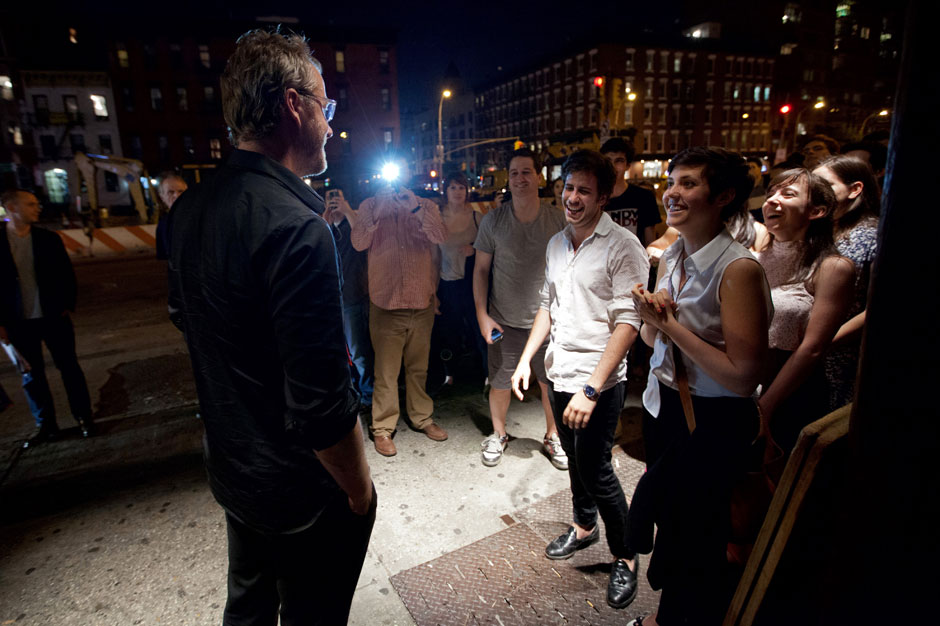 "It's one of my most significant memories," Berninger says, as he steps back into the bar, of the National's first gig at the Mercury Lounge, in June of 2001. "To me, this was what CBGB was in the 1970s. It was the real deal, it was the show, you know? I saw Cat Power here. I saw the Strokes here." He shakes his head, as if in disbelief. "In [Mistaken for Strangers], I tell my brother that I went home after that first show and I shut the door and I cried. But the longer version of the story is that I was overwhelmed with excitement. Yeah, we went on really early and it was terrifying and it was humiliating. But that night I also felt like, for the first time, 'We're a real band.' I went home and lost it, but it was release. It was triumph."
Back then, Bryce says, the Mercury Lounge's floors were still hardwood, rather than their current concrete, and "[Matt] was still chain smoking and drinking whiskey" onstage. Now, like any desirable neighborhood in New York, this area seems alien and familiar all at once — vacant lots or old stores now replaced by condominiums. And in what has become an increasingly typical progression for no-longer-all-that-young New Yorkers, three-fifths of the National have opted to leave: Berninger and his family are moving to Los Angeles, Bryan is heading back to Cincinnati with his wife and two kids, and Scott and his wife will be relocating to nearby Long Island. "We feel like strangers in New York," Bryce says, looking around the basement's green room, at his bandmates and their wives, and up at his older sister, Jessica, who's massaging his injured back. "It's always changing and it doesn't always feel like home. But being here has driven us. We became close here."
Upstairs, Berninger and the band cruise through songs new and old, including "Abel" and "Mr. November," favorites from Alligator that would have been received with much less fanfare in 2005. They reminisce and laugh onstage, tell stories and drink red wine from plastic cups. Grown adults are losing their minds, shouting Berninger's every lyric back at him. And after the last number, as he makes his way off the stage and through the crowd to the basement steps, a woman in a striped mini-dress grabs his shoulder and repeats three times, "I love you, I love you, I love you," before finally letting him go.