With Pink Floyd bowing before the beast this week and allowing Spotify to stream its music, one of the biggest digital-music holdouts has finally relented. The prog-psych colossus follows Bob Dylan, whose music was pulled from Spotify in 2009 before reappearing in January 2012, and Metallica, a longtime holdout which made its music available on Spotify last December.
Even with those high-profile feathers in their cap, the streaming-music services still have stubborn detractors who refuse to make their catalogues available for free listening. Here are some of the biggest remaining holdouts and what's kept them from joining the dark side:
Garth Brooks: The best-selling album artist in the U.S. in the SoundScan era (since 1991) is not only absent from streaming services like Spotify, but his music isn't even available on iTunes. Brooks says it's because he believes so strongly in the album, which he says is "a reflection of who the artist is at that time." Like Metallica, Brooks owns his own master recordings, though, meaning he would make a lot more money from streaming than most artists who are only paid performance royalties.
AC/DC: After nearly a decade of telling iTunes to get lost, AC/DC gave in last November and allowed Apple to sell their music. Spotify has yet to receive the same honor. On the bright side, Brian Johnson did go from saying iTunes would kill music in 2008 to partnering with the service four years later. So there's that.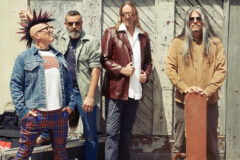 Led Zeppelin: Back in January, Led Zeppelin began shopping their catalog to a number of streaming services. Unlike most artists, the legendary band sought an exclusive, lucrative deal that would boost the profile of whichever service landed its songs. As of today, no deal has been consummated.
Bob Seger: As with most artists on this list, the leader of the Silver Bullet Band began as an iTunes holdout. In 2011, Seger relented and gave Apple two live albums to sell, but Spotify remains bereft of "Night Moves" or "Against the Wind." When Seger finally caved to iTunes, it was, as his manager said, to keep him "current." If that goal remains, Spotify shouldn't be too far behind.
Tool: Maynard James Keenan's band doesn't have a unique reason for staying away from digital music – like many on this list, he doesn't want his band's work consumed in random pieces. Unlike most, though, Tool is truly committed. The band's music isn't on iTunes or Spotify and it has never allowed its label to split up its songs into a greatest-hits collection. Gotta respect those principles.