The 15 Best Things We Saw at Orion Music + More 2013
Last weekend, Metallica's Orion Music + More festival descended upon Detroit for the first time, bringing an eclectic line-up of bands hand-selected by the thrash merchants themselves. Beyond careening through a smattering of art-metal outfits, reunited punk legends, indie-rock critic's darlings, and the fest's first EDM tent (a.k.a. the "Sanitarium"), you could watch a film picked by drummer Lars Ulrich, gawk at guitarist Kirk Hammett's collection of horror memorabilia, peep frontman James Hetfield's collection of custom cars and hot rods, or eat a Faygo cake pop from local pop-up Guns and Butter. As bassist Robert Trujillo described the weekend, it's "like a big-ass BBQ."
1. The 15 Best Things We Saw at Orion Music + More 2013
1/24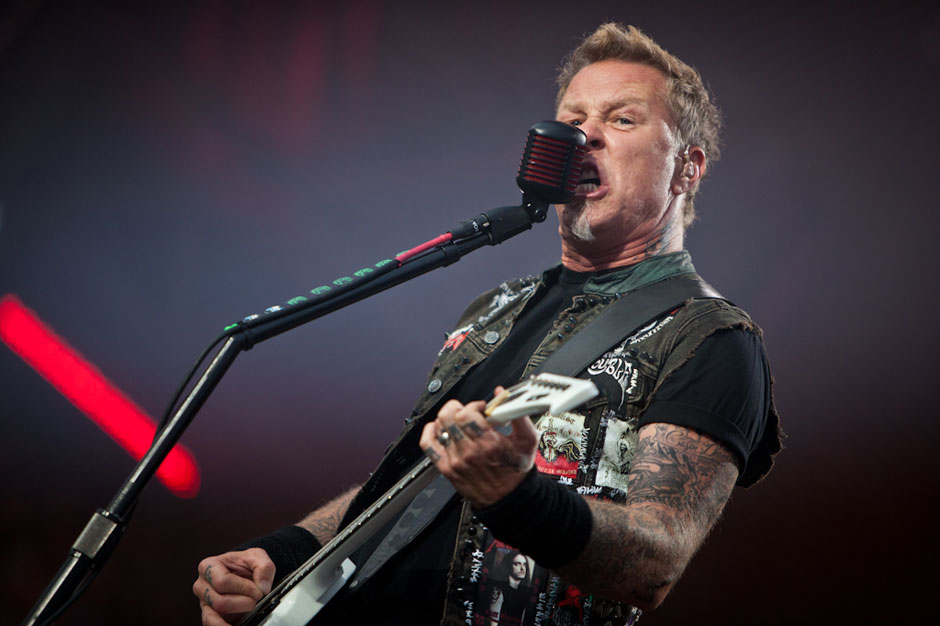 2. Best Surprise: "DEHAAN," a.k.a. METALLICA
2/24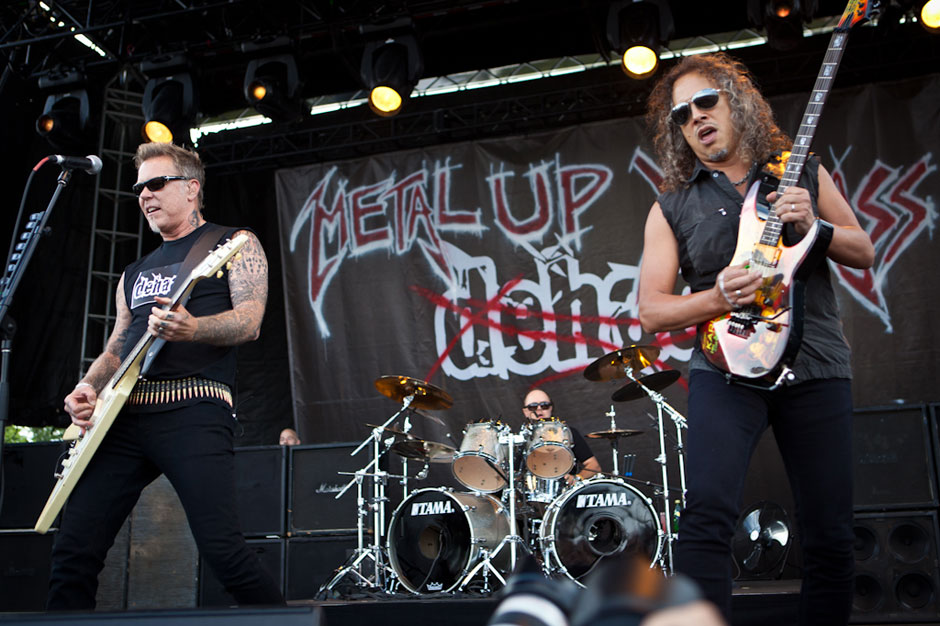 The mysterious Dehaan, listed on the final line of the Orion line-up, scheduled for a 4:30 p.m. side-stage slot up against the Dropkick Murphys, turned out to be a sneaky Metallica playing their landmark debut Kill 'Em All in honor of its 30th anniversary. It wasn't exactly the best-kept secret (James Hetfield's Instagram was letting people know shenanigans were afoot), but clearly wasn't the worst-kept secret either, as the crowd gathered was maybe a little bigger than Dead Sara's. People had pieced things together on the Metallica forum or just heard rumors standing in the shuttle line. "METAL UP YOUR ASS" was spraypainted over a Dehaan logo, and to many, that meant the gig was up. "If the band's gonna have Metal Up Your Ass at a Metallica Festival…" mused Jordan, 23, before the set. "That's Lars' roadie." They were still speculating until the father of departed bassist Cliff Burton walked onstage, taking a seat on the sidelines to watch Robert Trujillo play his son's bass solo on "(Anesthesia) Pulling Teeth" for the first time since Burton's passing in 1986.
James Hetfield, with a Dehaan logo pinned to his shirt, came out with a guitar strapped on: "I'm not here to introduce Dehaan. They're from Baltimore, total mystery band. No one knows anything about them but us." As Metallica launched into "Hit the Lights," the audience was too busy capturing this intimate Metallica gig on camera phones to really mosh. Proud of his little secret, Hetfield seemed the most excited, vibing with the fans up front and grinning during "The Four Horsemen": "We hope you knew, but we hope you were surprised." By the time they got to side-A closer "Whiplash," much of the fest had funneled over to their corner.
When Metallica played their festival-closing set the following night, Hetfield was still talking about the "Dehaan" set onstage. Their road-tested headlining show — similar to what was offered at the Big 4 event and Orion 2012 — still has the pyro for "One" and the big black beach balls for the closer "Seek and Destroy," giving it a note of Broadway polish. What little surprises they had — covering hometown hero Bob Seger's "Turn the Page," and digging out two alternative-era Metallica songs with "Carpe Diem Baby" and "I Disappear" — paled in comparison to the fun of Dehaan, but was nonetheless reliable, workmanlike, and full of fireworks, literal and metaphorical.
3. Best Obliviousness to the Metallica Crowd: RED HOT CHILI PEPPERS
3/24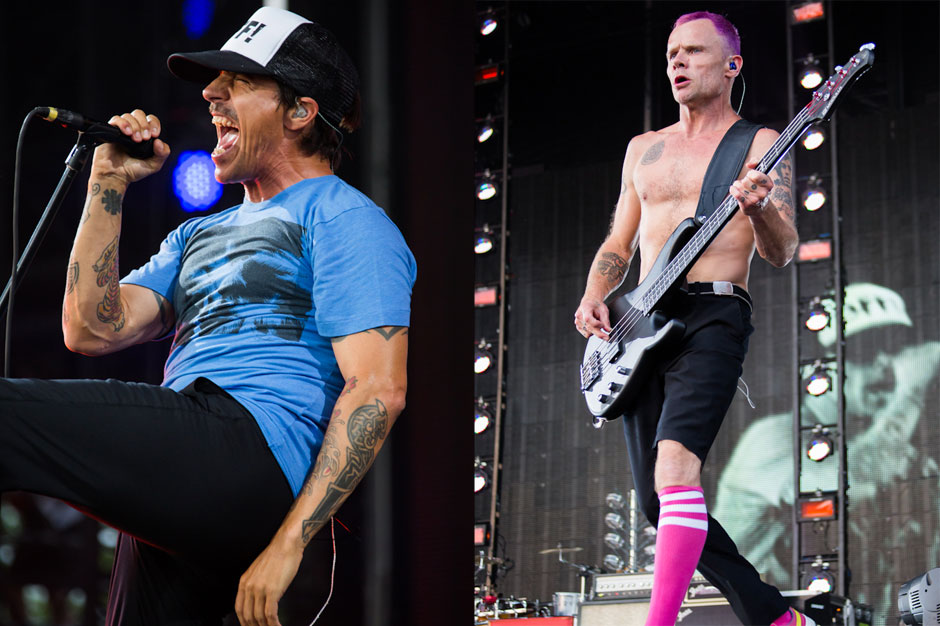 Having been picked to headline Saturday night by the guys that wrote "Harvester of Sorrow," the Red Hot Chili Peppers could have done their heavier, punkier, meaner material. Instead, bassist Flea recited the first 14 lines of William Blake's poem "The Tiger" ("Aw, fuck, I can't remember the rest") and pledged his "wish for you all to have peaceful days full of love and kindness." They breezed through their breezy ballads — "Californication," "Soul to Squeeze," "Scar Tissue," "By the Way" — and added disco calls to "The Adventures of Rain Dance Maggie." Guitarist Josh Klinghoffer may have been the Pepper to truly take advantage of the surroundings, playing a broken version of Metallica's "Unforgiven" before launching into its fellow Class of 1991 slow-dance "Under the Bridge."
4. Best Show by a Non-Headliner: DEAD SARA
4/24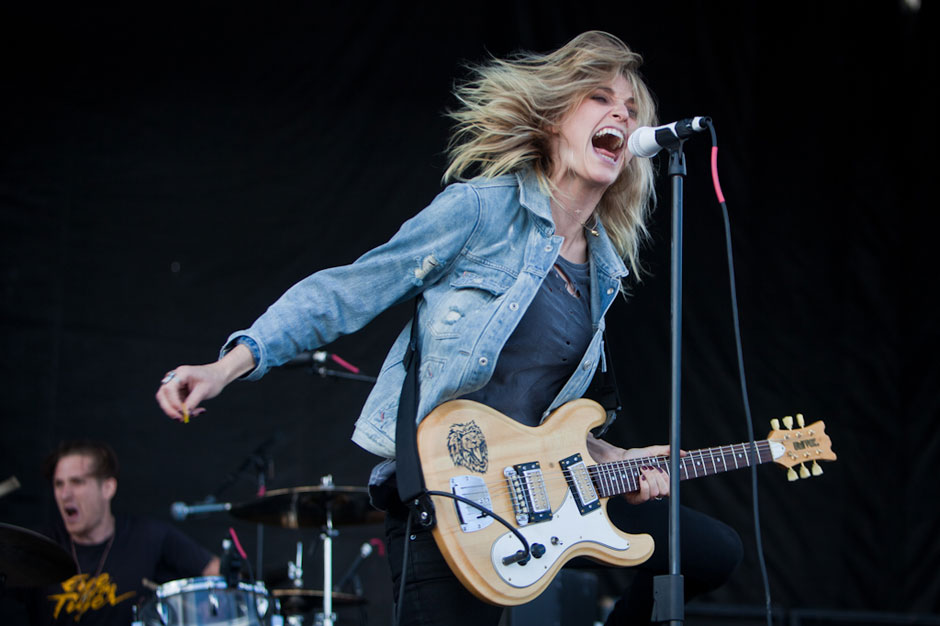 The first thing you heard wandering over to the Vans Damage Inc. stage was Emily Armstrong's voice, huge and punky and pop — like the huge, punky, and pop voices of Pat Benatar or "Voices Carry"-era Aimee Mann. Without any deadweight in the line-up, the other three members of her band flailed and banged around hungrily, itching to create some word of mouth, hoping to garner something more than that No. 35 Alternative Radio hit, "Weatherman." Armstrong swung the mic like At The Drive-In, threw out a "That's what she said" joke like Garth Algar, and lunged at the crowd before Dillinger Escape Plan. This modern-rock band's live show rivaled the ferocity of many of the metal bands on the Orion bill.
5. Best Workout: DEFTONES
5/24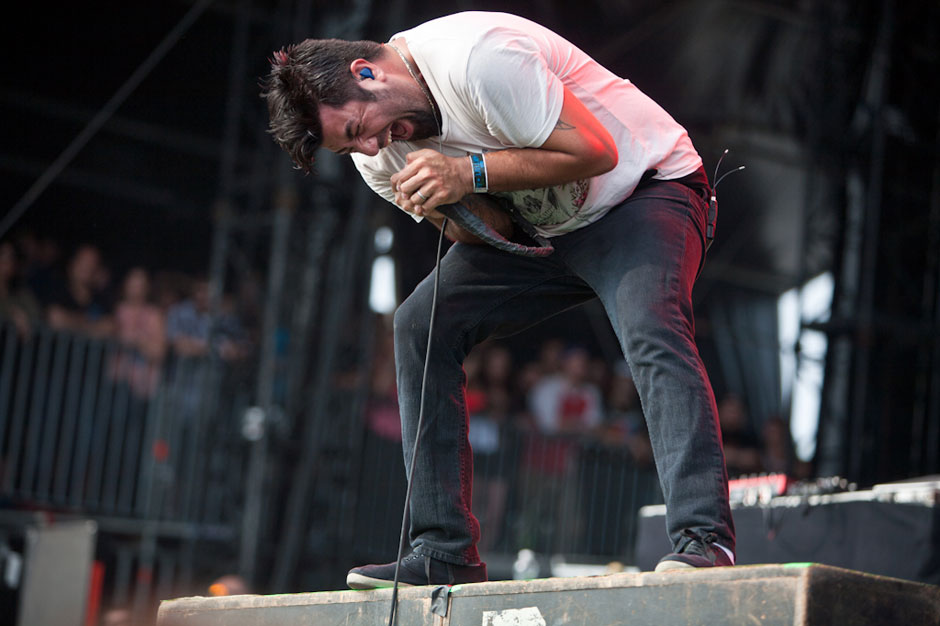 Leading the most anticipated set outside the weekend's headliners, Deftones frontman Chino Moreno clearly did not want to disappoint. He would dig into his scream — melodic and resonant, like the band's shoegazey guitar tones — and then immediately run around the stage. He was jumping up and down like a hyperactive child, mic tied around his wrist so he wouldn't lose it, and already crowd-surfing just eight minutes into the set.
6. Best WTF: DESTROID
6/24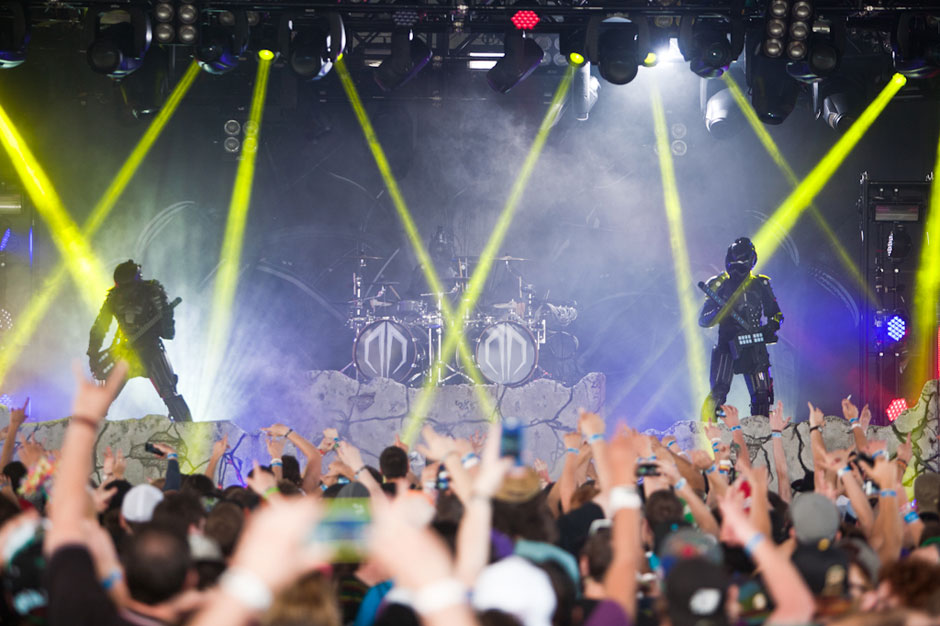 If dubstep is the new metal, it's only right that we already have our own GWAR. Bass-music supergroup Destroid — Excision, Downlink, and KJ Sawka — are EDM showmen, stepping out from the podium (or the pyramid) to give the crowd a taste of traditional heavy-metal thunder. They set up like a band — guitar, bass, drums — wearing huge robot suits that make them look like a combo of Daft Punk, Predator, and the Teenage Mutant Ninja Turtles during the Coming Out of Their Shells tour. Their guitars were simply assemblages of buttons and knobs that, when pressed, presumably made music. Drummer Sawka has a gentle touch that would get him booted from any band louder than Of Montreal and the other dudes did little more than bounce in place. But still, their giant sawblasts and fun, light-up energy (they could motion to everyone to raise their fists during "Raise Your Fist") gave this the feel of a rock show. And the crowd responded with traditional rock audience glee: water tossing, shirtless dudes moshing, and frantic security guards trying to get someone to put out sparklers.
7. Best Reunion: INFECTIOUS GROOVES
7/24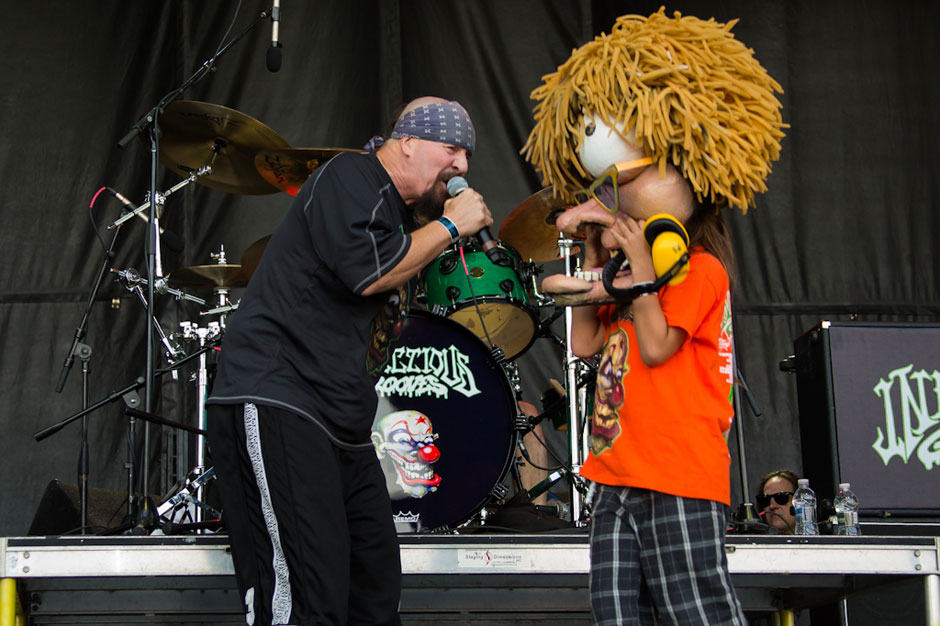 No shots at FLAG, Death, Rocket from the Crypt, or Vista Chino — but this one-show-only reunion of all-star '90s funk-metal side-goof Infectious Grooves was the nostalgia trip of the weekend. The stage was awash with alt-metal icons — bassist Robert Trujillo (Metallica), drummer Steven Perkins (Jane's Addiction), vocalist Mike Muir (Suicidal Tendencies), and fill-in guitarist Jim Martin (Faith No More) — but still had a scrappy "let's get the band back together" feel, taping down their own setlists and Trujillo himself motioning for the costumed freaks to come out from the sidelines to party.
Despite the amount of talent onstage, it was hard not to watch the long out-of-commission Martin (his old bandmate Mike Patton could be spotted watching from the wings, too). He always cut a serious, shadowy, imposing figure in Faith No More (he was the only one who didn't play along in the iconic underwear photo), but seemed totally game to add background vocals ("Go psycho! Go psycho!") for a band who has brazenly ridiculous lyrics like "Nookie nookie / I'll try her cookie." Best of all, he brought his The Real Thing-era guitar tone, which elevated the sound of the slap-bass cover of Led Zepplin's "Immigrant Song" or "I'm Gonna Be My King," which was already a Faith No More rip-off in 1991.
8. Best Rap Show: DEATH GRIPS
8/24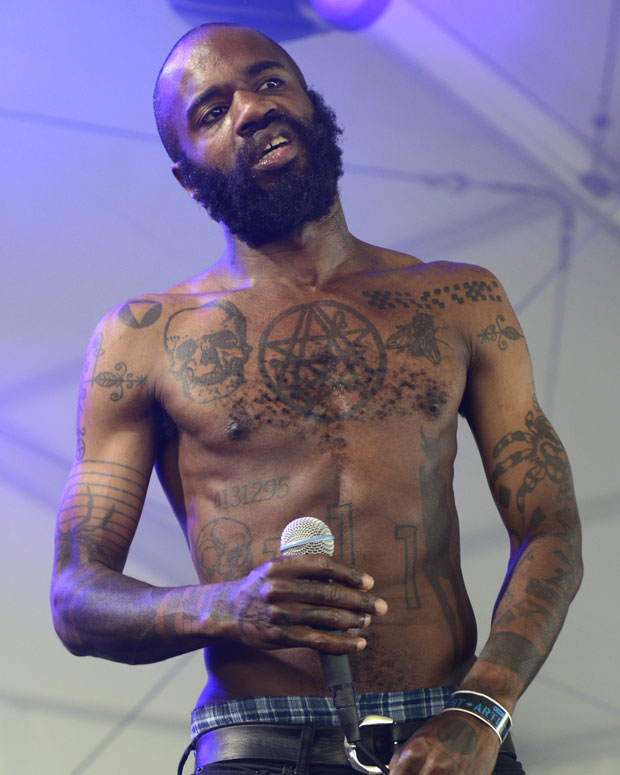 Okay, to be fair it was the only rap show, and the first time the genre has been represented at any Orion (maybe Metallica's had bad experiences). But Death Grips' set looked even more like a traditional hip-hop show than usual since they didn't bring their multimedia flashing computer monitor set-up, Andy "Flatlander" Morin was back in the fold to DJ (or whatever he was doing back there), and splattery drum octopus Zach Hill was missing in action. Without Hill, the kinetic MC Ride had more room to run around on the stage — and he took full advantage. It's hard to tell whether Ride was actually putting out more energy or if he was just more watchable without Hill's busy limbs wrangling for attention, but he double-fisted the mic, yelled his guts out, and sprawled on the ground until the mic started feeding back in the monitors — amping up a very small, very young, very excited crowd.
9. Best Contrarian Scheduling Conflict: TOMAHAWK
9/24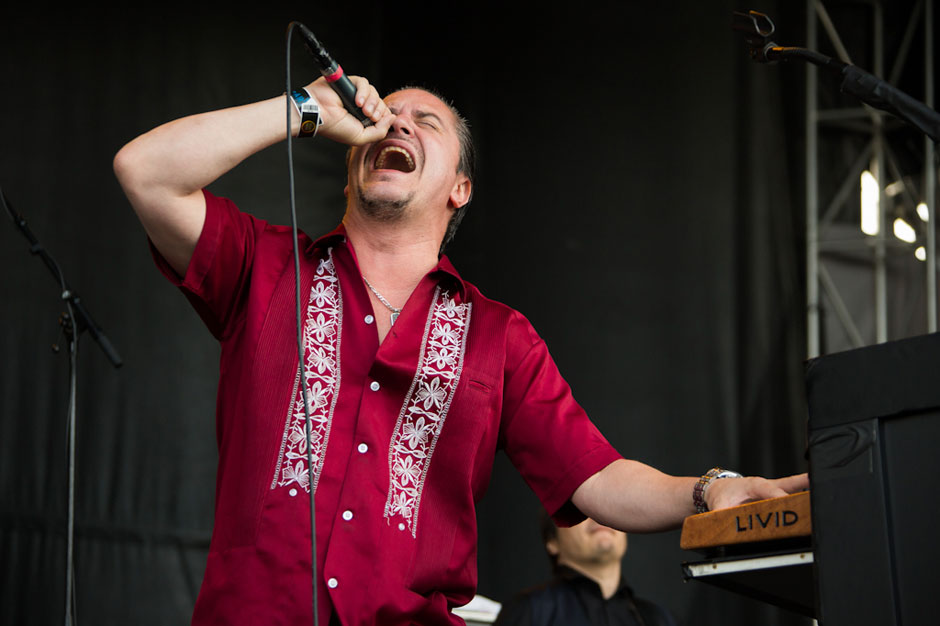 Even Tomahawk front-screecher Mike Patton couldn't help but notice that Metallica was doing a surprise set just feet away from their sparsely attended throwdown. "Is Metallica done yet? What song are they playing? Because obviously I would be over there, too." He leaned off the edge of the Fuel stage to try to get a peek and quizzed bassist Trevor Dunn on what son they were currently blowing through (according to our notes, it was either "Seek and Destroy" or "Metal Militia"). "Thank you, guys, for listening to us, Patton said before launching into the high-octane "Rape This Day." "You must be really fucking bored."
10. Best Comedy Set: THE DILLINGER ESCAPE PLAN
10/24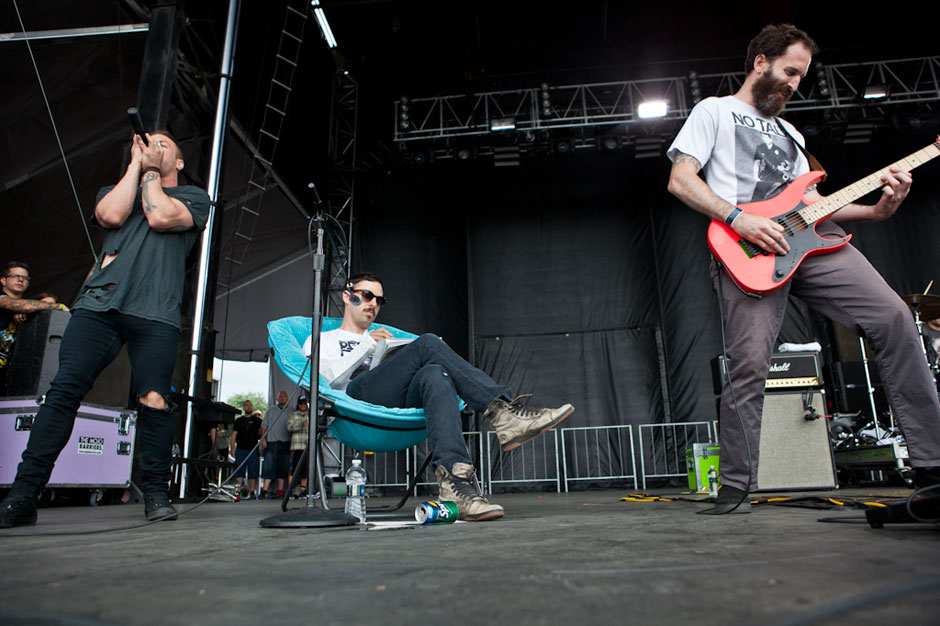 A 3 p.m. Orion slot induced probably the most mellow set in history from one of the best live bands in existence. Guitarist and onstage dervish Ben Weinman broke his hand, and couldn't perform his usual guitar-flipping, amp-diving insanity. (Said lead singer Greg Puciato: "I've never missed a show, asshole.") So, they used this show as a chance to do an hour of comedy with some songs in between. Weinman spent the set in a beach chair, reading a Revolver, occasionally holding up a sign to show his approval or disapproval of how the band was doing without him (one just said, "That sucked"). At one point, Robert Trujillo came out to towel off the tired judge. Puciato joined in the fun, taping his own left hand behind his back — "If Ben can't use his left hand, I can't use my left hand" — before saying, "Fuck this," and climbing the scaffolding.
11. Best Fish Out of Water: JAPANDROIDS
11/24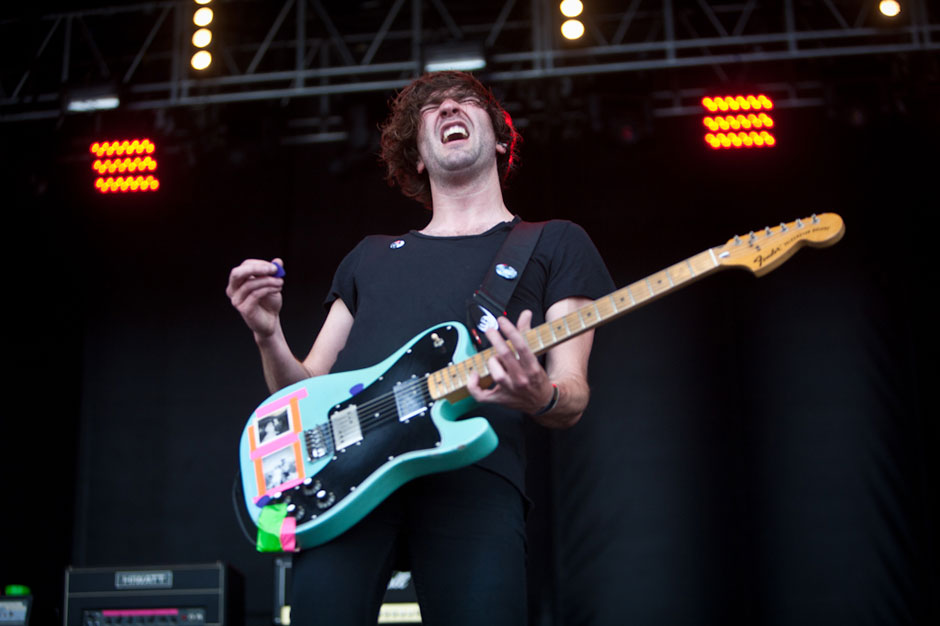 Japandroids were playing the Best Coast Slot — the cheery, hipster-friendly band on the Orion line-up who brings less of an aggro edge, the type of band that says "Thank you, kind sir" when making requests of the sound guy. Like Springsteen-plus-Hüskers in both look and sound, this is a band with a reputation for imploding clubs, but at Orion it was just two dudes playing anthemic songs on a huge stage while people sang along.
12. Best Dubstep Sludge: DATSIK
12/24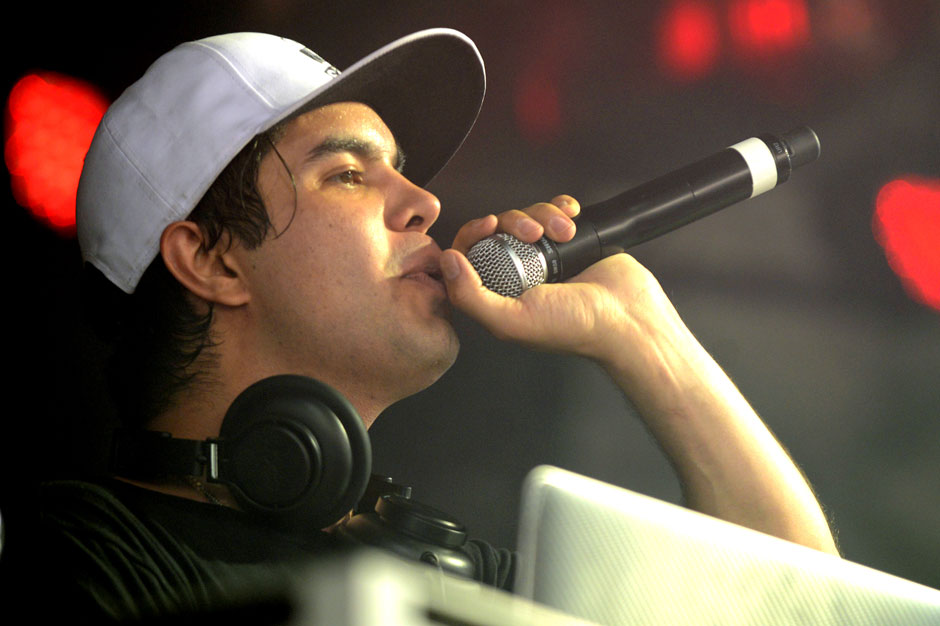 "Shout-out to Metallica on this one," we think we heard Datsik shout through the microphone before laying down the slow-rolling, bubbling bass of "Syndrome." While former members of Kyuss were laying it down slow and low under the name Vista Chino on the other side of the grounds, Datsik was dropping heavy bass bombs that inspired no shortage of crowd-surfage.
13. Best Dad Moves: FLAG
13/24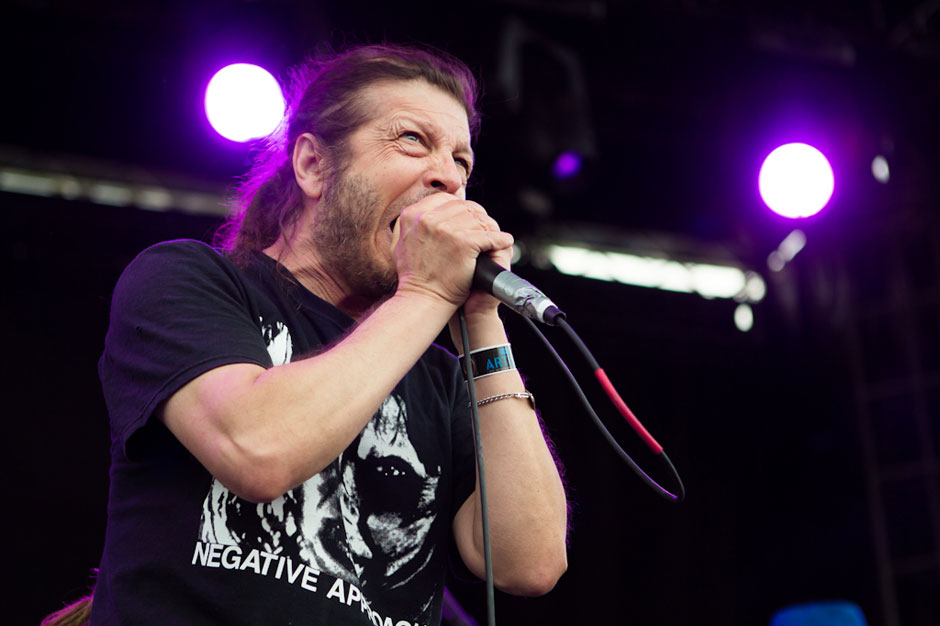 Black Flag only formed five years before Metallica, but they're a little rounder and a little creakier since they haven't been playing "Master of Puppets" every night for decades. But they had moves — vocalist Keith Morris lurched fiercely, bassist Chuck Dukowski hopped around, and fill-in guitarist Stephen Egerton simply looked geeked as they blurred through "Fix Me," "My War," and a "Wasted" where Morris could actually point at a skateboarder on a vert ramp when he sang, "I had a skateboard / I was so heavy, man." And the great moves weren't exclusive to the stage: One very cool dad in the audience hoisted his kid, with a two-colored mohawk, onto his shoulders, and they shared a gentle tandem pogo.
14. Best Special Guest: TRUJILLO TRIO, feat. MIKE MUIR
14/24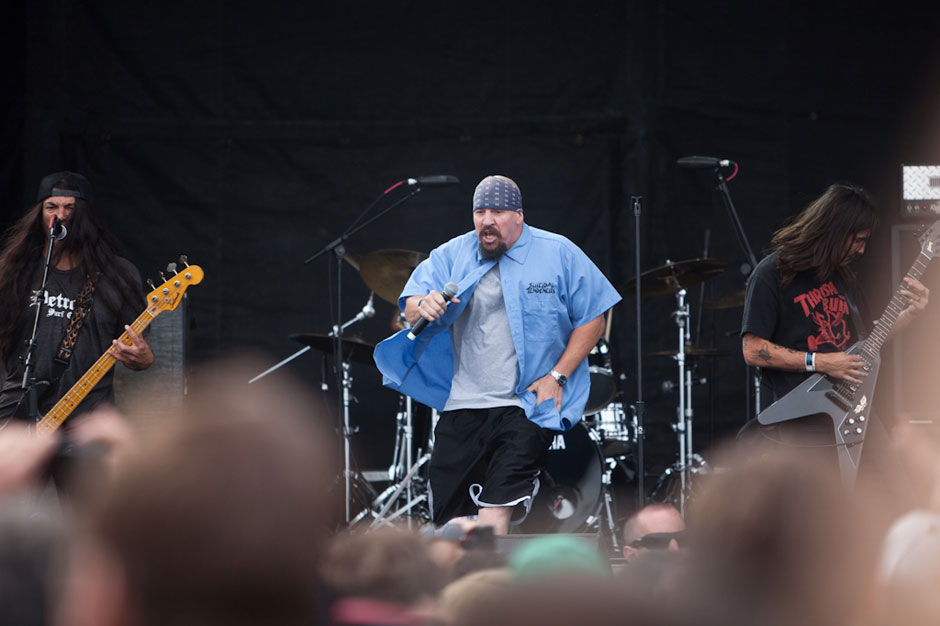 Metallica bassist Robert Trujillo, in the third of four sets he played this weekend, joined skateboarder Tony Trujillo (unrelated) and his wife Ashley Trujillo for a set of quick 'n' dirty crossover skate-punk. And who better to join them than his old Suicidal Tendancies bandmate Mike Muir for a run-through of the quick 'n' dirty skate-punk classic "Institutionalized," just in time for Criterion's release of Repo Man.
15. Best Hometown Pride: THE DIRTBOMBS
15/24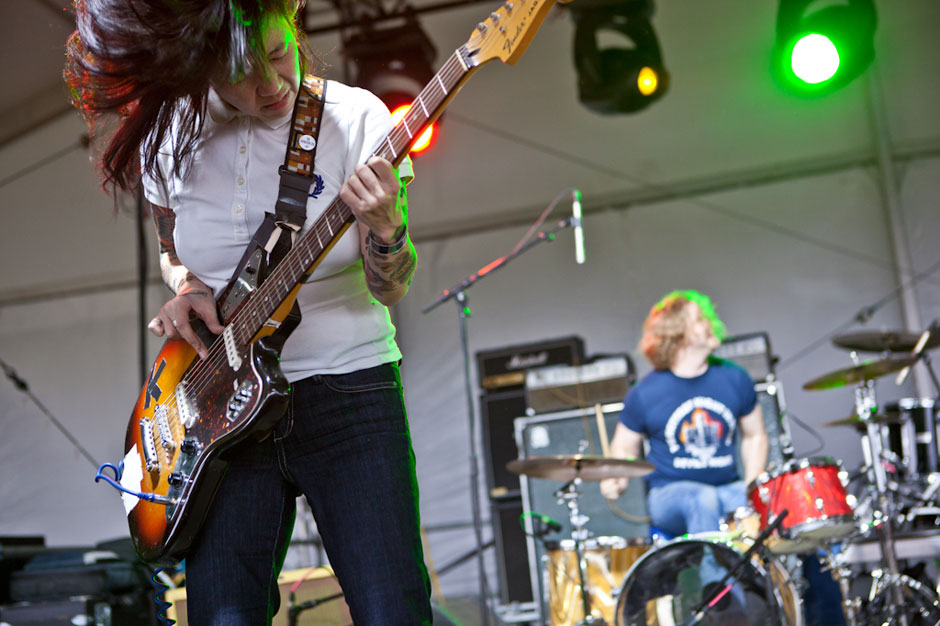 Detroit's own Dirtbombs couldn't resist playing "Motor City Baby," the drummer rocking a Devil's Night tee and frontman Mick Collins wearing a shirt featuring the alleged Marvin Gaye quote "DETROIT turned out to be HEAVEN." Not to be outdone, reunited D-town proto-punks Death slipped a little Marvin into their set as well.
16. Best Time Machine: CAULDRON
16/24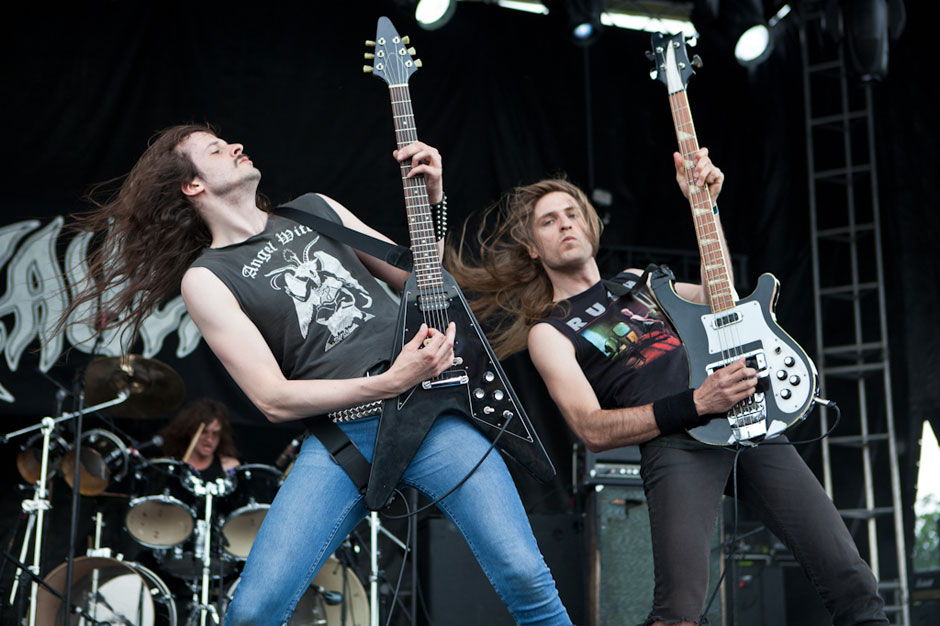 Toronto's Cauldron are revisionists for the tail end of the New Wave of British Heavy Metal, right before it started giving birth to thrash. And, sure enough, they've got the sound down — wheedly solos, occasional falsetto — but they also seem to be true students who've got the look and feel down to a science, giving very little indication that they don't think it's 1981: A sleazy 'stache, feathered hair, studded belts, a rickety looking eight-piece drum kit, synchronized guitar raising. The vintage Power Windows-era Rush shirt (circa 1985) on frontman Jason Decay may be the giveaway that they didn't exactly Marty McFly their way here.
17. Backstage with Cauldron
17/24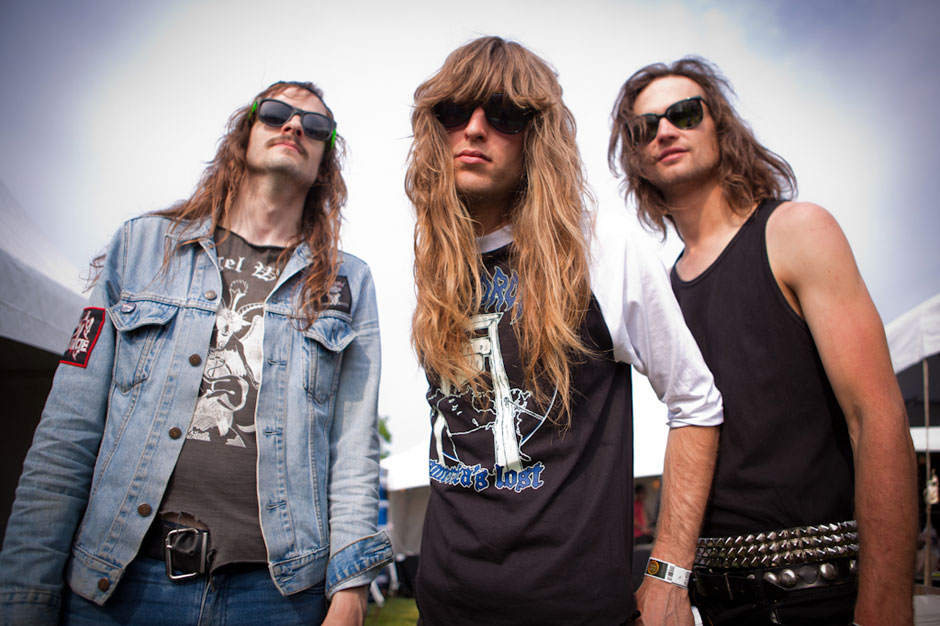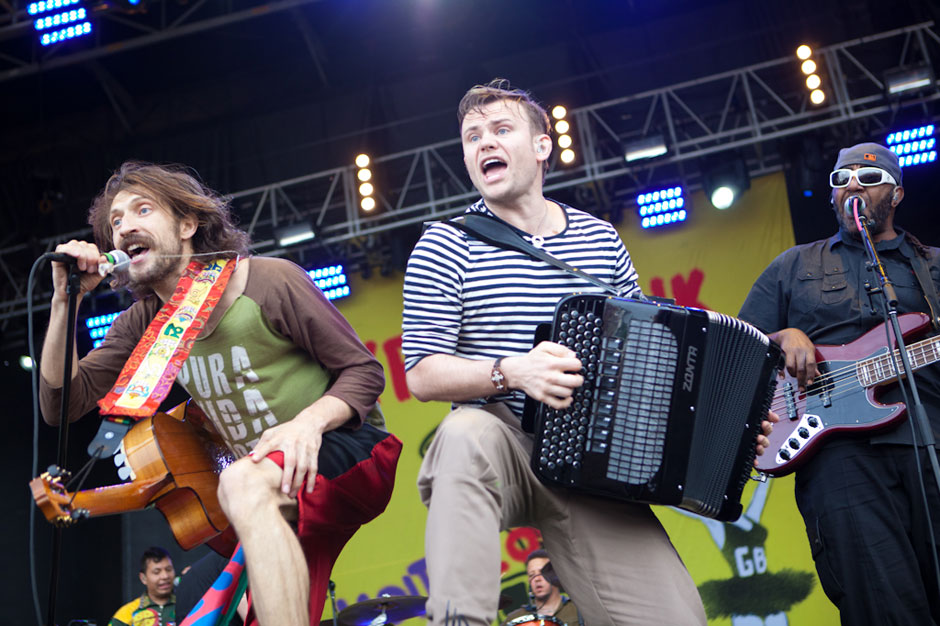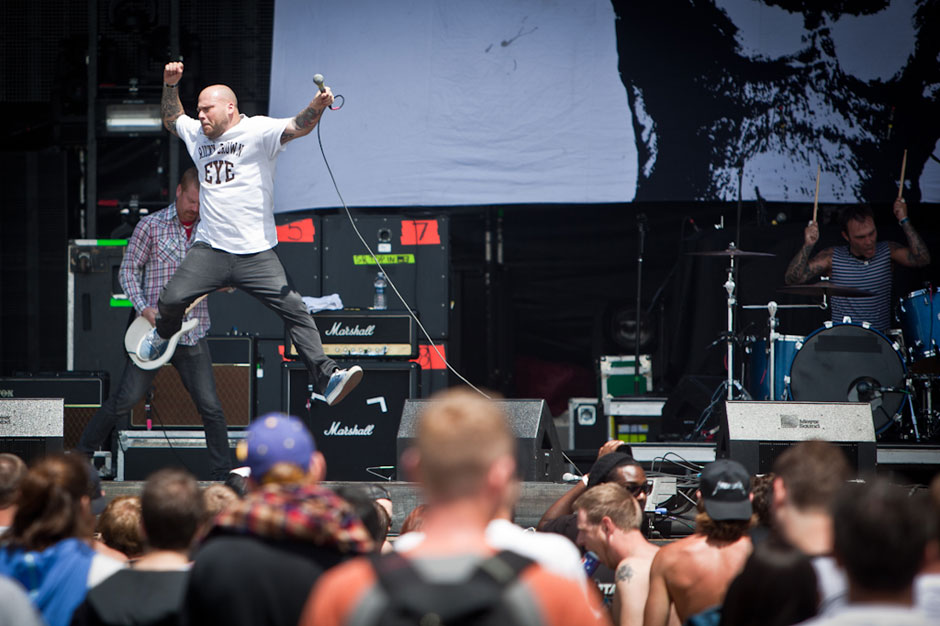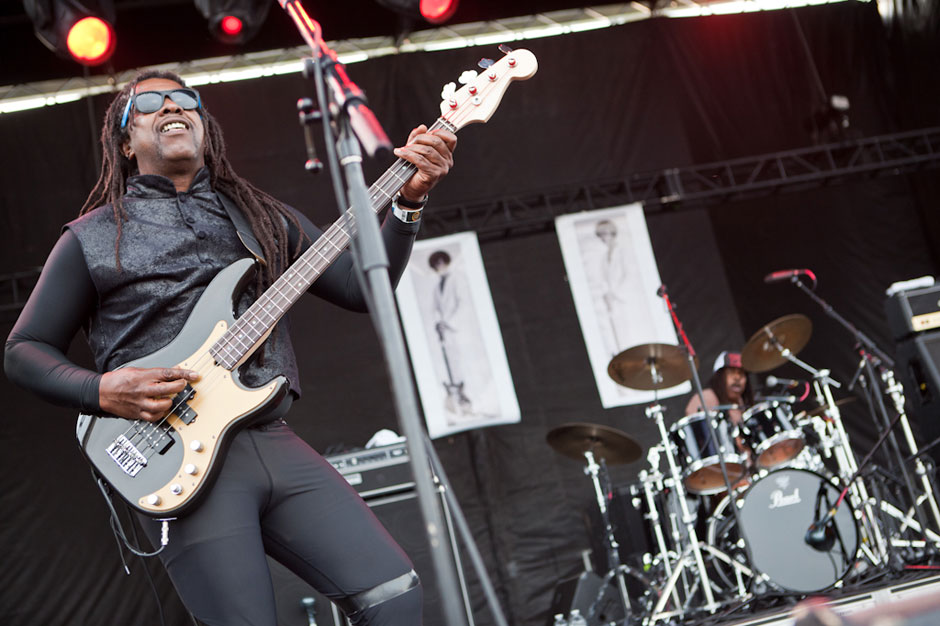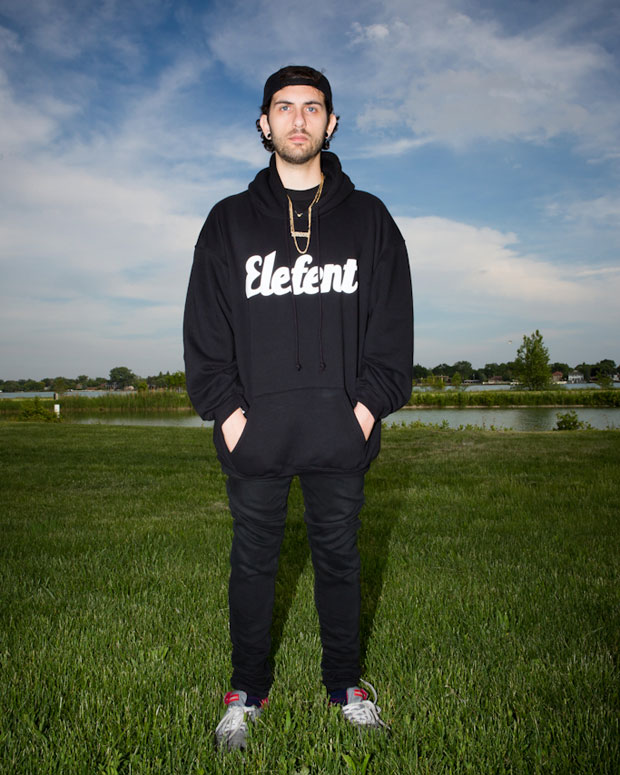 22. 2013 Orion Festival
22/24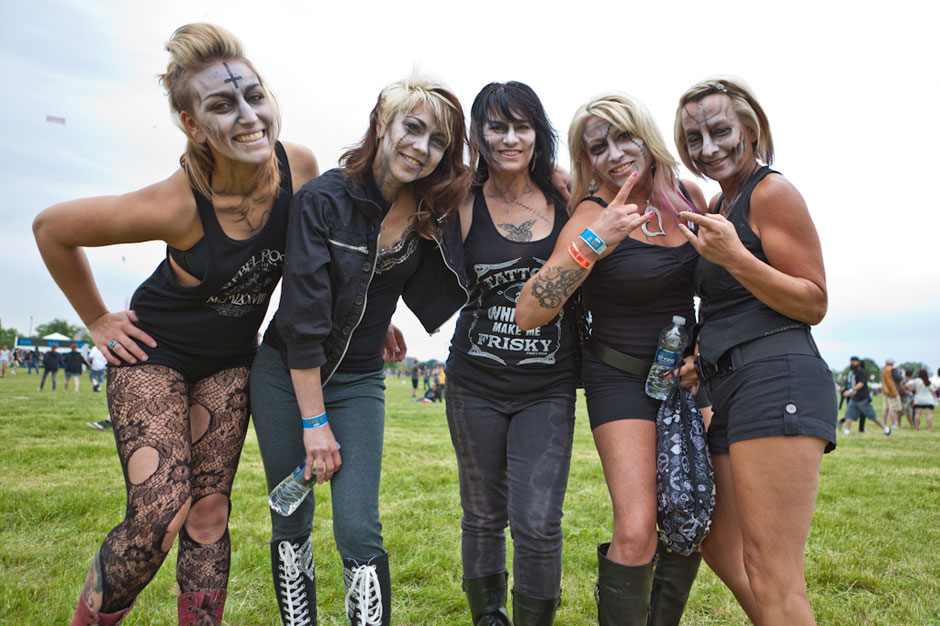 23. Ball of Death at 2013 Orion Festival
23/24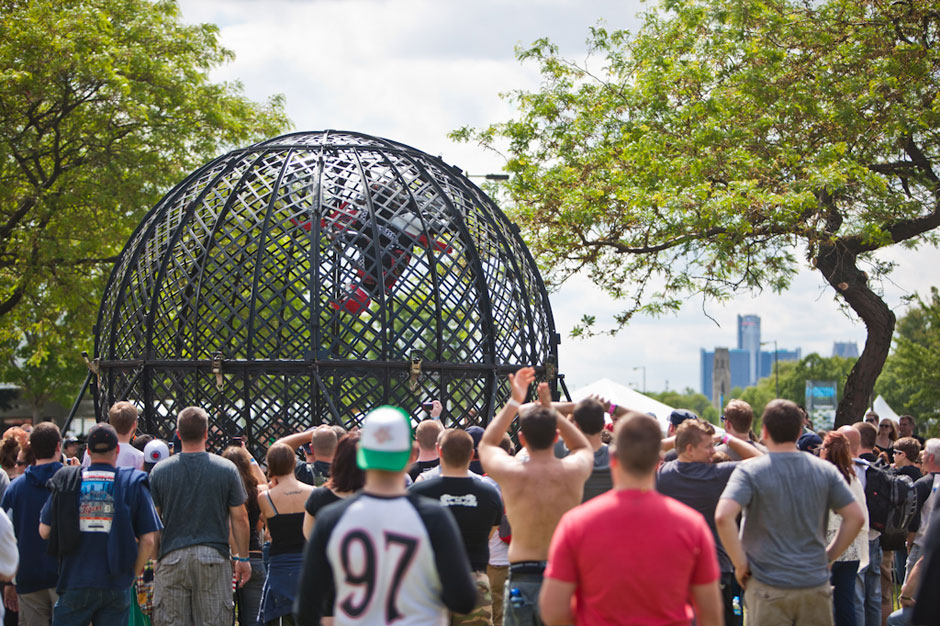 24. Vans Vert Demo at 2013 Orion Festival
24/24