Last night inside the loading dock at Milk Studios in Manhattan's Chelsea neighborhood, Kanye West set up shop and played his new album — or, at least, parts of it — twice. Like his now-famous series of projections — in which contracted A/V guys rolled up in vans, aimed a projector at the side of a building, pressed play, and then rolled out after its conclusion — this was an unusual, seat-of-the-pants affair. West stayed parked behind a mixing board, but that was the only thing that offered a barrier between him and prying arms shoving iPhones in his face. Yet, he was gregarious and smiling wildly — he made eye contact with whoever wormed their way to the front to rock to the album. For a man now calling himself "Yeezus," he was shockingly accessible and open. (By his own admission, he was drunk off a succession of handles of Grey Goose.)
His mood stood in contrast to the ten songs he previewed. Yeezus — played at head-splitting volume through speakers that were not quite up to the task — is not the militant protest album that "Black Skinhead" and "New Slaves" might lead you to believe. West's ego, alas, will always refract the outside world through his own concerns. The rest of the album is not nearly as to-the-point as those two tracks, either. Those — minimal and scraping — were jarring coming from a man known for his excess, but much of Yeezus is jarring in a much more literal sense. Songs smash-cut wildly from punishing industrial beats to blooming soul samples and back again. There are some songs that make last year's lurching, ominous single "Mercy" feel like a lazy ride on a gondola.
Yeezus will probably be the divisive album that everyone has assumed it to be, maybe even more so than his Saturday Night Live performances implied. If West played the album in order, it starts with the skipping rhythm of "On Site" and moves through "Black Skinhead" and "New Slaves" before morphing quickly, and purposefully, into a deformed Frankenstein monster. A stretch in the middle of the album is dominated by dancehall vocals. Chief Keef harmonizes with Bon Iver. The oft-discussed "I Am a God" quickly melts into what sounds like a messy sprawl. Even devotees of 808s & Heartbreak might feel lost during portions of this album, as West drones in his singing voice but doesn't tie himself to traditional song structures. A lot of fans — let alone rap fans at large — will object to the entire project strictly on stylistic grounds. Even those willing to indulge West's abrupt shift in sound will grapple with this album's raw imperfections.
But, look, this is an exhilarating ride. Dating back to College Dropout — the rap album from a guy no one thought should rap — all the way through 808s, West has pushed his art somewhere: into the orchestra pit or into Parisian clubs or inside the brain of Lil Wayne. Meanwhile, the over-the-top display of My Beautiful Dark Twisted Fantasy was, in large part, West fiddling with the bejeweled crown atop his head. Yeezus, whatever it is, is certainly not that. Nor, should it be noted, is it risk-taking for the sake of taking a risk. It is not the dude who gets a mohawk but doesn't realize he can't pull it off. It is not Lil Wayne's Rebirth.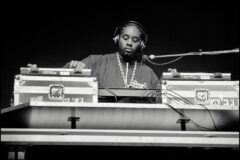 The album, truly, is too bewildering to digest in two listens, let alone while being surrounded by people trying to snap photos of Jay-Z while neon projections glare off a side wall. It's going to make your head spin — and that is good. Yeezus also may age poorly, but Kanye West is living purely in the moment. He is shaping the Now, and when he finally drops this ugly, huffing beast of an album, it's going to be a fun time to be alive.