Kanye West held a listening party for his eagerly awaited new album in New York last night (June 10), and the art-rapper confirmed several details about Yeezus, namely that it features an absurd, star-studded guest list. As Consequence of Sound notes, the follow-up to 2010's My Beautiful Dark Twisted Fantasy packs in appearances from Chief Keef, Bon Iver's Justin Vernon, Daft Punk, and Kid Cudi. West also confirmed collaborations with TNGHT's Hudson Mohawke, Travi$ Scott, and studio wizard Rick Rubin, who served as executive producer.
'Ye reportedly played a total of 10 tracks at the event, beginning with the freshly heard "Onsite," followed by standout track "Black Skinhead," then "I Am a God" and "New Slaves." Next came an as-yet-unreleased track titled "Can't Handle My Liquor," which pairs Chief Keef with Justin Vernon — yes, you read that correctly. Other new cuts included one that co-stars Kid Cudi and another that flips TNGHT's "Higher Ground" with Billie Holiday's "Strange Fruit."
After the music stopped, Yeezy told attendees that Daft Punk worked on three or four songs ("Black Skinhead," for one) and talked at length about Rubin's recent contributions to the record. SPIN mentioned yesterday that West brought Rubin in last week to help finish a few songs on the LP, due June 18.
"Last, but not least that came and helped bring this whole shit together, that executive produced the album with me and the family, is Rick Rubin," Kanye said. He continued, calling the experience "legendary" because "everything we did on this project, everything I did, like when we released 'Numbers on the Board,' from the video, to the no artwork, to the style of the song and everything, I was like 'What would Rick Rubin do?'" West added, "So I had to go to the god Rick Rubin and play him my shit, ask him questions and allow him to take this project to an entirely new level. And he made a lot of great decisions at the end and pulled it to a new level."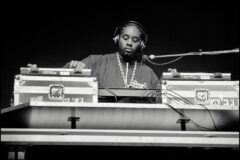 The rapper also followed up on his anti-music industry remarks at Governors Ball Music Festival, saying Yeezus represents "the beginning of an entirely new mentality on how to make music directly for the people." During his June 9 set at the NYC festival, West told the crowd, "Honestly, when I listen to radio, that ain't where I wanna be no more… At this point, I could give a fuck about selling a million records, as long as I put out an album [that] y'all can rock to all motherfucking summer."
According to Missinfo, the 36-year-old MC told the audience at last night's listening session, "I got a new strategy — it's called 'No Strategy.' And I got a way to sell more music — it's called make better music." Adding to all the megalomania was West's explanation for the album's title: "West was my slave name, Yeezus is my god name."
Footage of Kanye's speech appears below.