Heems "Turn Me On"
Since the break-up of his joking-not-joking group Das Racist, Himanshu Suri has been on a rather fascinating contrarian-art journey. He followed up 2012's Nehru Jackets (easily one of the best rap records of the 2010s) with Wild Water Kingdom, a gurgling, slowed-up sort of rap record that I'm only just now understanding. And here he does bedroom R&B a little late, revealing an angel-voiced, super-sincere side of himself that crams Kevin Lyttle's gorgeously ridiculous pinwheel dancehall hit "Turn Me On" and Bad Boy lovermen 112's "All My Love" (which Lyttle, in part, interpolates) into a PBR&B medley. Recorded in India, tossed onto Tumblr without a download link, it feels like an ain't-going-nowhere statement of purpose and deadpan seachange at the same time.
Kanye West "I'm In It"
Everything wrong with Yeezus is contained in the line, "Put my fist in her like a Civil Rights sign." It's creepily violent and aggressive towards women, and only about half as provocative as Kanye thinks it is. It could also use a fact checker. As Greg Tate observed in his SPIN Review, Kanye's actually talking about the Black Panthers' black-power fist there. It's not that Kanye doesn't know the difference between black power and civil rights, but he clearly knocked this album out real quick and, as a result, didn't look back or line-edit. Sure, that can be charming, but here it hurts the album: A line intended to be provocative sounds foolish because Kanye didn't think hard enough about what he was trying to say. Nevertheless, "I'm In It" is Kanye at, perhaps, his most TMI revealing: He talks about eating ass; he makes a really stupid Asian joke; he lets us imagine him secretly buying condoms at 7-11; and in the final verse, admits the he's in over his head with this having-a-kid stuff.
https://youtube.com/watch?v=CPyKAmKxOAw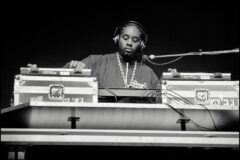 Legowelt "Memphis Rap Mix"
Don't worry about whether these early-'90s Memphis rap rarities (or rare-enoughs, maybe) came from an old hissing, fizzling cassette or were just ganked off some who-knows-how-many-gigs torrent. Just realize that here is a Dutch techno producer, Legowelt, putting together a Memphis rap mix that could perhaps pique the interest of twerky-happy tweens who only know about Three 6 Mafia by way of that weird guy who sings "Bandz a Make Her Dance," and should remind regional-rap curmudgeons on that "been there, heard that" tip that Tommy Wright III, Evil Pimp, Gangsta Pat, and others could always use more shine. Namely, here's a testament to that weird time in the early '90s when a bunch of Satan-obsessed rap kids realized that the horror-movie throb of John Carpenter soundtracks wasn't all that different from the strip-club pulse of regular-ass party rap and and decided to monster-mash it all up into some of the most experimental utilitarian rap ever made.
Mac Miller, feat. Jay Electronica "Suplexes Inside of Complexes and Duplexes"
White, super-safe, and swaggy Pittsburgh goof Mac Miller decided to add a little edge/energy to his whoa-bro, real hip-hop head shtick by doing something that's actually safe in 2013, but kinda challenging to his clueless young fans: Rap some half-hearted, super-scientifical style nonsense. So, this song is called "Suplexes Inside of Complexes and Duplexes," and contains lines like "Young sire, slap the fuck out Jon Cryer," and "I burn the city down when I'm unconscious." It is not bad. But it ain't good, either. There is an appearance by opportunity-squasher Jay Electronica, who has all but disappeared (unless you follow him on Instagram where he is very productive) and though it's boilerplate Jay Elec, it's a thrilling little, tossed-off quirkfest that reminds you of why this guy was once vital. He makes all of that space shit that doesn't make any sense sound thrilling again. Also, it isn't Jay Electronica's job to entertain us with rap verses, and we just need to embrace the few lines we get and not expect much else.
https://youtube.com/watch?v=Jh6pIUvk8DM
Migos "FEMA"
Here is how hip-hop can be socially serious without, you know, making a big deal about it in a New York Times interview. Migos, the ATL trio best known for "Bando," whose Young Rich Niggas tape is all loopy dope-boy fun and, in its best moments, even approximates throwback cipher-rap in the sense that all these guys are just shooting energy at each other and into your ears. Here, they turn a rinky-dink party chant into a slyly political rap song. It is a strange and ridiculous way of telling listeners about their ice ("Katrina, call FEMA/ Hurricane wrist, hurricane wrist") but it has in it, the ghosts of the Bush-era failure and a reminder that if you're poor and in the South, things like FEMA even leak into your "I got a cool watch and I am awesome" chant songs. Here, FEMA shouts become every bit as creepy as those references to a fiend's bony knuckles knocking on the door.