Kanye West performed several new songs from his incredibly anticipated Yeezus album last night (June 9) at New York City's Governors Ball Music Festival. West closed out the three-day showcase, which took place on Randall's Island, by playing an hour-and-a-half set that featured already heard new material, including "New Slaves" and "Black Skinheads" (SPIN's No. 2 pick for the 40 Best Songs of 2013… So Far), in addition to "Onsite," the EDM-biting, shade-throwing number that DJ/producer Hudson Mohawke premiered in Warsaw back in May. 'Ye also declared "I Am a God" and previewed a thumping, siren-blaring track, the name of which hasn't yet been revealed. And, of course, what Kanye show would be complete without a bizarre, self-aggrandizing rant?
"This is usually the part of the show where I start complaining about shit," West said at one point, before going off on the state of modern radio. "Honestly, when I listen to radio, that ain't where I wanna be no more," he said to the crowd. "At this point, I could give a fuck about selling a million records, as long as I put out an album [that] y'all can rock to all motherfucking summer."
Yeezus is slated for a June 18 release, but industry sources say that West was still polishing what will be his sixth album as recently as last week. According to the New York Post, the 36-year-old MC brought in Rick Rubin to put the finishing touches on some songs. The studio guru will reportedly be credited as executive producer on the effort. Def Jam executives allegedly had to settle a legal dispute over a sample used in "Onsite." The original version of the song lifts an old vocal recording from kids singing in a Chicago church choir. Lawyers for the label spent last week trying to secure clearance to use the track, but producers opted to re-record the take with a different choir as a precaution. Sources say Kanye decided on Friday (June 7) to use the new version.
Until Yeezus rises, watch "Onsite" above, "I Am a God" below, and two snippets of the new, as-yet-unknown song, followed by "Black Skinheads," "New Slaves," Yeezy's tirade, and a full set list.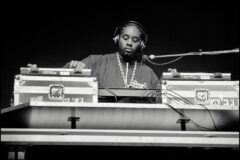 https://youtube.com/watch?v=5RDdsWm3uRU
https://youtube.com/watch?v=DLjoXbEhXUY
https://youtube.com/watch?v=wrh4i9DrKZU
https://youtube.com/watch?v=4v0XWYKvkX8
https://youtube.com/watch?v=Tr6t5heUOaY
Kanye West @ Governors Ball Music Festival 2013 (June 9, 2013) set list:
"Black Skinheads"
"New Slaves"
"Mercy"
"Cold"
"Onsite"
"Can't Tell Me Nothing"
"Power"
"I Am a God"
"Jesus Walks"
"Say You Will"
"Heartless"
"Flashing Lights"
"All of the Lights"
"Clique"
"I Don't Like (Remix)"
"Good Life"
Unknown new song
"All Falls Down"
"Stronger"
"Diamonds (Remix)"
"Runaway"
"Black Skinheads"