Governors Ball 2013: The 15 Best Things We Saw
Although Saturday and Sunday of New York City's third annual Governors Ball had some of the biggest draws — Kanye West, Guns N' Roses, the xx, Grizzly Bear, Kendrick Lamar, and Nas, among others — it was Friday that had the biggest impact, as the pouring rain and ankle-deep mud modified nearly every aspect of the three-day fest. Most braved the elements, some took off their shoes and wallowed in the aftermath, and the best bands made you forget about the whole mess entirely.
1.Governors Ball 2013: The 15 Best Things We Saw
1/16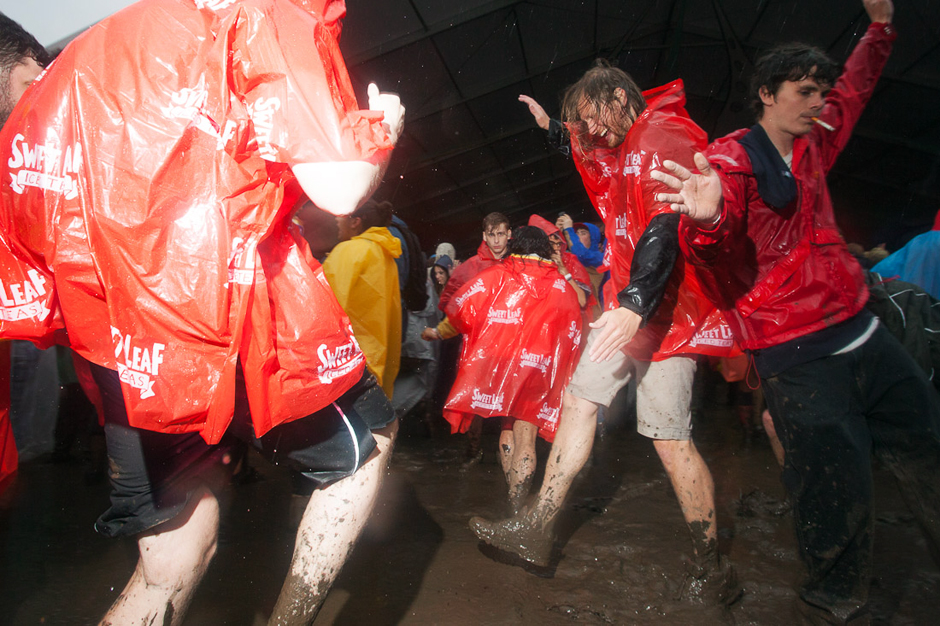 2.Best Everything: KANYE WEST
2/16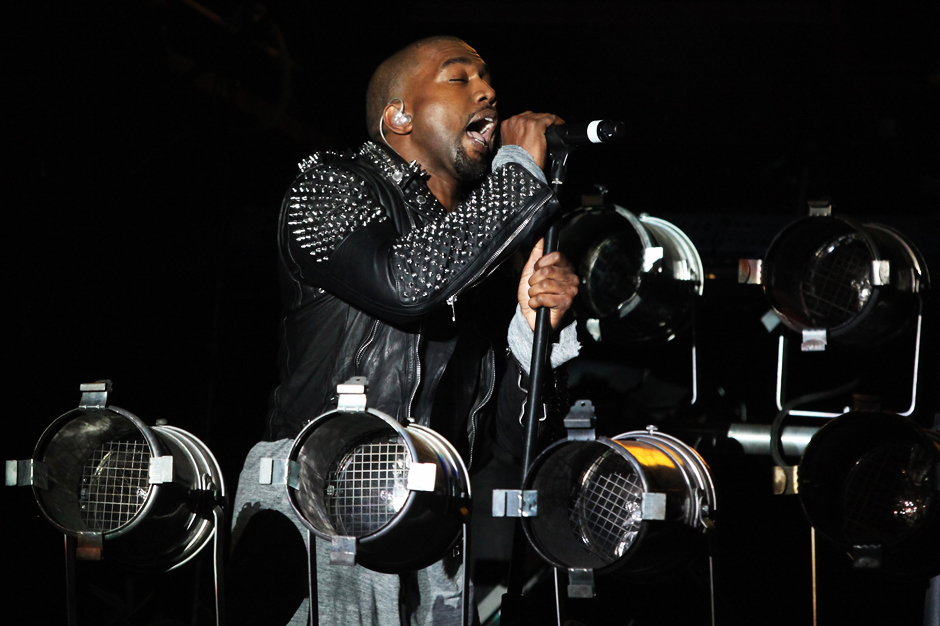 Best stage set-up, best new material, best old material, best justification for spending the previous three days on a rainy island in the middle of the East River — Kanye was all of that. Closing the festival, West was the topic of conversation even among the other bands, getting shouted-out during sets by everyone from Fucked Up to Grizzly Bear, while rapper Freddie Gibbs could be seen sticking around in the main-stage VIP after performing across the island early in the day. After stage hands covered the Governors Ball banner at the top of the stage and installed rows of lights pointed at the audience, 'Ye arrived with two new tracks (the Saturday Night Live-debuted "Black Skinhead" and "New Slaves") before turning to "Mercy" and then going as far back as "Jesus Walks" and "All Falls Down." Those old songs — even the newer old songs — were all sing-alongs, and the pointed new stuff gave the impression that Yeezus might be Kanye's Maya. But despite possibly beginning a wild career detour, the rapper/producer seemed remarkably at ease. "This is usually the part where I complain," he said, "but y'all already know."
3.Best Guitar Center Commercial: GUNS N' ROSES
3/16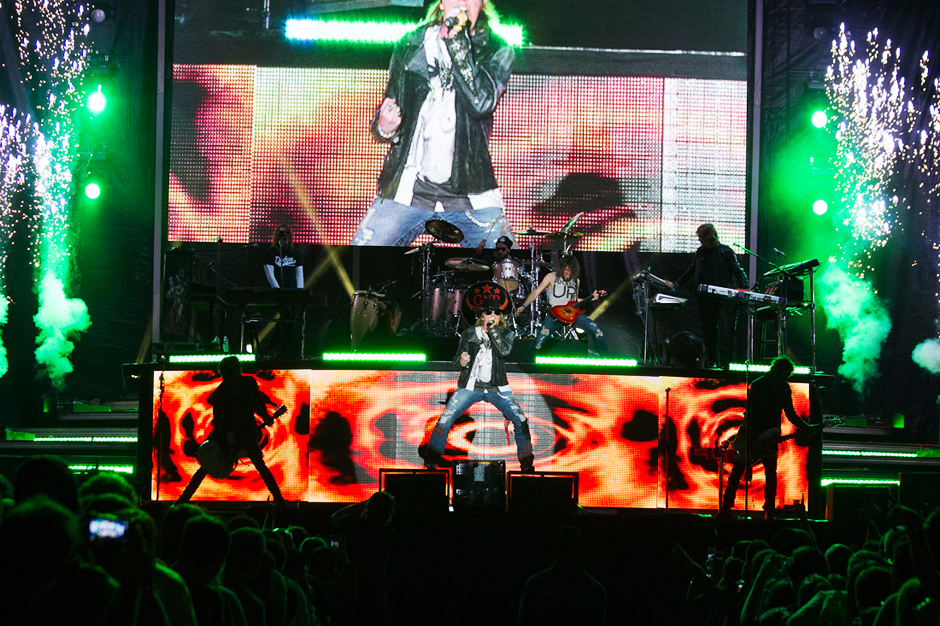 When Guns N' Roses arrived on the main stage — on time, thank you very much — they boasted the flashiest equipment of the festival: Bumblefoot rocked his double-necked guitar, keyboardist Chris Pitman used a stand that allowed his instrument to pivot along with him, and guitarist DJ Ashba had his six-string equipped with a cigarette holder that allowed him to smoke and play. Still, the star remained Axl, the 51-year-old frontman who appeared to be more and more limber the further away you moved.
4.Best Reason to Dance (In Order to Avoid Getting Buried): KINGS OF LEON
4/16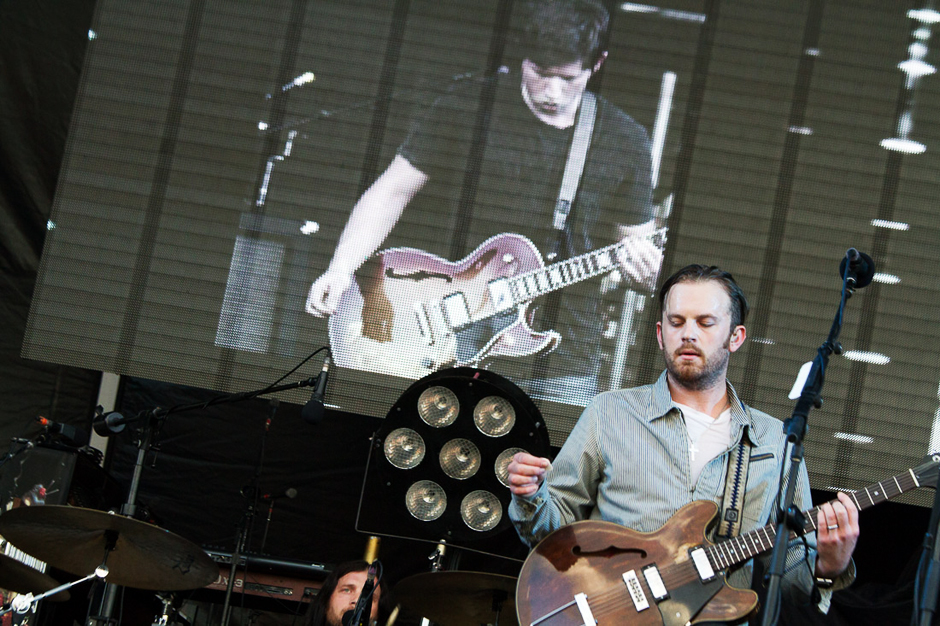 What we'll generously refer to as "inclement weather" pushed Kings of Leon's headlining slot back from Friday night to 6:30 on Saturday: "We're 21 hours late," frontman Caleb Followill "joked" early in the set. This meant that, for the first time during the weekend, the crowd around the main stage extended past the pavement and well into the mud. Accordingly, you had to keep your feet moving to keep them from getting stuck in the goo. A woman standing in front of us learned the hard way, standing still for a little too long, then faceplanting as she attempted to leave.
5.Best Inadvertent Headliner: ERYKAH BADU
5/16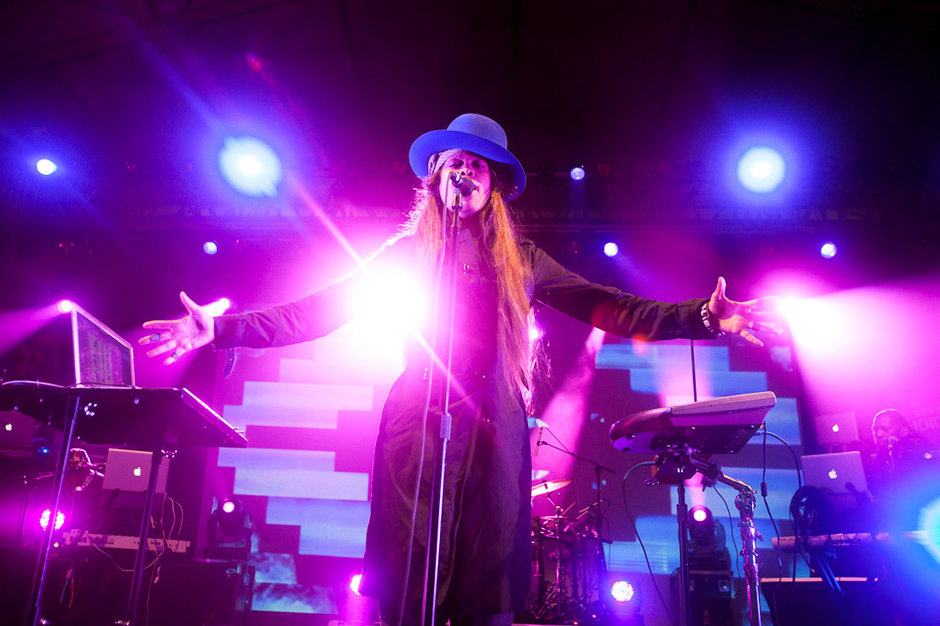 When Feist cancelled her Friday night set, and it began to appear likely that Kings of Leon and Pretty Lights would do the same, most remaining fans began to flee. By the time Erykah Badu showed up, it seemed as if everyone left had packed into the long tent that thankfully extended above and beyond her stage. Aside from one misstep — it's easy to say "I love this rain" when you don't have to step out into it — Badu delivered the finest set of the day, playing cuts off everything from Baduizm ("Appletree," "Otherside of the Game") through New Amerykah Part Two ("Umm Hmm") and mixing in snippets of tracks like Aaliyah's "Rock the Boat" and her Common duet "All Night Long."
6.Best Excuse for Showing Up Late to Kanye: THE XX
6/16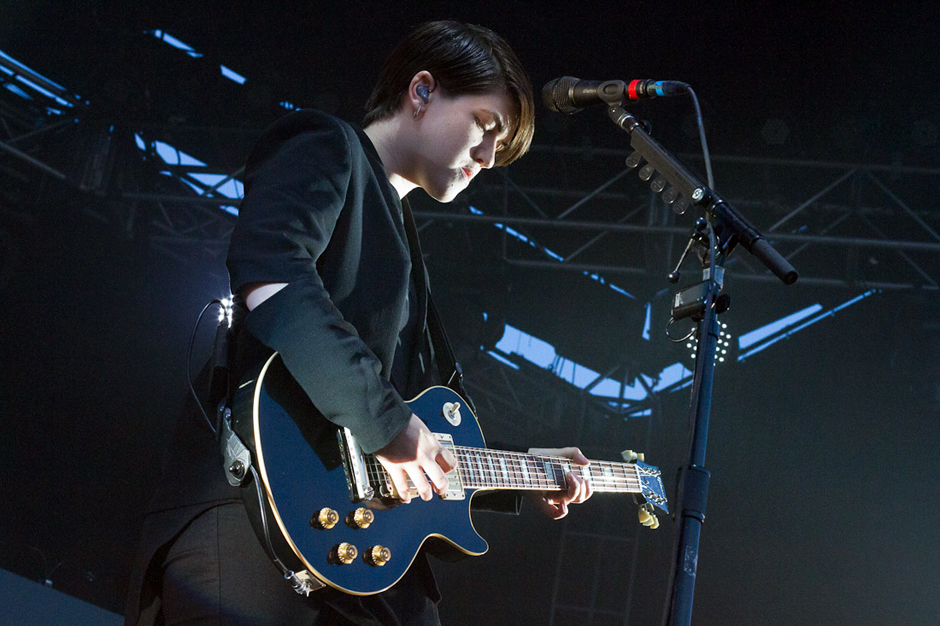 Perhaps the only excuse for showing up late to the Kanye West show, minimalist gloomsters the xx played the far side of the festival grounds from 8:20 to 9:30 p.m., right when the headliner was supposed to arrive at the main stage. In a weekend full of chaos, their set was centered and calming, an effect that was not lost in the muddy dash that followed their last note.
7.Best Onesie: KENDRICK LAMAR
7/16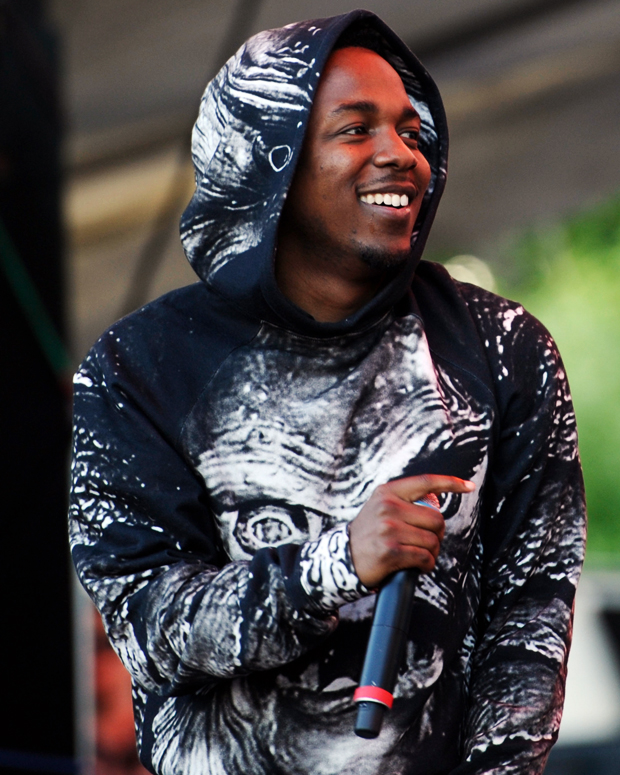 Kendrick Lamar began his set at one of the festival's hottest points, but that didn't stop him from wearing a reptilian, all-over-print pants-and-jacket combo that would have been of more use the day before. Whether or not his outfit was a hit, his performance was full of them, and if you didn't hear Lamar singing his hooks, you surely heard them from the crowd, one of the day's largest. Eventually, though, a water break and an extended "Cartoons & Cereal" intro was all it took to push many to seek out other stages, where other, less fashionable artists awaited.
8.Best Evening Chill-Out: GRIZZLY BEAR
8/16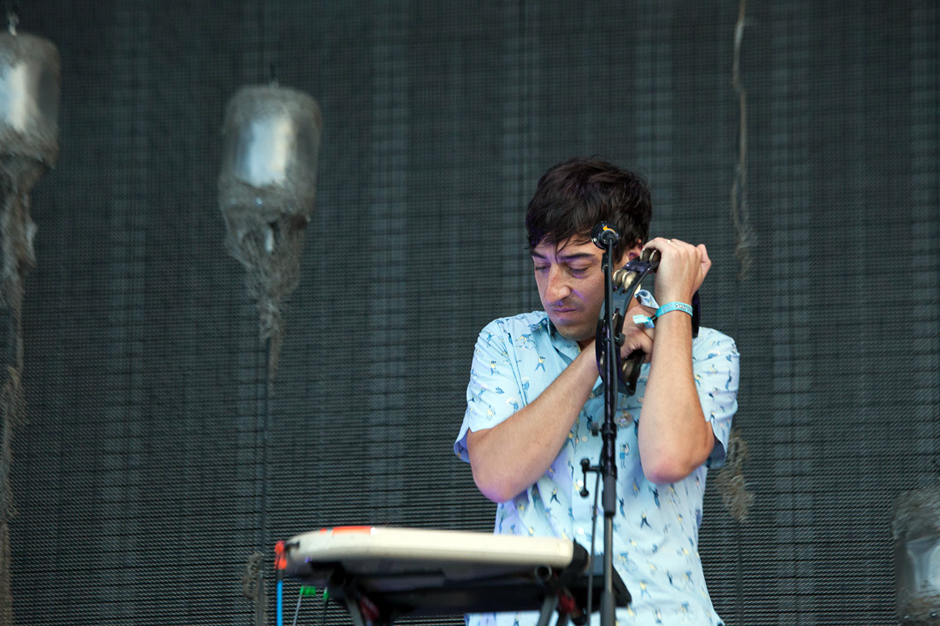 Just the right mood for the home stretch of a long weekend, the band even managed to get the crowd dancing, reminding us that Veckatimest's "Two Weeks" has more rhythm than that Volkswagen commercial would lead you to believe.
9.Best Time to Clean Your Shoes: ANIMAL COLLECTIVE
9/16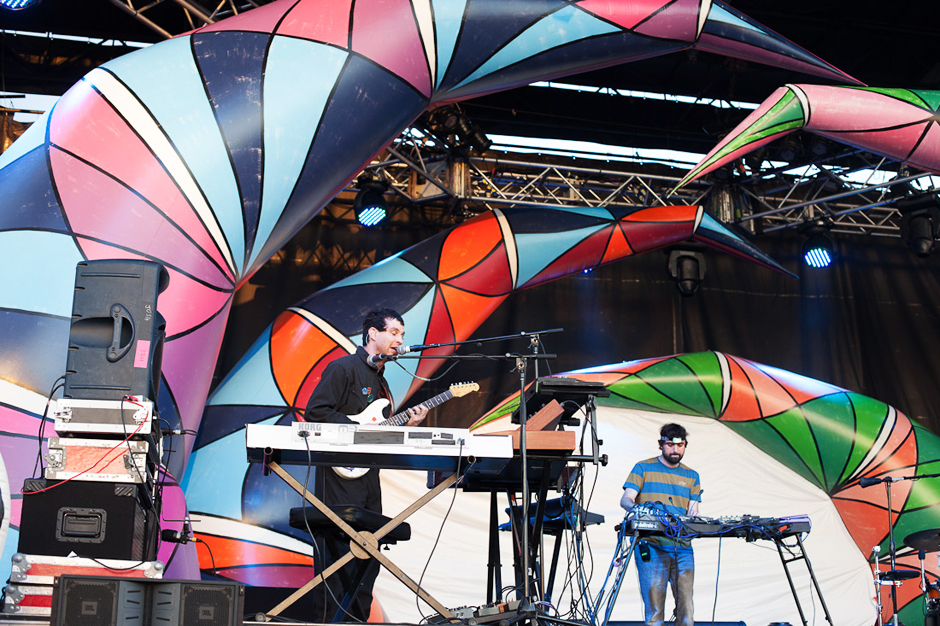 The sound was too low, the setlist lacked focus, and much of the tiring crowd seemed to be there only for the name and "My Girls." Early on, Centipede Hz's "Today's Supernatural" was a jam, and by the end they seemed to be gaining momentum, but it was ultimately too little too late. "Oh I looove this song," someone behind us drawled, flashing some Japandroids-esque irony as one cut merged into another.
10.Best Nautical Stage Prop: FEIST'S CONCH SHELL
10/16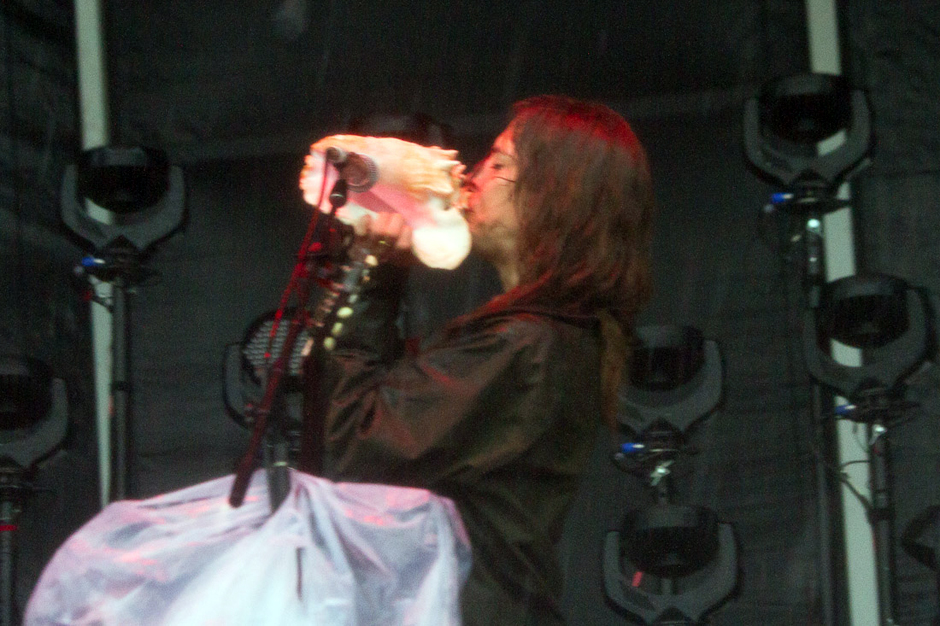 The kids walking around in yellow sailor's gear looked protected, the ones walking around in goggles and inflatable tubes looked like clowns, but when Feist opened and closed her set on the Governors Ball stage by blowing a conch shell, she actually managed to look cool. Considering the circumstances, this was remarkably difficult: By now, rain was not only drenching the audience but blowing onto the stage, forcing the Canadian singer to end her set early and damaging some of her band's equipment. Soon, the situation turned even more ominous, as broken glasses began to appear scattered across the festival grounds.
11.Best Instrument-to-Sound Efficiency: JAPANDROIDS
11/16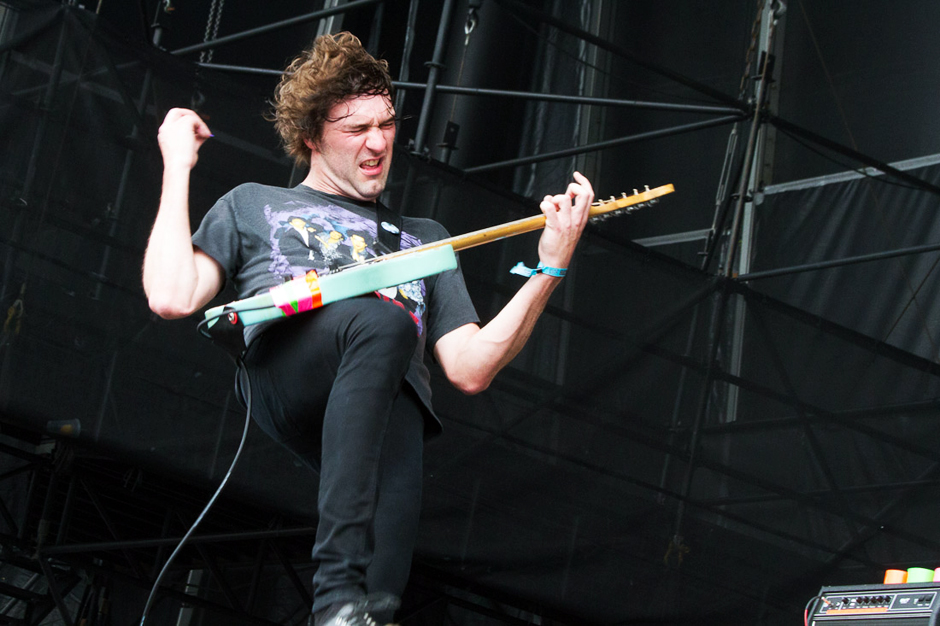 Bumped up to accommodate the Kings of Leon's last-minute Saturday set, Japandroids had to compete with New York-based pop-rock duo MS MR and Swedish dance duo Icona Pop. Only two deep themselves, the band certainly held their own, bashed their instruments with enough force to make any other accompaniment unnecessary. Celebration Rock anthem "The House That Heaven Built" made for a satisfying highlight (though it does lose some of its immediacy when played from a stage that's larger than the entire Bowery Ballroom), and their banter was the right combination of ironic and reverent. "We're Guns N' Roses," cracked guitarist Brian King, "Japandroids are headlining tonight."
12.Best Homecoming: AZEALIA BANKS
12/16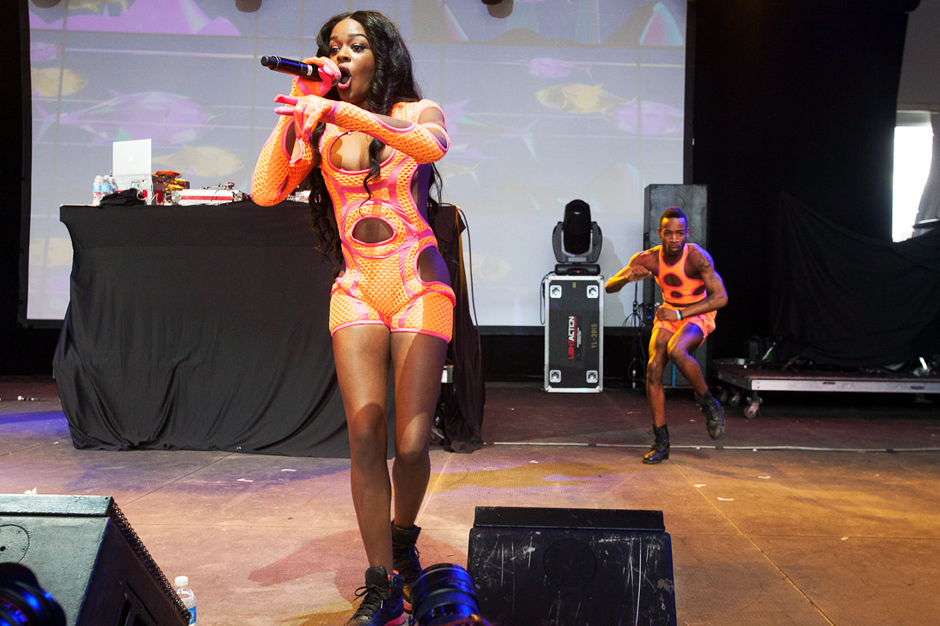 "This is my first New York City show in two years," Azealia Banks told the Saturday crowd. Pound-for-pound, it also might have been the best set of the festival's three days, with the rapper energetic and full of life, and the crowd dancing to the songs they didn't know and dancing harder to the ones they did. "I got in trouble for this one," Banks explained as the DJ queued up her version of "Harlem Shake," "but I don't give a fuck. I'm from Harlem."
13.Best Reason to Go Home and Check Out the Rest of the Album: ICONA POP
13/16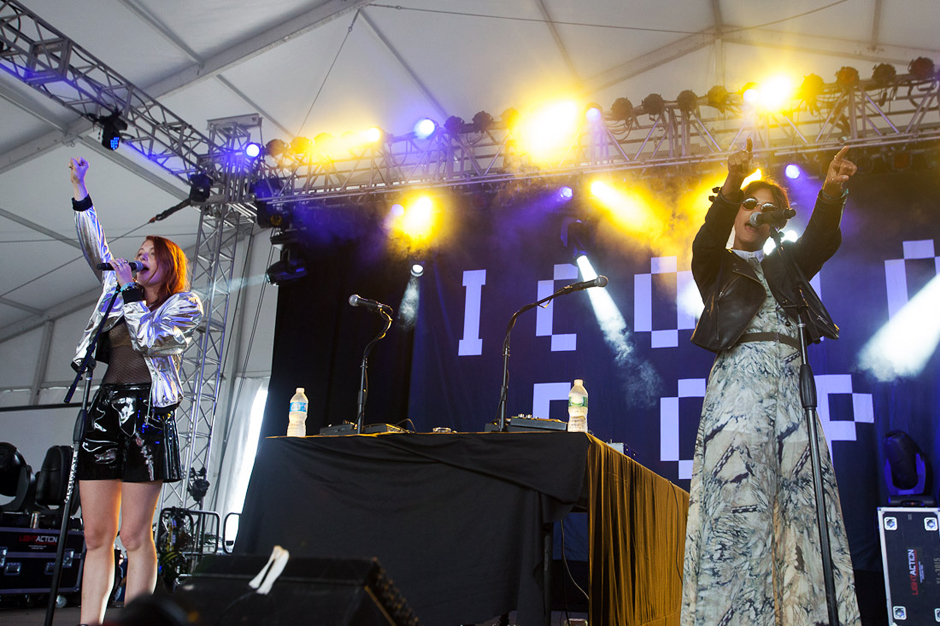 On Saturday afternoon, a tent full of people waited for Icona Pop to play "I Love It," the sort of feel-good, jump-up-and-down crossover hit that's literally made for festivals like this. But most left glad that they'd heard 40 minutes more. Included: "It's My Party" (as in, "and I can cry if I want to"); a pogoing, dutch house–touched remix of "We Got the World"; new track "Girlfriend"; and even a little reggaeton. Then there were Caroline Hjelt and Aino Jawo themselves, the best-friend bandmates who locked arms as they sipped drinks and cavorted around the stage like it was the apartment where they met.
14.Best Recovery from the Night Before: HAIM
14/16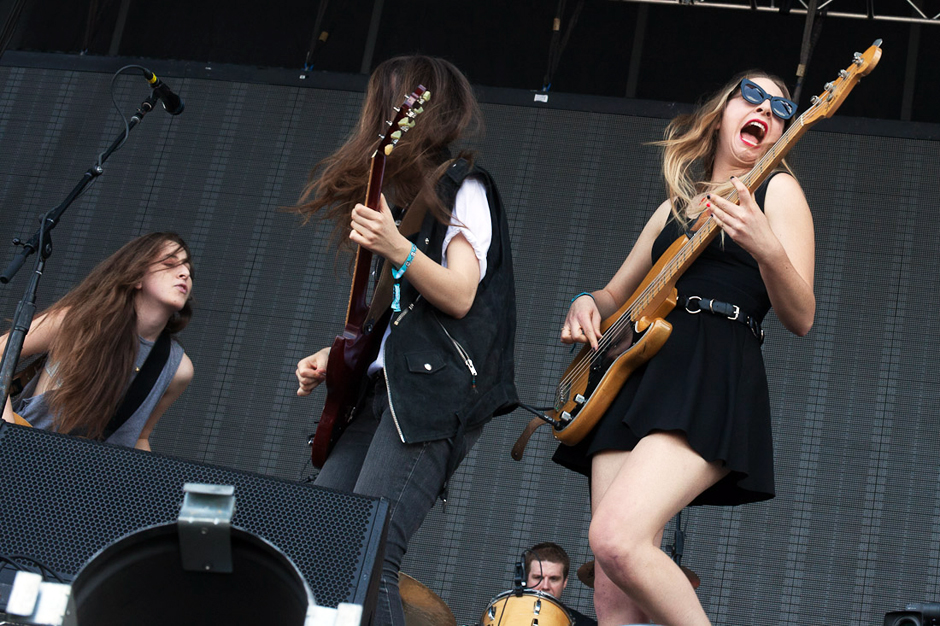 Mere hours after headlining the festival's Saturday after-party at Brooklyn Bowl, Haim were at the front of the main stage, with three-quarters of the band banging enthusiastically on drums during "Better Off." For the next 45 minutes, the three California sisters plus drummer played everything from blues-rock to synth-pop — a very Fleetwood Mac continuum — and ended up back where they started, with multiple members banging enthusiastically on drums.
15.Best Science Lesson: DEERHUNTER
15/16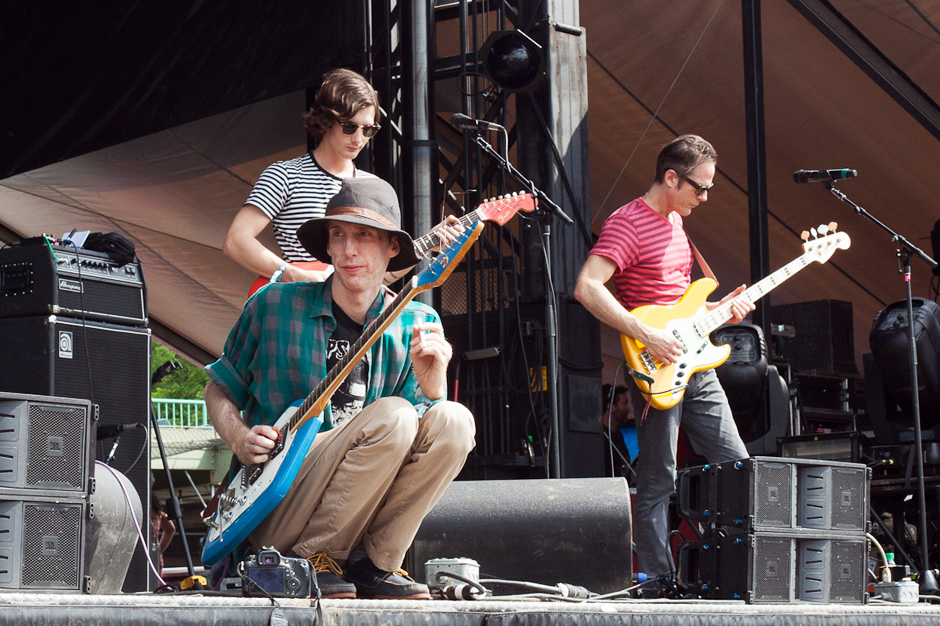 After beginning his pre-set banter by wondering what sort of bacteria lives on Randall's Island, Deerhunter's Bradford Cox explained how he recently learned that "oil is made out of your dead ancestors," and explained that for his performance he wanted to turn those ancestors into volts (which he note was named for the Italian physicist Alessandro Volt) and spray those volts out over the crowd before him. Whatever works, dude. Playing on the stage that Animal Collective had inhabited the day before, Deerhunter sounded louder and crisper, though their songs lacked AnCo's trippy lift-off.
16.Best Place to Watch the Mudslide: THE HILL FACING THE SKYY VODKA STAGE
16/16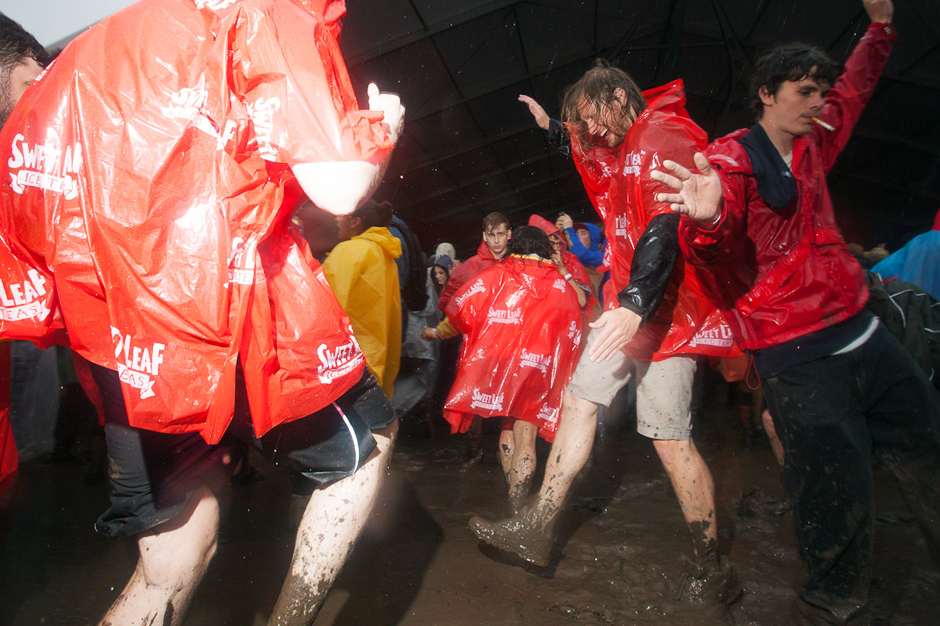 Friday afternoon offered plenty of time to kill, and the best place to kill it was on the hill between the Skyy Vodka Stage and the Roosevelt Island football stadium. There, you could watch bands like Crystal Castles perform in the background while people eased their way down a muddy slope in the foreground. The winners were the ones who didn't even try to stay dry, jumping in headfirst and sliding to the bottom.