The Firefly Music Festival buzzed into Dover, Delaware for its second year, bringing along the Red Hot Chili Peppers, Tom Petty, Yeah Yeah Yeahs, Vampire Weekend, Kendrick Lamar, and its own Dogfish Head pale ale. We spent our weekend in the Woodlands and here's the best of what we witnessed.
Best Back-to-Basics Moment: ELLIE GOULDING
Forget the fireworks: Sometimes a great festival performance just means a lovely song, a committed singer, and a willing audience. In the middle of her sparkling early evening set on Friday, English singer Ellie Goulding momentarily retreated from her blooming dance-pop for a cover of Elton John's torch ballad "Your Song." Accompanied solely by a pianist, Goulding's voice swooped and fluttered as she clutched her hand to her forehead and, in time, the audience crooned the song's chorus back at her. It was a lovely, simple moment, and evidence that even at a massive outdoor festival, a performer doesn't need pyro to win over a crowd. Though she did prove she was capable of moving the fest crowd in a more traditional manner when the airy-voiced, boundlessly energetic Goulding closed her set with a jaunt through her hits "Anything Could Happen," the Calvin Harris-collabo "I Need Your Love," and "Lights."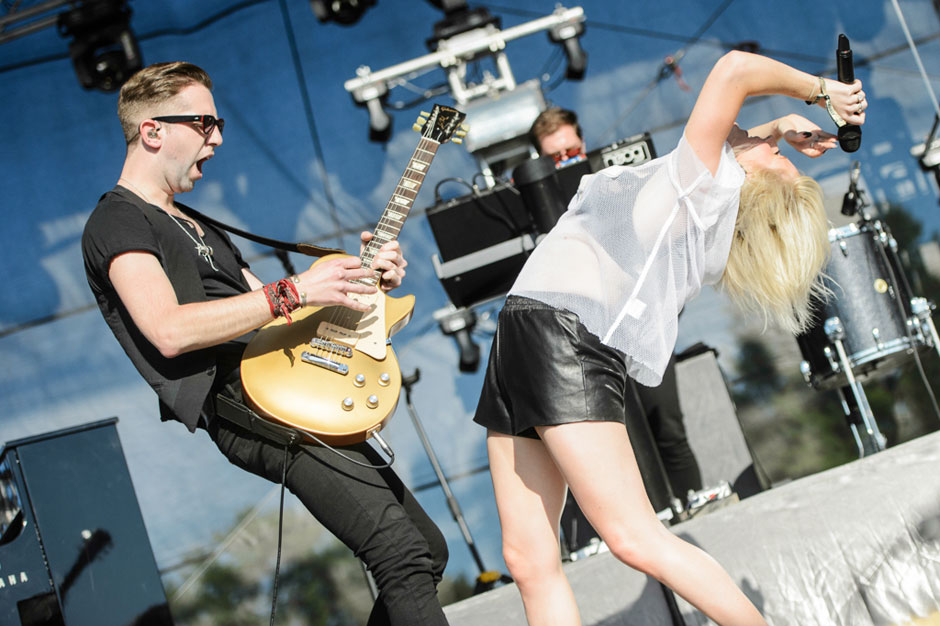 Best Case of EDM Overkill: CALVIN HARRIS
It was hard to actually see Calvin Harris perched atop his giant console on Friday night, but everything else the Scottish DJ/producer/hitmaker had going on suggested that his physical presence was a bit beside the point. The point? Glowing pseudo-futuristic light projections, jets of smoke, multi-colored strobes, and his own hysteria-inducing dance anthems — "We Found Love," "Flashback," "Dance Wiv Me," a seamless neon string of drops and hooks threaded in between the assaultive battery of effects. Seachlights shot out into the glow stick-wielding crowd, purple pyramids, chevrons, and Millenium Falcon-going-hyperdrive beams were projected onto a screen behind the stage — fitting because the show was like watching George Lucas's Industrial Light & Magic explode in front of your eyes. Sure, maybe by the 19th time smoke bombs went off in sync with one of Harris' drops, the impact wasn't overwhelming, but then again, we weren't on anything.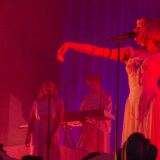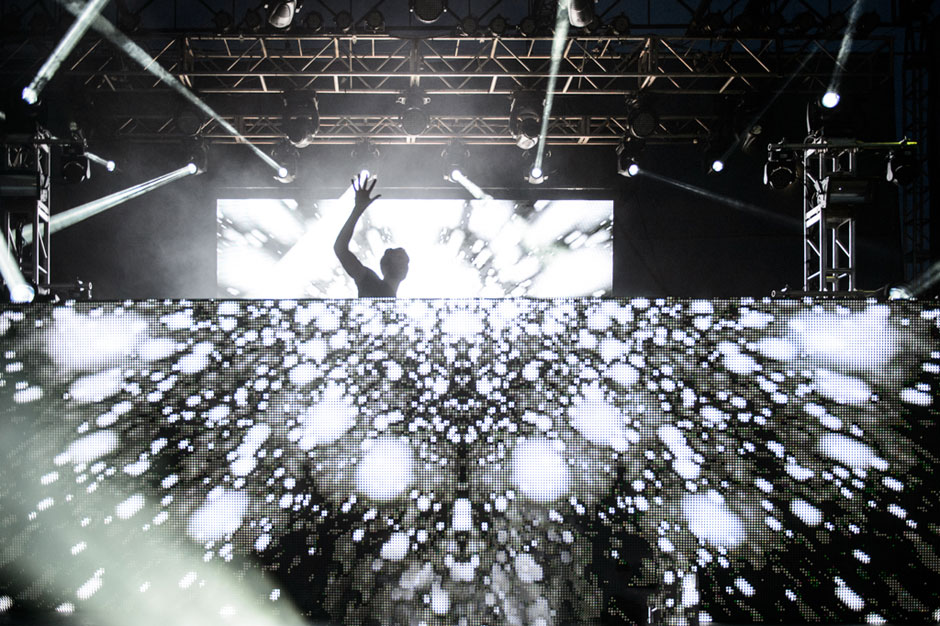 Best Percussion: DJANGO DJANGO
During their early-afternoon set on Friday, the much-ballyhooed, jazzily named British quartet Django Django used an impressive plethora of percussion equipment to spice up their propulsive art-rock. We recognized tambourines, cowbells, shakers, wood blocks, and a halved coconut. We didn't recognize another half-dozen sproinging, chukka chukka-ing whirligigs and gewgaws. Whatever those instruments were, the band used them to playfully funky effect. Vaguely Beta Band-esque tunes like "Firewater" and "Skies Over Cairo" would charge forward on surf-guitar lines and incantatory melody, tense and coiled, and then… boi-oi-oi-oi-ing! Django Django's percussion was cartoonish, colorful, and so much fun, nicely undercutting the music's artier inclinations.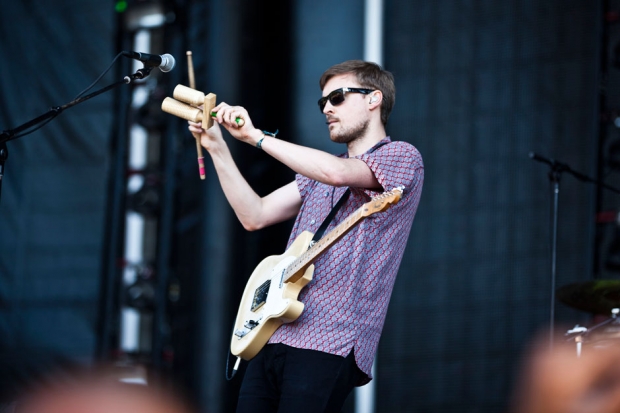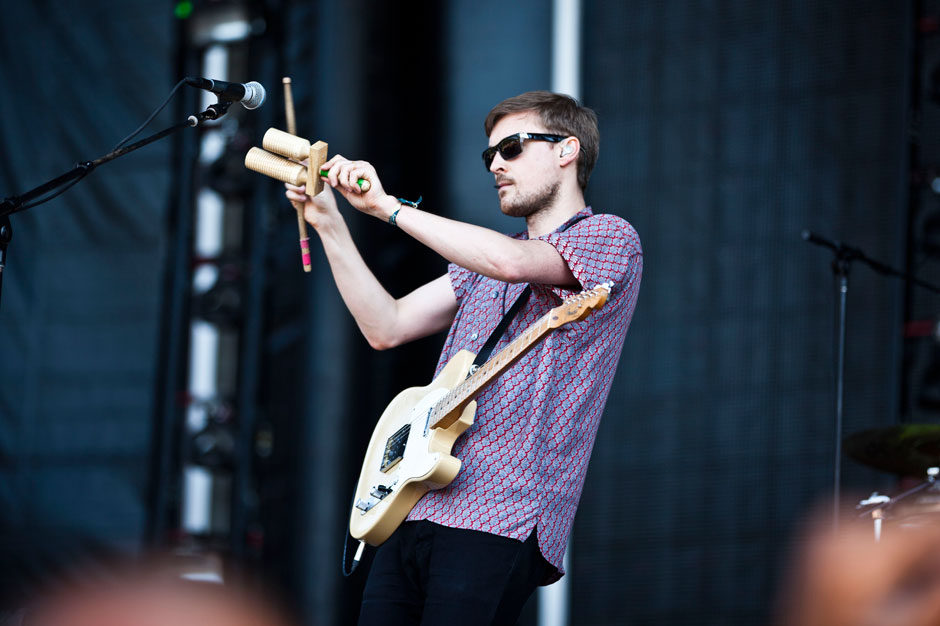 Best Build-Ups: THE JOY FORMIDABLE
There isn't much cool about the Joy Formidable. Playing before a small-ish crowd on Friday evening at the hidden-away Backyard Stage, the Welsh alt-rockers were dressed like young teachers: singer-guitarist Ritzy Bryan was wearing a floral sun dress and black leggings, bassist Rhydian Dafydd tucked his collared shirt into his jeans, and drummer Matthew Thomas, was, well, we couldn't actually see him from where we were standing, but we bet he wasn't wearing anything fancy. The band's music wasn't at all polite, though. On melodic maelstroms like "This Ladder is Ours" and "Little Blimp" from January's Wolf's Law, and the epic "Cradle" from 2011's The Big Roar, the band would start with grungy bass and guitar riffs, send them whirring around Bryan's ethereal vocals, and then ascend furiously from there on to gusts of double-kick drumming and roiling distortion. Even in the vast open-air setting, there were moments when the Joy Formidable filled the sky with sound.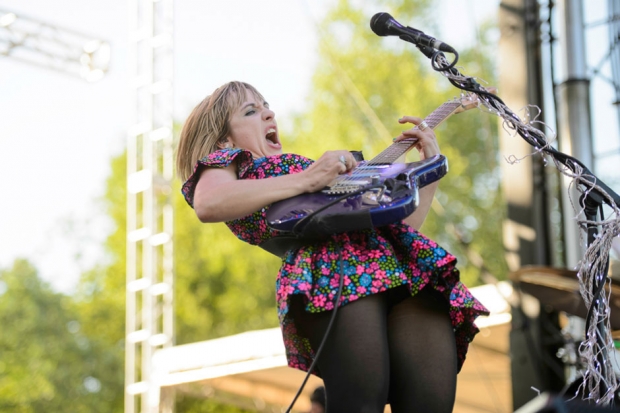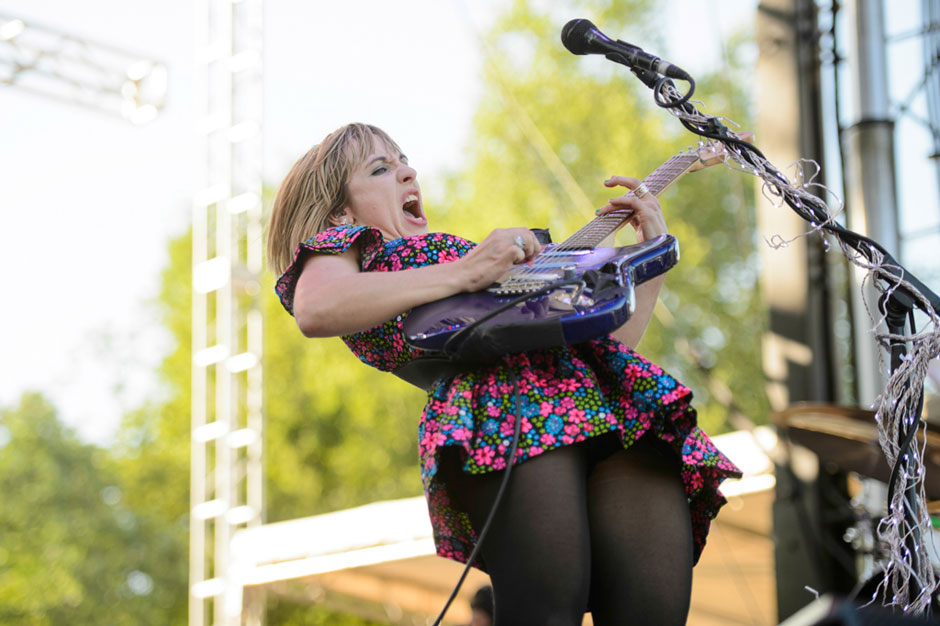 Best Sing-Alongs: TOM PETTY
About a month ago, I saw Tom Petty play a relatively intimate show at the Beacon Theatre in Manhattan when he uttered a phrase that I was in no mood to hear: "We're gonna play some deep cuts for you tonight." Okay, Tom Petty may have a vast catalog of underappreciated gems. But live, I want the man responsible for some of the best straight-ahead American rock'n'roll of the last 30 years to bring the radio fire. And that's what he did on the main stage on Saturday night at Firefly. "Mary Jane's Last Dance," "I Won't Back Down," "Free Fallin'," "Love is a Long Road," "American Girl": The Grinch himself would get goosebumps hearing tens of thousands of people accompany Petty — as they did on this night — on the choruses of those deathless summer songs.