Electric Daisy Carnival 2013: The 20 Best Things We Saw
True, a rave by any other name will smell just as sweaty, but Electric Daisy Carnival is something truly special. With eight stages and more than 200 acts, the flagship Las Vegas event is one of the biggest electronic music fests in the U.S., and quite possibly the most iconic. Running from dusk till dawn (7 p.m. to 5:30 a.m.) across three neon nights at the Strip-adjacent Motor Speedway, the event brought in 115,000 fans per day this weekend, the vast majority of which it seemed were down to break into an "E!D!C!" chant at only the subtlest of coaxing. That's because the Daisy offers an experience™ complete with actual carnival rides, ornately costumed dancers, electric light shows, multiple stages and, yes, even an onsite wedding chapel. SPIN dove headfirst into its third year.
1. Electric Daisy Carnival 2013: The 20 Best Things We Saw
1/21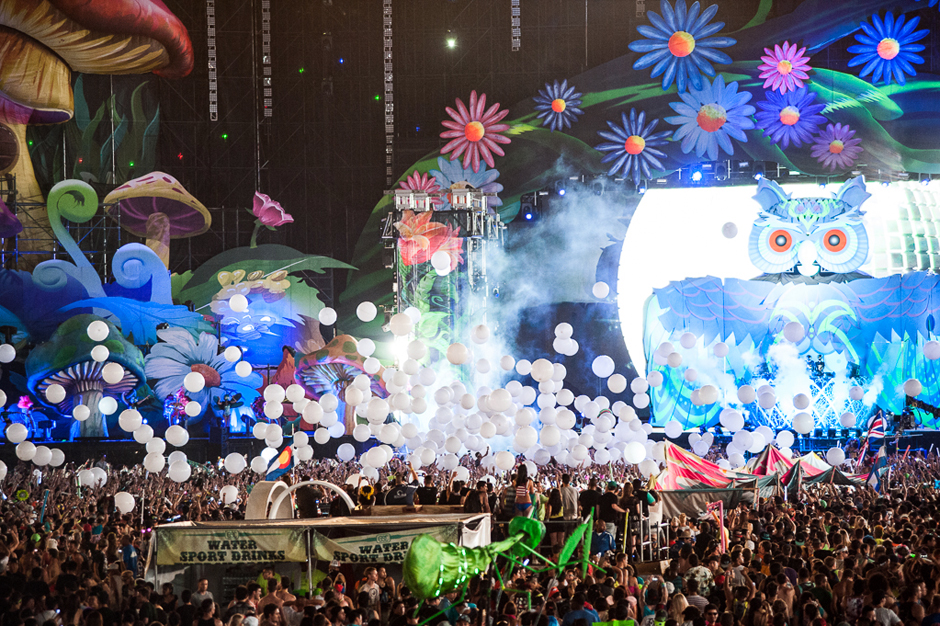 2. Best Actual Electric Daisy: THE ELECTRIC DAISY
2/21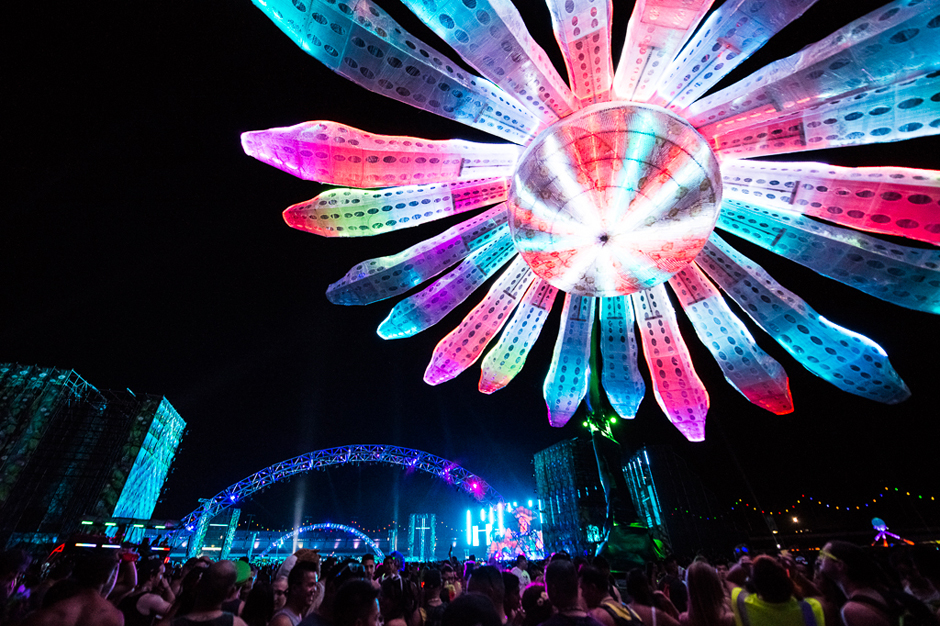 The EDC grounds are jam-packed with trippy diversions, from prismatic light tunnels to stilt-walking bumblebees to a dance floor that changes colors when you jump on it. But none is quite so quietly iconic as the gigantic glowing flower on a crane that lives outside of the Kinetic Field. When it's raised all the way to the sky, it looks like a Technicolor super-moon, and when it bows toward the crowd it feels like a benevolent friend. Up close, you can see the petals move with the wind, and the various hues within them shimmer and shift like embers. It's twice as entrancing as a Tiësto set and doubles as the unofficial meet-up point for wayfaring fest-goers who have parted ways.
3. Best #EPIC Experience: AVICII/TIËSTO/AFROJACK
3/21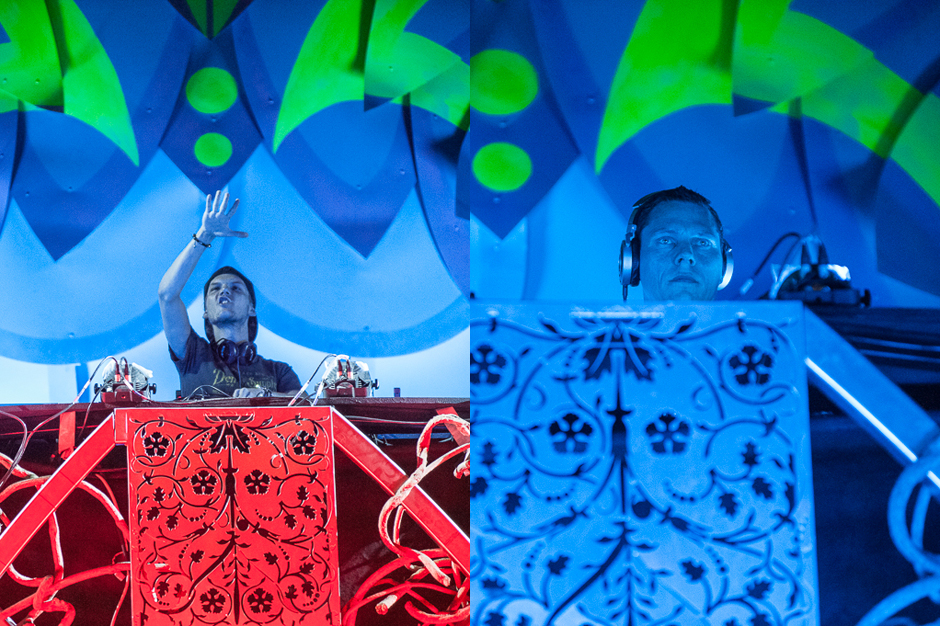 The Kinetic Field is for a very specific EDC-goer — the Least-Specific EDC-Goer. The massive main stage arena is as general-interest as it comes: big-ass beats with trance breakdowns, major-chord choruses, a sucking sound, and then the return of the big-ass beat. Obviously there's some variation between artists, but there's a lot of overlap as well. And one girl's completely innocent query to her friend during Avicii's set could've applied to Tiësto's or Afrojack's: "I love this song! Which commercial is this from?" (We swear upon our journalism degrees that actually happened.) You also need superhuman powers of patience and endurance to survive out there (this is, evidently, a festival of uncanny X-men and -women). It's a sea of people, shoulder to sticky shoulder, smearing body-paint and salty sweat all over one another. A modest estimate puts the exit time from dead center at a minimum of 45 minutes: probably only part of the reason why none of these dedicated souls ever leaves.
4. Best New Beginnings: Dog Blood
4/21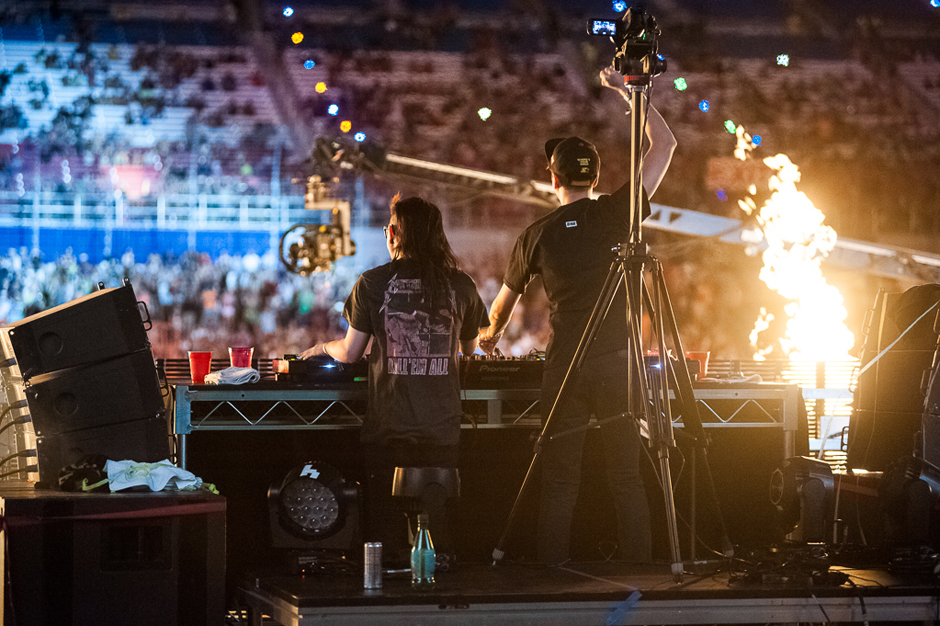 Dear Skrillex haters (you know who you are), go see Dog Blood, and then hush thyselves. Sonny Moore's team-up with Boys Noize has nothing to do with the so-called "brostep" you revile — their EDC set was all acid house and squelching techno, and it took place far away (literally and figuratively) from the über-packed and oft-pandering main stage. Their opener was the decidedly anti-PLUR "Middle Finger," and they blasted out that sucker while images of warped smiley faces flitted by on the screens overhead. They rep the dark side of the rave, and they've realized that incessant four-on-the-floor and serrated sequencer sounds are harder than those cute lil wubs could ever be (time-tested to boot). Where's the drop? It's everywhere, motherfucker.
5. Best Call-and-Response: FATBOY SLIM
5/21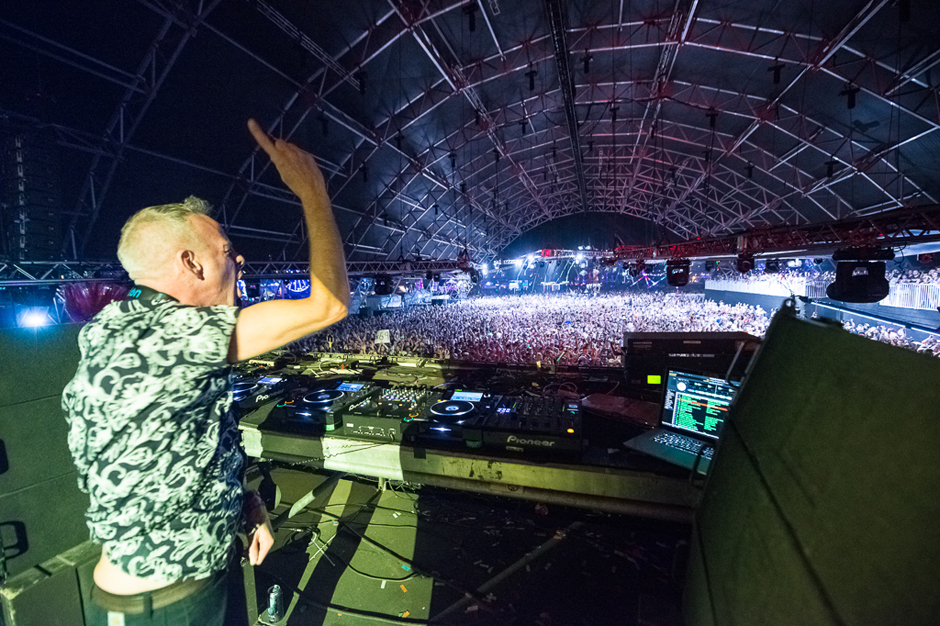 Norman Cook has been playing various forms of dance music to various generations of fans since 1979, so it's a safe bet that the dude knows how to handle a crowd. Without touching a mike, he let his samples do the talking. "Make some noise," a disembodied voice requested, and people screamed wildly. "Say, 'We came to party,'" a Sugar Hill-style MC later suggested, and that they did. He jacked LMFAO's "I'm in Las Vegas bitch," and the fans answered with disco woops. He de-trapped Baauer entirely but the "Con las terroristas" snippet inspired insane wobbling on the dance floor. The was even a sing-along to a chipmunk-ed Pharrell over a happy hardcore reboot of "Get Lucky." But the best call-and-response came with Slim's opening number — his brand new song, "Eat, Sleep, Rave, Repeat." Turns out that's what everyone was already doing.
6. Best Actual Band: LA ROUX
6/21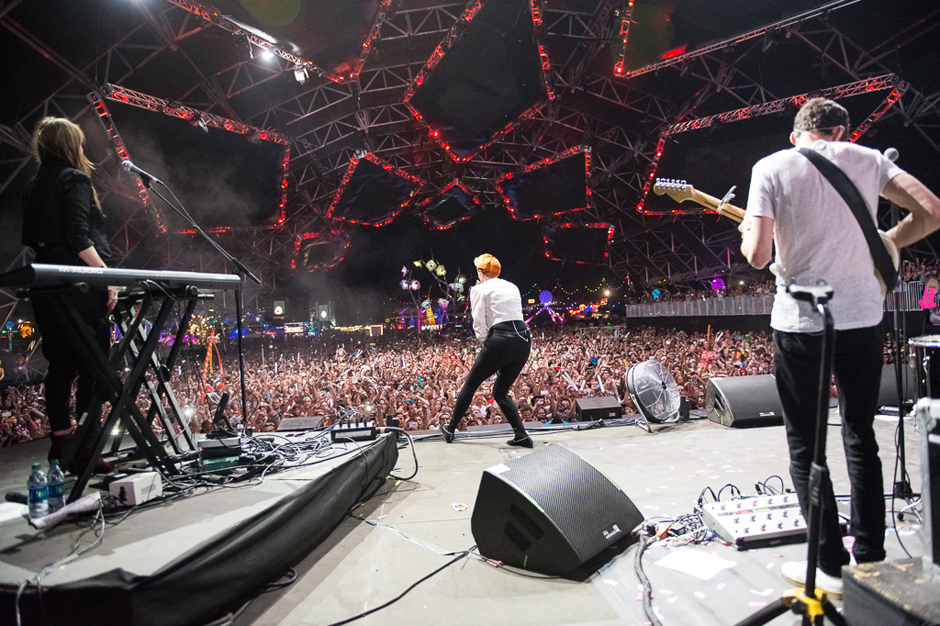 After two and a half days of EDC, you forget that songs have endings and people who make them. Cue La Roux. The Brixton synth-pop specialists performed as a genuine four-piece band featuring a pair of dueling drummers, a keyboardist, and Elly Jackson, of course, in her most architecturally impressive Tilda Swinton garb. Their whole "live music" gimmick (kidding) went over surprisingly well despite the noticeable lack of "Mercy," "Harlem Shake," or "Get Lucky" remixes. We were told the crowd thinned at the back by the set's end, but up in the front it was packed with ravers proving that they can indeed recall entire songs' worth of lyrics (don't underestimate your audience, Afrojack). The closing one-two punch of "Tigerlily" and "Bulletproof" brought massive cheers and a general air of flounciness, and when the quartet wrapped, rather then slipping away while the next dude plugged in, they walked to the edge of the Circuit Stage for a deep bow. Could this pave the way for a band stage next year? Perhaps Insomniac can put up enough dough for an LCD Soundsystem reunion?
7. Best DIY Fashion: EVERYONE
7/21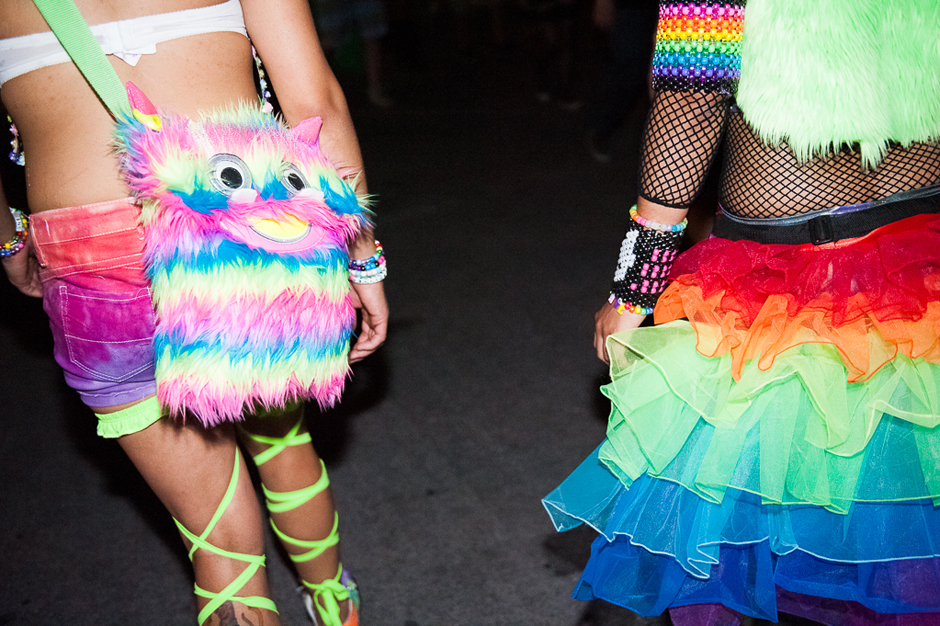 We know you want to sit at home and laugh at all the fuzzy boots, ill-fitting booty shorts, and bad T-shirts that say things like, "F_CK: All that's missing is U." But really, today's raver is to be celebrated for her or his crafting prowess. Your standard rainbow-beaded PLUR bracelet is a thing of the past. This year's EDC crop featured a bead gauntlet on every other wrist — we're talking Mega Man-level arm garb, some of it actually Mega Man-themed — not to mention beaded face-gear paying tribute to the Vicks-slathered hospital masks of yore. We even saw one that was terrifyingly modeled after Bane's breathing apparatus. Couple that with the ambitious hair and makeup work and the occasional handmade headdress, and it seems clear that a new international arts-and-crafts movement is upon us. And the work they're doing with pasties these days will be doubtlessly studied by amateur physicists for years to come.
8. Best Shirt Swap: MAJOR LAZER
8/21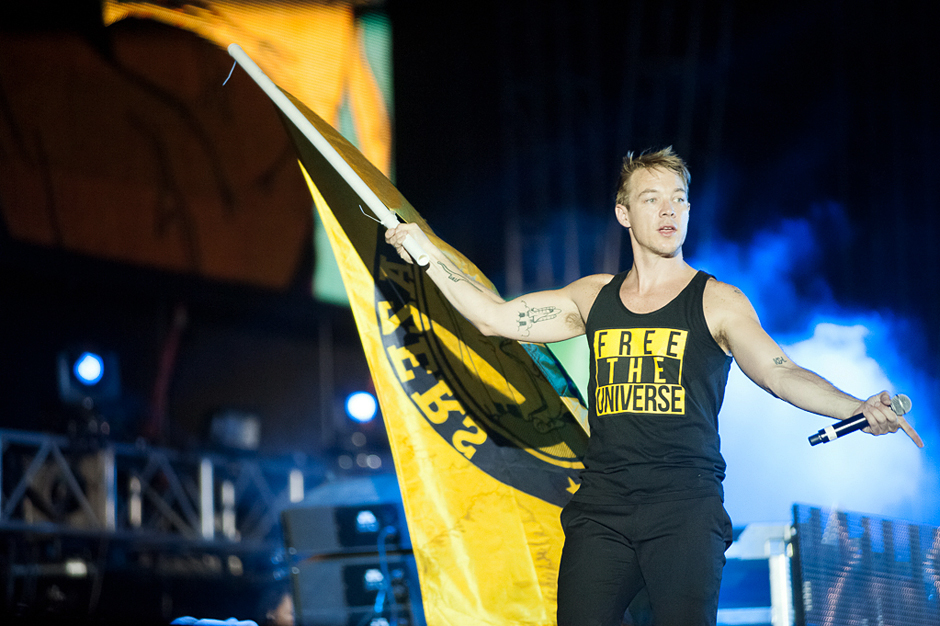 Those who actually came with shirts were given a chance to refresh their look about halfway into Diplo's three-ring dancehall circus (the other two features being the previously seen on-crowd hamster-ball run, and the highly #expressive twerking demo given by his able-bodied dancers). After dropping a riddim remix of Kanye's "Black Skinhead," the best "Harlem Shake" of the weekend (sorry, Baauer), and the buoyant crowd fave "Original Don," Major Lazer henchmen Jillionaire and Walshy Fire commanded the entire crowd to prove their love and fucks-free stance by kindly removing their tops. Most went followed his order, then whipped 'em in the air like rally towels before — "on the count of three" — tossing them as high as they could into the sky. We assume everyone left as clothed as they came, though perhaps not as color-coordinated.
9. Best Batshit Insanity: THE BLOODY BEETROOTS
9/21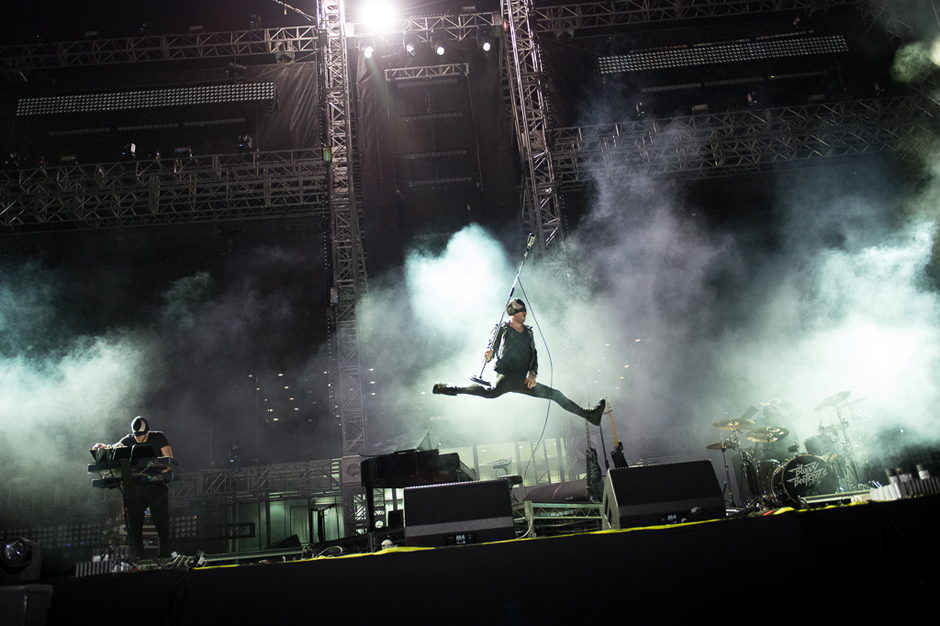 Led by a maniac in steel studs and a glowing Venom mask, Bob Cornelius Rifo and his gang of Italian dance-punk dramatists had more energy on stage then all of the DJs on all of the decks combined. They handily nabbed "Best Entrance," as well, by coming out screaming, split-kicking, and mike-stand-swinging, while framed by burping blasts of actual fucking flames. Rifo shredded the guitar and his grand piano with equal aplomb. Electronics man Battle made sure the entire world was rattling on its axis. Drummer Edward Grinch was an elbows-up kit-crusher who displayed a mountain's worth of latent anger-management issues. When Bob shrieked, "Make some noise!" you best believe we did, and we were gloriously punished for our acquiescence.
10. Best Fake Guitar-Playing: EMPIRE OF THE SUN
10/21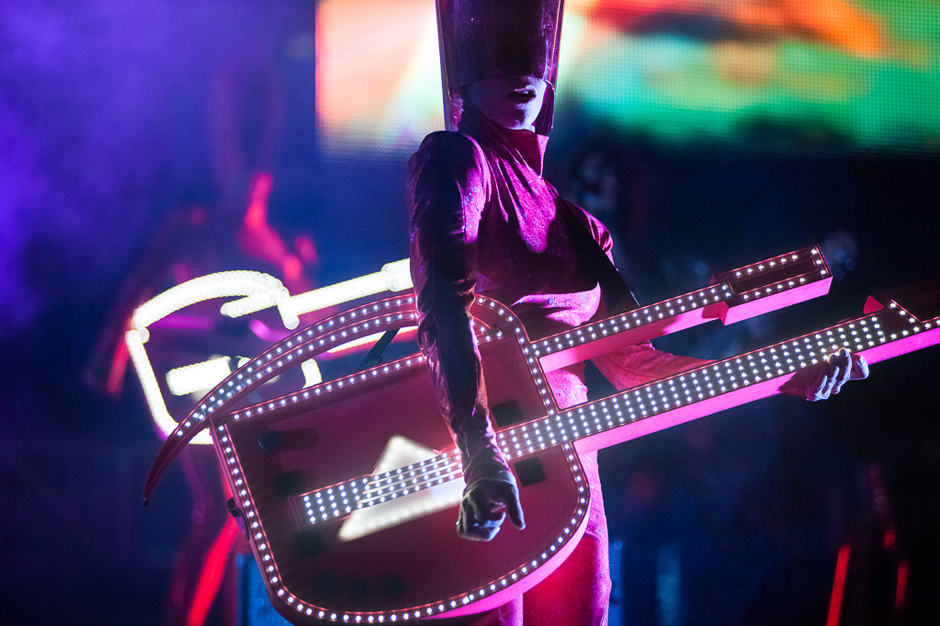 Do you remember the Sleepy Jackson? Before Luke Steele was donning wacky crowns and pretending to be Aztecky Stardust, he was strumming psych-pop indie-folk with sensitivity and skill. That man still exists at the heart of Empire of the Sun, and so does his acoustic guitar — the perfect foil for all of that synth-pop arena-rave disco bluster. But this band is all about incredible spectacle, and half of the crowd wouldn't recognize a Takamine guitar if it hit them over the head. So when the heavily head-dressed act launched into "DNA," which features that familiar breezy strum, Steele shredded along on a white electric guitar that clearly wasn't contributing to the sound in any way whatsoever. In fact, it seemed more effective when he was using the thing as a laser gun, zapping his gold-helmeted dancers. Speaking of, when the acoustically pumped "We Are the People" came on, Luke's axe was nowhere to be found, but the four spandex-clad ladies spun around prop guitars made of cardboard and LEDs. Wink wink.
11. Best Left Hook: KOAN SOUND
11/21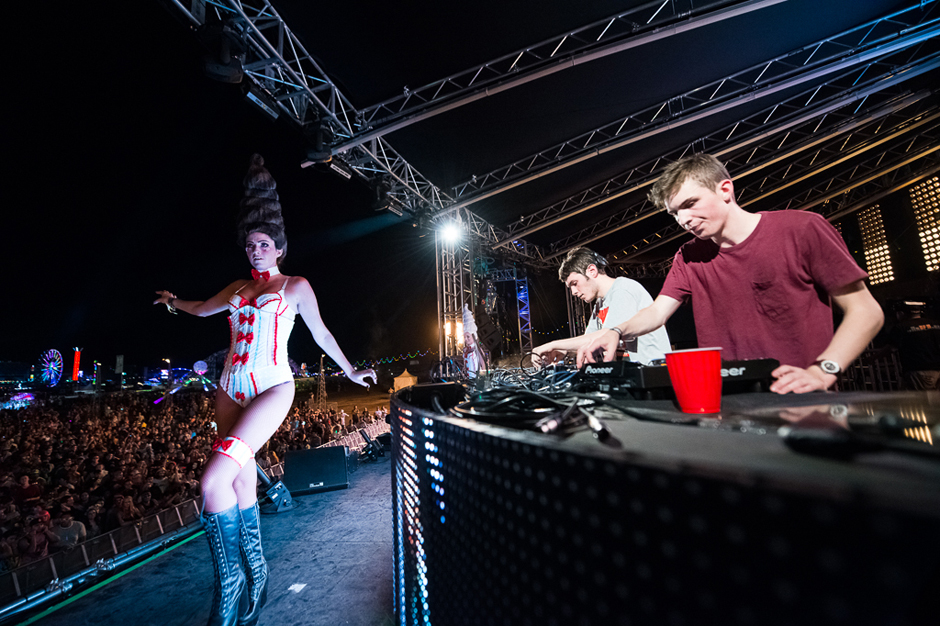 Signed to Skrillex's OWSLA imprint, this Bristol duo does the dubstep, yes, but only as a delivery system for all of the best IDM ideas of the '90s. Their approach is hard and funky, leading with big bass rumbles that are quickly cut to pieces using a slicer designed by Ninja Tune's glitch chefs. In comes the Prefuse 73 rap splatter. The mushroom jazz. The breakbeat funk. The Warp'd weirdness and wobbly disco of bygone days. These guys subvert the wub so subtly and beautifully that the bro-stepping masses didn't even realize that what they were dancing to had more to do with Daedelus than Datsik. Pay attention to Will Weeks and Jim Bastow. They've released only a handful of EPs so far, but when they're ready for a full-length, they'll be a formidable force indeed. (As long as they leave the loud-mouthed hypeman at home.)
12. Best Diversion: THE CARNIVAL RIDES
12/21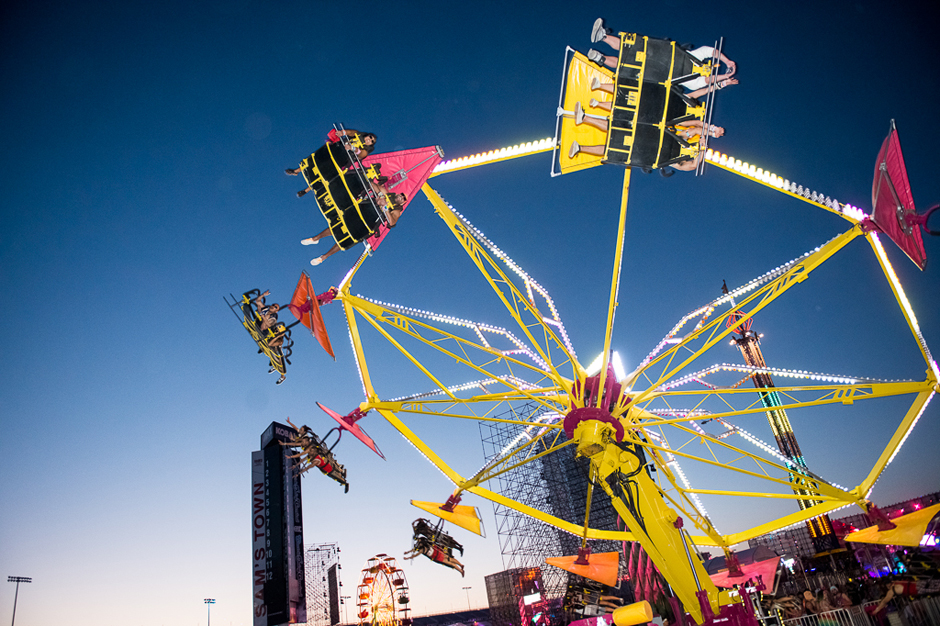 "Carnival" is much more than a handy euphemism for the dreaded word "rave" at EDC. The grounds are chock-full with county-fair classics, from the Cliffhanger (where you fly like Superman), to the Super Shot (where you fall like a sack of bricks), to the Zipper (where you vomit profusely). Plus, you'll think about those ridiculous furry boots far more kindly after you've seen their fuzz whipping in the wind overhead at the tail end of one of those spider-armed spinny things. As popular as all of these harrowing rides are, the best might be the ferris wheels (there are at least three of them), which both add to the neon backdrop of the Electric Sky and offer an incredible vantage on the blissful activity happening all around.
13. Best Basic Beats: RICHIE HAWTIN
13/21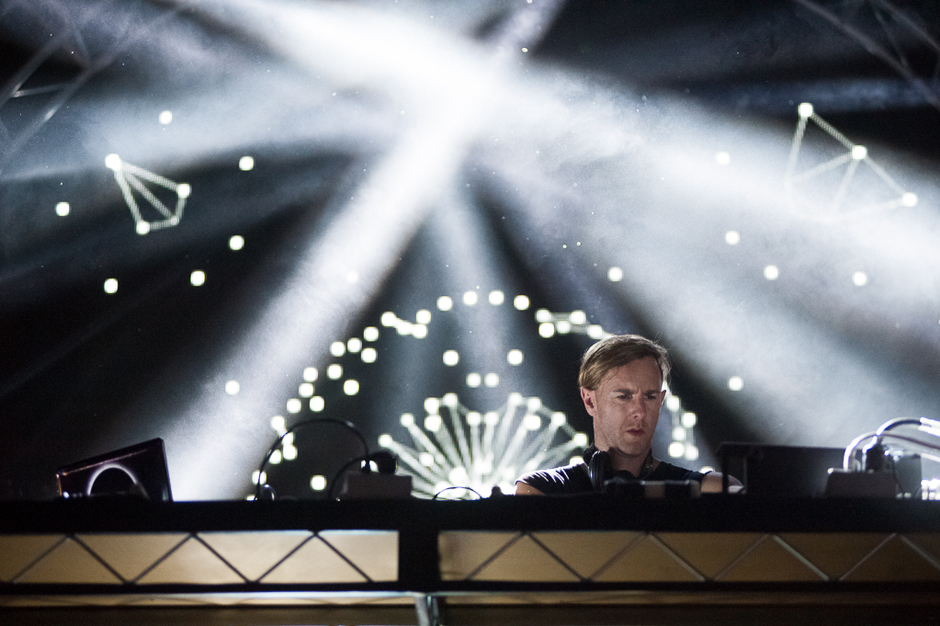 A minimalist master like Richie Hawtin is pretty much in a class of his own at EDC. While ballcap-hatted bros flex and fist-pump their way through bass-blasting SFX feasts candy-coated with epic major-chord melodies, he's got his head down, austere haircut moving just so, wearing sleek sleeveless black cotton as he tends to historically brutalist beats. With a four-on-the-floor pulse born in the shadow of Detroit's auto factories, his live sound was hard and workmanlike. The flourishes came from the momentary crispness of an unaffected cymbal hit or a wisp of melodic wash, but mostly Hawtin delivered unadulterated kick-drum pounding colored by dooming atmosphere. The set attracted a decidedly male and neon-free crowd, and inspired some of the most serious shuffle-stepping we saw the entire weekend. Also, a 30-foot-high Hunter S. Thompson puppet showed up.
14. Best Reason to Lose One's Shit: KREWELLA
14/21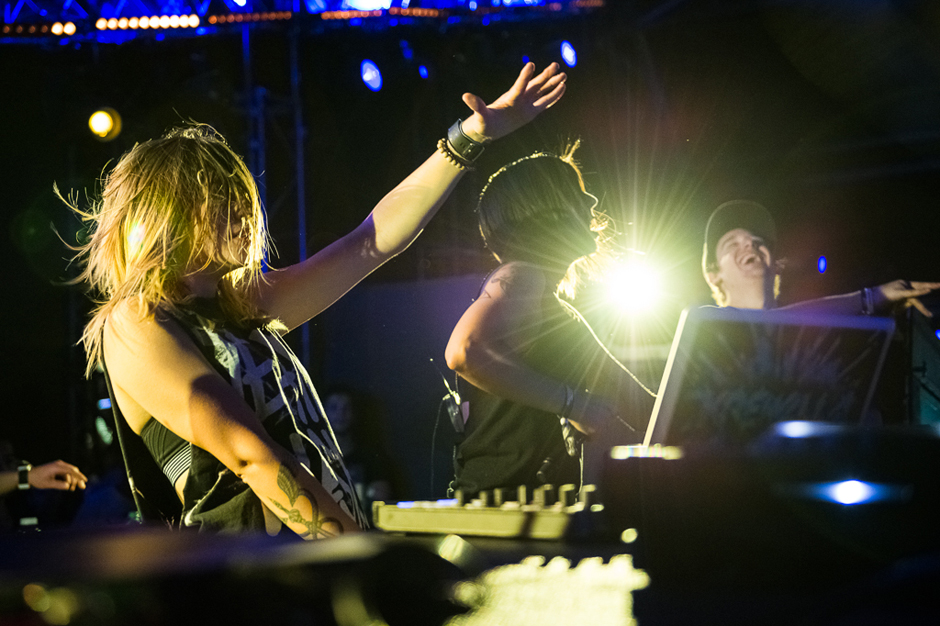 Hands down the craziest crowd we saw all weekend. It's easy to poke fun at brostep, and pretty much impossible to deny the power of that dark art in the hands of Jahan and Yasmine Yousaf, the sibling singers behind Krewella (yes, we realize that makes what they do sis-step, like, literally). Rounded out by producer Rain Man, the Chicago trio are devastatingly effective in person, creating a ton of electronic skronk as informed by moombahton and house as American robo-torture recordings. Best of all, the women vacillate between deep-voiced diva duets and hardcore-punk screeching depending on what the situation calls for. Never mind that the lyrics to songs like "Play Hard" or their remix of Knife Party's "Fire Hive" are a combination of Linkin Park posturing and LMFAO partying — the Yousafs deliver them with such conviction that you too will find yourself rhyming "whiskey and cigars" with "you fuckin' with a star."
15. Best Trip: ALTERVISION 3D BLACKLIGHT EXPERIENCE
15/21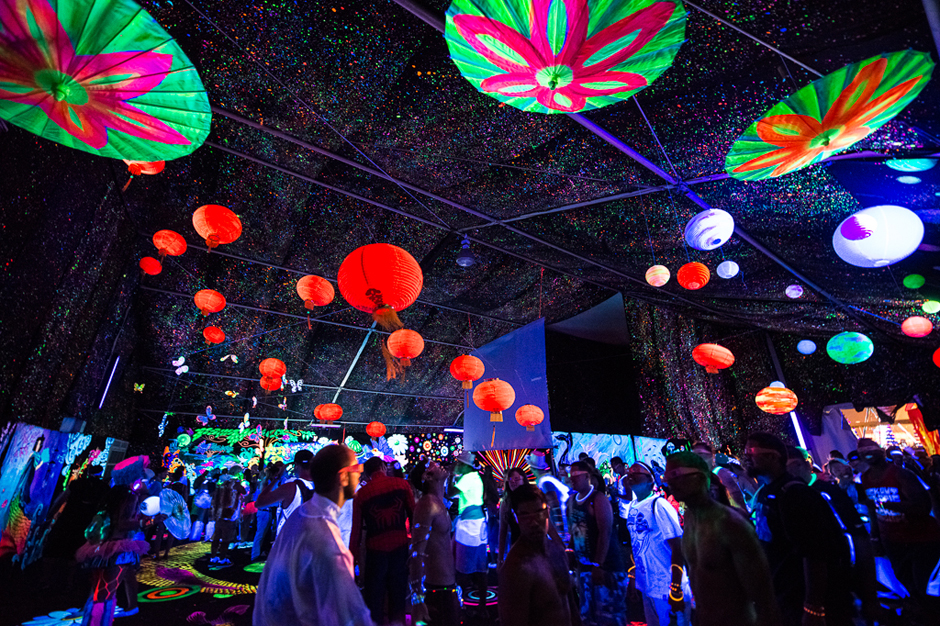 Why waste money and valuable carnival time on body-taxing psychoactive drugs when you can take a quick, air-conditioned trip through this incredible tent? As you walk into the outsize acid test, a nice man or woman at the door hands you a pair of 3D glasses, and you think to yourself, "It's black-lit. Why bother with the shades?" Short answer: because you don't actually believe that you're underwater yet. Put those puppies on and each color repositions itself to a different depth, so that the massive koi on the floor, the paper lanterns in the air, and the spots on the walls are both "over there" and, like, inside of you (or vice versa?) at the same damn time. There are people spinning Dayglo umbrellas and streamers. You can kinda see through your friends' bodies. And everyone's gingerly reaching for things that don't even exist. WTF FTW.
16. Best Alien Visitation: GREEN VELVET
16/21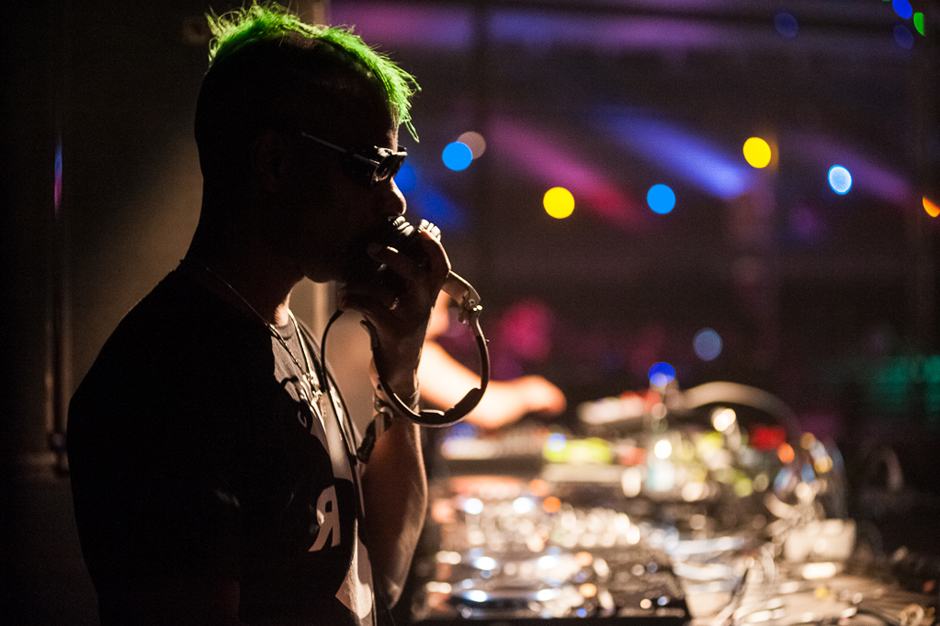 EDC features a young crowd. "Barely 18" would be the official designation. Which means that Curtis Jones' experimental 1996 house hit "Flash" was No. 1 on the U.S. dance charts when many within the audience had just experienced their No. 1 birthday. That didn't stop anyone from happily entering "Club Bad" and chanting along with the sassy, vogue-ish hook: "Cameras ready, prepare to flash." And it only seemed to make matters better that the man best known as Green Velvet appeared not only as a time-traveller, but as some visitor from another galaxy entirely. As the chartreuse-mohawked DJ churned out a whorling mix of pulsating strings, jagged guitar, screeching sound effects, and pounding drums, he muttered mysteries and laughed maniacally through his headphones. During "Preacher Man" he even improvised some vocal wubs.
17. Best Bad Decision: GETTING MARRIED AT EDC
17/21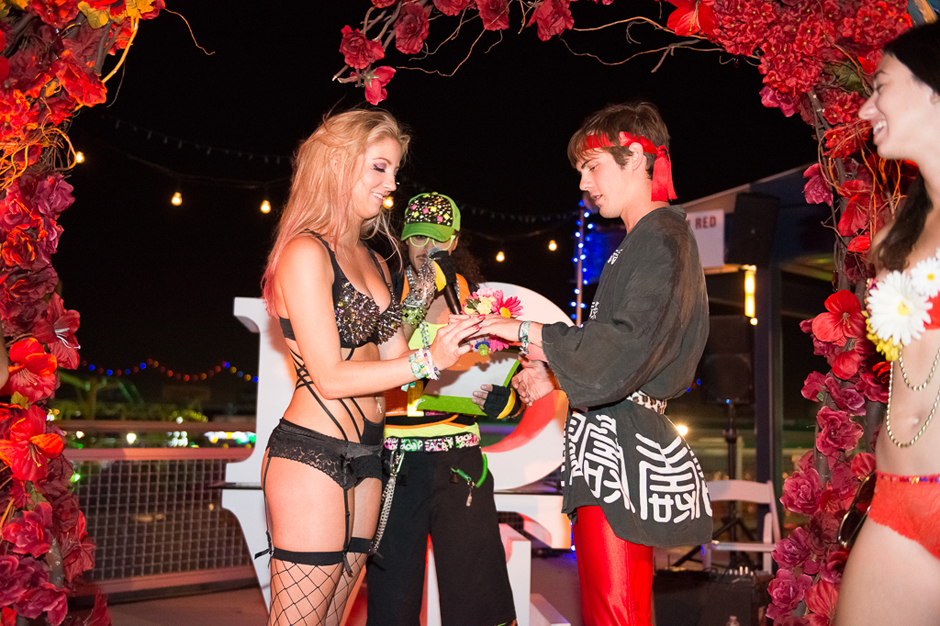 There is no end to the wonderful trouble that one can get into at EDC, but most of it will wear off by the morning. But as Diana Ross once warned us, love can deliver a helluva hangover as well — one that can be legally binding and fairly permanent. This year's flagship EDC paid tribute to the grand Las Vegas tradition of impulsive engagement by hiring a licensed Elvis impersonator to officially wed those daring enough to put the "L" in PLUR. The King's assistant told us that more than 30 ceremonies had been performed by the weekend's end. Also offered: a tongue-in-cheek "commitment ceremony" that includes lines like, "You will love together, you will party together," and wraps with a mutual, "Hell yeah." With this LED ring, I thee wed...
18. Best Discovery: ART DEPARTMENT
18/21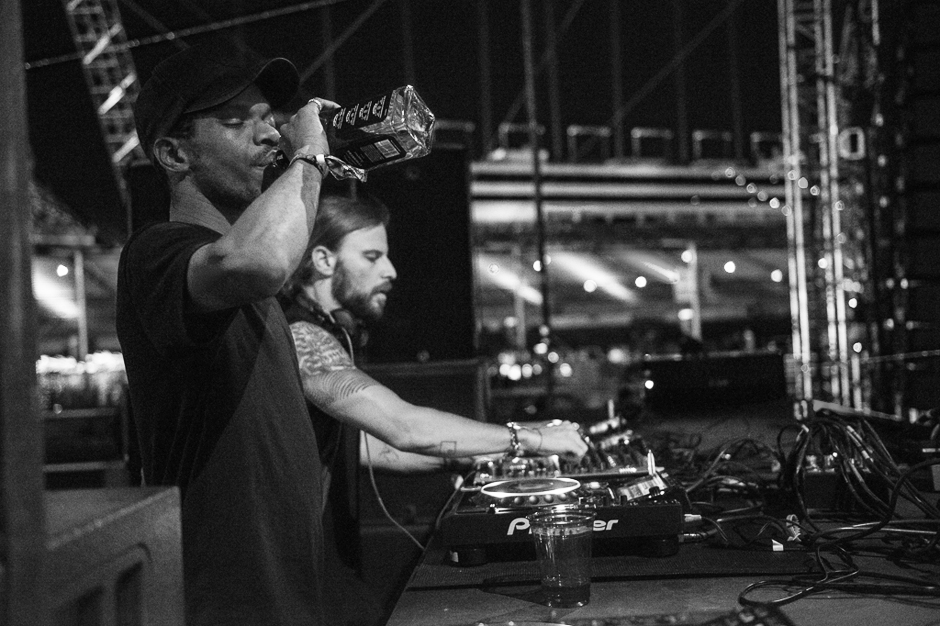 If you're like us, you show up at EDC wondering why no one invited Flying Lotus or Four Tet to the party. The delightful truth is that while artists with indie crossover have been largely overlooked, there is much deeper digging to be done in some of the outlying tents. The Neon Garden may have been the best, hosting what seemed like an endless string of progressive house and minimal techno thanks to curators like Carl Cox and Damian Lazarus. Art Department — consisting of Jinxx Records old-schooler Kenny Glasgow and No. 19 label-owner Jonny White — dealt out some of the most futuristic electronica of the entire event, lacing the aforementioned strains with Knife-like sequencer warbles, dark synthery, and a percussive palate that'd get them signed to DFA in about two extra-modern measures. It didn't hurt that when we came across the duo, they were accompanied by Lazarus' bizarre dance squad — interpretive weirdos dressed for a hula hoopla — and silhouetted by a throbbing, shape-shifting pyramid that hit us right in our arty heart.
19. Best Bombs Bursting in Air: BOYS NOIZE
19/21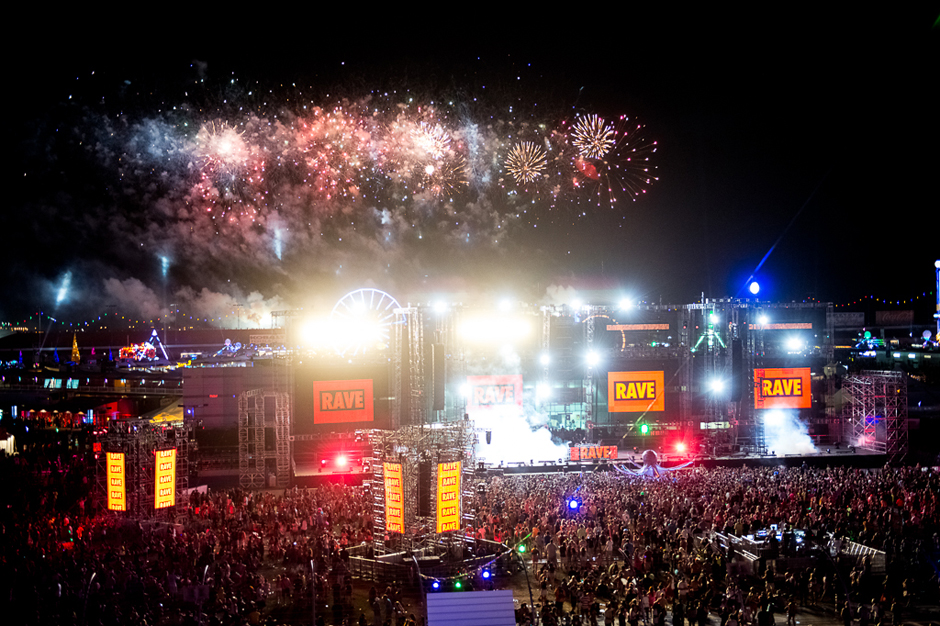 What did Alexander Ridha even play? Okay, he pretty much crushed the crowd with a mix of heartily banging electro-house and hard-no(i)sed techno. But it was the synchronicity between his selections and the 12:30 a.m. EDC fireworks blowout that made the set feel like the Battle of Fort McHenry (the end part, when they realized the flag was still there). We climbed up to the racetrack bleachers to rest our feet and wound up witnessing the entire spectacle: bombs bursting in air, accidentally (?) in time with the rapid barrages of beats coming from below. Boys Noize's block-letter graphics spelled words like "OH SHIT!" and "VIBEZ" and "ACID" while we thought the same things, trying to determine what that giant octopus was doing crawling across the crowd (FYI, we were sober — it turned out to be a puppet).
20. Best Production: NIGHT OWL EXPERIENCE
20/21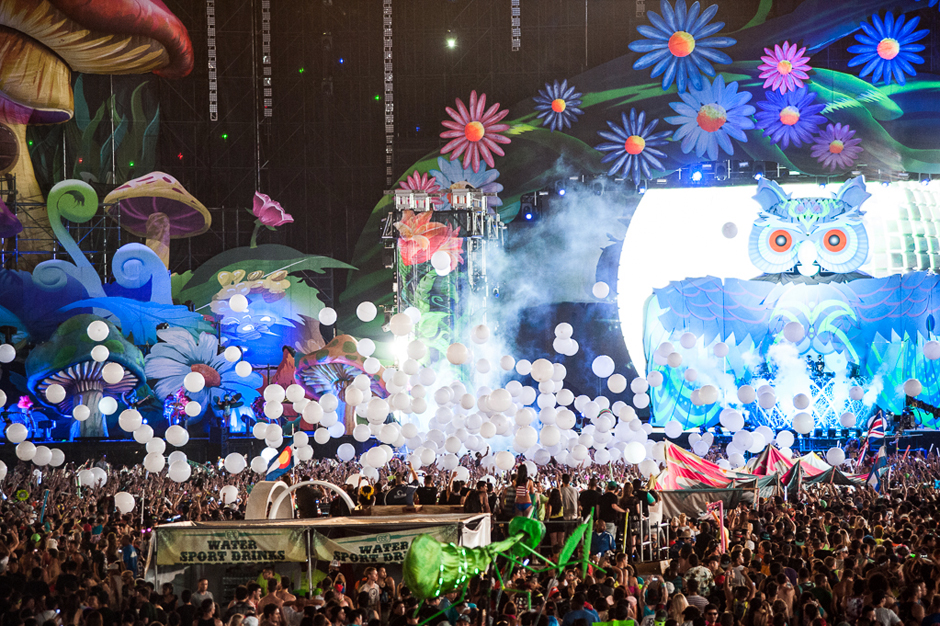 Despite our snide remarks about the headliners' samey sets, EDC's main stage — the arena-sized Kinetic Field — featured some amazing perks. Far and away one of the most impressive elements of the festival was the 100-foot owl that framed each performer with its folding wings, and loomed over the proceedings with animated LED-screen eyeballs. Surrounded by massive mushrooms, a beehive, and blooming flowers, the big bird could've flown in direct from Disney World (indeed, we heard Michael Eisner was in the house, though we're not sure what he had to do with anything). And at 3:30 a.m. on the final night, more than 80,000 revelers, according to Insomniac, filled the bowl in order to pay tribute to their nocturnal spirit animal. The performance billed only as the Night Owl Experience wound up being an everything-all-the-time celebration of the festival's incredible production prowess. The 400-plus showgirls, stilt-walkers, puppet-masters, acrobats, breakdancers, and other non-musical performers who'd been lending their services to other artists' sets all came together in one place while lasers beamed, flames roared, and fireworks blasted. As for music, we were treated to a rave megamix anthologizing three decades of vital dance hits. Oh, and promoters spent a rumored $2,000 on massive cotton balls just so they could attempt to coat the entire audience in a single spider web.
21. Best Wake-Up Call: SUNRISE OVER THE SPEEDWAY
21/21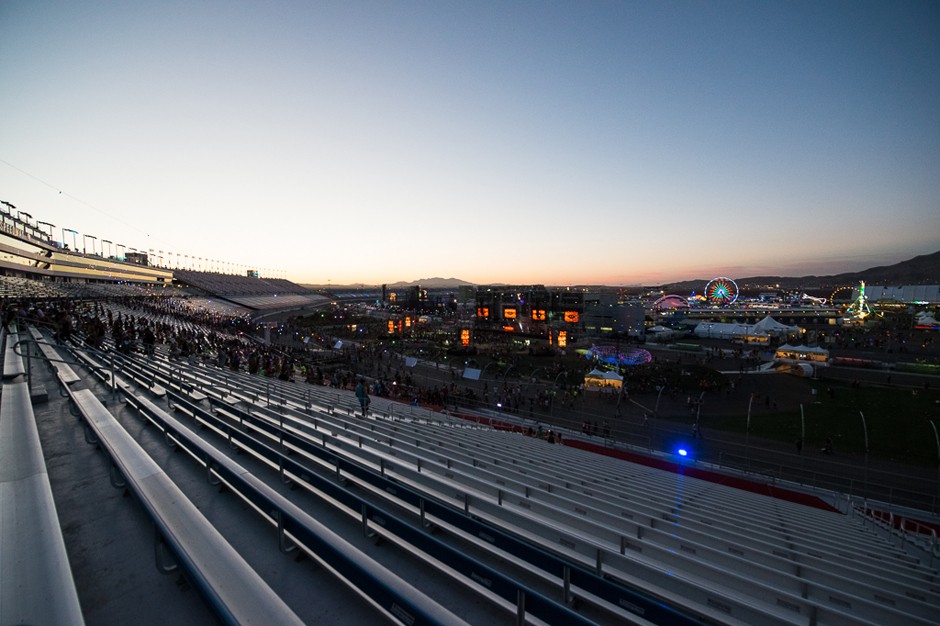 This party famously runs from dusk till dawn — and although we felt invincible under the Electric Sky, nature is going to win every time. The neon LEDs lose their luster, the rocky red peaks beyond the track rise up, all of the advertisements for brands we don't understand (racing!) encircle us, and suddenly all of that exposed flesh seems cartoonish and crude. In the light of day, we aren't PLUR babies attached at the vibe — we are tired humans who've done unnatural things, and we now know that we shall pay the cost. The sunrise is as beautiful as it is sobering, and it's one of the most unique experiences of Electric Daisy Carnival.