On July 16, surrealist director David Lynch will return with his second original album, The Big Dream. Like 2011's dark and unsettling Crazy Clown Time, the new set will mostly feature the Twin Peaks creator's own vocals over his "modern blues" with one key assist. Then it was recent SPIN cover star Karen O — this time we get (ironically) a 2011 SPIN cover star, Lykke Li.
The Swedish songstress joins Lynch for "I'm Waiting Here," a dreamy and noir swooner replete with slow-dance swing and bassy atmospheric swells. The song is streamable below for Spotify users. In a press release, Lynch says that Li "brought her own style to this song, which has a doo-wop sort of thing going on, but in a way it's far-removed from the '50s."
Regarding The Big Dream, he explained, "Most of the songs start out as a type of blues jam and then we go sideways from there. What comes out is a hybrid, modernized form of low-down blues." The album will also feature a cover of Bob Dylan's "The Ballad of Hollis Brown." (Revisit our 2011 interview with the man to shed a little light on his shadowy, mutant rockabilly sound.)
Beneath the track list, you'll find a genuinely Lynchian Vine post featuring an animated interpretation of The Big Dream's cover.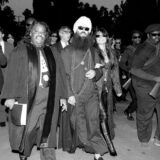 David Lynch, The Big Dream track list:
1. "The Big Dream"
2. "Star Dream Girl"
3. "Last Call"
4. "Cold Wind Blowin"
5. "The Ballad of Hollis Brown" (Bob Dylan cover)
6. "Wishin' Well"
7. "Say It"
8. "We Rolled Together"
9. "Sun Can't Be Seen No More"
10. "I Want You"
11. "The Line It Curves"
12. "Are You Sure"
13. "I'm Waiting Here" [ft. Lykke Li] (bonus track)