For a band that's supposed to be on indefinite hiatus, Broken Social Scene are awfully busy. Despite calling it quits after a November 2011 show in Rio de Janeiro, the Canadian supergroup announced earlier this year that they'd be reuniting for a single-day festival celebrating the 10th anniversary of its record label, Arts & Crafts. And that celebration, dubbed the Field Trip Music & Arts Festival, just got even more special. According to Twitter, Broken Social Scene will be performing their classic 2002 LP, You Forgot It in People, in its entirety at Field Trip, which takes place on June 8 at Fort York and Garrison Common in Toronto.
"Next Saturday," the tweet reads. "Field Trip Festival. Toronto. We will be playing YOU FORGOT IN PEOPLE From start to finish. For your city..not the fools city." Never mind that they got the name of their own album wrong (note the missing "It") — Broken Social Scene are going to be playing "KC Accidental" live again! Immediately after they run through "Capture the Flag!"
But that's not all. Kevin Drew and co. will soon stop by New York City to play Late Night With Jimmy Fallon. As the show's website points out, BSS will serve as the musical guests for the June 6 episode, and they'll be performing with longtime associate Feist.
All of this activity comes on the heels of "Day of the Kid," Broken Social Scene's recent contribution to Arts & Crafts: X, a 10-track compilation celebrating Arts & Craft's 10-year history. The track, a collaboration with Years, was the band's first new song since going on hiatus.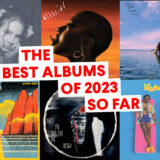 As SPIN previously reported, other acts performing at next week's Field Trip Music & Arts Festival include Feist, Ra Ra Riot, Bloc Party, Stars, Cold Specks, and Zeus.