Bonnaroo 2013: The 10 Best Things We Saw on Sunday
Kendrick has a dream, Kacey Musgraves steals our heart, Swans torch the earth, Bob Saget eats a fan for lunch
5. Kendrick Lamar
With Kendrick Lamar up there on the main stage with just one mic and a DJ, his fans were the real scene-stealers. They seem to have taken the accolades of good kid, m.A.A.d. city's lyrical content seriously, and committed much of it to memory. Lamar poked the mic at the audience for songs like "Backseat Freestyle" and they rapped parts of it right back — a sea of predominately white kids yelling, "Martin had a dream." C.W.
4. David Byrne & St. Vincent
On record, David Byrne and St. Vincent's union is a funky, brassy, quirky exercise; but live, it begins to approach the ego of the LP's title, Love This Giant. Backed by a steroidal, New Orleans-style brass ensemble (saxes, a tuba, trumpets, a French horn, and much more), the duo commanded some onstage kinetic energy, occasionally succumbing to it themselves with some boxy, jazz-handy robot scuttling, as they played songs from their collaborative album plus their own individual hits. Especially poignant was the Talking Heads song "Road to Nowhere," during which the ten or so mobile musicians onstage walked in circles with Byrne stopping St. Vincent's Annie Clark to sing at her. At their most frantic, Byrne — dubbed the "White Wizard of the Evening" by Clark — sparred on theremin rounds with the younger singer, swatting at the instrument and even kicking at it during Clark's "Northern Lights." K.G.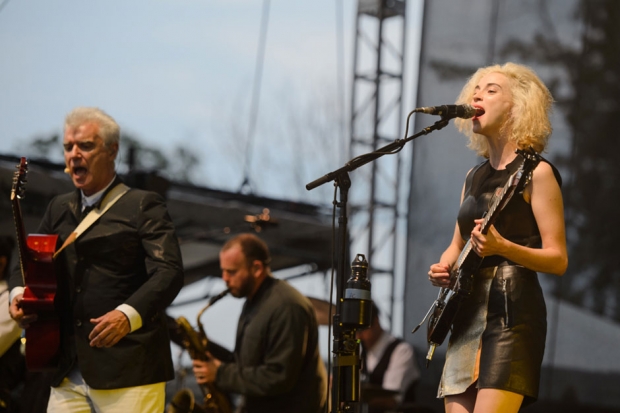 3. Action Bronson
Though Action Bronson prides himself on a precise rhymecraft ("Motherfuckers don't rhyme no more," he stated early on), his Bonnaroo set was like one unpredictable, full-body freestyle — rife with the hilarious, the confusing, and the impulsive. Smoking tons of weed — including some borrowed from the crowd ("I try to be righteous but it's hard," he said. "I need someone to toss me some kind of drug") — he did whatever came to him at the moment: rapping with an inflatable alligator under his arm, signing someone's sneaker, interrupting an a cappella version of "Brunch" to ogle the posterior of a stage-diver, rapping "9-24-11″ reclined in an office chair with his feet on the monitor. At certain points, he would just go down in the crowd and wander around as a beat played, everyone swarming him as he made his way from once side of the tent to the other. Emerging on the right side of the crowd, he decided "The show's over here now!" And the audience followed. C.W.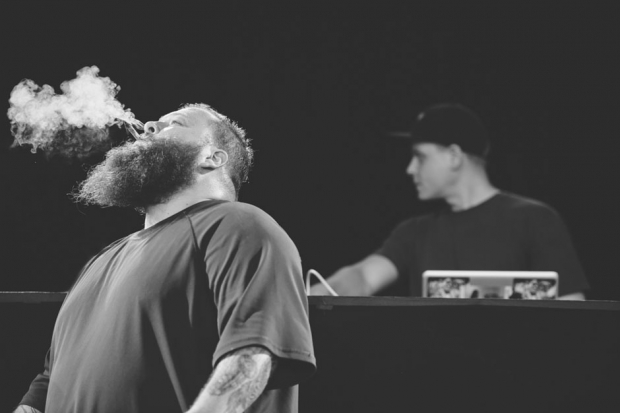 2. Mac DeMarco
Mac DeMarco and his three bandmates drove all the way from Canada to play two 'Roo shows, including their half-hour Sonic Stage set, and the drive must have made them delirious. Nearly every turn, every second, every song-break felt like a tongue-in-cheek routine that the small, mostly twentysomething audience was invited to share. In and around freewheeling indie-rock guitar exercises like "Ode to Viceroys" (a Canadian cigarette brand) and "Rock and Roll Night Club," DeMarco and especially bassist Pierce McGarry went ham, with the singer shaking his head like a wet dog with his tongue out and the four-stringer approaching the mic for a giddy, screamy take on the Beatles' "Blackbird." (This, mere minutes after DeMarco messed around with Eric Clapton's "Cocaine," interjecting lyrics about penises.) And while this all may sound like a shambolic mess, the singer's heartfelt songs came across with complete sincerity. K.G.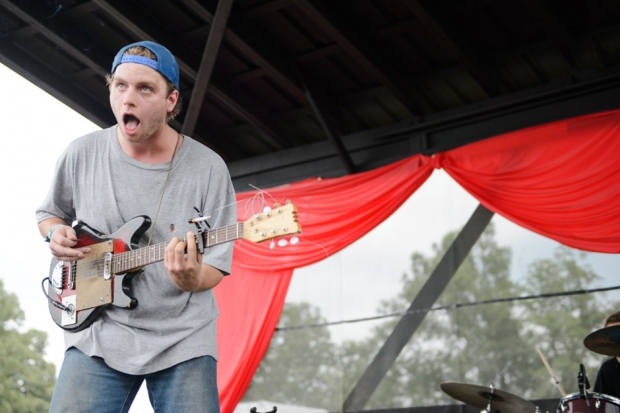 1. Swans
When beyond-heavy noiseniks Swans began their set, the This Tent was mostly full. By the time they finished their earth-rumbling, brown-sound oscillations, it was maybe about 20 percent full. But while some people took it as a gut-rumbling endurance test (and failed, maybe because frontman-maestro Michael Gira howled at them, "Stop texting! Stop texting!" mid-song), it was really an affirmation of sound. Top-loaded with eight amp speakers for their guitar players as well as a drummer and the one-man Viking percussion machine known as Thor (one of his bigger cymbals is inscribed with his name), the group fashioned a racket that stretched all the way to the Comedy Theatre, likely rattling the earth enough to scare away any local snakes for decades. Gira was an onstage dynamo, playing barefoot and literally conducting his bandmates during some free-metal drone exercises, chanting "freedom" as a mantra and a declaration and slapping his own face, as if he were hysterical. When it all ended, he offered his requisite thank yous, introducing himself as "General Sherman," and putting on his trademark cowboy hat and smoking a cigarette, looking just as peaceful as he did before the set. K.G.