10. JEFF the Brotherhood
Clad in a T-shirt repping the grim, Norwegian black-metal duo Darkthrone and, ironically, Hawaiian shorts, JEFF the Brotherhood frontman Jake Orrall led his brother, drummer Jamin, through some of the duo's proto-punk-inspired garage sleaze. Whether playing a rumbly three-string bass or an even rumblier five-string bass, Jake made enough of a racket to rile the audience into a frenzy. By the time they played their single "Sixpack," one crowdsurfer after another ascended and fell like lemmings under the weight of the group's heavy bludgeon. It was a sound so distorted, so ridiculously over the top that they managed to make kazoo-sounds rock — with no kazoos in sight! KORY GROW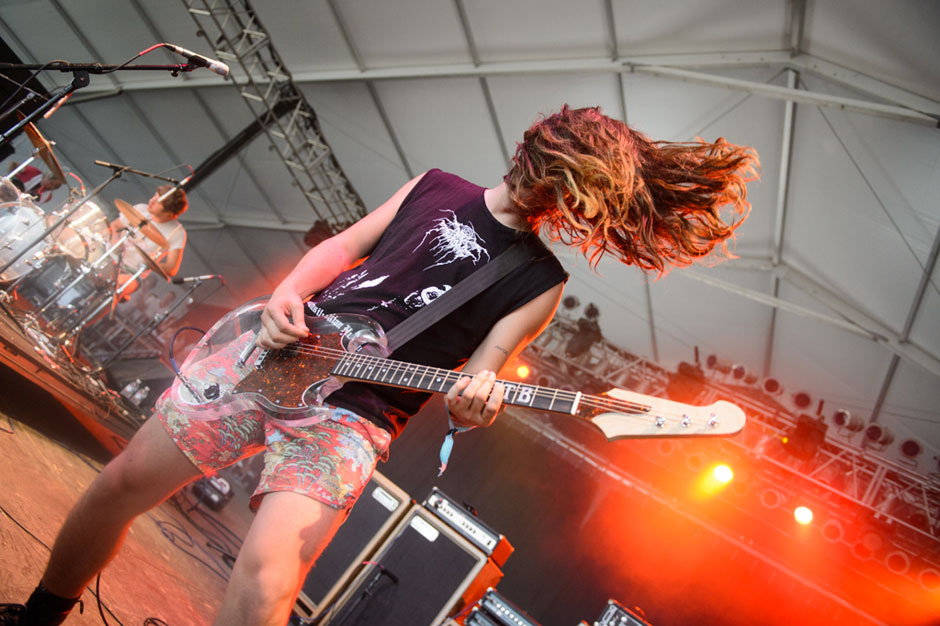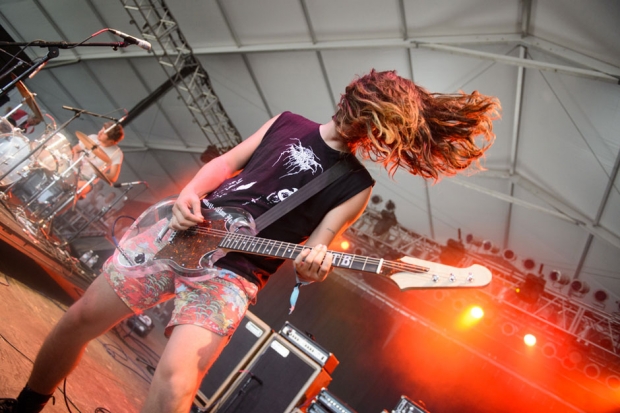 9. White Lung
It must be hard work to appear this bored. Vancouver's White Lung were punk rock in that loud/fast, lost-my-mind Agent Orange way, and that ho-hum, everything-is-so-dreadfully-tedious Sex Pistols way, all at once. "Do you guys like festivals?" asked singer Mish Way. "Is this exciting? Are you guys camping? Do you like camping? Me, I'd rather sleep in a ditch in the streets." After half-heartedly tossing a water bottle, she wowed with Courtney Love-via-Poly Styrene shouts as her band chugged along quick and lean without looking too excited about it (the drummer was wearing sunglasses at 7:30 p.m.). Someone from the crowd asked, "Why haven't you been playing this whole time?" Way responds, "Five hours at Bonnaroo is quite enough for me, dude." CHRISTOPHER R. WEINGARTEN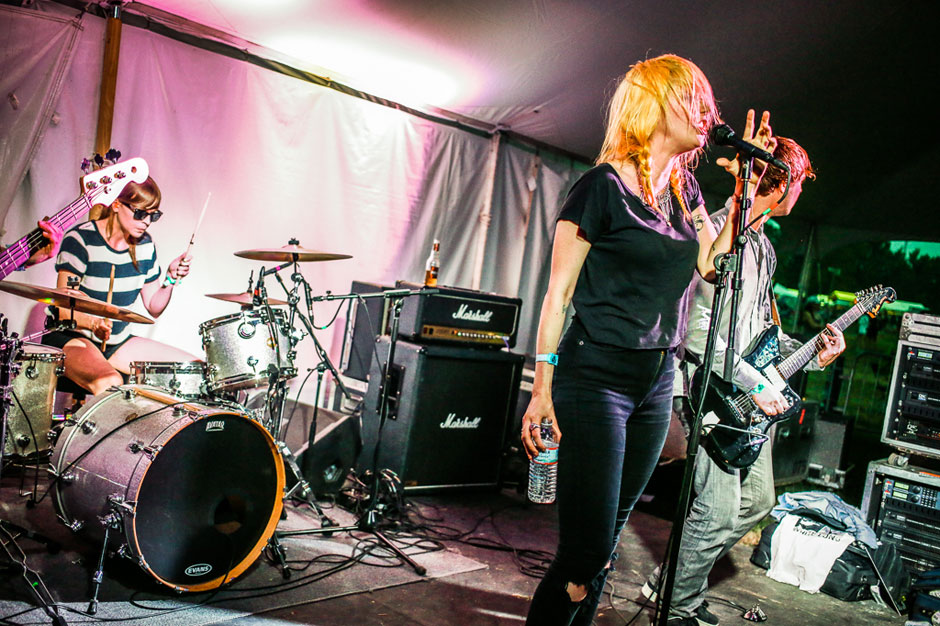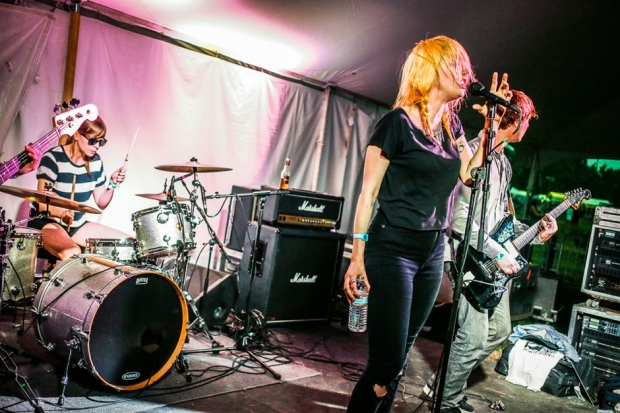 8. Baroness
"It's great to be back," said Baroness frontman John Baizley. He meant back to Bonnaroo (they played in 2010), but soon appended the thought to include the fact that, yes, his band survived a harrowing bus crash that left them on the sidelines for months. It sure looked like a triumphant comeback judging from Baizley's Corgan-via-Springsteen stance. Or you could judge by the dissonance between his downer lyrics and the crowd willing to have fun anyway: Baizley sang, "Heroin, where did you take my friend?" in "March to the Sea" and a kid crowdsurfed along in sunglasses and a bandana. He sang, "A tower of ashes and sawdust will lie / Where our castles were made" and a beachball sailed by. C.W.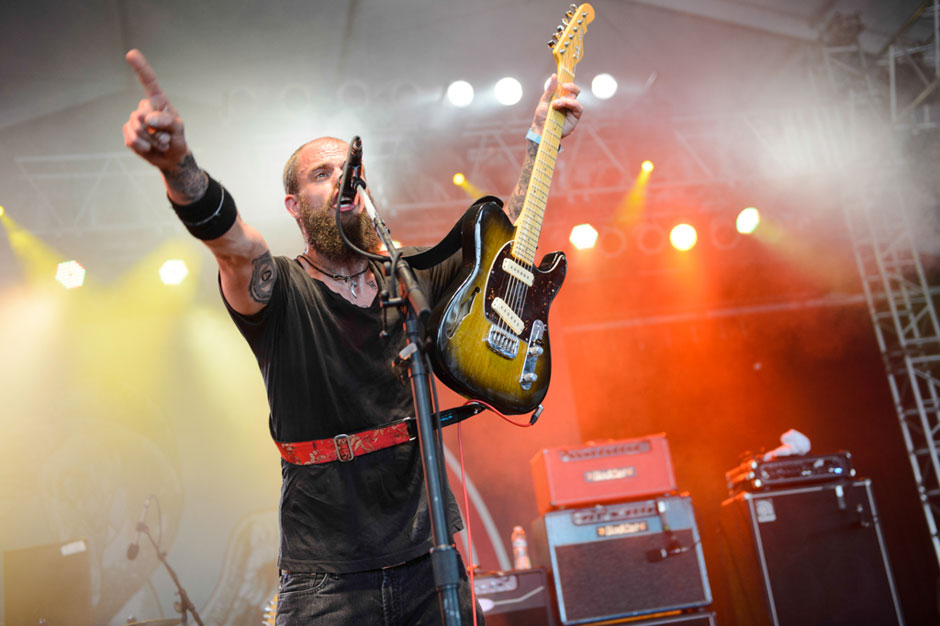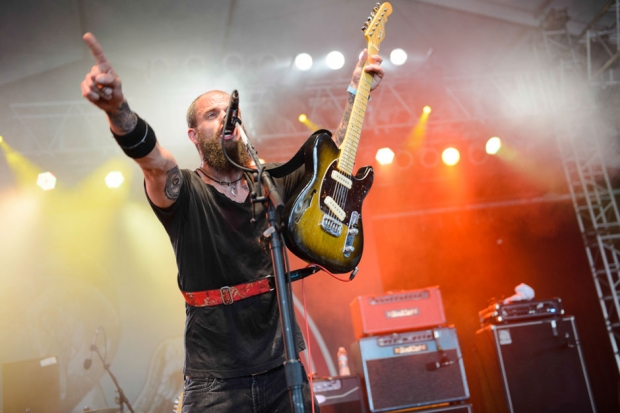 7. Kacey Musgraves
The closest a Bonnaroovian could get to the Grand Ole Opry without driving an hour out of town was Kacey Musgraves — and the only thing about her that's Nashville-polished is her voice. She covered Weezer with pedal steel ("Island in the Sun"), turned her own "Step Off" into a venue-appropriate reggae number and a Bob Marley sing-along ("Three Little Birds"), talked about drugs like she was Trinidad Jame$ ("I'm tripping out right now, I've always wanted to play Bonnaroo. Who's actually tripping at Bonnaroo?"), and extended the liberal-for-country lyrics of "Follow Your Arrow" ("Make lots of noise / Kiss lots of boys / Or kiss lots of girls / If that's something you're into") to include the do-anything spirit of festival life. Even when her band went Mumford-style country throwback — acoustic guitar, upright bass, dobro, two-piece kit — for Buck Owens' "Act Naturally," her drummer was still moving his own floor tom like a punk band launching into a side project at a basement show. Bonnaroo's one representive of contemporary mainstream country shined because she was such a unique, left-of-center representative. "This is super-exciting for me," Musgraves gushed. "I only got to come here one time. I snuck in. It was this stage, I got to see Nine Inch Nails. But I don't remember much." C.W.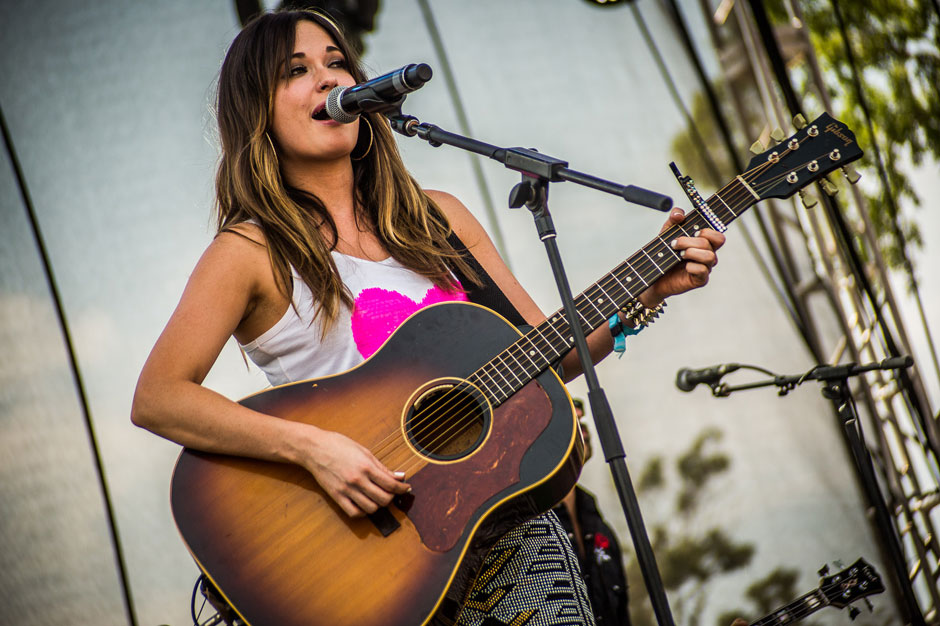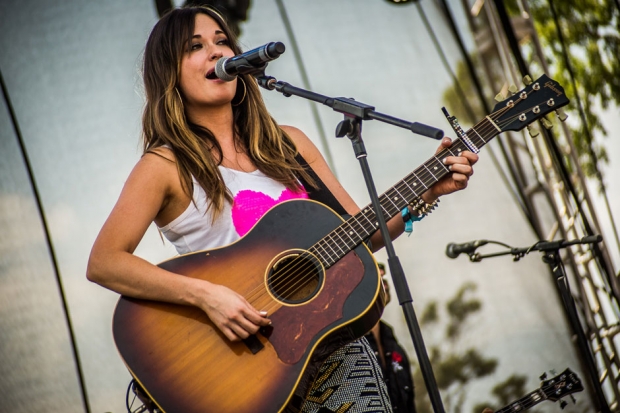 6. Bob Saget
When Danny Tanner took notice of a large gentleman in a knit winter cap taking video of him (something verboten in the Bonnaroo Comedy Theatre ), he transformed seamlessly into the filthy, calmly abrasive Bob Saget of The Aristocrats fame. "You can talk to me," he told the fan. "I'm your dad. I was Michelle's father. What's your name? Aaron? That's a girl's name. Are you on the web a lot. Do you whack off to me?" For a huge chunk of the set, Aaron belonged to Saget, who mercilessly berated the fan's manhood and libido, all to Aaron's delight. There was also a story about a donkey visiting the Full House set with an erection. K.G.